No doubt, you'll be tempted to add these wishlist wonders to cart.
Knock knock, who's there? Oh, you know, just the most exciting new beauty launches we've seen this month. Like the rest of our lives, beauty has taken a 180-degree turn as it adapts to the new normal. Now that we're on our way to Phase 3, we can look forward to putting our face on more often. This month, we say hello to a science-backed anti-ageing range, a light-as-a-cloud facial cleanser, gentle goodies for you and your baby and a cool hybrid retail boutique and spa in Orchard.
Best beauty launches of December
Plant-based skincare for grown-ups and little ones
We're big on inclusive skincare around here so when we heard about this "safer-than-safe" skincare for the whole family, we were intrigued. Created by pediatric dermatologists aka mums in medicine, Evereden highlights botanical ingredients like organic cold-pressed sunflower seed oil as well as avocado, coconut and rosehip. The range includes the pregnancy-friendly golden belly serum, multi-purpose healing balm and nourishing stretch mark cream. There's even a range for the little ones – baby face cream, massage oil, shampoo, body wash and moisturiser. Also, plus points for the pretty packaging!
Evereden, from $22, available online, international shipping to Singapore is available at $15
Heure launches an anti-ageing range backed by a clever time-release technology
Local science-led skincare brand Heure (pronounced as "her") is the result of a decade's worth of R&D. SPHR is a first-of-its-kind proprietary technology that helps products penetrate deep into the epidermis. The product is then released into the dermis through a smart time-release formula. What does that mean? It cleverly tackles problem areas and as a result, skin barrier function, surface wrinkles and skin elasticity are said to improve in record time. The Ageless range features peptide- and vitamin-packed face and eye serums, a treatment essence, a moisturiser, a night cream and sheet masks.
Heure, from $130, available online
Society A adds an exciting Asian brand to its collection
Online beauty emporium Society A adds Nita Cosmetics to its growing list of Asian beauty brands. The makeup maven is unapologetically Malaysian, incorporating its customs, traditions and cuisines into the packages and product names. The result? An all-inclusive range of poppin' blushes and matte lipsticks. Oh, and did we mention that the products are hypoallergenic, vegan, paraben-free, sulphate-free, alcohol-free and cruelty-free? Double score!
Nita Cosmetics at Society A, available online 
Watsons ups its sustainable practices
We're all hearts for Watsons as it continues to promote sustainable business practices with a curated collection of planet-friendly beauty labels. Enjoy discounts on clean beauty brands like Dr. Bronner's, Love Beauty and Planet, Sukin, Naturals by Watsons and Ethique. Moreover, it has implemented Bring Your Own Bag Tuesdays! $0.10 will be charged for every transaction for plastic bags requests. 100% of the proceeds will be donated to support the World Wide Fund for (WWF-Singapore)'s conservation efforts.
Watsons, available online and at various locations including Bugis Junction and Funan 
Cetaphil launches a face care range for sensitive skin
Formulated with proprietary Gentle Bright Technology and skin-loving niacinamide and sea daffodil, the Cetaphil Bright Healthy Radiance range helps to boost brightness, even out skin tone and correct dark spots. The four-product range consists of a creamy cleanser, refreshing toner, day protection cream and night comfort cream.
Cetaphil Bright Healthy Radiance range, from $15.90, available online
Dr. Barbara Sturm lands in Singapore with a pop-up
After a successful launch of its online store, Dr. Barbara Sturm Molecular Cosmetics has opened its first pop-up in Singapore. The cult science-based skincare is known for using non-toxic and non-aggressive ingredients that heal and nurture, rather than attack living skin. The pop-up carries a range of products to cater to needs and concerns, like anti-ageing, clarifying and sensitive skin. Don't be afraid to ask the beauty consultants in store for recommendations of and product samples to take home.
Dr. Barbara Sturm pop-up, #02-12E, Takashimaya S.C., Ngee Ann City, 391 Orchard Road, Singapore 238801
Ange Gardien Paris does makeup
The artisanal French fragrance and beauty brand launches its first makeup range and you'll definitely be spoilt for choice. All products are formulated keeping Asian skin types in mind, with great hydrating benefits and skin barrier care. Products include a volumising mascara, cushion foundation with pressed powder, matte lipsticks and lip lacquers and a nine-shade eyeshadow palette.
Ange Gardien Paris, from $38, available online or Tangs at Tang Plaza and VivoCity
Say hello to Yours' first-ever facial cleanser
With a name like Cloud Factory, you just know you're getting a light and gentle cleanser. This newbie by the local brand is packed with five fruit-based acids – lactic acid (bilberry), glycolic acid (sugar cane), citric acid (orange and lemon), malic and tartaric acid (sugar maple). In return, it deeply cleanses and refreshes the skin, and balances pH levels.
Yours Cloud Factory Gentle Foaming Cleanser, $33, available online
Kew Organics opens its first hybrid store
Big news, Kew Organics lovers. The local skincare brand has opened its first retail store at Tangs Plaza. Pop by the hybrid retail boutique and spa for the full range of organic skincare and the popular Sugar K express organic treatments, including Sugar K's signature Organic Peel and a Tangs-exclusive all-in-one LED therapy treatment.
Kew Organics, Tang Plaza, 310 Orchard Road, Singapore 238864
---
New beauty launches in Singapore: November 2020
The beauty news you oughta know!
Beauty Emporium's clean beauty category is here
Here's one more reason to love this beauty e-boutique. Beauty Emporium now has a clean beauty category so you can shop your fave beauty products while being kind to the planet. Known as the #AntiNastiesClub (love this!), it's home to certified organic, vegan, cruelty-free, sustainable and ethically sourced brands. Ah, bliss. Look out for names like Luxe Botanics, erbaviva, Forest Rhapsody, W.ANT and Esse.

Beauty Emporium, available online 
Chanel unveils its first hybrid flagship in Southeast Asia…
And it's right here in Ion Orchard. The space combines two unique concepts – the Chanel Beauty Studio and a cool discovery area. Complete with two entrances, the boutique is rife with Chanel's signature black and white tones, with a touch of gold. Notable features include the Skincare Wall and Fragrance Bar, a dedicated wall for men and the Beauty Creative Table where guests can discover the range through interactive screens. Don't leave without personalised consultations and makeup tips from the beauty consultants.
Chanel Beauty Boutique, #B2-42/43, Ion Orchard, 2 Orchard Turn, Singapore 238801
BHG Bugis' refreshed Beauty Hall is now open
The Beauty Hall at BHG has undergone a sweet revamp and it's got some cool features that'll leave you in a good mood. You can now browse 94 brands (a step up from the previous 48), explore iconic beauty counters by Estee Lauder, Shiseido, Burberry Beauty and Gucci Beauty, and discover the products from your fave brands at the new Beauty Library. Other immersive experiences include Honeyworld, a wellness corner featuring honey-infused skincare, Maison 21G's scent counter, as well as experiential Spa Cabins with treatments from Clé de Peau Beauté, SkinCeuticals, Clarins and more.
Beauty Hall, Level 1, BHG Singapore, Bugis Junction, 200 Victoria Street, Singapore 188021
DRx Clinic opens a new outlet in the east
The aesthetic clinic has opened a second outlet and it's in East Coast. Located in Siglap, the new space offers a bevy of face and body aesthetic treatments, along with derma-Rx skincare. Try the non-invasive signature DRx Essential Facial Re/juvenation [Clinic Protocol], which incorporates an intensive deep cleanse and bio-dermabrasion. Great for ageing, acne-prone, dehydrated and even sensitive skin types.
DRx Clinic, #01-03, Springvale, 907 East Coast Road, Singapore 459107
New products and brand we're swooning over RN
Chantecaille debuts a cushion skincare foundation
We're all for hybrid skincare-makeup combos and Chantecaille's new water-based skincare foundation delivers. All hail the Future Skin Cushion Skincare Foundation that's lightweight, blurs imperfections, and is infused with anti-aging bionymph peptide benefits and botanical sugars (to smooth and protect). And of course, the product is in support of Chantecaille's long-time conservation partner, Sheldrick Wildlife Trust. Each compact comes with an inserted cushion and one refill, and is available in four shades. Deeper shades will launch in February 2020.
Chantecaille, $183, available at Tangs at Tang Plaza, Takashimaya D.S. and online 
A new facial oil by Rooki Beauty
Our Beauty Awards Best Newcomer winner Rooki Beauty has launched a facial oil that screams liquid gold. The Camelina Omega-C Brightening Fluid is packed with skin-boosters like Japanese yuzu, horse chestnut, vitamin c and, of course, camelina oil to brighten, balance and firm. Don't worry about greasiness, this oil is created with a dry touch formula that sinks right into your skin. Even our humid weather won't stand a chance!
Rooki Beauty, $90, available online
Get glowing skin all day long with Morning Glow Skin
You'll notice that the beauty buzzword, 'glowing skin', has been popping up again since we've had to wear face masks. Aussie skincare brand Morning Glow Skin provides just that – clean, hydrated and glowing skin that gives you that golden hour filter 24/7. Free from parabens, synthetic fragrances and the other bad stuff, the skincare brand is formulated with naturally-derived, sustainable and ethical ingredients hailing from Australia. Two mighty serums encompass the brand. The Glow Up Vitamin C serum blends L-ascorbic acid along with Kakadu plum to reduce blemishes, accelerate the production of collagen, and guard the skin against environmental damage. Next, the Golden Hour Vitamin A serum is a hydrating facial oil of sorts with plant-based retinol retinyl palmitate to slow down signs of ageing, while offering instant hydration.
Morning Glow Skin, available online, free international shipping for orders over $49
Cult skincare brand Emma Lewisham now ships to SG
Fans of the New Zealand clean beauty brand, rejoice! You can now pile on Emma Lewisham skincare from Singapore. The ingredients used are 100% clean, scientifically-proven and great alternatives to nasties like synthetics and preservatives, which you often see in major brands. Extra points to its recycling programme (all products are refillable and recyclable) and transparent sustainability framework that aims to reduce its carbon footprint. Top sellers include the Skin Reset Concentrated Even Skin Tone Serum, with a formula that boosts concentrations up to four times to even out the skin tone and reduce hyperpigmentation.
Emma Lewisham, available online, free express shipping for orders over $150 
Vulva care brand, Two Lips gives us a new prebiotics range
Show some TLC to your vulva with Two Lips' latest prebiotics range. Formulated between pH4 to 6 (the optimal levels for your skin), the range practically feeds the skin with all the good stuff to ensure a balanced and diverse microbiome. The five products include a cleanser, exfoliator, moisturiser, mask and sunscreen. Key ingredients like lactic acid exfoliate, moisturise and reduce flare-ups and inflammation.
Two Lips, available online
Marks & Spencer debuts plant-based personal care
Add some extra minutes to your shower and post-shower ritual with Marks & Spencer's new personal care range. The hand creams, body scrubs, lip balm, hand wash and shower creams are 100% cruelty-free and more than half of its new products are vegan.
Marks & Spencer, available at selected food halls and on the app
---
New beauty launches in Singapore: October 2020
Say hello to J-beauty brand, Iren Skin
Give a warm welcome to Iren Skin, a clean skincare brand. Formulated in Singapore and made in Japan, it marries age-old rituals with cutting edge technology. Led by an all-female R&D team, it's the first Japanese beauty brand to ban over 2,000 toxic, comedogenic and allergenic nasties. Standing proud and tall, like the Infinity Stones from the Avengers, are seven serums catered to various skincare concerns. In fact, you're encouraged to pick up to three for a customised treatment.
Iren Skin, available online
Spritz away with Glowfully's new mist toner
Blazing sun outside; freezing air-conditioning inside – our skin can't catch a break. That's why Glowfully's new aloe vera, hyaluronic acid, tomato extract, chamomile and red algae-packed mist toner comes in handy. The hydrating mist tackles common issues, including dullness, dehydration, open pores, excess sebum and even inflammation. You also get a gorgeous dewy look with every spritz.
Glowfully Hydrating Mist Toner, $45, available online
Strip introduces a new hair removal technology treatment
Strip unveils a whole new definition to hair removal with its Advanced Fluorescence Technology (AFT) Hair Removal treatment. Partnering with Alma Laser, this first-of-its-kind technology is painless, provides a more targeted and even finish, and soothes the skin post-treatment.
So how does the AFT treatment stand apart from the rest? AFT uses a narrower wavelength to deliver an even distribution of energy for a more precise treatment, has a built-in cooling system to minimise discomfort, and uses custom-made 5cm crystal applicators (compared to 3cm ones) for effective hair reduction over a wider surface. Great for your brazillian area!
Psst… Enjoy your first AFT Hair Removal Session at $50 for any body part. Promotion ends 31 October 2020.
Strip, AFT Total Comfort 3.0, $50 (trial price), multiple locations including Plaza Singapura, VivoCity and Funan
Two new power-packed sunscreens from IDS Skincare
IDS Skincare unveils two new sunscreens for the ultimate UV protection: A revamped S2 non-tinted sunscreen and a new S3 tinted sunscreen. The former now comes with more blue light protection and IDS Skincare's patented zinc oxide technology, which yields antioxidant and anti-pollution features. The latter is great if you're looking for more coverage as it gives a matte finish and evens out your skin tone.
IDS Skincare, multiple locations including International Building and Novena Specialist Center, and online 
Pucker up to Kew Organics' new lip care collection
Kew Organics fans, rejoice as the local organic skincare brand has debuted a lip care line. That's right, buff away those dead skin cells with the Roselle Berries Superfood Lip Exfoliant. It's packed with AHAs from roselle, skin-enriching coconut oil, shea butter and vitamin E. Or boost your natural lip colour and prevent chapped lips and premature ageing with the Drenched in Moisture Age-Defying Lip Mask formulated with pacqui fruit (treats eczema and moisturises), as well as avocado and jojoba oils.
Kew Organics, multiple locations including Cluny Court and Everton Park, and online
Say hello to Wellaholic's latest needleless skin booster treatment
Wellaholic celebrates seven years in the biz with the launch of the Wellaboost needleless skin booster treatment, plus an exclusive month-long promo. The non-invasive Wellaboost uses a high-pressure jet spray and electroporation to increase the absorption and infusion of facial serums into your dermis. Wanna try it? Enjoy 40% off your second service or treatment of the day from now until 31 October. You can even extend the offer to someone else.
Wellaholic, multiple locations including Tanjong Pagar, Orchard and Kovan
Yours launches Sunny Side Up, sunscreen mist
Who else is guilty of not reapplying sunscreen twice a day or skipping the step altogether while working from home? It's all going to change thanks to Yours' broad-spectrum SPF 30 sunscreen mist. Made with Swiss Buddleja flower extract (known to offer UV and blue light protection), the Sunny Side Up mist is non-greasy, doesn't give a white cast and leaves a dewy glow.
Yours, available online
Up your selfie game with Innisfree's Vintage Filter Makeup Collection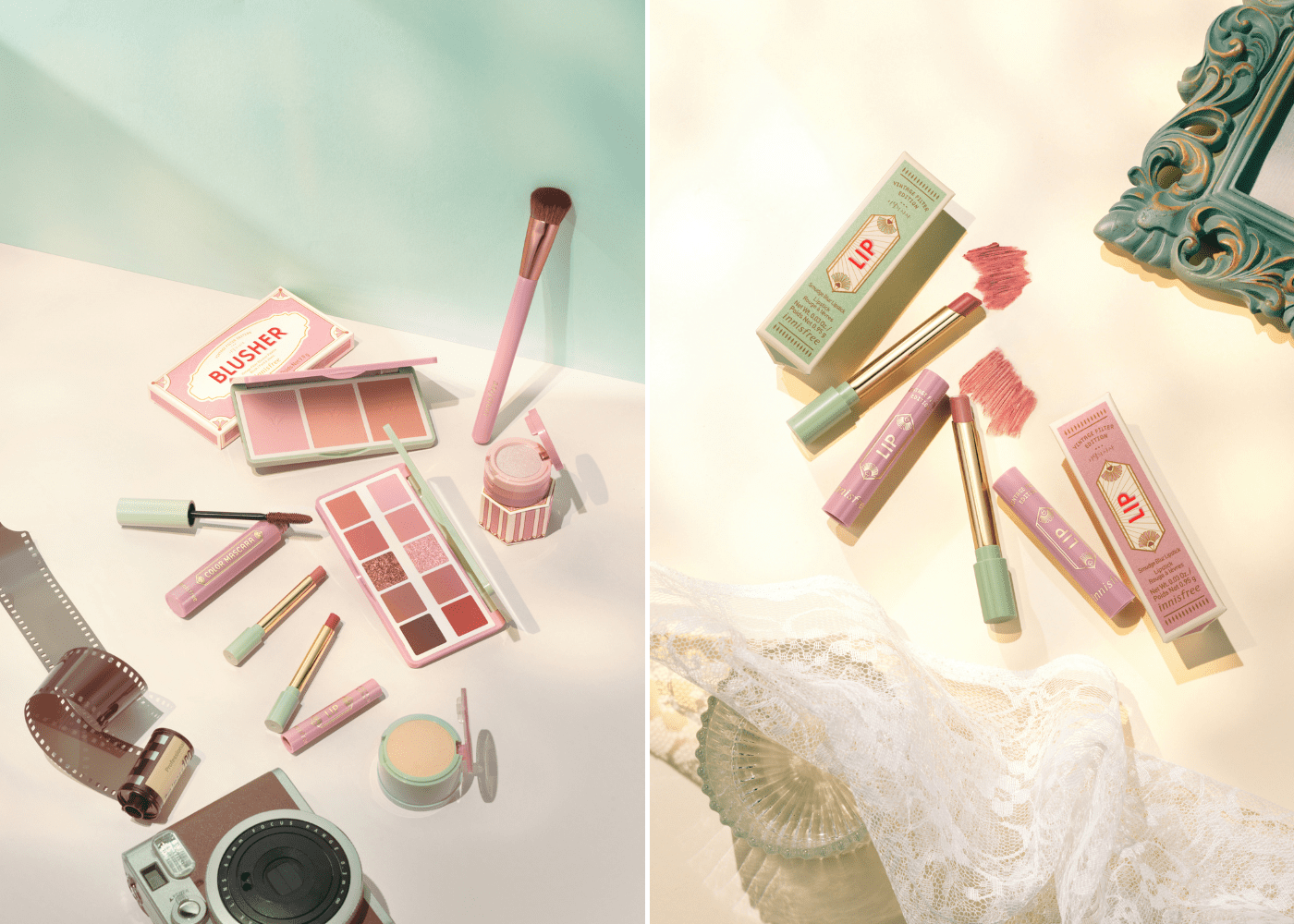 It's #throwback every day with Innisfree's new limited edition makeup collection. Inspired by vintage tinted camera filters and analogue film photography, the eight-product line screams chic. Paint your face with rosy faded pink and soft brown hues from the Vintage Filter Eye Shadow Palette ($41), Vintage Filter Lighter Trio ($23), Smudge Blur Lipstick ($13) and more.
Innisfree, #VintageFilterMakeup Collection from $11, available at all Innisfree stores 
A potential fave: PSA Skin
Yet another clean, cruelty-free and planet-friendly skincare brand has hit our shores. PSA (Purposeful Skincare by Allies) features only clinically proven actives sans irritants and triggers. We're looking forward to trying the Light Up Vitamin C & E Flash Brightening Mask. It's a 'glow-up cocktail' of 11% l-ascorbic acid, 2% vitamin E, grapeseed oil and hyaluronic acid.
PSA Skin, available at all Sephora stores
Claudine celebrates 15 years of its iconic anti-ageing serum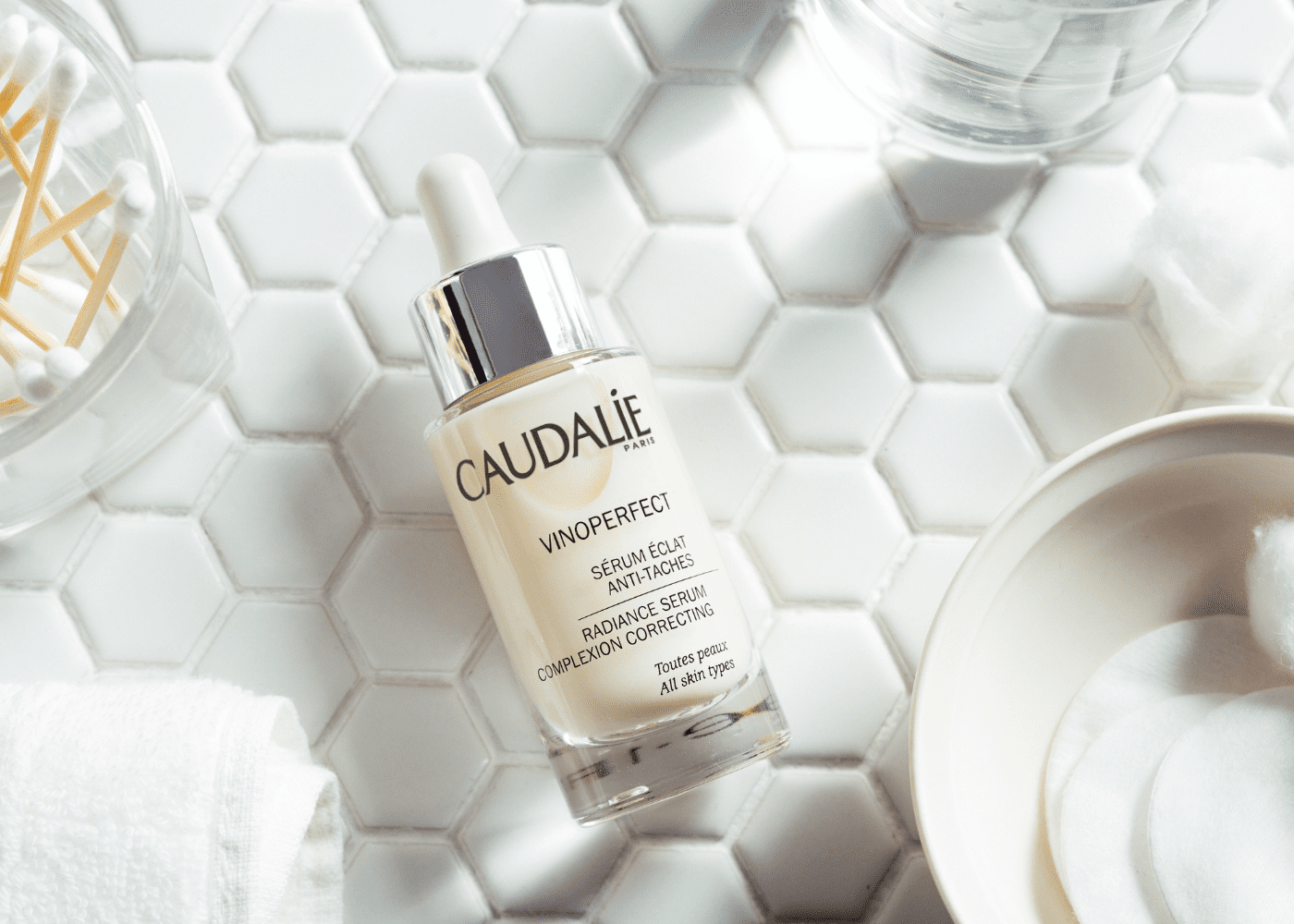 Can you believe it's been a whole 15 years since the launch of Vinoperfect Radiance Serum? To celebrate, Caudalie is offering a limited edition of the anti-dark spot treatment. The glass bottle reflects the effects of its star ingredient and the brand's adherence to its clean beauty stamp. By the way, the vine sap in viniferine (the star ingredient) is known to have 62 times more efficacy than vitamin C.
Caudalie Limited Edition Vinoperfect Radiance Serum, $132 for 50ml, enjoy exclusive offers including a trial pack at $12 from now to 21 Oct at Sephora Ion Orchard 
Another beauty e-emporium on our radar
Online video streaming platform Viu launches a lifestyle and beauty e-store Yeppeo! by Viu. Get your hands on a curated selection of skincare products from popular to up-and-coming K-beauty brands. Highlights include Nacific, G9skin, Dr. Jart+ and more. Enjoy a 5% discount if you purchase three or more products.

Yeppeo! by Viu, shop online
A new campaign + support for the Breast Cancer Foundation by Kew Organics
Keen to experience an intensive skin transformational journey with Sugar K by Kew Organics? Just share your skincare concerns (acne, dehydrated, sensitive or premature skin) with the local skincare brand and you might be a part of its first-ever Ambassador Campaign. Also, $2 off its sales proceeds for the Lumi Lift Detox Facial and selected skincare bundles will be donated to the Breast Cancer Foundation.
Kew Organics, available online
---
New beauty launches in Singapore: September 2020
Glow Recipe lands in Singapore
This launch has got us looking all 'heart eyes'. Drum roll please… the highly-raved Glow Recipe has landed in Singapore. This Korean-inspired skincare line is all about attaining your natural glow from within using natural and cruelty-free skincare.
If you're not already swooning over the vibrant millennial-hued packaging and 'sensorial' textures of the products, you'll be thrilled to know that Glow Recipe is backed with nourishing superfruit ingredients. Think blueberry, banana, pineapple and avocado. We recently tried the coveted Watermelon Glow Sleeping Mask and we definitely have some thoughts. Stay tuned for the September edition of our beauty reviews!
Glow Recipe, available at Sephora.
Coming soon: Fenty Skin
Yeah, we know this line won't be available in Singapore till December but it's worth a spot on our list. Our sneaky RiRi sure knows how to drop the bomb on us. Just when we thought we'd get a new album, she drops a skincare line instead. No complaints from us though! Multi-tasking is the keyword for clean, vegan, cruelty-free and earth-conscious Fenty Skin as the skincare brand debuts with just three products. Talk about balls. Known as the Fenty Skin Start'rs, the collection includes Total Cleans'r Remove-It-All Cleanser, Fat Water Pore-Refining Toner Serum and Hydra Vizor Invisible Moisturiser Broad Spectrum SPF 30 Sunscreen.
Fenty Skin, available in Singapore from December 2020.
Stay mighty fresh with The Body Shop
Can't keep up with Singapore's cranky humidity? Stay cool with The Body Shop's limited edition summer body care ranges. Cool cucumber and zesty lemon are the stars, with a series of shower gel, body scrub, body yogurt and body butter for squeaky clean, fresh and hydrated showers.
The Body Shop, available at all stores islandwide and online.
Tackle 'maskne' with BSkin
Real talk: 'Maskne' is the worst. So we love that local skincare brand BSkin has launched a blemish-busting acne treatment. The Anti-Acne 3C Spot Treatment encompasses a potent blend of acids and vitamins to effectively clear blemish-causing bacteria, remove excessive sebum, calm inflamed skin and care for potential scars and pigmentation.
BSkin, Anti-Acne 3C Spot Treatment, $38, available online.
Shiseido Professional Sublimic produces a range for thinning hair
Recreate a salon experience at home with Shiseido Professional Sublimic's latest line. This anti-hair loss range presents a revolutionary formula to revitalise the scalp and roots, resulting in a healthy bed of hair. Six products make the collection including the Adenovital Scalp Power-Shot, which tackles deep into the layers of your scalp.
Shiseido Professional, available online and at selected Shiseido Professional salons.
Laneige debuts its first blue light certified neo cushion
Laneige's BB Cushion takes on a new avatar in the form of the Neo Cushion. Select the Neo Cushion Matte for a sweat-resistant formula with buildable medium to full coverage. Or try the Neo Cushion Glow spiked with liquefied diamond powder and nano silver glitter for a natural glow, as well as niacinamide for hydration 'round the clock. But its standout feature has to be the blue light protection – it's touted as the first of its kind cushion foundation in the beauty scene.
Laneige, available from 1 Sept at Laneige boutiques and counters, and online via Lazada, Shopee, Zalora and Sephora.
Meet Asian beauty brands Beigic and Auolive
Beauty emporium Society A adds two new Asian beauty brands to its repertoire – Beigic from Korea and Auolive from Singapore. Beigic screams luxe with a range of bath, hair and skincare items like scrubs, lotions, facial oils and shampoo. The vegan and cruelty-free brand is free of the five 'negatives' and heavily features green coffee bean extract and other active ingredients in its products.
Much like some brands on this list, Auolive is all about multi-functioning heroes. As the star product, Auolive Day Glower doubles up as a moisturiser with SPF 30 and primer, in a gentle water-based formula with natural active ingredients.
Available at Society A
Est.lab launches pore- and acne-purging serum and mask
Clogged pores and acne are some key problems many of us face these days. Enter Est.Lab's pore-purging pair. The new beauty launches – Purclear Detoxifying Mask and Purclear Anti-Acne Serum – treats 'em both. Both are gentle on all skin types including sensitive skin and are spiked with sustainable ingredients like encapsulated brown algae extract and French green clay. The serum combines tea tree leaf oil, alpine willowherb extract and advance salicylic acid to prevent acne, regulate sebum and minimise pores.
The mask features a multitude of ingredients including BHAs and AHAs to purge impurities, toxins and pollutants. That results in decongested pores, accelerated skin cellular growth and lighter post-acne pigmentation marks. They also come in a sleek rose gold packaging that'll add class to your skincare cabinet.
Est.lab, available online.
A haircare brand that uses human keratin
Keratin in haircare? No biggie. But haircare brand Virtue Labs extracts its star ingredient – Alpha Keratin 60ku – from ethically-sourced human hair in its purest form. After a good wash, the human keratin releases its nutrients into brittle strands and regrows tissue. The body then recognises it as its own and naturally treats affected areas, resulting in a shiny, glossy and healthy mane.
Virtue Labs, available at Sephora.
Za makes a comeback
This beauty brand was such a hit during our adolescent years of questionable makeup skills. Oh, how far we've come! Za makes a comeback with a collection that spotlights an easy breezy application. Prep your base with a range of multi-tasking primers like Za True White Protector – it's a moisturiser, colour corrector and sunscreen, all rolled into one. Others include Za Color Blend Finishing Powder, Za Wake Up Morning Primer Masks and the limited edition Za Coming Journey Lipstick.
Za, available at Lazada, Qoo10, Redmart, Shopee and Watsons.
Which of these new beauty launches are you excited to try? We can't just pick one!