Photography: Draft Land
Drink up, imbibers! Presenting 2023's best new bars in Singapore.
Visit these new bars in Singapore that are killing it with their bar programmes and cocktail menus. The other bars aren't left behind too – they continue to reinvent themselves with elevated flavours, interesting ingredients and garnishes, and innovative techniques. Presenting Singapore's hottest new bars in November!
Hot new bars in Singapore: November 2023
Draft Land
Draft Land, the celebrated cocktail haven hailing from Taiwan, has landed in Singapore. This isn't just any bar; it's a whole cocktail lifestyle wrapped up in one irresistible package. Select from over 20 cocktails on tap, and the real stars of the show, the 'draftenders' – charming, knowledgeable staff who'll guide you through this liquid adventure. Picky drinkers, you'll be thrilled to know that you can also sample cocktails (AKA the Sample Service) before ordering. Now, let's talk about the drinks. Priced at wallet-friendly prices from $18 to $20, these cocktails are the real deal. Think signature concoctions like the Green Negroni, Tropical Daydreaming, Afternoon Tea Punch, and the whimsically named Fancy Iced Tea.
Draft Land, 24 Purvis Street, Singapore 188601
Bar Kakure
Say hello to Kakure, a 10-seater bar tucked away in a black-and-white bungalow at Scotts Road. Perched on the second floor, this exclusive hideaway welcomes only those who hold the secret code to unlock its discreet door. Behind the bar, you'll find the maestro, Kazuhiro Chii, affectionately known as 'Chii-san'. With over two decades of mastery, Chii-san's concoctions are a work of art – a fusion of precision, tradition, and innovation. From meticulously mixed cocktails to the revered three-point shake and the highball method, his techniques are deeply rooted in Japanese culture. Yet, his true magic lies in omotenashi, the art of hospitality. His cool and calm approach to bartending is so therapeutic to watch… all he needs is some classical music in the background.
Kakure's offerings are an ode to Japan, featuring a thoughtfully curated selection of beers, sake, whiskies, and Chii-san's signature cocktails. One such gem is the Fresh Fruit Cocktail ($32-$38), a sweet but balanced elixir crafted from the finest Japanese fruits like grapes and melon. The Black Storm Highball ($24), a modern twist on a classic, infuses bamboo charcoal powder and pepper for a smoky, spicy crescendo. And don't miss the Instagram-worthy Beauty & the Beast ($32), a fairy tale-inspired concoction shaken with pink grapefruit, orange liqueur, rose syrup and lemon juice. It's then finished off with a sprinkle of edible glitter for a little razzle-dazzle.
Pair your drinks with elevated Japanese snacks and mains. The Toro Katsu ($42 for two pieces) has a thick slab of fresh otoro (bluefin tuna) from Shizuoka, coated with charcoal-infused panko breading. If you're feeling peckish, the Mini Miyazaki Wagyu Curry Rice ($48) will fill you up nicely.
Bar Kakure, Level 2, 29 Scotts Road, Singapore 228224
Hounds Social Club
Step into a social oasis at Hounds Social Club, an extension of the renowned Hounds Barber Shop. This unique establishment beautifully blends the nostalgia of a bygone era with a modern twist. At its core, Hounds Social Club is all about crafting an environment where you can relish quality drinks, connect with good company, and create unforgettable memories. Explore an impressive line-up of global whiskeys, classic highball cocktails, ever-evolving creative concoctions, and the signature Hounds Espresso Martini. Plus, their 100% arabica coffee beans from Meru Coffee Company guarantee a comforting and addictive espresso experience.
Hounds Social Club, 42 Craig Road Singapore 089680
Parliament Bar unveils a new menu as they celebrate turning one
Fresh off its first anniversary, the dive bar on the second floor of Teck Lim Road brings us a spanking new menu inspired by pop culture and sci-fi. Sip on the 88 Miles Per Sour ($25), a 'Back to the Future' tribute with brown butter fat washed bourbon, cloudy apple, spiced orange, citrus, and Angostura bitters. Or, indulge in the Thunder Kiss 65 ($27), a spirit-forward creation featuring rum, bourbon, vermouth, pineapple, citrus, saline, Angostura bitters, and a dash of Nutmeg – pretty electrifying, if you ask us. For a playful twist, the White Widower ($24) reinvents the classic White Russian with rum, Galliano Ristretto liqueur, and a generous dollop of whipped soft serve. And don't miss the Pineapple Warp ($25), a deconstructed Piña Colada topped with an aromatic cloud of coconut, kaffir lime, and pandan.
Parliament Bar, #02-01, 18 Teck Lim Road, Singapore 088390
Cat Bite Club presents a new menu filled with agave creations
Cat Bite Club's revamped menu takes you on an agave and rice adventure with 17 delightful concoctions. The classics meet creative variations as they re-imagine traditional favourites. If this is your first visit, kickstart your journey with mainstays like the Cat Bite Margarita ($26) or the Soju Sprint ($24). New additions include four new tipples. The classic Brandy Crusta ($26) is a stiff blend of Cognac, Cointreau and Maraschino liqueur. While the mezcal-infused highball, Ghost'een ($24), will make your tastebuds tingle thanks to a tangy mix of mangosteen, chill tincture and Amaro bitters. Block & Stalk ($24) reimagines a Floradora cocktail with an agave twist with mezcal, blanc vermouth, celery cordial and soda. Finally, Rice Rice Daisy (S$24) is a rice-inspired spin on the classic Crusta, featuring Iichiko Mugi Shochu, Imo Shochu, Agricole Rum, Strong Aroma Baijiu, miso, coconut, coriander, and fresh citrus for a unique and flavourful experience.
Cat Bite Club, 75 Duxton Road Singapore 089534
---
Hot new bars in Singapore: October 2023
Puffy Bois
"Are you sure this is the correct address?" I asked my editor as we walked along a row of shophouses at Bali Lane. The nondescript location in Kampong Glam sure didn't match our idea of this new bar in Singapore.
But make no mistake. As we entered Puffy Bois, we were transported to a laidback spot reminiscent of dive bars in London or New York. Two friendly faces greeted us: co-founders Sam Ng and Zul Zaba. The former was previously a trade ambassador for brands like Monkey Shoulder Whisky and Four Pillars Gin amongst other things – so we knew we were in good hands.
Puffy Bois vibes hard with no-frills cocktails and, of course, pizza fresh outta the oven. If you love chewy or, for lack of a better word, puffy pizzas, you won't be ordering them by slice – even though they offer them from $6. Whole pizzas set you back $22 and up. Classics such as margherita and pepperoni do no wrong thanks to the homemade sauce and premium toppings. But the parma-roni and spiced arti (a veg option inspired by butter chicken) also hit the spot.
As for cocktails, don't expect OTT presentations. The cocktail menu is petite with some pre-batch options meant to be served quickly. What What ($21) comes with your spirit choice (I picked a smokey mezcal) and citrus. Sour Crush Cooler ($20) is a breezy tipple with whiskey, sour mango, and seaweed saline, topped with a seaweed cracker. Meanwhile, Duck and Weave ($22), their idea of a tequila Old Fashioned, is a great spirit-forward option. What they may have lacked in extravagance, they made up for excellent conversations. I'd say that's a better trade-off for me.
Puffy Bois, 20A Bali Lane, Singapore 189856
Spectre
Tucked away in an unsuspecting spot away from the crowd hides Spectre, a new watering hole inspired by local flavours. After an initial residency at Ghostwriter, Spectre finds itself setting roots in its new home within Tanjong Pagar. The brains behind the operation are musician Inch Chua and local industry veteran Andrew Pang, who continue to build on the theme of wellness and translate it through the menu.
Once you enter the space, you'll be invited to take part in a ritual. Express your woes on a pen and paper before setting it aflame in a symbolic gesture of relief. And if you think the theatrics end there, you'd be sorely mistaken. Expect twist and turns with almost every cocktail you order, some delivered with unique and playful props that elevate your experience. There's even a cocktail made with snake soup served warm, which we highly recommend trying.
Spectre, #02-01, 120 Tanjong Pagar Road, Singapore 088532
Barood
This mod Latin-Indian izakaya took us around the world with its new cocktail additions. We started with Mexican Kiss ($26), a flirty mix of Codigo Blanco, Vermouth Blend, lime and agave. It's like a margarita lite that's not too heavy on the tequila. Santiago Sour ($24), reminiscent of a New York sour, stuns with its alluring red hue of Pisco Waqar, clarified tropical juice and red wine.
Next, we were transported to Shanghai with Shanghai Bang ($26), a stiff drink prepared with Michter's bourbon, Drambuie and herbal tea. We ended the night with Bombay Braat ($24). The sweet and buttery notes from the halwa and kesar kasturi liquor hit you first, but they're nicely balanced with Sailor Jerry rum. Though the sweetness was a little intense at the start, we enjoyed it more as the ice diluted the concoction.
Photography: Barood
Oh, and don't overlook the new food items. The scallop tarts ($22) are stuffed with silky smooth bits of scallop, fresh dollops of mango and a fragrant hit of curry leaf oil. Malabar pork taco ($16) fills you up nicely with a moreish pastore and maul cheese combo, and mango that cuts through the fattiness of the meat. Though we wish there was more ginger in the chicken momo Calcutta ($14), we couldn't stop having it with the Goan sambal.
Barood, 56A Tras Street, Singapore 078995
---
Hot new bars in Singapore: September 2023
White Shades
An ice cream parlour, rooftop bar, event space and speakeasy-style bar rolled into one? Experience it all at White Shades, the four-storey cocktail playground along Boon Tat Street. JiaWei Bai (of Stay Gold Flamingo) is the mind behind this concept that inspires imbibers to explore the art of drinking in more forms than one.
Dessert at level one is a spritely space awash with colourful rock-candy-inspired interiors. Cool down with 12 ice cream flavours including four alcoholic ones from just $5 a scoop. Try picks like the boozy Black Tears rum Jamaican coffee or favourites like pistachio, salty caramel and miso banana, paired with a juniper-flavoured cone for a flavour high. Wash it down with cold-brewed tea and coffee or low-ABV tea cocktails.
Level two transforms into a swanky bar. The current cocktail menu, unRAW, explores the journey of creating White Shades. Sip on gems like Savi Galloping ($25), a mix of Codigo Blanco tequila and lime, made spicy with paprika and fire tincture. It's smoked right at the table so don't forget to whip out your cameras! For fuel, the team dishes out Asian-inspired Western dishes. We still can't stop raving about the beef tartare topped with sambal matah and served with crispy wonton skins.
Level three is a quaint event space that's a blank canvas for events up to 35 pax. Level four was still being set up when we visited the space but we can definitely imagine the laid-back vibes with fairy lights, live music, draft beer and cocktails (below $20) and light bites.
White Shades, 25 Boon Tat Street, Singapore 069622
Ssal
Tucked away in the basement of Low Tide, the intimate space only sits a handful of people. It's cosy but bursting with the flavours of Korea. Ssal is the brainchild of the ex-Sago House bartender Jojo. Drawing inspiration from his Korean heritage, he produces stories through the drink and food menus. Cocktails highlight specific Korean ingredients, allowing the flavours to shine through each unique mix.
The Mistugaru is a combination of Ceylon arrack, ssal cream, and creme de cacao. The result? A rice cocktail that leans ever so slightly on the creamy side, without being too overwhelming or rich. It's accompanied by a saucer of charred rice for an aromatic touch. The Dongchimi uses gin, dongchimi sangria, and calamansi. Despite bringing together two acidic ingredients, the concoction isn't overly sour. The added bitterness of the gin and slight sweetness create a drink that's incredibly balanced.
Ssal, 98 Club Street, Singapore 069467
High Bar Society
Full disclosure: expect more than just regular cocktails at this new joint in Tanjong Pagar. You can thank Sharon Tay for bringing this gem to our 'hood (psst: she's also the brains behind Momolato cafe at Haji Lane). After years of R&D, Sharon is ready to release her very impressive 6% ABV gelato at this elegant bar.
Introducing the concept of gelato mixology, it offers customers a boozy twist to the usual frozen treats. Ice cream flavours are infused with spirits like gin, whiskey, and even champagne. The Her Bouquet features Veuve Clicquot Rosé with lychee for a sweet touch. If you love whiskey with chocolate, try the Highland Fling. It's spirit-forward with the hit of single malt Macallan combined with a lovely bittersweet taste of chocolate that comes after.
High Bar Society, 52 Tanjong Pagar Road, Singapore 088473
Anthology
Compendium Spirits have brought their barrel-aged gems closer to the city. Named Anthology, the three-storey shophouse along Circular Road comes complete with a bar on level one, a chartered private lounge on level two and the barrel cellar on level three. The bar menu is a fab showcase of how Compendium Spirits can be used in drinks.
Start light and easy with sparkling Asian-inspired fermented alcoholic picks on tap: rice wine, coconut toddy, apricot tea mead and cane wine at $12 a glass. Sip on the sublime Teh-groni ($21), a twist on the classic negroni that's a blend of Compendium Spirits Teh-O Liqueur, Campari, a touch of earl grey magic, and a zesty spritz of lavender citrus. Rojaktini ($24) is a flavour fiesta with a concoction of rojak gin, bianco vermouth, a zingy pink peppercorn infusion, and a dash of orange bitters. Dessert lovers will enjoy the not-too-sweet Nutslide ($24) a sinfully scrumptious cocktail which combines dark rum, creamy goodness, a dollop of peanut butter, and a drizzle of olive oil.
Of course, you can also sample the spirits with vertical and horizontal tasting flights. The vertical flight (from $22) is a tasty lesson on how ingredients such as rice, honey, coconut and sugarcane evolve from wine, a new-make spirit and two forms of aged whiskey. The horizontal flights are a class in session, taking you through themes such as Fermentation ($15), Distillation (pure spirits, $35), Distillation (infused spirits, $32) and Aged (pure spirits, $40).
Anthology, 10 Circular Road, Singapore 049366
Tigress transitions into a Korean cocktail bar
Tigress has officially opened its doors as a newly minted cocktail and billiards bar, and we're in love. Embellished with greenery, this fusion restaurant serves Korean-Western dishes. The drinks are inspired by destinations in South Korea, including Seoul, Jeju Island, and Busan. Dreams of Unity embodies the 38th Parallel, the line that borders the North and the South. Starry Starry Seoul is the Korean take on a gin fizz – it's both sweet and sour in equal measure. Get variations of tteokbokki that come with cheese and bacon or eggs and chicken bites for a fuss-free snack to go along with your drinks.
Tigress, #03-17, 277 Orchard Road, Singapore 238858
Junior the Pocket Bar presents Volume 10: Palace
Junior the Pocket Bar is back with its latest concept inspired by the meals and daily life of the royal Joseon dynasty. Its cocktail menu follows the concept of the five daily meals of a royal family, heavily based on neo-Confucianism. Seaweed is a take on a martini, using seaweed-infused vodka and a touch of perilla oil to give a twist on a classic. It's a spirit-forward drink with savoury notes that's ideal for anyone who isn't keen on having sweet cocktails. Our personal fave? The Dalgona. A blend of cognac, amaretto espresso, orange and clove is topped with warm salted caramel foam. The sharp coffee flavours are tempered by the foam, making it a great pick-me-up.
Food-wise, we highly recommend the tteok-guk. At $28 a serving, it's enough to feed two. The broth is brewed for 36 hours in-house and poured over homemade rice cakes that are soft and perfectly chewy. Scoop up the ones stuffed with cheese for a cheeky surprise, and pair them with savoury slices of braised wagyu shank slices for the perfect bite. Oh, and the snacks on the menu are perfect for before or after drinks. This indulgent treat is a trio of spam and cheese on a stick battered with gochujang batter. Keep in mind that this spot doesn't take any reservations, so drop by early to secure your seat.
Junior the Pocket Bar, 6 Ann Siang Hill, Singapore 069787
Smoke & Mirrors unveils Volume 3 of The Real Art of Drinking
Time flies! Smoke & Mirrors has launched the third volume of its 'The Real Art of Drinking' series. This time, the menu takes inspiration from art forms beyond the gallery. All 12 cocktails encompass traditional and contemporary concepts – from painting and cinema to music and cooking. The result is quite a visual treat.
Starting off strong, A Wish ($32) is sure to turn heads with its grand setup of a Trevi Fountain re-imagination and smokey effect from dry ice. But don't worry, no mixing of dangerous chemicals here – just a mix of fermented green tea and Aberfeldy Whisky with smokey and earthy notes.
What better way to celebrate the art form of cinema than with James Bond? License To Kill ($28) is a gimlet meets vesper, infused with Hendrick's gin spiked oolong, Monkey Shoulder smokey monkey whisky and jasmine rice syrup. Scan the accompanying QR code for a glimpse into an augmented reality experience. Let's Get Inked ($30) offers a spicy twist on a New York sour, with ingredients associated with the Americas – Michter's Bourbon fat-washed with bacon, chilli-infused Flor de Caña 7-year rum, corn and lime. It celebrates the cultural significance of tattoos, with five different designs of rice paper imagery.
Smoke & Mirrors, #06-01, National Gallery, 1 St. Andrew's Road, Singapore 178957
---
Hot new bars in Singapore: August 2023
Sugarhall introduces a new menu
"Not so sweet, please!" – guilty of using this phrase? You're just like the majority of Singaporeans. Sugarhall debunks the saying that rum is sweet with its new 'Not Too Sweet' menu. The six cocktails are loosely based on the team's favourite local beverages with a boozy twist and refined flavours. But they don't take shortcuts by simply pairing rum with said beverages and calling it a day.
Take Rose Rosé I Love You ($23), for instance. The Codigo 1530 Reposado tequila, vetiver and cherry blossom concoction is reminiscent of rosé wine instead of bandung. Champion Highball ($25) sports the colours of Milo with melted milk, dark and matcha Fossa chocolate smeared on the glass for garnish. Bacardi Reserve Ocho rum is infused with cacao nibs, along with malt syrup, housemade lime juice and a splash of prosecco for a rich yet refreshing tipple.
Boba Razzi ($24), is the creation that looks the most like its inspo. Oolong-infused Roku gin and winter melon shine through along with grenadine caviar pearls that mimic jelly-like boba. We also thoroughly enjoyed Jungle Sunbird ($23) from the 'Not Too Funky' menu portion. The cocktail is a delightful blend of creamy Takamaka Extra Noir rum, a touch of tropical paradise with locally brewed ondeh ondeh soju infused with pandan and coconut flavours, all balanced with a tantalising Campari sugar rim that brings out the complexity of the drink.
Get your comfort food fix by pairing your tipples with vegetable momos ($16), sweet and tangy pepper fry chicken ribs ($18) and – wait for it – Indomie ($18) served with crackling pork belly, addictive sambal matah and sunny-side-up Japanese egg.
Sugarhall, 19 Cecil Street, Level 2, Singapore 049704
Flor De Cana's Sustainable Cocktail Challenge returns
The carbon-neutral and fair trade-certified rum brand welcomes the return of its annual Sustainable Cocktail Challenge. This year, 11 fab establishments in Singapore – amongst the 200-odd venues within Southeast Asia – are taking on the challenge. Part of the criteria is to offer their sustainable cocktail creations on the menu for a month from 1 to 31 July.
After a virtual judging round, the top 10 finalists will battle it out on 28 August at The Bar @ 15 Stamford. The local champion will go on to participate in the APAC regional, and global finals in Nicaragua to compete for the Flor De Caña World's Most Sustainable Bartender title and a prize of $10,000.
We embarked on a mini bar hop across three bars to sample their sustainable creations. Over at Night Hawk, 20-year-old Shayla calls her creation Sunrise Hereafter, a nod to new beginnings and change. Mango is spotlighted in this mango and green pepper-infused concoction, leaving a burst of heat and a zesty tang. Seeds, peels and pulp from mangos are given a new lease of life – right from the sous vide mango seed soaked in a chilli tincture to serving mango chips and chutney as garnish.
Kafe Utu takes on a spirit-forward approach with Ubuntu's Harvest. Think of it as a spiced Old Fashioned. The restaurant takes advantage of the over-abundant plantain and infuses the skin with cinnamon and coffee beans using the cold brew method. It's served in cube-shaped glass made from hand-blown recycled glass and coasters created from excess fabric.
Last but certainly not least is Gibson's Forest Farmer – our fave for the night. Senior bartender Joe takes cues from his Sarawak roots and Malaysia's national bird, the hornbill. These feathered creatures are professional seed dispersers and play a big part in sustaining eco-diversity in our environment. Figs (their fave food), tonic and leftover lemon juice are distilled into a cordial before being stirred with homemade red wine that's reduced with the seeds and skin of mangos.
Flor De Cana Sustainable Cocktail Challenge, multiple bars including Gibson Bar, Smoke & Mirrors, Night Hawk and Sugarhall
Level33 presents a new menu featuring craft beer cocktails
Ascend to the highest urban microbrewery in the world as the rooftop bar presents a new cocktail menu. Conceptualised by bar manager Thomas Sobota, the menu highlights a fusion of beer and craft cocktails with flavour profiles like strong and classic, tropical and sunshine, and minty and fresh.
Indulge in Flair from Paris ($25), a dazzling blend of lychee liqueur, crème de cassis, berry syrup, champagne, and Level33's wheat beer, complete with an edible gold glitter effect. Sip on Recollection of Fritz ($26), a sophisticated mix of sake infused with hops, and enhanced by hints of clove, cinnamon, honey, and zesty lemon. Feeling adventurous? Try the Cantarito ($25), inspired by the Mexican classic, featuring Codigo Blanco tequila with orange, lemon, and house-made grapefruit soda, served in a clay jar. And don't miss out on Samurai's Julep ($26) – a twist on the timeless mint julep, infused with hoppy Japanese Kiku-Masamune Kasen sake, Bols cucumber liqueur, lime, and fresh mint.
Level33, #33-01, Marina Bay Financial Centre Tower 1, Singapore 018981
Enclave pops up at Ghostwriter
Following a successful run of the Spectre pop-up, Ghostwriter brings us the return of the fan-favourite, Enclave. The dive bar from Golden Mile Complex comes to life at this quaint space, with a mix of spicy Thai grub and refreshing cocktails.
Spice up your taste buds and chill out with a vibrant cocktail line-up. Sip on the refreshing Thai Basil Smash ($21) with gin, zesty lemon, and Thai holy basil. Or go classic with a Whiskey Sour ($21) that packs a punch. Feeling adventurous? Try the Love & Murder ($21) featuring Campari, Green Chartreuse, lime, and a hint of saline. But wait, there's more. There's also a secret off-menu treat: the luscious Thai Tea ($23) and the naughty Dirtiest Martini ($23) with fat-washed olive gin, olive brine, and dry vermouth.
Enclave pop-up, Ghostwriter, 98 Club Street, Singapore 069467
Wine Connection welcomes its 15th outlet
Get ready for more wine-tastic encounters as Wine Connection opens its 15th restaurant at Westgate. Indulge in the cheapest wine pairing in town for just $5, and while a delish meal sets you back at just $15. With over 300 labels of wine from the world's most prized regions, you'll be spoilt for choice. Plus, stock up on your favourite wines until 31 August 2023, and get a $15 discount with every $100 spent.
Wine Connection, #01-03 Westgate, 3 Gateway Drive, Singapore 608532
---
Hot new bars in Singapore: July 2023
Cat Bite Club
This new bar in Singapore explores the versatility of agave and rice spirits – two components that are surprisingly overlooked here. With a mischievous Cheshire cat grin guiding the way, Cat Bite Club awaits you in the vibrant Duxton neighbourhood. Step through the secret entrance, marked by a glowing red sign, and enter the cheeky bar.
Cat Bite Club celebrates the artistry of agave and rice spirits which share a connection between Mexican and Southeast Asian flavours from coriander to rice, citrus to chilli. Operating partners Gabriel Lowe and Jesse Vida present a menu where each drink tells a compelling story. From the Cat Bite Margarita ($26), a tantalising blend of Código 1530 Blanco tequila, Siete Misterios Espadín mezcal, and more, to the Soju Sprint ($24), a delightful concoction featuring Tokki soju, peach, and a touch of absinthe, each sip unravels a world of flavours. The bar also offers an extensive selection of over 100 agave spirits and an array of rice spirits. Go ahead and try the sampling flight to explore the range. There are also alcohol-free options – simply look out for the blue cat head on the menu.
Cat Bite Club, 75 Duxton Road, Singapore 089534
The Beer People Co.
Refreshing beer paired with spicy Thai food? You don't have to tell us twice. The Beer People Co. is the newest bar offering over 150 craft beers from more than 20 breweries across Asia. From local favourites like The 1925 Brewing Co.'s Kaya Toast Stout, a mind-blowing fusion of fresh bread, pandan, and coconut, to acclaimed international brands like Vietnam's Heart of Darkness Craft Brewery, the flavour-packed lineup will satisfy all beer enthusiasts. The Beer People Co. have also joined hands with Nummum Thai Kitchen so come hungry and indulge in Thai classics.
The Beer People Co., 21 Jalan Besar, Singapore 208793
Junior the Pocket Bar's limited-time menu inspired by 90s fan-fave cartoons
The 90s have taken over Junior the Pocket Bar! Step inside a timewarp of your favourite 90s cartoon characters with the bar's limited time collab with William Grant & Sons. We're talking printouts of popular characters from Dexter's Laboratory, The Powerpuff Girls, Johnny Bravo, and more plastered across the space, 90s music, and of course, 12 distinctive tipples.
Head bartender Hazel draws inspiration from her favourite characters, weaving in spirits like Glenfiddich, Hendrick's gin and Monkey Shoulder. The drinks are a mix of literal interpretations and unique ingredients curated by the team. Take Way of Dee Dee for example, which has pink and yellow hues mirroring Dexter's sister's outfit. The yoghurt drink is boozed up with Hendrick's Gin, and Bol's Yoghurt Liqueur, combined with mango lassi and pink dragonfruit soda.
Eldest Child Syndrome reflects the dual personality of Blossom from The Powerpuff Girls – soft on the outside with strawberry, and tough inside with Hendrick's Absinthe, aperitif wine and grand bitters. Other highlights include Hey Foxy Mama inspired by Johnny Bravo, a fizzy espresso martini of some sort (sans the dairy), with a blend of Hendrick's gin, coffee oil, gentian, white tea and orange yuzushu foam.
We also liked the perfumy Timid Tenacity concocted with Reyka vodka, grapefruit, saffron, Sauvignon Blanc, vermouth, soda and a hint of spice from pink peppercorn. Get your daily veggies in with Rival Evil, a vegetal whisky sour iteration made with Monkey Shoulder, rocket leaves, golden apple, almond and Green Chile liqueur. A perfect elixir for the evil genius monkey, Mojo Jojo. All cocktails are priced at $26.
Junior the Pocket Bar, available till 31 August, 6 Ann Siang Hill, Singapore 069787
Verandah Pool Bar & Grill's Sundown floating rooftop experience
You don't have to travel all the way to Bali to experience a floating breakfast. Hop over to Verandah Pool Bar & Grill for a floating feast at the infinity pool. Located on the seventh level of Momentus Hotel Alexandra, the Verandah Sundown floating rooftop experience whisks you away to a dreamy poolside retreat. At $98 for two, the floating tray comes with delectable bar bites like sweet shrimp, fresh oysters, crabmeat remoulade, Angus ribeye sliders, dirty steak, and mini hot wings, along with two glasses of sparkling or house wine and two cocktails.
Try Alexandra's Allure, a sweet and smokey blend of 18-hour infused honey and butter bourbon with a touch of cinnamon smoke. Cool down with Sundown on Queenstown, an ice-blended twist on a tequila sunrise prepared with jalapeño-infused tequila, house-made chilli syrup, sour plum and chilli flakes on the rim. Or go easy with the Singapore Sling iteration, Fables of Faber, made of orange and rosemary-infused Cointreau and Hendricks gin, dehydrated pineapple cubes, and smoked rosemary. Each experience entitles you to two hours of daily usage at the Reflection Pool from 4pm to 10pm.
Verandah Pool Bar & Grill, Level 7, Momentus Hotel Alexandra, 323 Alexandra Road, Singapore 159972
Underdog Inn
Indulge in a wine experience as Underdog Inn unveils its Chef's Wine List, curated by executive chef Pete Smit. Just like the handwritten Chef's Specials Board, the rotating selection of natural wines adds a dash of excitement to the conventional wine selection. With wines carefully chosen based on availability and Chef Pete's personal tastings, you can expect a unique lineup that evolves with every visit.
From refreshing red and white options on tap to a curated collection of four to five bottles, there's something for every palate. Embark on a flavour-filled adventure as you explore a range of profiles, from bright and bubbly pet nats to bold and funky wines. The new wine menu is a great accompaniment to the open-fire feasting menu, with meat-heavy wonders like house-made sausages, ribeye cuts, lamb ribs, and pork leg.
Underdog Inn, #01-03, 115 Amoy Street along Gemmill Lane, Singapore 069935
Jungle Ballroom
Experience lucid glamour and bursts of vividness as Jungle Ballroom brings the tropics to Singapore. Conceptualised by head bartender Adrian Besa (previously from Mo Bar), the playful menu takes you through a campy jungle of some sort, spilling with ingredients and spirits across Southeast Asia. Go on a trip through the 'Canopy', 'Understorey' and 'Forest Floor' and experience levels of flavour.
Canopy mirrors a bird's eye view of the jungle with a mix of refreshing elixirs and spirit-forward tipples. For the adventurous, pick High Water ($26), a floral and woody number with cachaca, cassis, palo santo, lemongrass, soursop, ginger ale and lemon. Understorey explores life below the treetop – expect spices and fizz. Rose-hued Waterfall ($25), is a refreshing spritz of Bianco vermouth, yellow chartreuse, turmeric, pomegranate, lemon and rose pet nat.
Finally, enter the deep roots of the Forest Floor which champions local fruit and native herbs. How Doth The Little Crocodile ($26) sees a smokey-tangy blend of London Dry gin, mezcal, lime, basil, pink dragon fruit, bitters, gula melaka and origami for you to finish before your drink arrives. Enter the hidden sanctuary through a secret tunnel from the street level or the curtained entrance within the hotel, and lose yourself in the wilderness. Night owls will be happy to know that the bar is open till 2am.
Jungle Ballroom, #03-03, Mondrian Singapore Duxton, 16A Duxton Hill, Singapore 089970
---
Hot new bars in Singapore: June 2023
Plume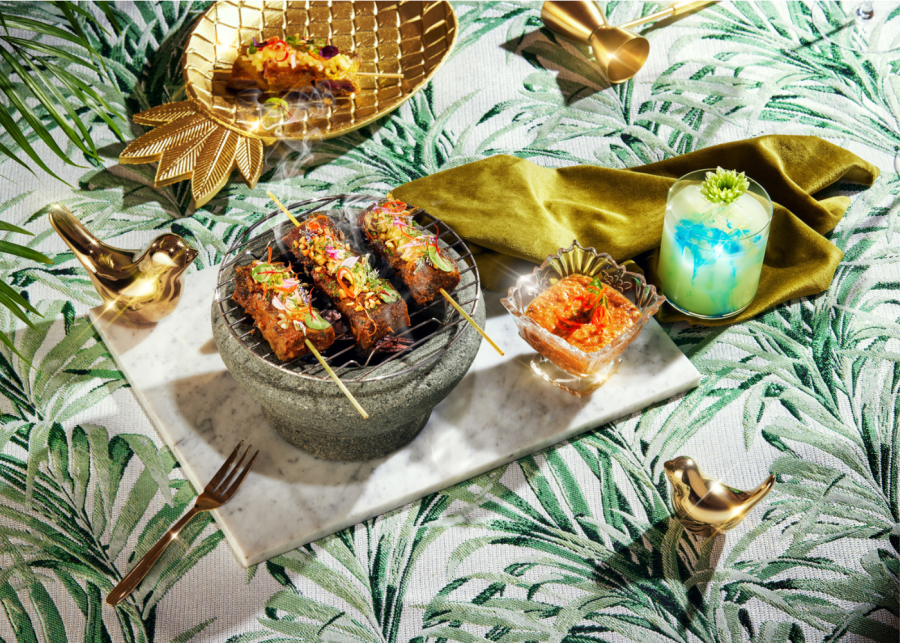 All eyes are on Plume, the latest destination cocktail bar in the scene. The bar is a celebration of the 'Panache of Singapore', paying homage to 12 of the city's indigenous birds. And it's not just the presentation of the cocktails that mimics the avians.
The tipples, crafted by head mixologist Ong Jun Han and Compound Collective's bar consultants, reflect the characteristics, habitat and diet of these feathered creatures – including ants! Yup, The Banded Woodpecker ($26), is a blend of Green Ant gin, dry vermouth and guava vinegar with a spritz of oak moss to represent the scent of a rainforest. The Asian Koel ($24) is an earthy mix of green coffee tequila and mezcal with sweet vermouth, gentian, fernet branca and sandalwood.
For a light and breezy pick, The Blue-tailed Bee-eater ($23) with gin, honey, sage, lemon and saline is a great choice for gin sour lovers. The lip-smacking Oriental Pied Hornbill ($27) reimagines a whisky sour with bourbon, banana liqueurs, lemon, egg white and a dash of black pepper to cut through the sweetness.
The marvellous birds also inspire the food menu with dishes named Bird Food ($15, addictive lotus root chips with salmon floss and a whipped onion cream dip), Perched Together ($18, chicken rendang croquettes), Bulbuls ($35, wagyu beef satay) and Pink Flamingos ($24, pani puri topped with tiger prawn tartare, shellfish foam, crackers and wasabi nuts). So spend your evening at this Art Deco-in-the-tropics bar and fly away to a bird paradise.
Plume, Pan Pacific Singapore, 7 Raffles Boulevard, Singapore 039595 
Ume San 100
Love a great hidden bar? You'll feel right at home in Ume San 100. Tucked away on the second level of Fortune Centre, the entry to this bar is located behind a row of jidōhanbaiki Japanese vending machines. Behind the door lies a cosy Japanese umeshu and highball bar which boasts over 100 types of umeshu – even from its birthplace, Wakayama.
Take your pick from sweet and fresh to bold and earthy flavours including experimental sake and sochu iterations. The bar team goes a step further by experimenting with different umeshu notes in the cocktails. All eyes are on Sea Garden ($22), a blend of Plymouth and Genever gin, lime, prosecco, butterfly pea flower and fairy dust that's served in a diving orb to celebrate Wakayama's famed diving scene. Don't neglect the highballs as there are close to 30 variations – from whisky ume to shiso ume to tea ume.
The bar also serves a small selection of supper classics. Uni is the Bomb! is the ultimate bar bite with deep-fried balls of molten uni. We were pleasantly surprised by Angry Asari Soup Ramen – springy noodles topped with a hearty Asari white miso and pork bone broth and Asari clams.
Ume San 100, #02-07, Fortune Centre, 190 Middle Road, Singapore 188979
Joo Chiat Oyster House
To our easties who love oysters, the folks behind Kings Cart Coffee bring you cocktails and seafood with all the good vibes. After 5pm, watch as the cafe transforms itself into Joo Chiat Oyster House. Reminiscent of the old red light district days of the east, the space comes to life with retro-vintage spice. Seductively illuminated in red, it's a great place for good music, tapas, and cocktails.
Oysters are as fresh as they come, imported weekly from the Hyogo prefecture. Take your pick from naked, flavoured, and baked oysters that start at $3.10 apiece. And we have to talk about the drinks; they're unique concoctions with fun colloquial twists.
The Aunty Rosalyn ($22) is inspired by a feisty and sharp-tongued Peranakan lady. This gin-based drink gets its kick from lemongrass and galangal. For a taste of nostalgia, order a Solero ($22). Remember the old school lime popsicle with vanilla ice cream? Yeah, it comes in the form of a cocktail now. It's sweet and sour in the best way possible.
Joo Chiat Oyster House, #01-05, 328 Joo Chiat Road, Singapore 427585
Equate Night
Cafe by day, bar by night? Now, that's the kind of concept we dig. Equate transforms its bright and airy space into a dark and moody aesthetic filled with house music, cocktails, mod-Asian fare, and drinks on tap. Fuel up with fried juk ($12.80) and an arancini-inspired starter with smoky traditional porridge fried in mini balls. The cheeseburger spring roll ($9.80) combines two classics – crispy spring roll filled with Japanese curry minced beef and cheddar.
The drinks range from fruity libations like Natsu Heat ($18.80) with whiskey and peach-infused sencha to cocktails on tap like Elderflower Collins ($18.80), a floral mix of elderflower, lemon and cucumber tonic. There are also draught and craft beer picks including Kirin IchibanLager ($9.80), Lervig House Party IPA ($14.80), Lervig Easy APA ($14.80) and Lervig Pils Pilsner ($14.80). If you're watching your liquor, mocktails like Snow Patrol ($7.80), lime-flavour soda with mint syrup, and Elementary ($6.80), Earl Grey cold brew with lime juice and syrup are crisp, light and refreshing.
Equate Night, #01-17A, Orchard Central, 181 Orchard Road, Singapore 238896
One-Ninety Bar
Step into a botanical wonderland with One-Ninety Bar's new menu. Head bartender Sophia Kang and beverage manager Gabriel Carlos draw inspiration from the vibrant cocktail capitals and botanic gardens of Singapore, London and New York.
Starting with our Botanic Gardens, sip on Zingiber ($26), a smoky paloma variation with Vida mezcal, Ancho Reyes Verde, ginger, turmeric, lime, and grapefruit soda. Toast to the kampung spirit with Kampung Kueh ($26), a dessert cocktail with El Dorado 12 Years and Golden Falernum liqueur shaken with coconut, pandan, jackfruit, cream and egg white.
Travel to the Brooklyn Botanic by sipping on Lightscape ($27), a white negroni that encapsulates a winter luminary garden. Ocho Blanco tequila, vermouth, wild raspberry eau de vie, and Fernet Hunter (an Italian bitter) shine in this tipple. Kitchen Garden ($26) is a vegetal libation with fragrant grapefruit peel and blackcurrant leaves from Nuet Dry Aquavit combining tomato, mushroom, celery, and citrus, rimmed with tomato powder.
One-Ninety Bar, Four Seasons Hotel Singapore, 190 Orchard Boulevard, Singapore 248646
Live Twice
Live Twice takes the minimalist route in its new cocktail menu. Channelling the romance of mid-century modern Japan, all 19 cocktails have just up to four ingredients in each of them. The signature Vesper cocktail is shaken with Ki No Bi Sei gin and Absolut Elyx vodka with bittersweet tempus fugit kina l'aero d'or and herbal fernet hunter granit. The spirit-forward Improved Whiskey cocktail is a nod to an Old Fashioned with a heady mix of Woodford Reserve bourbon, cherry brandy, bitters, and Tatsumi absinthe.
Craving something easy and light? Try the highball-style Flourishing Youth with Roku gin and young bi luo chun tea, balanced with fruity flavours from kayuki ume spirits and merlet lune d'abricot liqueur. Swap out dessert for Coconut Alexander, savour coconut and chocolate notes from South African Mhoba white rum combined with sugarcane, vanilla and a housemade coconut meringue powder garnish. Oh, and try the Solaris for a refreshing tomato cocktail. It's a perfect mix of Monkey 47 gin with tomato cordial and tare distillate for an umami bomb. All cocktails are priced from $26 to $28.
Live Twice, 18-20 Bukit Pasoh Road, Singapore 089834
---
Hot new bars in Singapore: May 2023
Jigger & Pony unveils a new menu
After turning 10 last year, Jigger and Pony searches from within and explores what's next for the bar with the launch of its Identity menu. The menu-zine encompasses 20 cocktails that range from classics to new innovative additions. Sustainability also takes a leap forward – whether it's celebrating imperfections with the Ugly Tomatoes cocktail, repurposing byproducts in the Cloudy Kangaroo, or working with local producers in the Honey Magnum.
Ugly Tomatoes is highly raved about and with good reason. B-graded heirloom beefsteak tomatoes are shaken with Hapusa Himalayan gin and housemade kummel for nuanced sweet and savoury flavours. It also comes in a 'crumpled' Kimura glassware that reiterates the notion that imperfections can be loved too. Cloudy Kangaroo is a natural cocktail that's made with two byproducts: sake kasu from sake production and soymilk curd from their Soy Milk Punch. They've intentionally left this elevated dry vodka martini cloudy but it tastes just as good as the original.
Super Lemon Highball is the product of two cool techniques – a freezing technique where lemon water is extracted from frozen lemon juice, and the maewari technique to blend Suntory World whisky and Hokkaido super soft water. The concentrated lemon jelly garnish adds zing to this fun cocktail. Classics like Old Fashioned, Negroni, Pony Martini, and Bitter Gimlet also get a revival. All cocktails are priced at $28 and $22 for non-alcoholic picks.
Jigger & Pony, Level 1 Amara Singapore, 165 Tanjong Pagar Road, Singapore 088539
Da Paolo Dempsey Restaurant & Bar's fresh new cocktails
Da Paolo Dempsey Restaurant & Bar pays homage to its Italian heritage with a fresh line-up of cocktails. Inspired by the beauty and rich cultural history of Italy, these drinks feature Italian ingredients as well as local lore and history. The Melone Bellini ($22) is an Italian twist on the classic Bellini, featuring freshly blended melon purée instead of peach or raspberry, inspired by the popular Italian appetiser of melon and prosciutto. Da Paolo's version includes lime juice, almond liqueur, and a mint garnish. Cool down with Mandorla-Almond ($24), a refreshing, semi-frozen drink inspired by the granita Siciliana from Sicily, made with almond liqueur, Aperol, coffee liquor, Valencia orange juice, and a spicy finish of cinnamon.
Sweet tooths can imbibe a couple of dessert cocktails (but hey, feel free to have them at any course). First up, Nocciala ($24) reimagines the Alexander, featuring a blend of hazelnut liqueur, cognac, dry curacao, and vanilla. Topped with warm strawberry foam and grated chocolate, it offers a delightful alternative with contrasting temperatures and the nuttiness of hazelnut. The Baba ($24) cocktail replicates the taste of the famous rhum baba dessert, featuring a frothy mix of rum, dry curacao, lemon, egg white, and demerara sugar with light notes of cherry blossom. It's topped with a dehydrated cherry blossom brioche.
Da Paolo Dempsey Restaurant & Bar, #01-13, Block 8, Dempsey Road, Singapore 247696
Low Tide's new menu celebrates the tropics
Low Tide introduces new food and drink menus at its alfresco and lower-level spaces, Topside and The Cave. These highlight a combination of tropical ingredients, cuisines and cultures from Mexico, The Caribbean, East Africa, Asia Pacific and Europe.
Topside offers 18 refreshing tropical drinks with something for everyone. Notable drinks include the traditional Low Tide Daiquiri ($22), and Swizzle & Flow ($22) made with acidulated mint syrup, maraschino, fino sherry, lychee, lime, and soda. Additionally, there's Pina Clearada ($22), a clarified pina colada made with Bacardi Carta Blanca, coconut, and lime. If rum isn't your cup of tea, there's also Carrot Colada ($22) with Stranger & Sons gin, pink peppercorn, carrot, coconut cream and lime. Or El Diablo ($23) with Mezcal Union, codigo blanco, cassis noir de bourgogne, ancho reyes verde, honey, ginger and lime.
The Cave is an intimate space on the lower level that offers guests an exotic cocktail experience. The menu, featuring six creative cocktails, is a collaboration with friends of the venue from around the world. That includes the Lost Boys of Low Tide and teams from Kuala Lumpur, Bangkok, Auckland, and Sydney.
Low Tide, 98 Club Street, Singapore 069467
Hendrick's Flora Adora Gin pops up at Caffe Fernet
Spring unfolds in the next instalment of Hendrick's Cabinet of Curiosities. Meet Flora Adora, the limited edition release that elevates the brand's signature house style with a fresh and floral dimension. A whiff of the libation gave us a sweet scent of Bulgarian roses and wildflower botanicals. Master distiller, Lesley Gracie, takes inspiration from the pollination at play in her garden – gravitating towards the blooms attracted by bees.
To celebrate the launch, Hendrick's collaborates with Caffe Fernet for a Wildflower Garden pop-up showcasing exquisite Flora Adora cocktails and pairing dishes. Gin sour lovers won't put down Butterflies & Bees ($23), a velvety-smooth rendition of the classic. It's concocted with house-made orange peel infused jasmine honey, apricot liqueur and a gorgeous ulam raja flower for garnish.
If your preferred choice leans towards an aperitivo, the Hummingbird ($23) goes heavy with classic Italian bitters, Earl Grey tea, ripe bananas and pink grapefruit juice topped with a gorgeous orange cosmos flower. Keep things breezy with the refreshing Blossom ($25), a boozy Sakura tea-infused spritz with peach and sparking strawberry wine.
Hendrick's Flora Adora Gin Wildflower Garden pop-up, until 25 June 2023, Caffe Fernet, #01-05, Customs House, 70 Collyer Quay, Singapore 049323
FiftyFive Coffee Bar
FiftyFive Coffee Bar offers a coffee bar by day and cocktail lounge by night, featuring a seafood-centric bar bites menu and an artfully-crafted cocktail line-up. The concept is represented by two '5s', signifying the synergy between day and night, past and present, with the aim of bringing coffee, cocktails, and creative collaborations into a singular space. The art-inspired cocktails, featuring a rotating list of chef-artists in residence, are still in the works. Stay tuned for more updates!
FiftyFive Coffee Bar, 55A Neil Road, Singapore 088892
---
Hot new bars in Singapore: April 2023
Synthesis
Be transported to the glitzy charm of Hong Kong with Synthesis. The swanky speakeasy is conceptualised by the folks behind Mama Diam – so yes, you get an unassuming storefront here too. Synthesis is hidden behind a TCM shop and transforms into a different world as you enter. The menu draws inspiration from traditional Chinese medicine (notice the theme?) so expect goji berry, red date, ginseng, roselle and other nourishing ingredients.
Go easy by starting your evening with Roselle Gin Highball ($22), a refreshing concoction of gin, calamansi, roselle and soda. Date with Jia Jia ($24) has all the trimmings of a great nightcap: cognac, red date, Jia Jia Herbal Tea and all-spiced liqueur.
If intense TCM flavours aren't your jam, we're happy to report there's a cool section of locally-inspired cocktails. Citrine Delight ($23) piles on the flavour with white rum, soursop, almond and yuzu jam. And we'll swap our morning cuppa any day with Uncle Tom's "Kopi O" ($24), a simple mix of whisky, Mr Black coffee liqueur and butter foam. Who needs dessert when you have cocktails like Basilicious Kaya ($24) and Tiger's Eye Pu Erh ($22) in the mix? The former has white rum clarified milk, kaya and basil while the latter is a blend of gin, pu erh tea, gula melaka, cream and pandan. Delicious!
Synthesis, #01-643, Suntec City East Wing Tower 4, 3 Temasek Boulevard, Singapore 038983
Atlas
We can all agree that the art of drinking is a simple pleasure that transcends time. Atlas agrees too – with the launch of its new menu, "Simple Pleasures". The concept celebrates the golden era of drinking and the simplicity of well-made cocktails over the years. Turn to each chapter for classics like martini, sour, old fashioned and champagne cocktails. Designed and developed by head bartender Lidiyanah' Yana' K, the beautifully illustrated menu has five iterations of each cocktail including an Atlas signature and a booze-free option.
We started light and easy with Ode to Odyssey ($22) from the sours category. Made with Australian shiraz gin, clarified milk and toasted raisin-cinnamon syrup, the creamy and sweet concoction reminded us of fizzy milk. The "egg white" you see on top? It's Aer, a sustainable egg white substitute. Valley of the Ashes ($25) features American bourbon, Venezuelan rum, Italian bitter liqueur, pomelo and lime garnished with a chocolate tuile to balance the smokey flavours. This cocktail may be a little bit out of the ordinary for an Old Fashioned, but Yana wanted to create something that's approachable for everyone. Plus, who says cocktails should be gendered anyway? With a little bit of everything and a lot of flavour, the Valley of the Ashes is one of our faves.
Ranked as the highest ABV at 39.2%, The Occidental ($26) from the martini category is as stiff as it comes. But don't let the high ABV scare you off. The mix of London dry gin, vermouth blend, Italian citrus liqueur and thyme leans towards a sweeter martini, with an explosion of citrusy goodness from limoncello liqueur. Fair warning: it's dangerously addictive so tread carefully. Other notable mentions include Diamond Lynd ($24) and Crimson Pipe ($25). We'll be dropping by to try 'em.
Lofty Peaks
Fresh off the success of Apolo's Food Village in Little India Arcade, the establishment welcomes Lofty Peaks. The bar is located within the restaurant so you can have your post-meal tipples right away.  Tuck into Indian-inspired cocktails – from classic concoctions to interesting blends. We're looking forward to Boozy Mangga Lassi ($19), an adult-friendly twist on the refreshing drink; Take Me To Chennai ($20), whisky with tamarind syrup and lime for bold, tangy goodness; and Chai Espresso Tini ($20), a nod to the classic but with chai, an Indian espresso shot and a hint of cinnamon dust.
If all that is making you hungry, the full-blown food menu will treat you just right. Settle for small bites such as peri-peri prawns, chaats, tacos, fried anchovies and quesadillas. Or fuel up with side dishes or mains for the table – think kebabs, Kerala mutton fry, tandoori prawn, lamb rack, green chilli crab or black pepper lobster.
Lofty Peaks, 48 Serangoon Road, Singapore 217959
Raffles Courtyard and Tanqueray Gin cocktails
Cool down with Tanqueray's refreshing gin cocktails at the gorgeous Raffles Courtyard. The two-month pop-up highlights six handcrafted cocktails made with Tanqueray Gin iterations. For a thirst-quenching summer cocktail, sip on Raspberry Fizz featuring Tanqueray Flor de Sevilla Gin along with elderflower syrup, fresh raspberry, orange juice, lime juice and soda. Or have breakfast anytime with Mary's Breakfast, a classic Bloody Mary prepared with Tanqueray Gin Pimms No.1, Green Chartreuse, lemon juice, tonic water and a dash of Tabasco for delicious tangy goodness. Vinod Wallbanger spotlights Tanqueray Nº Ten so expect lingering citrusy notes with vanilla liqueur and Aperol.
For a spirit-forward option, have a glass of Rangpur Negroni, presented with the Tanqueray Rangpur Lime Gin and perfectly blended with Campari and Mancino Rosso. Psst: the drinks are priced at just $15 during happy hour from 5pm to 7pm.
Raffles Courtyard, until 15 May, 3pm-9.30pm, 328 North Bridge Road, Singapore 189673
Plantation Rum Launches Tropical Month
Whether we like it or not (nah, we love it), the tropics keep calling out to us. This year, Plantation Rum presents its first-ever International Tropical Month. It kicked off with a fab launch party at Rumours Beach Club but don't fret if you missed it. Visit bars like 28 HongKong Street, Bob's Bar, Las Palmas, Panamericana, Potato Head Singapore, Smoke & Mirrors, Tempo Bar and Grill, and WooBa for tropical-inspired cocktails all month.
Hop over to 28 HongKong Street for Pineapple Daiquiri made with Plantation Stiggins' Fancy pineapple rum, lime, sugar, and tiki bitters. Tempo Bar presents Dirty Banana, a creamy, cool and refreshing concoction of Plantation Rum O.F.T.D. with banana, espresso, and sweetened almond milk. Itching to whip out your own creation? Just purchase a bottle from the EC Proof website – get any two bottles of Plantation Rum to redeem two free shots at selected bars.
Plantation Rum Tropical Month, available at multiple bars including 28 HongKong Street, Bob's Bar, Las Palmas, Panamericana and Potato Head Singapore
---
Hot new bars in Singapore: March 2023
Wa-En Bar
You've probably heard of and even dined at Wa-En Wagyu Yakiniku in Jewel Changi Airport. But did you know there's a bar located within the Michelin-recommended restaurant? Step away from the grill and enjoy Japanese whiskeys, wines or craft cocktails. There's Campfire Penicillin ($21) concocted with Eigashima Toji's select whisky, Laphroaig 10 Years, and punchy flavours like homemade ginger syrup, lemon juice and candied ginger. But all eyes are on the Miyazaki Wagyu Fat-Washed Old Fashioned ($24). The Miyazaki wagyu-inspired whisky is stirred with Okinawan brown sugar syrup, and angostura bitters topped with a naughty serving of Miyazaki wagyu.
They even have a separate bar menu with elevated Japanese bar bites like wagyu tartare ($32) with A4/A5 Miyazaki wagyu topped with caviar and wagyu foie gras tacos ($22) of pulled beef, foie gras, and caviar served on crispy deep-fried dumpling skin.
Wa-En, #01-224, Jewel Changi Airport, 78 Airport Boulevard, Singapore 819666
Samsu Huay Kuan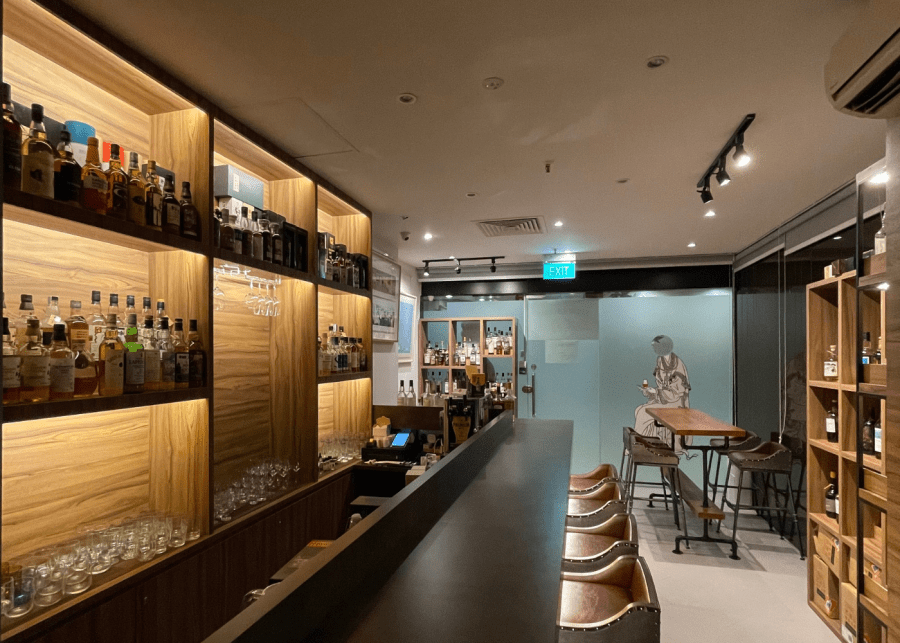 This one's for enthusiasts of unique whisky and spirits. Located along Orchard Road, Samsu Huay Kuan carries a great selection of lesser-known names and unusual spirits. Think single-cask bottling and vintage releases. Single cask bottles from Blackadder, The Animal Spirits and The Whisky Age are available to order by the dram. Drop by the quaint space (it sits 16 people) for monthly tasting menus or simply sit back and sample rare whisky blends, rum, cognac, gin, and other fine spirits paired with local snacks.
Samsu Huay Kuan, #02-33, Concorde Hotel and Shopping Mall, 100 Orchard Road, Singapore 238840
Jekyll & Hyde unveils a new cocktail programme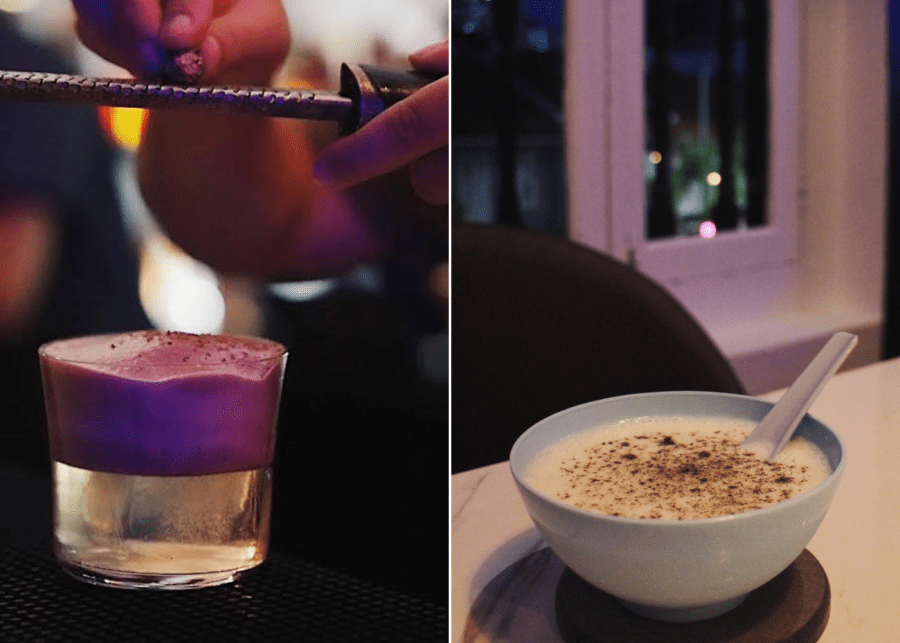 Jekyll & Hyde in Tanjong Pagar unveils a makeover with a revamped space and cool new food and cocktail menus. The place channels the contrasting personalities of both Dr. Jekyll and Mr. Hyde through the new food and bar programme. Adjourn to the second level and pick a side – are you feeling adventurous or would you rather stay with classic flavours? They've got both to satisfy your cravings. Geminis will love this place!We started with the Jekyll menu's Smoke 'N' Spice. It's a smokey twist on the whisky sour with a mulled wine foam and a hint of cinnamon.
Next, we couldn't put down Gabriel's Compromise made with lemongrass vodka, galangal syrup citrus and egg white. Squid ink, chilli crab, kimchi… there were a few raised eyebrows when we glanced at the Hyde menu but were game to try 'em. Perhaps a Dangerous Game? This salty and stiff tipple is created with squid ink oyster Reyka vodka, cinzano, rosso, luxardo maraschino and black olive brine. Bloody Mary fans will enjoy Seaside Murder that's jazzed up with Reyka vodka, tomato juice, chilli crab paste, kimchi shrub and citrus. All cocktails are priced at $24.
Oh, and don't leave without slurping up Jekyll classics like Mr. Bean, a boozy soya beancurd that actually comes in a bowl. Best to have it for dessert. Hungry? Come for elevated hawker grub and Asian favourites. We dived into The Hyde's Satay Goreng ($24) with Kurobuta pork, blue pea ketupat, serundeng and peanut sauce. But the star dish is the signature char kway teow ($29) – it had the right amount of wok hey, topped with a large slab of jade wagyu beef.
Jekyll & Hyde, 74 Neil Road, Singapore 088839
Tanglin launches Triple Tangerine Mandarin Orange Liqueur
Local distillery Tanglin adds a new liqueur to its colourful repertoire. Have a taste of the Triple Tangerine Mandarin Orange Liqueur. A first of its kind, the base is made from the same neutral grain spirit of Tanglin gins. It's distilled with mandarin oranges, calamansi, and kaffir lime leaves – all the zesty and citrusy flavours we love! The liqueur is said to go well with Singapore Sling, Margarita, Cosmopolitan and even a simple G&T.
Triple Tangerine Mandarin Orange Liqueur, $80, available for sale at Tanglin Gin Jungle, 26B Dempsey Road, Singapore 247693
What are you waiting for? Go ahead and have a drink or three (we promise we won't tell) at these hot new bars in Singapore!
---
Hot new bars in Singapore: February 2023
Parliament Bar
Nah, we're not getting political here. It's actually quite the opposite: raunchy, rowdy goodness. Follow the red neon light towards the second level, walk through the velvet curtains and be transported to an 80s American-style dive bar. Walls are plastered with a mishmash of retro posters, and the space is bathed in red hues and disco lights. And we can't forget the music. The bar aims to bridge genres and generations, so expect synth pop, classic rock, neo soul, and hip hop beats. Now that your senses have experienced an overdrive, it's time for drinks!
There's a fine mix of beers, classic cocktails, spirits, wines and mocktails, but we're keen to try the signatures. Go for Salty Salty ($19), with Peddlers salted plum gin, lemon and egg white, or Loose Lucy ($19) made of Widges gin mixed with Bruno Americano, Cinzano 1757 Rosso and rosemary.
Parliament Bar, #02-01, 18 Teck Lim Road, Singapore 088390
GRLA at Ghostwriter
The team behind Sago House, Low Tide, and Underdog Inn presents a cool new concept for budding F&B operators. Say hello to Ghostwriter, an incubation space for future restauranteurs to test-run their concepts. Located at the bustling Club Street, the space of 10 will play host to various concepts from three weeks to a month. The first pop-up of 2023 opens its doors to Guerilla (or GRLA for short). Founded by Son Pham (Sonny's Pizza fame) and June Baek (Mo Bar Singapore), the multi-concept space rolls out mod-Asian bar bites, a six-course tasting menu, and cocktails.
For the drinks, June charms us with a range to suit every palette. Campari lovers, go for O-mericano with omija-cooked Campari, cinzano bianco, perilla leaf and soda. If you're ordering the grilled ssam, get Ssook Sour, an Asian iteration with toasted sesame, ginger, Bombay gin, egg white and lemon. Finally, Do Pumpkin Ma Heart left us on a high with sweet pumpkin, ma, mango, Sailor Jerry spiced rum, and coconut milk served warm, with a dollop of cold cinnamon cream. Call it a boozy pumpkin spice latte if you will.
GRLA at Ghostwriter, until 29 January, 98 Club Street, Singapore 069467
Fizzy Dayz
Feel the buzz and the fizz at this new dive bar in Singapore. Located within the lively Purvis Street, Fizzy Dayz serves up high balls, boozy slushies, beers and cocktails from just $15 ($9.90 during happy hour). It's pretty much a steal in this climate. Hungry? Fuel up with bar bites like duck fat fries, jalapeño poppers, and spicy buffalo wings. For something heftier, there's waffle-pressed cheeseburger, seafood stew and the Fizzy big breakfast.
Fizzy Dayz, 24 Purvis Street, Singapore 188601
Underdog Inn
Fresh off his cool incubation space at Ghostwriter, founder Jay Gray of Sago House and Low Tide paves way for yet another fab bar in Singapore. Taking over Burger Bar New York's space at Amoy Street, Underdog is an elevated Irish tavern of sorts. For starters, the bar has 12 draught cocktails ($25 each) and six beers on rotation with a heavy focus on whiskey and agave.
The cocktails are categorised under fresh and bright or strong and slow, but don't let this generalisation fool you. Each cocktail is trickled with a variety of flavour palates. From the nutty and fizzy Pez Dispenser with peanut butter rum, tequila blanco, lemon myrtle and melon, to the herbaceous The Memory (whiskey, citrus, homemade mead, peppermint tea and green apples).
Underdog Inn, #01-03, 115 Amoy Street, Singapore 069935
Sir Fancy Pants
A quick look at the bar and one word comes to mind – kooky. Contrary to its moniker, these cocktails aren't your fancy-schmancy drinks. But we'll have the delicious experimentations any day. Tap into the curious mind of bartender (read: alchemist) Dee Atan as he takes you on a ride filled with whimsical cocktails creations. Best to plant yourself at the bar counter for the finest seats in the house. Your camera will love picks like Pretty Fancy and Smoke My Pants Up.
Sir Fancy Pants, 45A Craig Road Singapore 089683
Origin Bar's new menu
We love a good revamp, and Origin Bar doesn't disappoint. Riding into its fifth year, the classy hangout – inspired by the glamour of train travel – takes you through various eras with its new menu of 18 boozy concoctions. They're categorised into fresh and zesty, intense and heavy, round and complex, or light and clean – so you can easily go for the flavour profile of your choice. Get comfy in one of the plush chairs, 'cos you're in for an adventure.
Influenced by the 1800s, Chicle takes inspiration from chewing gum – and the fact that it was first developed in the late 1840s. Of course, you can't get gum in Singapore, but the cocktail offers you a taste with its mix of mint, raspberry and mezcal. It's even served with a little "gum" treat for you to chew on (don't worry, it's just fondant). For something unique, try the Star Was P*rn, a floral drink made of passion fruit and vanilla distilled vodka, blanc de blanc verjus cordial, and champagne. The 1960s-inspired drink is served with edible "lipstick" (aka white chocolate) and totally 'gram-worthy.
Want some cornflakes to go with your bev? Order Fancy Like A Sunday Morning for sips of darjeeling tea, milk wash, amaretto disaronno and Sailor Jerry rum. End your night with a bang, thanks to the atomic bomb-inspired Atomico, a potent, citrusy concoction of yuzu, wasabi, sake and Havana Club 2 años rum.
Origin Bar, Shangri-La Singapore, 22 Orange Grove Road, Singapore 258350
Tippling Club launches A Guide to Modern Drinking, Volume III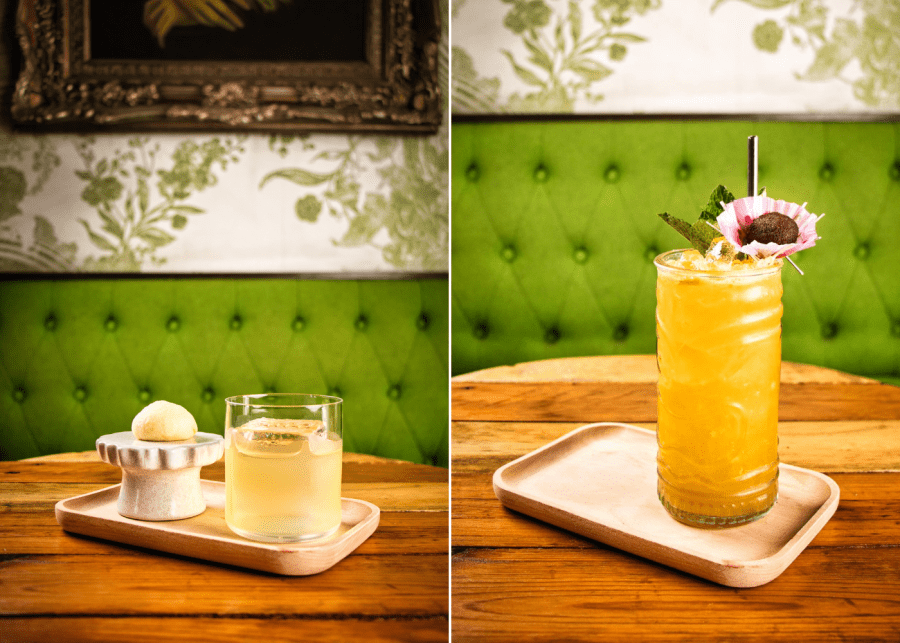 Tippling Club's A Guide to Modern Drinking Volume III is head bartender Arathorn Grey's love letter to music. Travel across six decades of music: swing jazz and blues from the 40s, rock n' roll 50s, 60s swing, innovative 70s, the 80s' MTV era and finally, the 90s era of pop, rap and alternative music. The menu has a whopping 31 drinks, each attached to a song brilliantly crafted with uncommon ingredients related to the song or artist and contemporary techniques.
We dive into the dreamy 40s with Moonlight ($26), a refreshing gin cocktail with floral notes from geranium, apple, elderflower and mangifera. It's served with a soft Japanese brioche with Chantilly cream. If you're looking for a low-ABV drink, King Creole ($22) is a fun take on a tropical cocktail with homemade banana liqueur, creole bitters and absinthe mist. Next, the 60s brings us the rich and earthy tiki-style Savoy Truffle ($26) with a blend of butternut squash, cognac, truffle-infused gin and rum. The magic continues in the indulgent chocolate truffle garnish.
Captain Fantastic and The Brown Dirt Cowboy ($26) was Arathorn's toughest to conceptualise and we can see why. Elton John's tribute has an earthy combination of butter-washed mezcal with sunflower seeds, Montenegro, bitters and wildflower honey, topped with a bubbly mix of dry ice and apple juice. Then give it up for the first hip hop artist to be featured on the menu – Get Up Everybody by Salt N Pepa ($26).
The dirty martini brings the flavour of – you guessed it – salt and pepper with vermouth and vodka, distilled and brined with green kampot peppercorns and garnished with caper berries. One of our favourites of the night, Funky Monks by Red Hot Chilli Peppers ($24) gave us just the zing we needed. We couldn't stop drinking the fiery blend of sugarcane-distilled rum with ginger, blackcurrant and soda. Spicy lovers, go ahead and take a bite of the Togarashi-coated lime wedge garnish.
Tippling Club, 38 Tanjong Pagar Road, Singapore 088461
New menu at 1864, Sofitel Singapore City Centre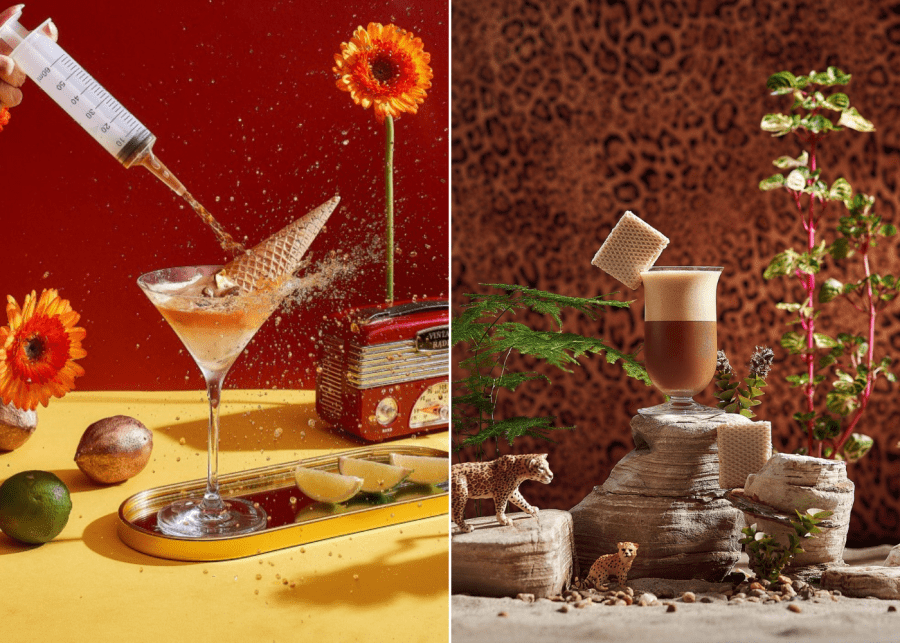 Fancy a trip along the maritime Silk Road? 1864 takes us on a journey across Italy, Kenya, India, Singapore and China with its new menu. All 15 cocktails pay tribute to the heritage and culture of the ports in centuries past. Kickstart your voyage in Italy with Inoculation, a bourbon-infused cocktail with cherry syrup and chocolate bitters. The martini glass is topped with a cone of sorbet. We turn to some boozy coffee in Kenya with Caffe Noir. The rich, velvety goodness is concocted with mezcal tequila, kahlúa, amarula, agave sugar and espresso. Tipsy Curry from India has just the spicy-tart kick you need thanks to Bacardi Carta Blanca, Malibu, lime juice, pineapple juice and curry powder.
A nod to Opium, one of the oldest recreational drugs in China, Yā Piàn is a gin-based drink with Mancino Rosso, Fernet-Branca and orange bitters. It's then infused with smoke at the table for an earthy, woody fragrance. We end the experience in Singapore with a classic Ondeh Ondeh. The brown sugar-infused vodka drink perfectly embodies the Peranakan dessert with Malibu, gula melaka, pandan syrup and coconut juice. It's even served in a gorgeous porcelain cup. All cocktails are priced at $25.
1864, 5th Floor, 9 Wallich Street, Sofitel Singapore City Centre, Singapore 078885
---
Hot new bars in Singapore: January 2023
Tenuta by Park90
Vinophiles, a swanky new wine bar at Intercontinental Singapore has arrived. Book a table at Tenuta by Park90, and explore the old and new world of over 400 Italian wine labels. Tenuta, which means 'estate' in Italian, pays tribute to its roots by offering only wines and spirits made in Italy. Sip on wine from popular regions such as Veneto, Tuscany and Piedmont, or explore lesser-known areas like Calabria or Molise. You don't have to be overwhelmed by the hefty range. Each month, the menu spotlights various themes and producers with prices from $16 per glass. Or simply reach out to the sommelier team led by Aleksandra Arzhakova for tips.
Pair your wines with a curated bites menu featuring dishes such as brushettine ($16) with tomato tartare, basil, taggiasche olive and parmigiano-reggiano cheese on toasty sourdough bread. Or order the carpaccio di ricciola alla mediterranea ($24) with amberjack carpaccio, liliput capers, cherry tomatoes and herb salad.
Tenuta by Park90, The Lobby Lounge, InterContinental Singapore, 80 Middle Road, Singapore 188966
Republic Bar Launches Volume Two Menu
After a successful cocktail programme, Republic Bar is back to satiate our palates with its volume two menu. The team amps up by centring it around pop culture themes of the 1960s. The result? Sixteen new cocktails based on what's revolutionised music, art, fashion and cinema. We're keen to try Glass in Bloom ($26), a sazerac-style cocktail with sous beetroot with cognac, and rye whiskey with feta cheese. The cocktail is topped with stained glass candy, paying tribute to glass-blowing maestro, Dale Chihuly. Meanwhile, Mondrian ($26) pays tribute to Yves Saint Laurent's iconic haute couture dress.
You can also savour vintage cocktails – how does Queen Elizabeth II's favourite drink sound? Have the queen's Dubonnet cocktail ($175) made with 1960s James Burrough Beefeater London dry gin and 1960s Dubonnet.
Republic Bar, Ritz-Carlton, Millenia Singapore, 7 Raffles Avenue, Singapore 039799
Try a salted plum gin by Peddlers Gin Company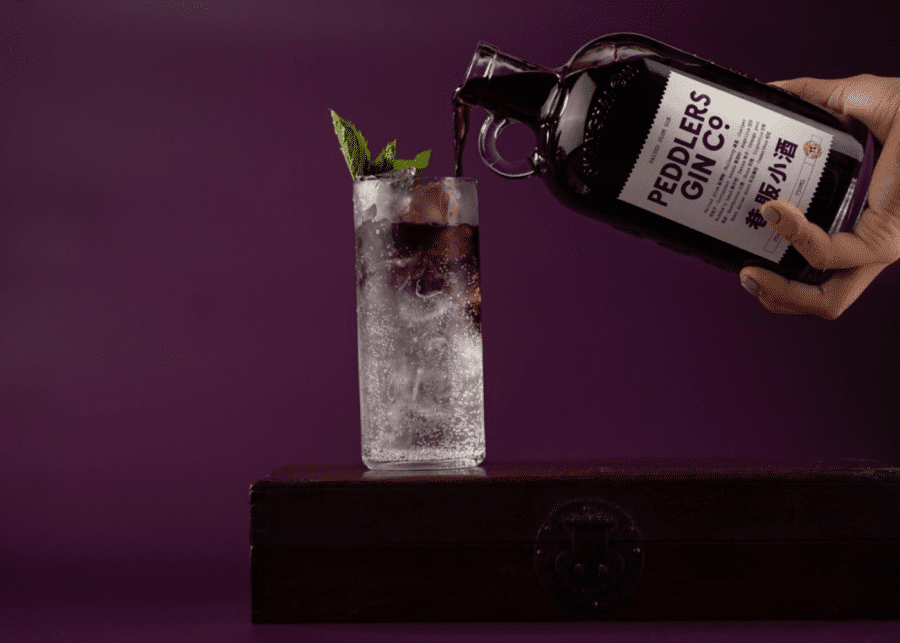 If you enjoy the salty and sugary sweet taste of sour plum, you'll love this boozy iteration by Shanghai Gin. The Peddlers Salted Plum Gin ($69) is infused with salted plum, mulberry, hawthorne and osmanthus for three months, then aged in Spanish Oloroso sherry casks for one month for a complex depth. Have it in highballs or in spritzes and even negronis.
Peddlers Salted Plum Gin, available online
Aperol Spritz pop-up at Osteria BBR
Toast to good times with Aperol and Campari at the new Aperol Spritz Garden. The pop-up takes over the alfresco area at the swanky Osteria BBR by Alain Ducasse. With a vertical garden of hanging oranges and fairy lights, orange seats, and a dedicated outdoor bar with an Aperol trolly, it's hard not to miss the bar! Go for the classic Aperol and Campari spritz or sip on low-ABV tipples like Bianco Highball and Cordino Bianco. You can also bring the experience home with easy-to-assemble cocktail packs (from $60).
Aperol Spritz Garden, Osteria BBR by Alain Ducasse, 1 Beach Road, Singapore 189673