We show you the coolest spots at Ann Siang Hill and Club Street.
The evolution of Ann Siang Hill and Club Street just keeps on getting better with exceptional bars, cafes and restaurants.
Located in Chinatown, this hotspot is a charming area by day and buzzing enclave by night. The interconnected roads of Ann Siang and Club Street have all you need for a quick recharge – from intimate restaurants to rooftop bars with sweeping views. You'll also find indie retail shops, hidden bars and a boutique theatre in the mix. Tip: Take in the beautiful streets lined with restored shophouses and lush green spaces if you're heading down during the day. Psst: We've also added in Club Street's quiet little sister, Gemmill Lane, for those who want to explore all the nooks and crannies in the vicinity.
ANN SIANG GUIDE
The Coconut Club
You've no doubt heard about The Coconut Club's elite nasi lemak that starts at $14. Well, don't knock it before you try it. The plate is made up of fluffy and fragrant coconut rice, a massive chicken leg, crispy ikan bilis and peanuts, a fried egg and sambal that packs a punch. There are also noteworthy sides like sambal sotong, assam pedas (sour and spicy fish stew), otak otak (grilled fish cake) and stir-fried long beans. If the sambal's too spicy for you, cool down with a bowl of chendol.
The Coconut Club, 28 Ann Siang Hill, Singapore 069708
Yen Yakiniku
Meat mavens craving a decadent feast of wagyu beef and pork should park themselves at this cosy, modern Japanese yakiniku grill. The restaurant prides itself on farm-to-table cuts like wagyu oyster blade, A4 Miyazaki striploin and American wagyu tomahawk steaks. If you're in the mood for a tipple, Yen Yakinuku stocks a wide selection of Japanese sakes, so you can get your drink on.
Yen Yakiniku, 15 Ann Siang Road, Singapore 069695
The Other Roof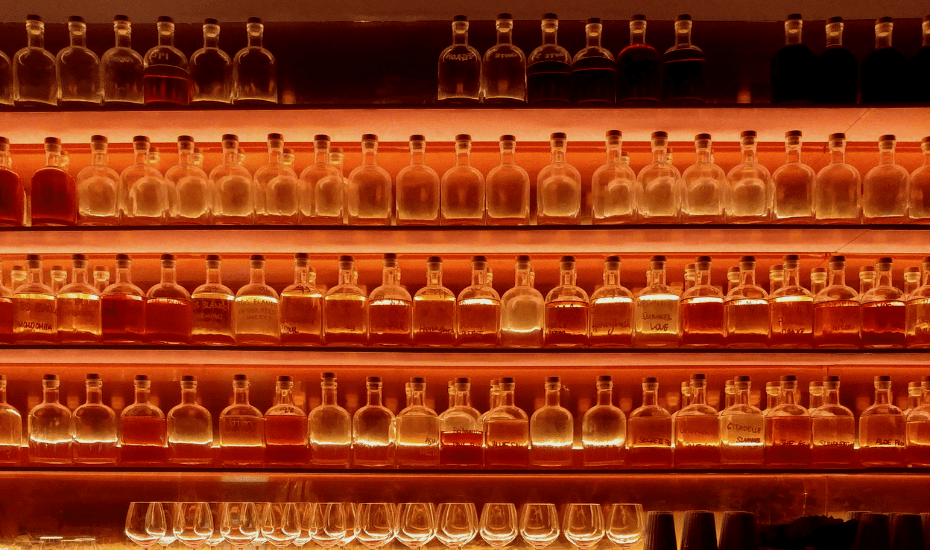 If you like to sip on tea but can't say no to a tipple, you can have 'em together right here. From the team that gave us The Other Room comes a tea bar (yes, you heard that right). The Other Roof merges the tea and spirit world by housing hundreds of tea-infused spirits – probably the only bar in the world to introduce this concept. Plus, you get a killer view of Chinatown and the CBD.
The Other Roof, 28 Ann Siang Road, Singapore 069708
Nutmeg & Clove
Temporarily closed.
You've probably spotted the old school signage. But what lies beyond the dark wooden doors isn't an old Chinese medicinal clinic; it's actually a quaint cocktail bar. Taking cocktails to the next level, Nutmeg & Clove is all about revitalising the use of Asian herbs and spices, introducing fresh flavour pairings to the discerning drinker.
Nutmeg & Clove, 10A Ann Siang Hill, Singapore 069789
Blue Label Pizza & Wine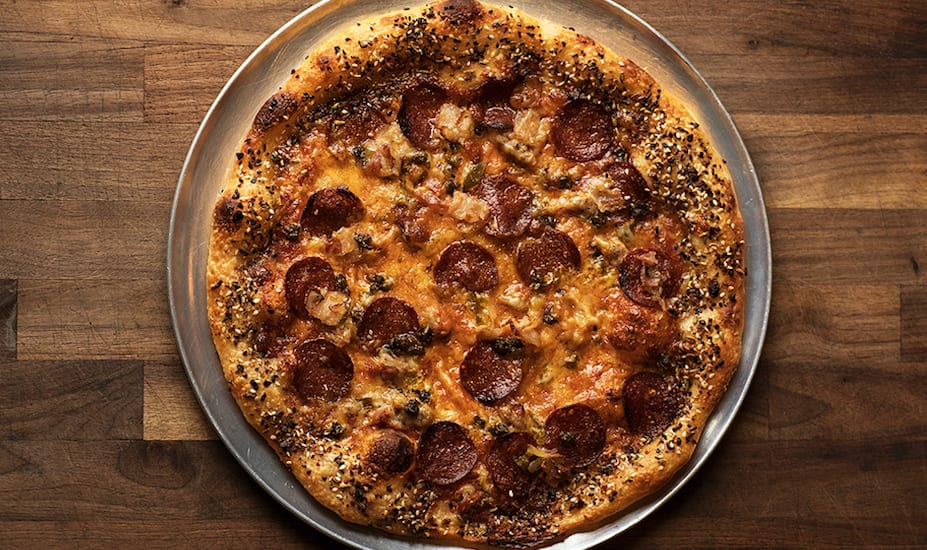 Though it's tucked in a quiet corner in Ann Siang, the pizzas here speak volumes. You gotta try Wish I Was A Baller, a bechamel-based pizza topped with sliced steak, roasted onions and mushrooms. Or go for The Original Famous, a five-cheese blend on a tomato base garnished with fresh basil. Psst: The pizza crust is simply divine!
Blue Label Pizza & Wine, #B1-01, 28 Ann Siang Road, Singapore 069708
Gem Bar
Temporarily closed.
Arguably one of the busiest watering holes on the Ann Siang strip, Gem Bar is known as the go-to spot in the area for a more vibrant, boisterous nightlife experience. A big fan of refreshing, fruity concoctions? Try its specialty cocktails such as The Fruits of Heaven or Flower Song Served In A Teapot.
Gem Bar, 10 Ann Siang Hill, Singapore 069789
Operation Dagger
This underground bar is a great intro to Ann Siang's buzzing night scene. Take a moment to soak in the beauty of Operation Dagger's artistic interior – think clean, minimal furniture and an art installation-esque cloud structure arranged from thousands of overhanging bulbs. Cocktails here are nothing short of experimental.
Operation Dagger, #B1-01, 7 Ann Siang Hill, Singapore 069791
Lolla
This small, cosy resto is all about amazing food and fab produce. Restaurant highlights include sea urchin pudding made with squid ink custard and sea urchin (yes, yes, yes!), tuna belly "chutoro" tartare and beef tongue escalopes. The donuts with lemon curd are pleasantly surprising and a must-order to finish off a great meal.
Lolla, 22 Ann Siang Road, Singapore 069702
Les Bouchons
Go back to basics at Les Bouchons, which proudly claims to be "The King of Steak and Fries". If you're with a plus one, the restaurant offers a giant cote de boeuf prime rib that comfortably feeds a party of two. Just try not to fill up on those free-flow fries too soon!
Les Bouchons, 7 Ann Siang Road, Singapore 069689
PS.Cafe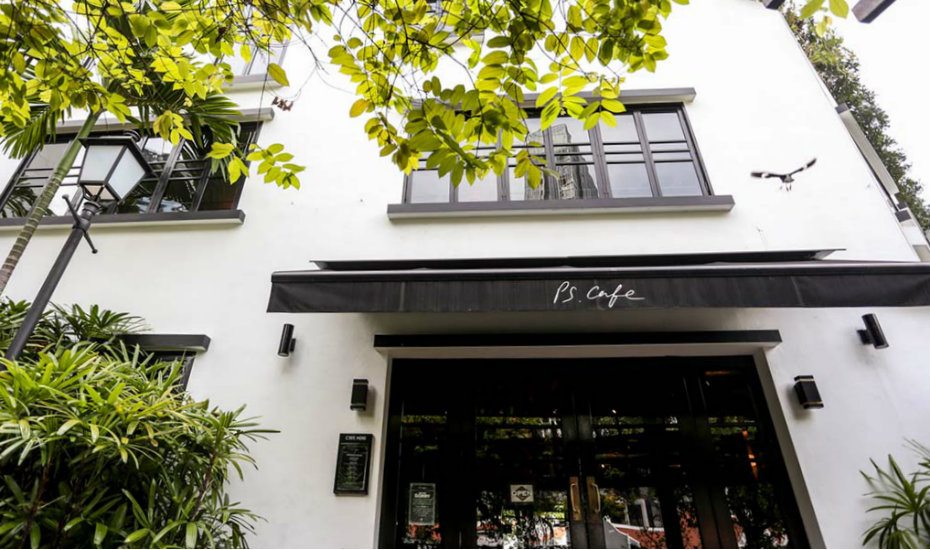 A household name for cafe-goers, PS.Cafe's Ann Siang outlet offers a lovely respite from the hustle and bustle of the surrounding area. Head here for long brunches, romantic dates and group celebrations. Psst: The brand's desserts have a cult following, too. Grab a friend or two and dig into the enormous double chocolate blackout cake or sticky date pudding.
PS.Cafe, #02-02, 45 Ann Siang Road, Singapore 069719
My Little Tapas Bar
This quaint eating place carries on the same spirit as the Spanish saying, "mi casa es su casa" (which means my home is your home). Start your Spanish dining experience with tapas like albondigas (meatballs in a tomato-based sauce) or croquetas de jamón (fried ham-stuffed croquettes with aioli). And you definitely can't go wrong ordering the pan-seared ribeye steak with red chumchurri sauce, served with a heap of fries.
My Little Tapas Bar, 14 Ann Siang Road, Singapore 069694
Truefitt & Hill
Charles Dickens, Cary Grant, Sir Winston Churchill and Frank Sinatra… Truefitt & Hill's star-studded clientele reads like a veritable list of Who's Who. One thing's for sure: You'll definitely be in good company at this 200-year old British brand. Outfitted like an ultra exclusive gentlemen's club (think crystal chandeliers, club chairs and dark wood panelling), the barbershop offers haircuts, mani-pedis, massages and threading services. But we suggest you stick to what these guys are really renowned for – the traditional wet shave. Once you try that, there's really no going back to your dinky ol' razor.
Truefitt & Hill, 9 Ann Siang Road, Singapore 069690
The Screening Room
Temporarily closed.
This entertainment venue – a boutique theatre and lush rooftop bar rolled into one – is great for cosying up and catching screenings of timeless films while having a tipple or two at the private bar. Its La Terraza rooftop bar also offers stunning views of the cityscape for a post-movie nightcap. Warning: It can get a little crowded but if you're on the prowl for a fun weekend, this is the place to be.
The Screening Room, 12 Ann Siang Road, Singapore 069692
Ann Siang House
Taking the place of the former Club Hotel is Ann Siang House. This hot property is furnished to perfection – its electric blue facade and gold windows serve as an indication. Rooms, as well as common areas on every floor, are all about sumptuous leathers, gilded mirrors and geometrical tables and stools. Only 20 rooms are available, each equipped with the Hypnos "Firenze" bed, said to be the comfiest in the world. We'd recommend the executive room, as it comes with a massive tub, or the junior and wellbeing suites that open up to private balconies.
Ann Siang House, 28 Ann Siang Road, Singapore 069708
Ann Siang Hill Park
This secret park features a mix of greenery and historical sites along areas like Ann Siang Hill, Club Street, and further on, Telok Ayer Street and Amoy Street. Built in 1993, the park is Chinatown's tallest geographical point, so stick around for a bird's eye view of the city skyline.
Ann Siang Hill Park, 1 Ann Siang Hill, Singapore 069784
---
CLUB STREET GUIDE
Merci Marcel
Those in the CBD can skip the trip to Tiong Bahru 'cos Merci Marcel's outlet at Club Street is more French and fab. The menu is quintessentially French (think steak, cheese platters, tarte flambée, duck confit and the signature ravioles de royans) with solid brunch options and pastries. Take a seat, grab a glass of wine and bask in the lush setting.
Merci Marcel, 7 – 9 Club Street, Singapore 069403
Little Creatures
Coffee by day, beer by night – that's how things roll at this brewery. Whether you're looking for a hearty breakfast or a chill dinner with the gang, Little Creatures has something for you throughout the day. Pair the craft beers with regular bar bites like tacos, calamari, pizzas and burgers.
Little Creatures, 36 Club Street, Singapore 069469
Maxi Coffee
Temporarily closed.
For those drag-your-feet-to-work days, head straight to Maxi Coffee for your morning fuel. We're talking miso PB honey, vegemite cheese and kimchi ham and cheese toasties alongside damn good coffee to get yourself sorted in a jiffy. While you're waiting for your fresh brews prepared by the super friendly owners, perch yourself at the bar and enjoy tunes from the on-point music playlists.
Maxi Coffee, #01-02, Emerald Garden, 31 Club Street, Singapore 069468
Izy
This Japanese dining spot may be izakaya-inspired, but it looks nothing like what you have in mind. With colourful pop culture posters, concrete floors and walls, and exposed light bulbs, Izy is one edgy resto. When it comes to the menu, expect a good mix of traditional eats and contemporary creations. After you're done with the food, ask the staff about Cache – it's a secret lounge-bar tucked away in the back.
Izy, 27 Club Street, Singapore 069413
Fotia
Who says you can't find authentic Greek cuisine in Singapore? Turn to Fotia for a menu that's fresh and good. We keep going back for meat platters, feta cheese with spicy tomatoes and indulgent baklava. If there's a vegetarian or vegan in your group, just inform the staff and they'll direct you to something just as delish.
Fotia, 1 Club Street, Singapore 069400
Bar Naked
Temporarily closed.
Strip away from work and unwind at this cheeky cocktail bar. Parked in the corner of Club Street, Bar Naked rides on the pop-up phenomenon and invites brands to rent its bar space to exercise innovative plans for outdoor advertising and event marketing. It's also great for big groups to catch up.
Bar Naked, 95 Club Street, Singapore 069463
Drinks & Co.
Wanna pick up a nice bottle of red to wine and dine that special someone? Or maybe you want to kick back with a glass of bubbly and nibble on cheese platters? This bottle shop offers a fantastic variety of wine, champagne and spirits for the most discerning of drinkers. The Club Street outlet boasts a larger menu and outdoor seating area for patrons who wanna soak in the sights and sounds of the buzzy Ann Siang district.
Drinks & Co., 81 Club Street, Singapore 069421
L' Angelus
Delight your taste buds with traditional French cuisine that has had diners singing its high praises since its opening 20 years ago. Order the beef tartare seasoned to your liking, or go for the homemade duck confit. Don't hesitate to ask the staff for wine recommendations to pair with your meal!
L' Angelus, 85 Club Street, Singapore 069453
Jerry's BBQ & Grill
For a reliable bounty of barbecued goodness, Jerry's Barbecue and Grill won't disappoint. Expect flame-licked ribs that are smoke-barbecued Memphis-style, using hickory wood to impart intense, bitter and smoky flavours into the meat. These ribs are cooked for four to five hours at low heat – a skill executed to perfection at this American eatery. Oh, and don't miss out on the all-day happy hour deals: Order spirits, wines or beers for $6 each.
Jerry's BBQ & Grill, 92 Club Street, Singapore 069460
Savanh Bistro + Lounge
Savanh's bistro concept by the IndoChine group is a quirky blend of industrial chic and Buddhist temple decor. Make sure you try the pomelo prawn salad, which sees dried shrimps tossed with juicy pomelos, and the addictive goi cuon, featuring rice paper rolls stuffed with tiger prawns, chives, mint leaves and bean sprouts.
Savanh Bistro + Lounge, 47 Club Street, Singapore 069424
Le Bon Funk
Into organic vino? This is the place for you. The specially curated wine list makes us want to kick back with a glass or two. We'll also be dipping into the menu by chef-owner (and Burnt Ends alumnus) Keirin Buck. The food line-up changes based on the day's fresh produce, but you can expect to see everything from house-cured charcuterie to modern plates.
Le Bon Funk, 29 Club Street, Singapore 069414
Fry Rooftop Bistro & Bar
This intimate rooftop bar offers a bird's eye view of Ann Siang Hill as you sip your cocktails on the balcony. The chill space offers unique scrumptious grub such as pork belly quesadilla and the signature Auntie Ang's wings served with a belachan dip.
Fry Rooftop Bistro & Bar, 96B Club Street, Singapore 069464
The Feather Blade
A pop-up concept that turned into a permanent establishment, The Feather Blade is a haven for meat lovers. Starring the flat iron beef cut from the side of the shoulder, aka the feather blade (hence the name of the restaurant), the menu infuses its dishes with intense flavours, allowing you to savour this alternative cut without forking out a fortune. To pad your meal, order the sinful potatoes, which are deep-fried in beef fat.
The Feather Blade, 90 Club Street, Singapore 069458
Lorna Jane
What's not to love about this Aussie brand? Paving the way for fashionable activewear, Lorna Jane is every fitness-loving fashionista's dream come true. Think chic tights, colourful slogan tees, strappy sports bras and stylish accessories to complete your look and keep cool during workouts. Now you've got no excuse looking sloppy at your next spin class!
Lorna Jane, 48 Club Street, Singapore 069425
---
GEMMILL LANE GUIDE
Bar-A-Thym
Don't be fooled by the "bar" part of its moniker. The name of this full-fledged French restaurant is a play on the French word "baratin", which means smooth talk. Chef-owner Francois Mermilliod, formerly of Absinthe, offers plenty of seafood options at his casual space, and ingredients are procured from sustainable and ethical sources. In the mood to be surprised? Go for the omakase menu. All you have to do is state your budget and dietary restrictions, and these folks will handle the rest.
Bar-A-Thym, 18 Gemmill Lane, Singapore 069255
Burger Bar New York
The address states Amoy Street, but the hidden entrance is accessed via Gemmill Lane. Once you've popped into the space, it's all about simplicity. Choose how you want your burger done, then add your preferred toppings (iceberg lettuce, tomato or onion) and sauce. Grab a Sharpie from behind the bar and leave your mark while you're waiting. Our hot tip? The joint is open till late, so you know where to go when those cravings hit.
Burger Bar New York, #03-01, 115 Amoy Street, Singapore 069935
Luke's Oyster Bar and Chop House
Founded by Boston culinary genius, Travis Masiero, this New York-style restaurant plates up top-notch seafood and meats. Oysters are sourced directly from his personal contacts along the Eastern seaboard of America, which means you'll be slurping the very best of the lot. Oh, and we've gotta say: These burgers are one of the city's best. For a boozy finish, treat yourself to warm chocolate chip cookies served with stout milkshake.
Luke's Oyster Bar & Chop House, 22 Gemmill Lane, Singapore 069257
Pilatique Pilates Studio
Pilatique is an intimate Pilates studio that advocates 'smartcercise'. Based on Stott Pilates, its contemporary approach involves the trainer keeping your mind active by explaining each movement, activating the connection between mind and body. The result? Better athletic performance and improved alertness.
Pilatique Pilates Studio, 8 Gemmill Lane, Singapore 069250