Photography: Sebastian Coman Photography
Looking to spice up your cocktail repertoire in Singapore? Go for a Negroni, a sweet and bitter drink that'll get your tastebuds tingling.
Ah, the Negroni. Arguably one of the most classic cocktails. This Italian concoction only needs three ingredients in equal parts – gin, vermouth, and Campari. Stir that all up, serve it in a rocks glass, garnish with a slice of orange, and sip away! There's even a whole global event dedicated to it (we're talking about you, Negroni Week). Don't have all the ingredients to make one at home? Don't worry, we've sieved out the best bars for Negronis in Singapore. They may not be sbagliato'd (gin replaced with prosecco) but they still do the trick.
Top bars for the best Negronis in Singapore
1. Manhattan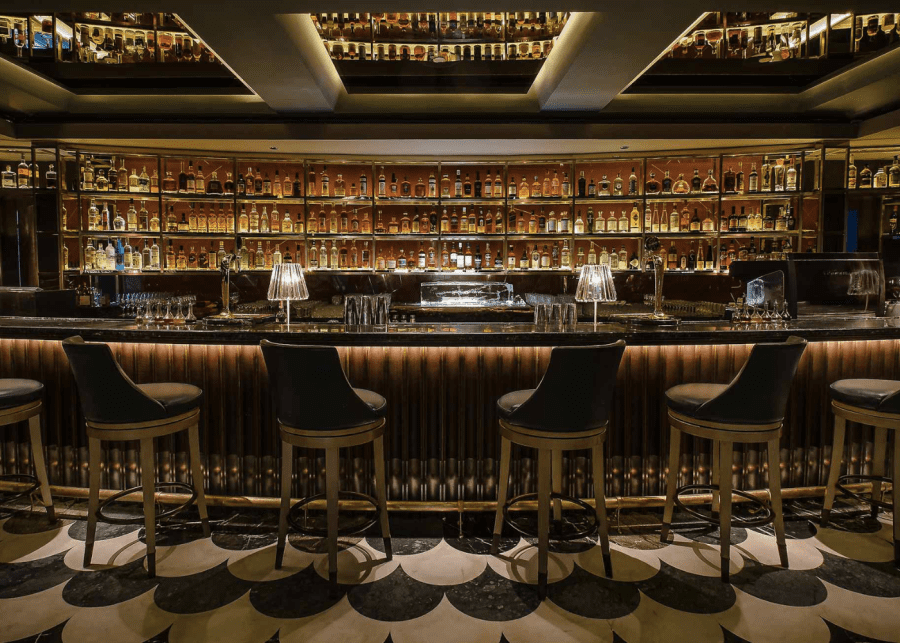 Aged in custom oak barrels, Manhattan reconstructs this evergreen classic with a sophisticated touch. It uses St. George dry rye gin with Botanist gin to create the unique and only Solera-Aged Negroni ($28) in Singapore. For our non-gin-loving friends, you can sample other cocktails like the Apollo. It features a 15-year-old rum, whisky, cynar, Benedictine, cacao, absinthe, and bitters.
Manhattan, Level 2, Regent Singapore, 1 Cuscaden Road, Singapore 249715
2. Bitters & Love
For a tropical spin on this Italian classic, go to Bitters & Love. This unassuming cocktail bar is tucked in the middle of Telok Ayer, so keep your eyes peeled. You'll be welcomed into this cosy space and treated to a truly unique drinking experience. The Pandan Coco Negroni ($25) is given a little Bitters & Love touch with coconut rum and pandan flavours. The best part? You can get it delivered to your home!
Bitters & Love, 118 Telok Ayer Street, Singapore 068587
3. Dempsey Cookhouse & Bar
We love Dempsey Hill as the little enclave of great bars and restaurants, and Dempsey Cookhouse & Bar is one of them. While munching on pizzas made in the wood-fired oven, peruse the cocktail menu to get a tipple (or two) for the night. Besides the usual martini, margarita, and mojito, you'll find a diverse list of Negronis with a twist. Start with the Cacao Negroni ($27) made with cacao-infused Campari before moving on to the Bananagroni ($27) featuring banana-infused Dolin dry vermouth.
Dempsey Cookhouse & Bar, 17D Dempsey Road, Singapore 249676
4. Atlas
If you know anything about Atlas, you know that it celebrates all things European and art deco. Gin was all the rage in the gilded age, so you can be sure Atlas is honouring that with its curated collection of spirits. Besides other classic gin-based cocktails like the martini, gin and tonic, or gimlet, you can find its Vintage Negroni ($250). The price is steep but made with 1930s London dry gin, you'll be treated to a little taste of history.
Atlas, Parkview Square, 600 North Bridge Road, Singapore 188778
5. 28 HongKong Street
28 HongKong Street's bar crawl menu puts the magic in its Black Forrest Negroni ($25) with lashings of Diplomatico Mantuano rum, Campari, Mancino Rosso vermouth, Taylors Ruby Port and dry cherry. The spirit forward drink adds a hint of sweetness, thanks to chocolate and cherry notes from the cacao nib and dry cherry.
28 HongKong Street, 28 Hongkong Street, Singapore 059667
6. Candlenut
As the world's first Michelin-starred Peranakan restaurant, Candlenut takes contemporary spins on the original and traditional methods of cooking. Not only does the restaurant's warm ambience welcome you into the space, but it's also followed up by impeccable service. The bar team keeps the Classic Negroni ($22) simple and straightforward with the typical three ingredients including locally produced gin from our very own Brass Lion Distillery.
Candlenut, 17A Dempsey Road, Singapore 249676
7. Jigger and Pony
Besides the playful name that references the typical tool you'll find behind the bar, we love Jigger and Pony for its clean cocktail flavours. While sipping on the Negroni ($28) made with Botanist gin and cinzano rosso, munch on bar bites like roast pumpkin tacos. Plus if you're lucky enough to get a seat by the bar, enjoy intimate conversations with the friendly bartenders.
Jigger and Pony, Amara Singapore, 165 Tanjong Pagar Road, Singapore 088539
8. Nutmeg and Clove
Nothing says Singapore pride like the food and drinks at Nutmeg and Clove. Each recipe is an ode to Singapore's history and progression. Its signature bottled cocktail collection is the perfect gift for friends (or if you want to treat yourself). Besides bottled Manhattans and a rose cocktail, sip on the Almost Colourless Negroni ($40, probably the most unique Negroni in Singapore). While missing the classic red tinge of this Italian favourite, the floral twists are sure to give you a refreshing cocktail experience.
Nutmeg and Clove, 8 Purvis Street, Singapore 188587
9. Employees Only
You'll likely catch one of us at Employees Only on the weekends. And for good reason, because this neo-speakeasy restaurant and bar has vibes for days. Once you get past the mysterious foyer, you'll be greeted by the alluring bar and ambience. Tuck into the Aged Negroni ($32) served over a large, fancy ice ball. Or gather your friends and treat yourselves to the Bottled Negroni ($150) that's perfect for sharing.
Employees Only, 112 Amoy Street, Singapore 069932
10. Cin Cin
Trust a gin bar to do a gin-based cocktail right. Cin Cin is known for its collection of well-loved boutique gins, with over 500 ways to build your own G&Ts. Every ingredient (down to the ice cube) is taken into consideration. Besides classic drinks like the gimlet or the martini, it's also got the Negroni (from $17) which uses cocchi rosa vermouth that is lighter than regular vermouth. Add a gin of your choice for a truly customised Negroni.
Cin Cin, #01-02, Oasia Hotel Downtown, 100 Peck Seah Street, Singapore 079333
11. Mama Diam
We love a good speakeasy. And when it combines all the elements of nostalgic Singaporean mom-and-pop shops? It has our hearts. Walk yourself through the back of Mama Diam's bookshelf and it'll reveal a modern bar behind its 90s facade. Plus, can we just take a moment to appreciate the menu? Talk about a throwback to secondary school. Besides playful twists on Singaporean classics like herbal chicken poached rice and chee cheong fun, you've got the drinks. The Peranakan Negroni ($22) infuses flavours like pandan and coconut to give it a tropical touch.
Mama Diam, 38 Prinsep Street, Singapore 188665
12. Pastaria Abate
To get an Italian cocktail done right, it only makes sense to go to an Italian place. Soak in the ambience of a cosy Italian home with this restaurant that's full of rustic charm. Pastaria Abate brings you authentic homestyle Italian cooking with both fresh and dry pasta. The bread here is also all homemade and out of this world – our writer will not stop raving about it. Munch on warm garlic bread before taking a sip of the Negroni ($16.80).
Pastaria Abate, 86 Neil Road, Singapore 088846
13. Osteria Mozza
Our trip to Osteria Mozza left us with quite the impression. This must-visit restaurant is the only Asian outpost of chef Nancy Silverton's Michelin-starred restaurant in Los Angeles. Indulge in all kinds of mozzarella goodness at the signature mozzarella bar. Choose from smoked mozzarella with prosciutto to creamy burrata with braised leeks. And not forgetting the Mozza Negroni ($25), one of the signature cocktails. It features a strawberry-infused Campari that adds a fruity twist to the spirit-forward drink.
Osteria Mozza, Level 5, Hilton Singapore Orchard, 333 Orchard Road, Singapore 238867
14. Perch
Having a meal at this all-day casual dining oasis is the perfect way to unwind after a long week. Munch on imaginative Asian-European dishes that are rich in Southeast Asian flavours. You can pretend you're about to catch a flight while sipping away on the classic Negroni ($16). For the adventurous, go for the selection of gin and tonics that feature house-infused gins. You get to pick from flavours like grapefruit and peppercorn, hibiscus and lemon, orange and thyme, or lime and mint.
Perch, #02-244/245, Jewel Changi Airport, Singapore 819666
15. Rosso Vino
Conveniently located in Robertson Quay, Rosso Vino is the place to be for a taste of Italy. Dine alfresco and enjoy a cool night breeze as you nosh on homemade pasta like ravioli stuffed with spinach, and gnocchi in a tomato sauce. And let's not forget the tipples! There's a huge list of wines for our vinophile friends, and cocktails playfully named after cities in Italy. But of course, nothing beats a straightforward Negroni ($16).
Rosso Vino, 15 Merbau Road, Singapore 239032
And now you know where to find a well-stirred Negroni in Singapore.