Photography: Twine Media LLC
At just 33 years old, Nancy Twine is changing the beauty game with a natural hair care line that'll keep your hair game on point.
We absolutely love that skincare and cosmetic brands pay close attention to clean and natural products. We've recently seen more hair care brands join the 'clean' game and we can safely say that the natural beauty revolution has begun.
At the crux of it all is Briogeo, a plant-based and naturally-derived hair care line that's free of harsh sulfates, parabens, phthalates, silicones, DEA and synthetic colour. Also, the collections are texture specific so if you're dealing with concerns such as frizz, curl, volume, damage, scalp irritation, and colour protection – rings a bell doesn't it? – it's exactly what you need on your bathroom shelf.
Behind it all is Nancy Twine, who quit her job at one of the largest investment banks in the world seven years to follow her true calling. At a young age, she was taught to make her own hair, skin and body care remedies from the kitchen with naturals oils, extracts, salts, sugars and butters. These childhood memories ultimately inspired her to create her own clean beauty line.
Today, as the fastest growing hair care brand at Sephora, Briogeo is pegged to hit cult status. We chat with Nancy about her star ingredient, bad hair days, common hair care mistakes, how to fight the frizz in humidity central aka Singapore and how much product do we actually need to use…
Hi Nancy! Firstly, what does 'Briogeo' mean?
"Brio" is an Italian word that means "vibrant and full of life," and "Geo" is a Latin word meaning "of Earth and nature," which represents the pure, yet potent, recipes of each formula.
What sets Briogeo apart from other hair care brands – other than the organic tag?
The heart of our brand is our ingredient story. We have a clear focus on bridging the gap between natural and performance-based hair care. We cross check the small percentage of non-natural ingredients with the Environmental Working Group and we're very selective about any non-natural ingredients we use. We constantly strive to create products that are innovative yet deliver. Hair care is so personal but what's special about Briogeo is that we have something for everyone!
What's your star ingredient and why?
Rosehip oil is one of our favourite ingredients! It's simple yet so powerful. It's rich in antioxidants so it's great for combating frizz, treating split ends, and helps protect the hair from environmental pollutants. In addition, I do want to give an honourable mention to charcoal! Its deeply detoxifying properties rid the scalp of dirt and product buildup and really act as the foundation to healthier hair!
How has your finance background helped in developing your hair care brand?
In finance, I learned quickly not only the importance of multi-tasking but also thinking outside-the-box and how to be strategic and thoughtful above my decisions. When you're running your own company, problem-solving becomes apart of your everyday routine. The skills I inherited from my finance days really groomed me in how I approach challenges and come up with solutions.
What do you think Singaporean women will be really excited about when they hear about Briogeo?
Given the climate, I believe our focus on frizz control, hydration, and repair will really resonate with Singaporean women. I think they will appreciate not only our brand message of clean hair care but also how versatile and innovative the line is.
How does one fight the frizz when they're living in humidity central aka Singapore?
Frizz is one of the top concerns we see in new customers wanting to try Briogeo. Hydration is king when dealing with frizz and we created an entire collection geared towards combating it. Our Farewell Frizz collection uses a blend of rosehip, argan, and coconut oil to help hydrate and restore moisture back into the hair. Our curly girls also love the Curl Charisma collection! We use rice amino acids that penetrate the hair shaft to lock out environmental moisture (aka humidity) and tomato fruit ferment to seal the cuticle allowing for uniform curl formation. We also use rich moisturizers, like avocado oil and shea butter, to keep curls soft, hydrated, and shiny.
Singaporeans do plenty of chemical treatments like colour, perm and hair straightening. What's your post-treatment care advice and the products you'd recommended?
Whether your hair is coloured or chemically treated, it definitely requires more T.L.C. than usual. Dyeing or bleaching your hair often can cause dryness and breakage, therefore, replenishing moisture back into the hair is key! Our Don't Despair, Repair collection has everything you need to create an awesome hair care routine for colour-treated hair. Our Don't Despair, Repair Deep Conditioning Mask is a fan favourite and has become a must-have for treatment post hair colour. It has ingredients such as Rosehips and B-vitamins to help to hydrate and nourish the hair.
I love setting aside some me time on Sundays to "mask." I'll apply my go-to face mask and our Don't Despair Repair Deep Conditioning Hair Cap System Kit while I'm catching up on emails. It's the perfect Sunday ritual!
Spill the deets – how much product do we actually need to use per wash or treatment?
For some our products, a little goes a long way and for others, it can depend on the hair type. I always recommend starting out with a little over a quarter size amount and adding on more as needed. A trick that I like to do is to target the "problem areas" of the hair so I'll apply the Don't Despair, Repair deep conditioning mask and the Farwell Frizz oil from mid-length to ends where dryness tends to be the strongest. I concentrate the product on where I need it the most.
What are some common hair care mistakes that should be avoided?
Washing your hair every day can strip the hair of its natural oils and lead to dryness and breakage. For those who have an oily scalp, I recommend using a dry shampoo in between washes. I love our Scalp Revival Charcoal + biotin dry shampoo which uses Binchotan charcoal to draw impurities from the scalp and detoxify the scalp and hair. You can also co-wash! Our Be Gentle, Be Kind Co-wash is a fan favourite because it's cleansing and so moisturising, yet not as harsh on the hair as a shampoo.
What do you do on a bad hair day?
The weather in New York City can be unpredictable at times. I always keep the Farewell Frizz Rosarco Milk Leave-in Conditioning Spray handy whenever my hair needs a pick-me-up, or for taming frizz and flyaways. If all else fails, a topknot bun always does the trick!
If you could only use one product from the range, what would it be?
Our award-winning Don't Despair, Repair! Deep Conditioning Mask was the first product we launched. It's become a must-have hair care staple! It's a universal product for ALL hair textures and types. So many of us are guilty of constant colour processing, straightening, curling, and blow drying on a regular basis – these are all things that can cause the hair to suffer from damage, dryness, breakage and split ends over time. The Deep Conditioning Mask is clinically proven to reduce breakage by 81% without the use of harsh synthetics, which makes it truly unique amongst a sea of other hair repair products.
You also have gorgeous skin! Tell us your skincare and makeup regime.
Thank you! Skincare is so important! Building a skin care routine that works for YOUR skin type is step one. I wash my face 2x a day – both morning and night with a gentle, non-sudsing cleanser. I love the brand Drunk Elephant and it has been my go-to for a while now for all things skincare. In the AM, I'll apply their Protini moisturizer and their C-tango eye serum to help prevent dark under-eyes. At night, I like to use the TLC Glycolic Serum.
But I have to say, my number one tip to healthy glowy skin is drinking LOTS of water! I try to make a lot of these things a seamless part of my day – like filling up two large glasses (64 oz equivalent) and just keeping it at my desk – so that there's no excuse that I didn't have time to fill them up. When it comes to makeup, for me less is more. My days are pretty jam-packed already so I like to keep my routine fairly effortless. I mainly use tinted moisturizer, a few dots of concealer, and some blush. But, I always finish with a pop of colour on my lips!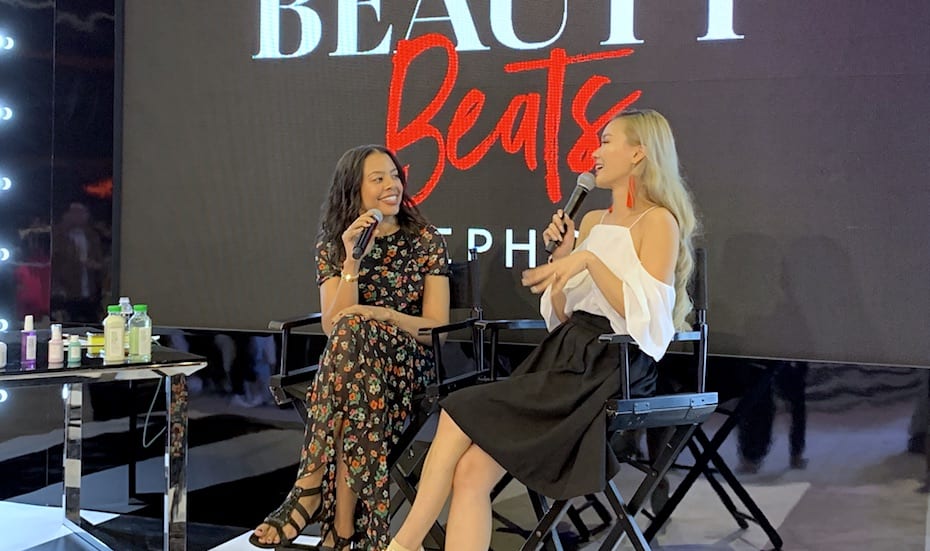 What are your views on the emergence of plant-based/organic/vegan beauty?
It's empowering to see the beauty category become so much more open to a clean ingredient methodology. We all know the old saying "You are what you eat" when it comes to nutrition. The same applies to hair care. At the end of the day, your hair and skin become what you put on it. The increase in awareness and demand for clean beauty has made us as motivated as ever to continue to keep true to our brand values!
Finally, tell us what advice would you give your younger self?
Never rush into launching an idea. Sometimes brand's are faced with tight timelines to launch new products, but I learned very quickly that it's not worth sacrificing putting your best foot forward in order to hit a deadline. Part of success is taking the time to be thoughtful and smart about your approach. Often we can get excited and impulsive by our own ideas and feel the need to rush them through. Slow and steady wins the race!
Briogeo, exclusively available at all Sephora stores and online.