Photography: Mode Aesthetics
MODE Aesthetics brings you beauty treatments that celebs have tried and tested – and we have a special discount code below!
Curious about what beauty treatments your fave personalities use to achieve that flawless look? MODE Aesthetics has the answers. Here, we spill the beans on four of its most popular treatments for skin, teeth and more that are loved by celebs.
Perk alert! Quote 'Honeycombers' to redeem any of the following till 31 December 2021: one AlmaLASE™ laser facial at $25, one fat freeze session at $68, one LED teeth whitening treatment at $150 or Brazilian Super Laser Hair Removal at $168 for six sessions. (Valid for first time customers 21 years and above, one redemption per person with appointments required.)
AlmaLASE™ Laser Facial
Want to get instantly glowy skin? MODE Aesthetics' AlmaLASE™ Laser Facial has got your back. This treatment uses the AlmaLASE™ Laser Technology to target pimples, pores and pigmentation. It works by using precise laser microbeams to reduce the appearance of imperfections, giving you the skin of your dreams. And unlike many conventional laser treatments, this doesn't require any preparation and comes with no downtime! No wonder it's the facial of choice for celebs like Sonia Chew, who shares, "My complexion was immediately brightened with no downtime at all." Expect an immediate brightening effect after just one session!
Fat Freeze
If you'd like to tone your physique in as little time as possible without invasive procedures, a safe and reliable fat freeze treatment at MODE Aesthetics is the way to go. This contours your body using cool plates, which are applied at a temperature that kills fat cells with minimal to no discomfort. This process makes use of the body's own metabolism to reduce the amount of fat cells, while leaving other tissues (such as skin and nerves) unharmed. This treatment gives you up to 25% fat reduction in one session – plus, the reduction in the body's fat layer will continue for up to half a year!
LED Teeth Whitening
A bright smile is one of the best facial features one can have. Don't let stains prevent you from flashing your pearly whites: try LED teeth whitening for a quick and easy way to improve your smile. If you're concerned about sensitive teeth, fret not! At MODE Aesthetics, this treatment uses a non-peroxide gel that doesn't cause sensitivity or enamel damage.
That's the reason why so many opt for a sesh at MODE Aesthetics, like model Angie Watkins, who says, "For years I have literally tried every "trick" in the books in my attempt to get whiter teeth – from baking soda and strawberries to at-home whitening kits which left my teeth so sensitive I could barely eat." But ever since she's discovered MODE Aesthetics' treatment, she shares, "I have (almost magically) lightened my teeth almost 8 shades lighter in less than an hour!"
Super Laser Hair Removal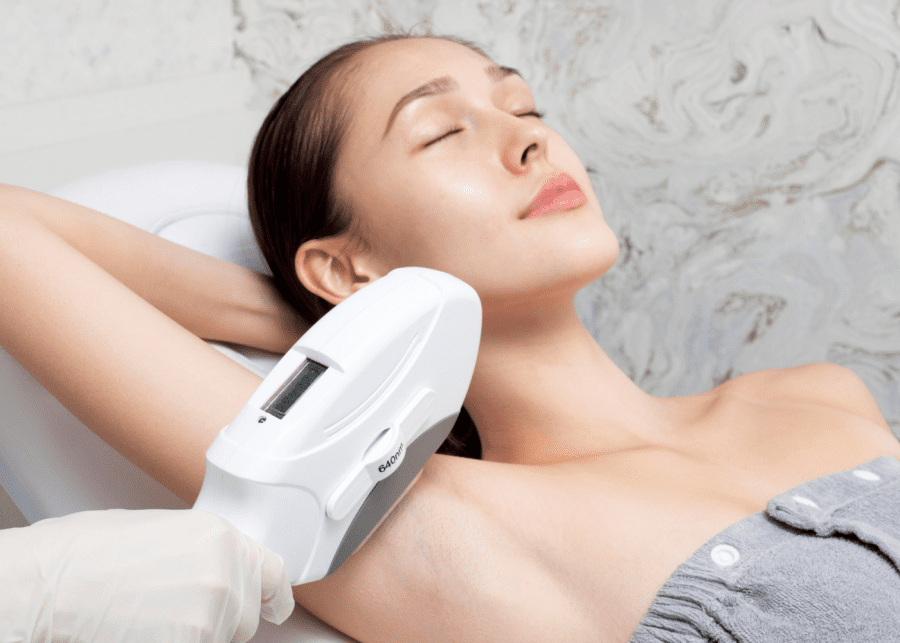 Looking for a permanent hair removal solution that is suitable for all skin tones? Try MODE Aesthetics' Super Laser Hair Removal. Unlike traditional IPL, this works on darker skin tones. This treatment uses SHR technology, with low fluence repetitive laser pulses that target hair follicles. At the same time, it concurrently cools the skin, giving you a painless experience while getting rid of unwanted strands permanently. Former Miss Singapore Universe 2018, Zahra Khanum says, "It wasn't prickly, it was very smooth… so you don't feel much of whatever is happening and it's very, very fast." A painless and effective treatment? We're sold. Try it at $168 for six sessions (Brazilian area).
Wanna get your beauty game on? Visit MODE Aesthetics for more information on the range of treatments available!
This post is in partnership with MODE Aesthetics.