Photography: Fatima Akram via Unsplash
From monster shakes to American diner classics, we suss out the best milkshakes in Singapore – guaranteed to bring the boys (and everyone else) to the yard.
What is it about a good milkshake that makes people swoon? For sugar fiends like us, ice cream is always great (as are traditional local desserts). But nothing beats the simple yet unapologetic decadence of an ultra thick shake. Whether you like yours classic diner-style (alongside bangin' burgers and crispy fries) or topped with monstrous sweets, we've got it all covered in our picks for the finest milkshakes in Singapore.
Best milkshakes in Singapore
OverEasy
Always dreamt of dining at Pop's Diner in Riverdale with your squad? Well, don't look too far 'cos Overeasy lets you live out your American diner fantasies. Pair the burgers, wings and baby back ribs with classic creamy shakes in timeless flavours like chocolate, M&Ms and chunky Oreo. They may not look fancy, but they sure hit the spot.
OverEasy, #01-06, One Fullerton, 1 Fullerton Road, Singapore 049213
Clinton Street Baking Company
The iconic New York eatery is home to fantastic pancakes, chicken and waffles, and slurp-worthy milkshakes – basically a hotspot for old school diner fare. The shakes come in two standard flavours (chocolate and vanilla) topped with airy chantilly cream. They're a nostalgic treat sure to bring up your fave saccharine childhood memories.
Clinton Street Baking Company, 31 Purvis Street, Singapore 188608
Black Tap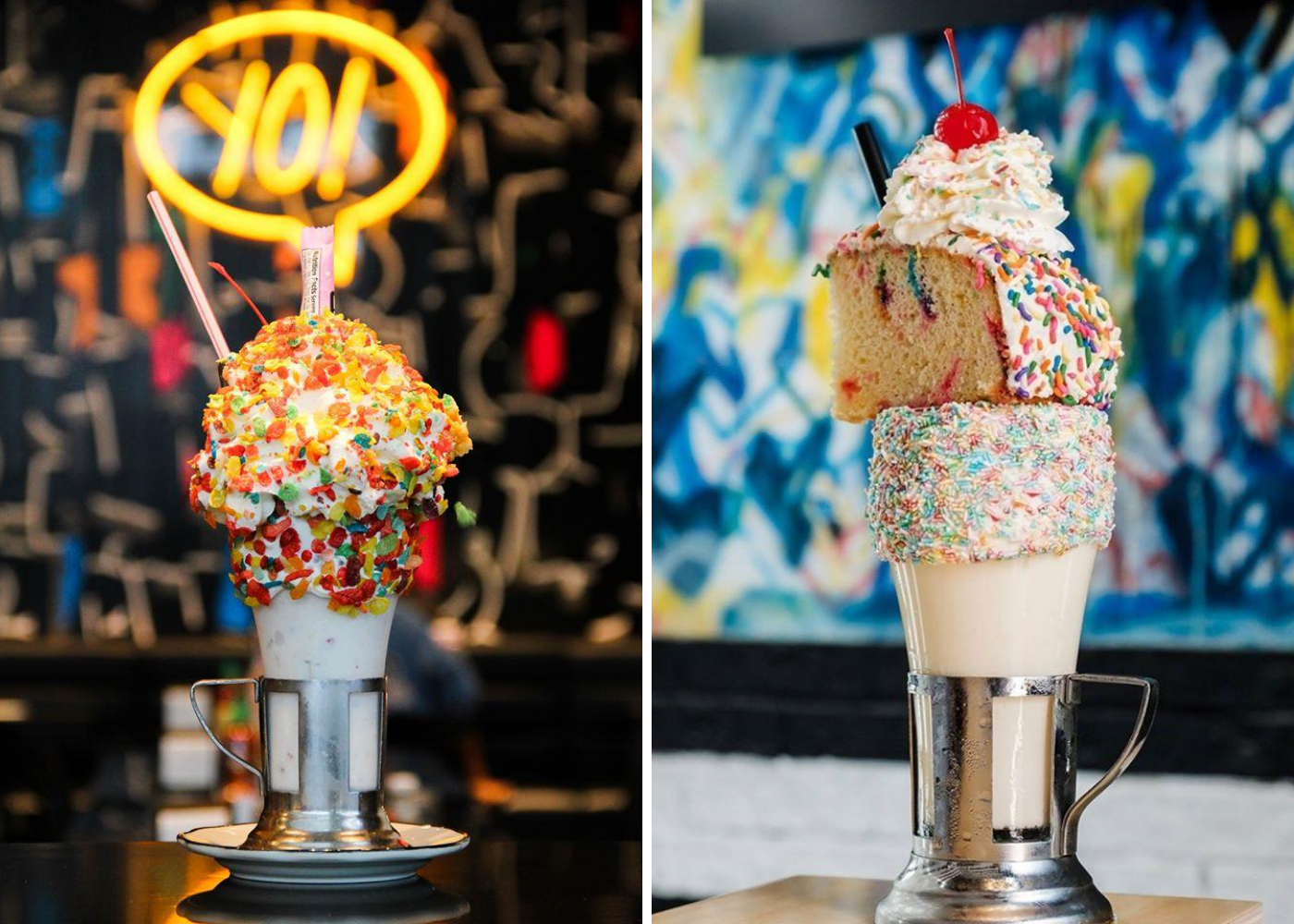 Just when we thought the monstrous shake trend was slowly bubbling down, the arrival of Black Tap in 2018 threw milkshakes everywhere into relief. The New York institution's claim to fame is its massive Crazy Shakes (read: extravagant milkshakes that will hit you with a massive sugar rush). These come in flavours like cotton candy, vanilla cookie, cinnamon toast crunch and peanut butter. Expect them to be embellished with zany sugary bites like giant lollipops, chocolate tacos, churros and the works.
Black Tap, #L1-80, Bay Level, The Shoppes at Marina Bay Sands, 10 Bayfront Avenue, Singapore 018956
Burger Bar New York
Just like the burgers, these milkshakes shy away from theatrics and stand out in flavours. If you really have to hold back on the calories, the milkshakes are served without whipped cream and stacked snacks. Skip the beer and go for the classic shakes in vanilla, chocolate, Oreo or strawberry.
Burger Bar New York, #01-03, 115 Amoy Street, Singapore 069935
Five Guys
The theme at Five Guys is customisable fare. From beefy burgers to creamy milkshakes, you can have it perfectly to your preferences. Mix and match ingredients such as peanut butter, coffee, salted caramel, Oreo cookies and even bacon to create your ultimate Five Guys shake.
Five Guys, #01-32, Plaza Singapura, 68 Orchard Road, Singapore 238839

Shake Shack
Well, we all know the burgers here are legendary – we're still dreamin' about the SmokeShack! – but don't look past the hand-spun milkshakes. These guys have all the qualities of a stellar shake: Thick, dense and creamy. Fill up on classic and fun flavours like chocolate, vanilla, salted caramel and coffee (courtesy of Common Man Coffee). Plus, you can opt for the malted version if you're feeling particularly naughty.
Shake Shack, various locations including Jewel Changi Airport and Neil Road
25 Degrees Singapore
By now you would have figured out that the perfect liquid companion for a burger is a rich milkshake. Aside from the burgers that are rumoured to be a cult favourite among Hollywood A-listers, 25 Degrees serves other American diner classics including a selection of decadent, creamy, hand-scooped malt milkshakes in flavours like vanilla, marshmallow and chocolate. For the adventurous ones, look to wacky concoctions like the Chipster Shake, which sees potato chips in the mix, or the bubble tea milkshake.
25 Degrees Singapore, 200 Middle Road, Singapore 188980
The Benjamins
When The Benjamins (formerly known as Benjamin Browns) first opened, our IG feeds flooded with impressive shots of its milky monsters. And when we say monsters, know that we are not exaggerating. These OTT milkshakes are smothered with the likes of waffles, chocolate wafers and pretzels. The folks at this cafe definitely know how to keep up with the times. There's even a boba-flavoured milkshake with pearls!
The Benjamins,#01-20/21, Forum Shopping Centre, 583 Orchard Road, Singapore 238884
Jen's Kitchen On-the-Go
Tucked away in the lobby of Hotel Jen Tanglin, the selection of milkshakes might be small here but they sure make up for it with four milkshakes that see lashings of sugary syrups and sauces. We've got our eyes on the Pinkyfreakshake, an absolute dreamboat of strawberries, and Death by Brownie, a chocolate showstopper.
Jen's Kitchen On-the-Go, Lobby Level, Hotel Jen Tanglin, 1A Cuscaden Road, Singapore 249716
The House of Robert Timms
Can't decide between a donut or a milkshake? Who says you have to? At The House of Robert Timms, the Vanilla Bon Bon – a supposed "milkshake to end all milkshakes" – serves both delights on a pretty platter (or rather, in a tall glass). Comprising a vanilla shake, marshmallows, chopped almonds, generous lashings of chocolate sauce and a glazed donut topping, this is an indulgent treat we'd gladly give up a year's worth of diets for.
The House of Robert Timms, #01-608, Suntec City Mall, Tower 3, 3 Temasek Boulevard, Singapore 038983
So, there you have it, our crème de la crème of milkshakes in Singapore. What are you waiting for? Get slurpin'!