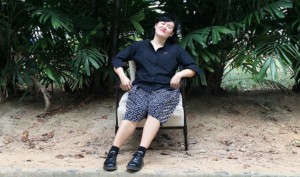 Almost Asthma in her element (Photography: Darissa Lee)
Local makers, we've got plenty! Artist Beesuan puts out the wackiest and trippiest designs, but her art goes beyond the digital realm…
Need some visual inspiration? Singapore's got plenty. From wild murals on walls around the island to artsy pins made by local makers, we've got enough material to keep us inspired for a while. But if you're looking for something a little more wacky and eccentric, Beesuan Toh's designs might just do the trick.
Under the equally kooky moniker, Almost Asthma, she puts out stickers, pins, posters, zines, digital art, and when she's not doing all of the above, she also sews stuff like pants, jackets, bags and even stuffed toys. On top of that, this Singapore-based illustrator currently holds a day job… as a Graphic Designer here at Honeycombers! Just like the RGB colour wheel (which she adores), the work that she creates are often trippy and very vibrant.
You make pins, stickers, posters, and zines, draw and design AND sew. Which is the most fun to do?
I think it's most fun when I get to do personal works! The process in making my works can be therapeutic depending on my creative seasons. I like to keep my sketchbook around me to draw whenever possible, and from there decide to develop or expand it. It's really rewarding when I get to see the outcome of what I do, and when other people like it too.
What inspires you design wise?
I really like weird and trippy stuff – think installations at Haw Par Villa and the movie, Fantastic Planet. I guess I've always wanted to be different and the feeling of being a sort of "outsider" reflects in my works.
What's your big dream for Almost Asthma as a brand?
I do hope to create more prints (as for now, there's too few merch) and perhaps print my drawings on fabric to create lowbrow wacky daily wearables!
The art stuff is a side project for now because of your day job. How do you juggle the two and what are some difficulties you face?
I try to create whenever I have time back at home, but some of the difficulties involve being motivated and disciplined! The lack of space to practice my art is also an issue, but I'm looking forward to having my own room next year once my brother moves out so I have more space for myself… and my art.
Who are some artists you admire?
Max Ernst, Yves Tanguy, Molg H., Joan Cornella, illustrator Sam Taylor, and this tattooist you can follow on Instagram, @yeh5050.
Follow Beesuan/Almost Asthma on her website and Instagram.
Like this story? Check these out:
Wear art on you with these quirky pins in Singapore
Craft workshops to keep your creative juices flowing
Guide to terrarium making and workshops
Pimp up your needlework at these sewing classes