Photography: Michael Burrows via Pexels
These supermarkets in Singapore stock all kinds of groceries, including gourmet goods from around the world.
Ah, grocery shopping. We've all done it. What's more, once you hit a certain age and stage in life, it becomes more of an adventure than a chore. Hands up if you know what we're talking about! Whether you're looking for healthy foods, gourmet meats or alcohol, you're always spoilt for choice. Just head to Singapore's best supermarkets and grocery stores for local and international treats including Korean snacks, Japanese produce, French fine foods, Mexican spices and more.
Best supermarkets in Singapore for grocery shopping
We all know and love Ntuc FairPrice – especially its Xtra hypermarkets that stock everything you want, including electronics and home appliances. But let's not forget Giant, where you'll find affordable goods and weekly promotions. Plus, Sheng Siong is one of the most pocket-friendly places to shop for food and household products. But beyond these familiar names, there's a whole world of grocery stores in Singapore…
1. Cold Storage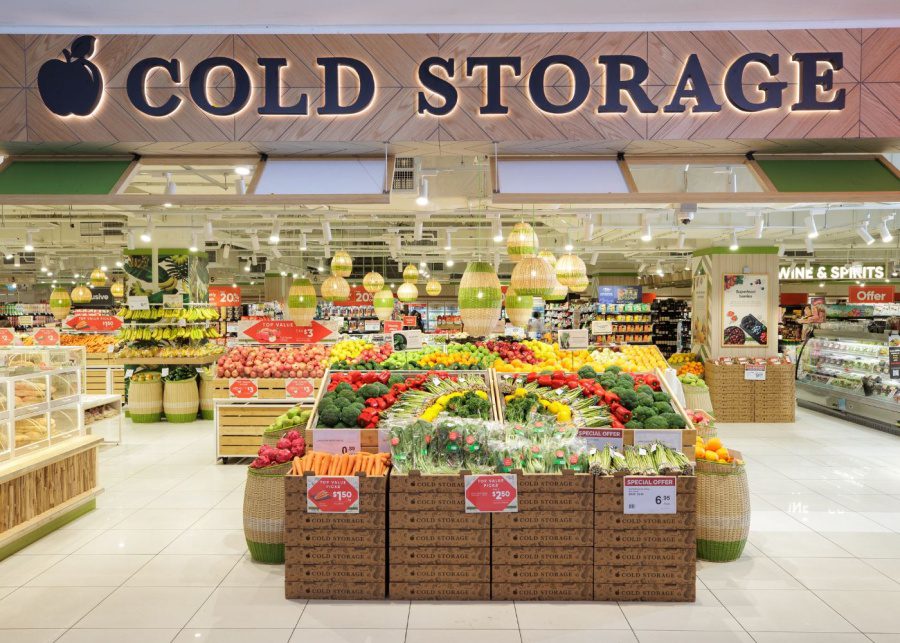 Boasting a rich history of over 100 years, Cold Storage isn't a stranger to us. Step into any outlet of this upscale supermarket and you'll be welcomed by a plethora of culinary delights at amazing value. Take it from us; grocery runs will be a breeze with fresh fruits and vegetables, delectable seafood and deli meats, quality imported products and more all conveniently located under one roof.
Plus, this one-stop shop is a haven to discover new and exclusive items to stock up your pantry with. Explore international wines such as reserva merlot and cabernet merlot; British products from Waitrose and partners; as well as a wide range of organic products. Wanna score the greatest bang for your buck? Be sure to check out the supermarket's weekly deals via the website or drop by any outlet located islandwide – your wallet will thank you for it.
Cold Storage, multiple locations including Harbourfront, Orchard and Serangoon
2. Culina
This gourmet retail and dining concept in Dempsey prides itself on offering only the finest ingredients. That includes air-flown meats from Australia and New Zealand, farmed and wild seafood from France, artisanal cheeses and exquisite wines. We love that you can dine and shop under one roof! Select your choice of meat and other ingredients – the bistro will whip up a dish for you. Or, shop up a storm and cook a gourmet feast at home.
Culina, Culina at Como Dempsey, Block 15, Dempsey Road, Singapore 249675
3. LPB Market
Previously La Petite Boutique, LPB Market started with four epicurean friends who wanted to share their love for premium cheese and wine. Growing since 2014, it's now a fresh market offering exquisite artisanal cheeses, charcuterie, premium wines, quality meats, delicious seafood, and fresh groceries. The secret behind the quality of its products? All items are tasted by the LPB Market to ensure the best are picked. Products are chosen from all over the world, including European farms and vineyards.
Products aside, LPB Market has created Epicurean Club, a community group that brings together like-minded individuals who are keen to share their passion for food and wine. Join for as little as $199 per year to enjoy exclusive perks like 10% off on online and in-store purchases, access to private sales, $100 welcome vouchers, invitations to exclusive events, and a whopping 50% discount on other LPB events for you and a plus-one.
LPB Market, available online and in store at 4 Kensington Park Road, Singapore 557256
4. Le Petit Depot
Founded in 2013, Le Petit Depot started as a French supermarket and has since expanded to include other European, Asian, Australian and New Zealand products. For a hearty meal, snag your meat from its extensive selection of meat including wagyu beef, grass-fed or grain-fed beef, veal, lamb, capon, turkey, chicken and duck. Whether you're after a steak or a turkey roast, this supermarket has you covered.
Highlights include the wagyu rump steaks, leg of New Zealand lamb and the Label Rouge free-range chicken. Plus, you'll be pleased to know that premium quality, red label and organic meats from France, Australia and New Zealand are available too. The livestock is raised with sustainable farming practices, taking into consideration animal welfare. With trusted suppliers and partners like Huber's, Remi Ramon, Dorper and La Boucherie, you can be sure you're getting the best quality and cuts. Breakfast items, boozy sips, frozen bites, and vegan, organic and gluten-free items are also available.
Le Petit Depot, available online
5. Little Farms
Make grocery shopping an enjoyable experience with Little Farms' inviting new concept at Tanglin Mall. Known for its all-natural and organic produce with meats, dairy, seafood and more procured from ethical sources, this specialty grocer is one to check out! The latest flagship store features a butcher counter, a deli counter, a cheese department, a wine shop and Starter Lab bakery. Make your own charcuterie board, pick out your favourite pours and more.
Want to dine in? Visit Little Farms Table, a casual, all-day dining concept for a menu of wholesome dishes created from scratch. Made with the freshest ingredients from Little Farms and Starter Lab, tuck into pastries, sourdough toasts, nutritious salads and other eats, paired with coffee, tea or boozy sips of your choice.
Little Farms, multiple locations including #02-136, Tanglin Mall, 163 Tanglin Road, Singapore 247933
6. Mustafa Centre
There's really nothing you can't get at the famous Mustafa Centre. Just give yourself an entire day to explore the multi-level shopping mall and you'll likely find everything you need and more. It's home to electronic gadgets, household appliances, children's toys, apparel and accessories for the entire family, beauty goods and hardware products. On the groceries side, you can cart off snacks, baked treats, pantry staples, meats, veggies, spices and more.
Mustafa Centre, 145 Syed Alwi Road, Singapore 207704
7. Scarlett Supermarket
If you're looking for goodies from China, hit up Scarlett Supermarket. From groceries and snacks to confectionaries and daily essentials, this store has all you need for your home. Sign up for a lifetime membership, where you can earn points and redeem them during your shopping spree. Its stores at People's Park Complex, Bedok and Geylang are open 24 hours, so you can drop by at any time.
Scarlett Supermarket, multiple locations including People's Park Complex and Westgate
8. Harin Mart
Craving an authentic Korean snack after watching your fave K-drama? Harin Mart will sate your cravings with treats like Choco Pie, Homerun Ball, Honey Butter Chips and even traditional snacks like Nuroogi (rice cookie). For home cooks, there are also dried seafood products like shrimp, squid, anchovy and more. Top it all off with a selection of Korean booze like soju and makgeolli to complete your basket.
Harin Mart, available online
9. Koryo Mart
One of the most popular Korean mini marts in the city, Koryo takes pride in its stash of groceries imported straight from the motherland. You gotta love the comprehensive selection of beloved instant noodles, ready-to-cook meals, kitchen essentials, sweet treats, beers and spirits. It definitely comes in handy when you're reminiscing about your last trip to Seoul!
Koryo Mart, available online and at multiple locations including 313 @ Somerset and Bukit Timah
10. Sol Mart
Sol Mart is a humble supermarket where you can get weekly deals, fresh veggies and fruits air-flown from South Korea. The selection is small, but it has all you need, including ramen, ready-to-eat meals, snacks, kimchi, meats, seafood and side dishes.
Sol Mart, available online and at multiple locations including Novena and Bukit Timah Plaza
11. Shine Korea
You've probably spotted these cosy supermarkets in Singapore selling authentic South Korean products. With several branches scattered around the city, it's pretty easy to find one and satisfy your cravings for Korean cuisine. Here, you can stock up on instant noodles in all kinds of flavours, popular tidbits, condiments and, of course, soju or makgeolli.
Shine Korea, available online and at multiple locations including Bugis Village and Far East Plaza
12. Lee Mart
With authentic goods brought in from South Korea, Lee Mart offers an extensive range that includes beverages, frozen foods, condiments, snacks and noodles. Even if you're not near any of its stores, simply shop online and enjoy free delivery with a minimum spend of $70. Get your fill of Korean side dishes, popular tidbits and all the sweet drinks you need.
Lee Mart, available online and at multiple locations including Chinatown Point and Suntec City
13. MoguShop
Shop for groceries the easy way here – all you need is a few clicks to have your order delivered straight to your doorstep. The online store has a bounty of Japanese goods including seafood, wagyu, vegetables, fruits, dashi and soup bases, rice and noodles, ready-to-cook packs, biscuits and cereals, bread and pastries, sake, desserts and plenty more.
MoguShop, available online
14. Meidi-Ya
Meidi-Ya takes grocery shopping to the next level with its huge two-storey flagship store at Millenia Walk. The first floor houses a bakery and food hall, as well as a wine and liquor space. Meanwhile, the second level is home to authentic Japanese products including fruits, vegetables and meats, as well as international brands. Don't miss out on the Hokkaido Dosanko Plaza, which is filled with sweets, savoury items and soft-serve ice cream. If you need a break from shopping, take a seat at the Japanese concept cafe and bar for coffee in the afternoons or beer in the evenings.
Meidi-Ya, available online and at multiple locations including Millenia Walk and Great World
15. Don Don Donki
Any fan of Japanese food will be well-acquainted with this retail behemoth. In just a couple of years, Don Don Donki (and its catchy theme song) has taken over our hearts with countless grocery stores across Singapore. Best of all, most of them stay open till late. We're in love with the place for its massive collection of household goods, ready-to-eat meals, cooking essentials, Japanese delicacies, well-loved snacks and beverages. Every visit here is a surprise – you never know what gem you'll unearth!
Don Don Donki, multiple locations including Clarke Quay Central and City Square Mall
16. Iroha Mart
Step into this Japanese marketplace to get your stash of food, beverages and daily essentials. Need a bottle of sake to go with your meal? You've got it. Want to replenish your snack collection? The shelves full of tidbits and confectionery have more than enough varieties to last you through multiple movie marathons.
Iroha Mart, #B2-17/18, Plaza Singapura, 68 Orchard Road, Singapore 238839
17. Zairyo
This online gourmet grocer prides itself on bringing in the freshest foods from Japan. Think seafood, seasonal veggies and fruits, premium meat, sauces and condiments that'll help you make your best meal ever. The selection includes Kurobuta pork belly, Hokkaido milk cheesecakes, frozen Asari clams and sashimi-grade salmon.
Zairyo, available online
18. La Mexicana
Love Mexican food? Get your ingredients authentic and fresh from La Mexicana and whip up your own tacos, burritos and cocktails at home in a jiffy. You can get tortillas, tortilla chips, guacamole, salsas and dips here, alongside cheese, spices, hot sauces, tequila, mezcal, candy and even to-go cocktails like margaritas.
La Mexicana, available online and at #01-19, Chijmes, 30 Victoria Street, Singapore 187996
19. The French Grocer
Shop international fine foods at this online store, which brings in cheese, terrine, duck rillette, foie gras and wine from France. Besides meat, seafood and pantry staples, it also features an Italian section with all types of frozen stuffed pasta.
The French Grocer, available online
20. German Market Place
Having been in Singapore since 1999, the store sources groceries straight from Germany, with additional items from places like Switzerland and Austria. Head to the Bukit Timah shop or just browse online for what you need. The selection is massive, covering everything from pasta and cheese to bread and cakes to snacks, baking needs and beverages. Household goods, toiletries and baby products are on display, too.
German Market Place, available online and at 609 Bukit Timah Road, Singapore 269710
21. British Corner Shop
Missing a little taste of home? This online UK-based supermarket delivers British goods worldwide, including popular products like Walkers cheese and onion crisps, Branston pickles, Crawfords teatime biscuits and Yorkshire tea.
British Corner Shop, available online
22. African Market Place
For your dose of South African food, drinks, spirits and more, check out this online supermarket in Singapore. Groceries run the range from spices and herbs to meat and snacks. If it's vino you're looking for, browse through the selection of red and white varieties. Or take a look at the collection of beers, ciders, teas and coffees.
African Market Place, available online and at #01-00, 619E Bukit Timah Road, Singapore 269725
23. Thai Supermarket
Head online to go grocery shopping at this Thai store in Singapore. Its goods are plentiful, including the likes of health and beauty items, household products, and even Halal selections. For a treat, check out the online exclusive section to feast your eyes on Lay's potato chips in unique flavours such as grilled prawn with gochujang sauce.
Thai Supermarket, available online and at #01-20, Aperia Mall, 12 Kallang Avenue, Singapore 339511
24. CS Fresh
This one's the fancy supermarket sister brand brought to you by Cold Storage. Here's where you can stock up on gourmet meat, fresh produce, international wines and exclusive products. Oh, and if you're shopping at the Tanglin outlet, pop by the wine tasting bar for a sip!
CS Fresh, multiple locations including Raffles City and Paragon
25. Hao Mart
This chain of convenience stores can be spotted across the island, with mini marts at heartland estates. Pop by any Hao Mart store for your grocery runs – they offer a wide selection of household essentials, fresh produce, interesting international snacks and more. More goodies can be found at Eccellente by Hao Mart at places like Westgate and Marina Square, featuring daily necessities, fresh seafood, baked goods and more. Plus, there's Hao Halal Hub with outlets islandwide bringing in products from Indonesia, Malaysia and Korea.
Hao Mart, multiple locations including Redhill, Punggol and Woodlands
26. Scoop Wholefoods
It's all about buying just what you need at this Australian grocery store, which is big on plastic-free shopping. Besides spotlighting great Aussie produce, Scoop also features premium whole foods from across the globe, including tea, nuts, grains, snacks, granola, freshly churned nut butter, salt and more. Just don't forget to bring your reusable containers and bags to shop here!
Scoop Wholefoods, multiple locations including Great World and Tanglin Mall
27. Warehouse Club
A retailer helmed by Ntuc FairPrice, Warehouse Club is the household name's bulk buy store. Shop for value packs at affordable prices, with imported goods from Carrefour, Tesco, Cheesecake Factory and more. Just be warned you'll be leaving with carts full of multi-pack items that'll last you a long time.
Warehouse Club, #03-09, FairPrice Hub, 1 Joo Koon Circle, Singapore 629117
28. Emart24
Can't get enough of the Korean wave? Head to Emart24, one of Korea's most well-loved lifestyle and convenience stores that has recently landed on our shores. Besides the usual essentials of instant food, snacks and household products, you can even get your fix of made-to-order Korean street food. Try the freshly made kimbap filled with all-time fave ingredients like tuna and crab stick, crunchy corn dogs, and boneless fried chicken available in multiple flavours.
Emart24, multiple locations including Nex, Jurong Point and Margaret Market 
Now that you've got all the deets on the best supermarkets and grocery stores in Singapore, shop away!