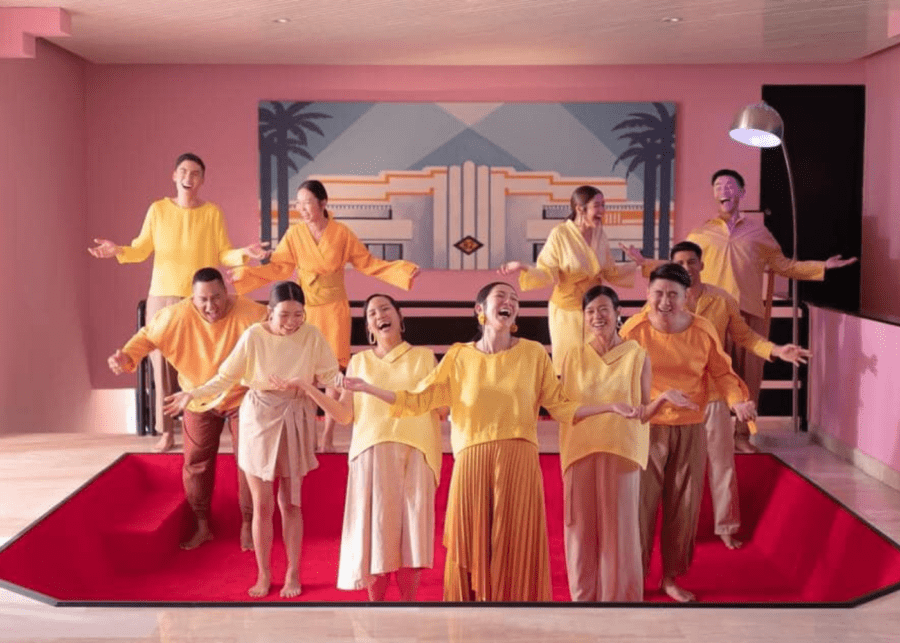 What we're watching right now: Tiong Bahru Social Club. Photography: 13 Little Pictures
Local content FTW! Our Honeycombers Hot List dishes out the best in movies, books and music.
This year, we're showing love to all things local with our new monthly column, the Honeycombers Hot List. From local movies and artists to homegrown musicians and authors in Singapore, we spill on what we're reading, watching and listening. So bookmark this page if you want to be in the loop!
The Honeycombers Hot List: January
Watch: Tiong Bahru Social Club by Tan Bee Thiam
Who would have thought that Singapore's cosiest neighbourhood would be the setting of an imprisonment establishment under the disguise of a happiness project? Well, in Tan Bee Thiam's Tiong Bahru Social Club, this is reality.
The satirical comedy follows Ah Bee, a hardworking boy who ditches the 9-to-5 grind for a spot in the Tiong Bahru Social Club – a pastel-drenched community aimed at optimising its members' happiness. But as the day passes, the happiness algorithm can't seem to keep Ah Bee, for lack of a better word, happy. In all honesty, quantifying happiness can be strange. But in this movie, it works. From Ah Bee's deadpan personality to the Wes Anderson-like cinematography to the exaggeration of quirky Singaporean habits, the movie is equal parts dreamy and whimsy. While Tan Bee Thiam could have easily taken the dystopian route, he keeps it lighthearted.
Tiong Bahru Social Club is, in our opinion, a must-see for everyone who calls Singapore their home. And for those who miss the iconic Pearl Bank Apartments, be prepared for a visual feast.
Listen: Forget us by Maximilian
What's the perfect soundtrack to the rainy weather we're experiencing right now? Let us introduce you to Maximilian. Max and Justin, who make up the musical duo, might have crossed paths in university two years ago. But what really brought them together was their mutual passion for creating music.
With no experience or whatsoever, these self-taught artists decided to dip their toes in the local music scene by producing one original song a month last year. "Our final song of the project, 'forget us', is a song about the feelings, emotions and lessons that have overwhelmed us the past tumultuous year", Max says.
Equal parts nostalgic, lyrical and dreamy, 'forget us' was conceived as "a reminder to forget all those who don't matter, and aspire for the toxicity this year to 'forget us' as well", Max explains. If you're digging the chill beats and euphonious vocals, you'll also enjoy tracks like 'Apollo #8', 'white-bird' and 'violet / aisle'.
Since the release of their first single, they have quickly gained more than 400,000 streams on Spotify and a decent following on social media. "This was something we could never have dreamt of; we are always grateful for the love that fans have shown us, and we hope to return their love by going the extra mile and continue improving with our craft", Max says.
While we eagerly wait for new music from them in 2021, tune in to their weekly bedroom series where Max croons his own rendition of iconic songs. Think Coldplay, Oasis and Harry Styles.
Read: 17A Keong Saik Road by Charmaine Leung
New to SingLit? We recommend this poignant memoir to start your foray into local literature. Why, you ask? It has a little bit of everything: history, culture, community spirit and family, which are essentially the cornerstones of the Little Red Dot's society.
The pages will whisk you away to a familiar street that's set at a different time. Keong Saik Road in the 60s is a far cry from what it is now. Instead of boutique hotels and buzzing bars, the enclave was lined up with brothels and "entertainment" watering holes. Author Charmaine Leung paints a more vivid picture of the titular street's red-light district past with her story about growing up in the area as a daughter of a brothel operator.
It's worth mentioning that 17A Keong Saik Road is more than just a personal recount of what it is like to be living in a seedy neighbourhood. It also shines a light on the lives of marginalised women in the early 1900s who left their homeland to make a new life in Singapore. Charmaine weaves in narratives of said women with beautifully strung words, which essentially builds on her own lived experience. One thing is for sure: the book makes us pine for the nostalgia of 1970s Singapore.
Know of an underground local artist in Singapore or a homegrown title that should be on our Honeycombers Hot List? DM us on Instagram or Facebook with your recommendations!