Photography: LiHO Tea
Read on for five limited edition and seasonal LiHO TEA flavours to sip on for a sweet, ice-cold fix. Plus, enter our giveaway to win exclusive prizes from this well-loved homegrown bubble tea brand!
We all remember the bubble tea panic that swept across the nation during the circuit breaker last year – a testament to our undying love of these delightful drinks. Thankfully, we're back to grabbing our midday pick-me-ups. And now, we've discovered even more mood-boosting flavours with LiHO TEA's latest drinks. This homegrown bubble tea brand is beloved for its innovative drinks and healthy creations – we all have fond memories connected to it! Here are five unique sips to try, plus a special giveaway for five lucky winners.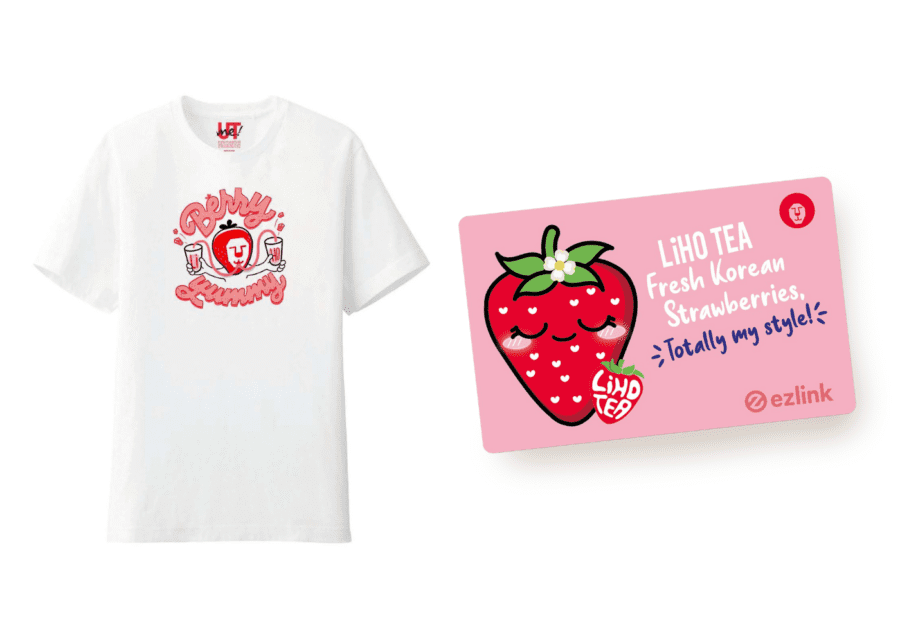 Stand a chance to win a Limited Edition LiHO TEA K-Strawberry Ezlink Card (no value) and a Uniqlo x LiHO TEA K- Strawberry T-Shirt by entering the giveaway below!
LiHO TEA Giveaway
Update: This giveaway has closed.
For a sweet treat: LiHO TEA's seasonal Seolhyang Strawberry series
The popular brand has been bringing Korea's strawberry season to us year after year and we're so ready for the 2021 edition. As the first and only bubble tea brand that's sourcing Seolhyang strawberries directly from South Korea's Goryeong-gun farm (they're flown in every three days!), you can expect only the freshest strawberry flavours from these concoctions.
The newest addition to this series, the K-Strawberry CheezHO Cake ($7.50 for medium, $8.50 for large) tastes like strawberry cheesecake in a cup. Together with the sweetness of Seolhyang strawberries, this bubble tea gives you the velvety textures of cheese and fresh milk, alongside chewy white pearls, silky smooth tea jelly and a dash of chocolate sauce. That's your dessert, sorted!
Craving Korean strawberry milk? The K-Strawberry Latte ($7.10 for medium, $8.10 for large) gives this popular drink a run for its money with a delectable blend of crushed whole strawberries and fresh milk – a simple yet addictive combination. But if you're giving milky renditions a swerve, try the K-Strawberry Jing Syuan ($7.10 for medium, $8.10 for large) for a refreshing treat. Taste the floral notes of Jing Syuan tea paired with freshly blended Seolhyang strawberries for a perfect ice-cold drink to beat the summer heat.
Aside from LiHO TEA stores, you can get this series delivered exclusively via Foodpanda. While you're getting your dose of strawberry-flavoured goodness, don't forget to enter the giveaway!
For an energy boost: LiHO TEA x Red Bull limited edition drinks
Red Bull gives you wings and apparently your iced tea fix, too! 
In celebration of the Year of the Bull, LiHO TEA's latest collab sees two new Red Bull-infused additions to its menu that are guaranteed to give you a boost. If you're all about that low sugar life, you can also opt for Red Bull Sugarfree to be used in your order, instead of the usual Red Bull Energy Drink.
Pick your fave from two limited edition blends. Taste the tropics with the Red Bull Passion Cooler ($7.50), which tantalises with its blend of passion fruit and grapefruit. Or, try the Red Bull Mango Booster ($7.50) for its combination of mango and berries, a fruity option to perk up your mood.
Looking for your next ice-cold drink? Swing by your nearest LiHO TEA outlet to order these new flavours. Sip away!
LiHO TEA, available at multiple locations and on Foodpanda
This post is in partnership with LiHO TEA.