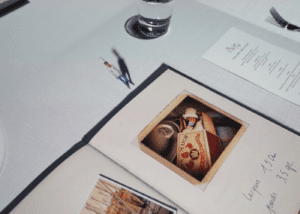 Photography: Le Petit Chef
Don't miss out on this immersive feast, which transports you across countries on a culinary adventure.
A dining experience like no other, the world's smallest chef (aka Le Petit Chef) recently extended his stay at Grand Hyatt Singapore till 31 June. And we're here to tell you all about how we had the pleasure of meeting him on a Friday evening.
The magic happens at the intimate wine cellar of Mezza9 (La Cave), which holds an incredible collection of vino worth $1.3 million. Once you're all settled in, every diner gets a book titled "Dinner Time Stories" strategically placed on their table. Open it, and the surreal performance starts with the tiny French chef himself coming to life with the help of overhead projectors and digital mapping.
After a welcome from our vivacious host Iggie and a short introduction from Le Petit Chef, you're whisked away on a gastronomical journey. This two-hour immersive dining experience takes you along the Silk Road, which was once travelled by Marco Polo, traversing the Middle East, India and China. Each locale is paired with stunning visuals, mesmerising music and delectable dishes. Impressive, to say the least.
On the Silk Road
Our journey starts with the tables transforming into an endless ocean as the chef sails the seven seas on a paper boat "made" from one of the book's pages. For this voyage, we're served a trove of oceanic delights on seashells: Bouillabaisse encased by a terrine and bookended by a rouille crouton, crab salad topped with caviar and a wedge of lemon for spritzing – a nod to Le Petit Chef's French heritage.
Welcome to the Middle East
For the second act, we find ourselves in a bustling Arabian bazaar teeming with spices, nuts, golden kitchenware and Middle Eastern-style motifs projected on the table. Our feast arrives, and it's a platter of beetroot falafel topped with refreshing avocado mint, tabbouleh, spicy tiger prawn salad and beef tartare. Everything's bite-sized, giving us just enough room to stomach what's to come (because there will be more – lots more – so pace yourself).
Next up, incredible India
For this leg of the journey, the kitchen maestro's new winged friend, a sparrow, takes him to a spice market in India. Here, vibrant coloured powders, instrumental Indian music and butter chicken take centre stage. The portion's generous, but we've got no problem mopping up the spicy sauce with the pillowy naan. If it's too much heat for you, cool off with the accompanying raita.
Up, up and away to China
Before finding our way to China, the man of the hour makes a pitstop in the Himalayas. Straight from the kitchen chiller comes the frozen lemon ginger sorbet and, before we can take a spoonful, thick clouds of fog emerge from the bowl, making us feel like we're on top of Mount Everest. This refreshing swirl of zesty flavours is our palate cleanser, and what a welcome treat it is.
Now, for the main course: A bowl of juicy steamed whole lobster and poached abalone dumpling in ginseng broth alongside truffle-infused brown rice. While we're fans of the sweet crustacean, the rice is a tad too dry for our taste.
The sweet final act
Ending our feast on a saccharine note, the "chef" goes back to where he started: France. He whips up a pudding for us, using ingredients he forages from his travels like saffron and cardamom. Just as we watch him putting the finishing touches on the creation, we're served the actual dish, which looks just like creme brulee. It's a pleasant surprise, seeing the seamless transition between the virtual and real worlds. It makes us think about how each dish is precisely timed and, of course, delicious! Kudos to the kitchen staff and the always-entertaining Iggie, who never fails to amuse us with fun facts of the various destinations we "visited".
A grand theatrical dining performance that's a welcome change from the norm, the entire journey is a memorable one. The highlight has to be Le Petit Chef as he stole the show with his endearing accent and antics, and he would make the perfect travel buddy. It may take more than a good chunk out of your bank account (and your time), but we'd say it's worth it just to try something new and exciting. Think of it as a digital version of the chef's table experience, if you will. One you shouldn't miss out on.
Le Petit Chef will run till 31 June with 6-course menus starting from $188 at Grand Hyatt Singapore