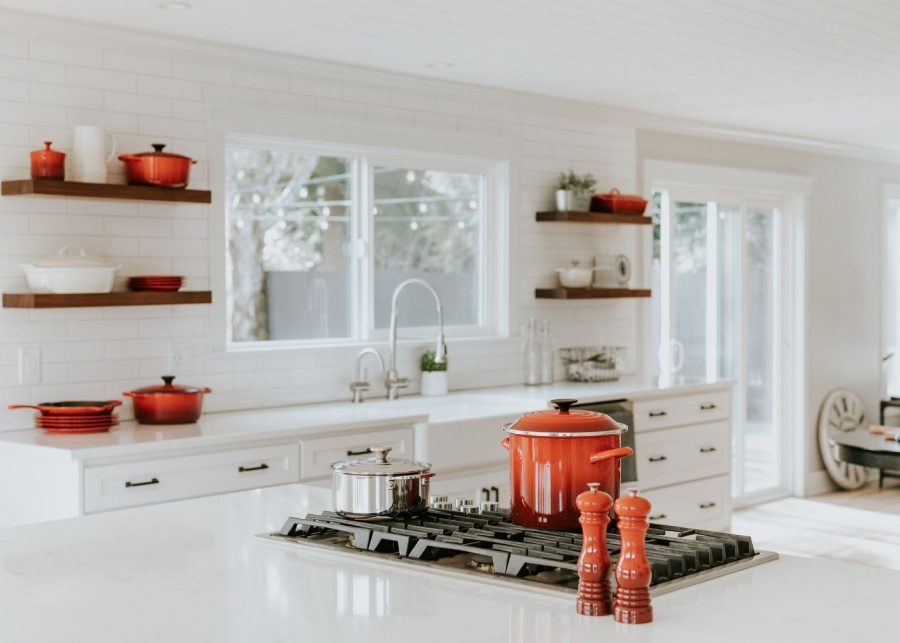 Photography: Becca Tapert via Unsplash
Wondering where to shop for cookware and baking supplies? Here are our fave stores in Singapore for achieving those #kitchengoals.
Sure, we love dining out at some of Singapore's best restaurants as much as the next person (if not more). But is there anything better than a hearty home-cooked meal, prepared with your own two hands? We think not. If you fancy honing your domestic god or goddess skills in the kitchen but you lack the necessary tools, fret not. Equip yourself with Top Chef-worthy cooking appliances, baking supplies and table accessories from these ace kitchenware stores in Singapore.
Best kitchenware stores in Singapore
1. Tott
With a smorgasbord of over 11,000 products, it's easy to see why Tott is a kitchen wonderland come to life. If you're furnishing your kitchen from scratch, this is certainly the right place to start. Hit the aisles for fancy appliances, restaurant-quality cookware, speciality knife sets, baking tools and even organic ingredients from renowned brands like KitchenAid and Cuisinart.
Tott, multiple locations including Century Square and Suntec; also available online
2. Kitchenstory
This store delivers straight to your door as you shop from the comfort of your home. The selection includes all kinds of kitchen gadgets like pasta makers, Microplane cutting tools, teak glass jars and other fancy wares to brighten up your cooking experience. Oh, and be sure to check for item availability via email for any orders as these folks are currently on a major revamp.
Kitchenstory, available online
3. Island Living by Cocoon
Need a makeover for the heart of your home?  Shop Island Living's visually pleasing kitchenwares. You'll be adding to cart non-stop both online and in the store. Our personal favourite: the Madagascar pink plate with cute flamingos and the teak chopping board handmade in Indonesia (talk about "island living"). No doubt you'll end up shopping for more than you need!
Island Living by Cocoon, #02-05, Henry Design Centre, 5 Eunos Avenue 8A, Singapore 409459; also available online
4. Mayer
Yearning for that dream kitchen? Mayer might just do the trick. Touted as Singapore's leading kitchen specialist, this one-stop shop stocks an impressive range of appliances and kitchen accessories – from top to bottom. Even if you're not in the market for a new dishwasher, there's plenty to be found here, like fancy mixers in a rainbow of colours.
Mayer, multiple locations including Ubi and Woodlands; also available online
5. Pantry Pursuits
Another online store you'll want to check out is Pantry Pursuits. Catered more for the pros (rather than amateurs chefs and bakers), this handy site stocks no-frills, high-quality kitchen essentials such as pots, roasters, pate moulds, pasta-making machines, carving knives and flatware. The site ships internationally to Singapore for free if your order hits $149.
Pantry Pursuits, available online
6. Crate & Barrel
No surprises here; one of our fave home decor stores is a treasure trove of chic kitchenware for the savvy homeowner. Think of Crate & Barrel as Ikea's sophisticated older sister with a selection of accoutrements for your kitchen ranging from speciality appliances (a pizza oven or popcorn maker, anyone?) to fancy cookware, stylish bar accessories and pantry essentials.
Crate & Barrel, #04-21/22, Ion Orchard, 2 Orchard Turn, Singapore 238801; also available online.
7. Sia Huat
Boasting over 30,000 kitchen items including top-grade pots and pans, cooking tools, tableware, and baking supplies in every size imaginable, this popular store in Singapore is the real deal. After all, this is the place where chefs and restaurateurs come to shop. You know it won't let you down!
Sia Huat, multiple locations including Pandan Road (by appointment only) and Temple Street 
8. HipVan
If you already frequent HipVan for its stunning range of furniture, you can't miss the cookware and kitchen tools selection! Keep your kitchen stylish and modern with the brand's tastefully designed range. From baking essentials like trays and pans to knives and grills, there's so much to explore. Plus, they're all available in impressive colours if you're particular about aesthetics.
HipVan, #02-728/729/730, Tower 3, Suntec City Mall, 3 Temasek Boulevard, Singapore 038983; also available online
9. Phoon Huat
Any baker worth their salt knows this name by heart. The leading baking specialist in Singapore has all the supplies for that perfect confection: every ingredient imaginable, accessories of all kinds, and tools and trays for everyone from amateur bakers to cake bosses.
Phoon Huat, multiple locations including Holland Village and Marsiling
10. Lau Choy Seng
Much like Sia Huat, Lay Choy Seng is another open secret amongst the cooking community. Carrying over 35 brands and 20,000 products, it's beloved for its extensive range of Chinese, Japanese and Western kitchenware, bakeware, cutlery, top-of-the-range knife sets and kitchen equipment. Simply check out the website and browse through its master catalogue – no doubt you'll find just what you need!
Lau Choy Seng, 21/23/25 Temple Street, Singapore 058568
11. Kitchen + Ware
For quality kitchen goods, you can't go wrong with Kitchen + Ware. The speciality store has all the necessary accoutrements: baking accessories, woks and pans, as well as kitchen utensils and appliances. It's worth noting that the "+" in its name is symbolic – it represents the store's pocket-friendly premium products.
Kitchen + Ware, multiple locations including Northpoint City and Waterway Point; also available on Lazada
12. Bake King
As its name suggests, Bake King is pure baking royalty – head here for all the baking supplies you need in Singapore. You've probably seen the brand's signature blue logo (with the chubby chef) on local baking ingredients umpteen times. But unbeknownst to many, it also offers essentials for the right bake: tins and pans of assorted shapes and sizes, decorating tools, linens and packaging for both amateur and professional bakers.
Bake King, #01-363/365, Block 10 Haig Road, Singapore 430010
13. Moderne
Planning to fill your kitchen cabinet with dinnerware made from top-notch materials à la strengthened porcelain? Moderne stocks a collection of stylish cooking and dining accessories that are made out of more alumina than your average kitchenware. Plus, they're sold at affordable prices. If its massive showroom is too far of a trek, shop online and get free delivery for purchases above $50.
Moderne, #02-48, Vertex, 33 Ubi Avenue 3, Singapore 408868; also available online
14. Qualy
Want your kitchen to look like something out of Alice in Wonderland? Shop from the comfort of home for quirky kitchenware such as cutting board sets that come in different designs and grids for specific meat and veggies, and animal-themed dinnerware. These items are also great gifts for animal-loving cooking pals!
Qualy, #08-09, 3 Gambas Crescent, Nordcom One, Singapore 757088 (by appointment only); also available online and at authorised retailers
15. Tangs
Tangs has some of the biggest and baddest kitchenware in Singapore, with everything from top-of-the-line mixers and blenders to chef-grade knives and essential baking pans. Our pro tip for shopping here? Sale seasons are the best time to pick up your coveted kitchen tools at deep discounts. Look out for bundle deals, too.
Tangs, multiple locations including Orchard and VivoCity; also available online
16. Ikea
For affordable and cutting-edge designer kitchenware, this Swedish furniture behemoth is your best bet. Products include dinnerware in a variety of colours and patterns, easy-to-use kitchenware, as well as DIY wall and food storage spaces that are easy to build. Plus, with a yearly catalogue and themed showrooms to feed your kitchen inspo, you'll be shopping to complete your dream kitchen in no time. Best of all, you can shop online. No more battles with chaotic crowds or getting lost in the showrooms!
Ikea, multiple locations including Alexandra and Tampines; also available online
17. The Providore Downtown
From classic enamelware and cocktail kits to beautiful serving boards, cool kitchen equipment and cookbooks, The Providore at OUE Downtown Gallery is every home cook and kitchen decor lover's dream. Not to mention all the amazing ingredients and gourmet goodies you'll want to stock up on. We dare you to leave the place empty-handed.
The Providore Downtown, #B1-07, OUE Downtown Gallery, 6A Shenton Way, Singapore 068815; also available online
18. Nam Shiang & Co.
The store's veritable variety of kitchenware makes up for its inaccessible location at Ubi. An open secret amongst restauranteurs, it's home to affordable cooking essentials including non-stick cookware, ceramic casserole pots and cutting boards.
Nam Shiang & Co.,#01-145, Block 3016, Ubi Road 1, Singapore 408706
19. Forty Two
This furnishing e-commerce haven stocks over 10,000 products. We're talking about must-have kitchen appliances such as induction cookers, microwave steam cases, sandwich makers, grills and steamboats, as well as dining utensils, kitchen organisers and baking accessories. Need a cuppa to finish prepping your kitchen? Bag a coffee maker while you're at it. Look out for the sale section: you might just find yourself a sweet steal!
FortyTwo, available online
20. Kyubei Japan
As anyone who makes sushi at home can tell you, it ain't easy finding specialist Japanese kitchenware in Singapore. Thankfully, Kyubei Japan fills the gap with sushi-making equipment (think serving ware, wooden rice mixing tubs, brass scalers and fishbone tweezers), as well as traditional Japanese knives and bento boxes.
Kyubei Japan, available online
Bookmark this list to shop for kitchenware and baking supplies in Singapore!