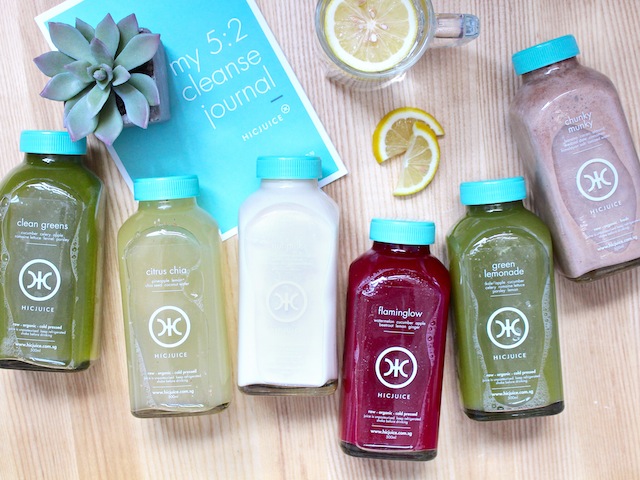 After countless of Hot New Tables reviews, it probably was time for a juice detox; so we tried HICJUICE's 5:2 juice plan
I'm the girl who wakes up in the middle of the night with hunger pangs; think of dinner during breakfast; and have, ashamedly, fallen asleep with a Kit-Kat bar in her mouth. The consequence? Sluggish mornings and a food baby named Billy. Tiny Billy never bothered me (much)… until the day a lady offered me her seat on the train because she thought I was pregnant. So, when HICJUICE offered a two-week sample for their newest juice cleanse plan – the 5:2 – it was obviously a sign for me to finally detox.
What is this HICJUICE 5:2 Juice Plan?
Inspired by the popular 5:2 intermittent fast diet (endorsed by celebrities like Jennifer Aniston and Miranda Kerr), the programme limits your calorie intake (approximately 700kcal) for two non-consecutive days a week — unlike the usual three to five-days juice fast — to recharge, cleanse and boost fat metabolism. Perfect if you, like us, can't afford to give up carbs entirely.
Day Zero
I admit, this was the hardest part. Before starting the juice plan, you're required to fast for at least 12 hours. This is to reduce your insulin levels to allow your body to burn fat at a higher rate.
Day One
The juices were delivered at 10am sharp in a tiffany-blue cooler bag containing six 500ml bottles of nutrient-dense cold pressed juices and protein-rich nut milks. There was also a neat instruction booklet containing tips to help you through the cleanse. I started off with the dangerously green Green Cleans; the juice was crisp, refreshing, and did not taste anything like liquified vegetables. I went about my day per usual and was going strong 'til about 4pm when the hunger pangs hit. I chugged down the next bottle – Citrus Chia – which, sad to say, did not help quiet my rumbling stomach. Looking at food porn (all part of the job) certainly didn't help. My stomach was growling; I was growling and going delirious…. Then, it's 6pm. So home I went with a bottle of sweet Nut Milk and Orange is The New Black. I'm glad I can eat tomorrow.
Day Two
I didn't feel any lighter or healthier, but the juices were doing nice things to my bowels. I was surprised I didn't feel like stuffing my face with cakes and fried food; I actually want something healthy. Maybe it's the cleansing talking…
Day Three
I had a yoga session scheduled at 2.15pm, so I was seriously worried I would faint. The first juice of the day was the Green Lemonade; my least favourite of the six, mainly because it contains my food enemy, parsley. I felt like giving up by 1pm, but I decided to at least wait 'til after my yoga session before I concede defeat. To my surprise, yoga actually took my hunger away. The first 10 minutes was tough, but as I went through the various asanas, my craving for food eventually disappeared. I ended class with HICJUICE's Chunky Munky that tasted almost like a milo banana milkshake. I was confident I could easily complete today's juice cleanse, so I decided to meet some friends at Golden Mile and join them — or rather, watch them eat — at Mookata. Big mistake! I watched, green-eyed, as they scarfed down dinner while I sipped away my Flaminglow juice. OK, I admitted defeat and sneaked a tiny piece of grilled chicken. Yes, I felt extremely guilty. But it was tiny.
The Verdict
Physically, I lost 1-2kg; and I did feel happier and healthier. Plus, my skin looked brighter. I also didn't crave oily food as much as I thought I would; in fact, I felt icky when I loaded up on fast food after the cleanse. HICJUICE 5:2 juice plan is meant to be a long-term programme and part of a sustainable lifestyle. Will I do it again? Definitely. Perhaps next year.
The HICJUICE 5:2 Juice Plan can be brought on their online sotre and is priced at $218 for 2 weeks; $418 for 4 weeks; and $618 for 6 weeks (before GST). Each set of the juice plan will come with a physical 5:2 juice plan journal and guide.