Tempura Tsukiji Tenka at Japan Food Town
A new nexus of Japanese food in Singapore, Japan Food Town offers teppanyaki, okonomiyaki, sushi, ramen, chirashi-don, shabu shabu, sake and loads more in Orchard Road
Peer around any corner in our constantly churning food scene, and Singapore's obsession with Japanese food is no shocker. Ramen restaurants, sushi bars, chirashi-don joints, curry rice eateries, teppanyaki grills, yakitori izakayas – for real, need we really go on? But instead of scrambling around the isle trying to satisfy your craving, what if we told you there was one place where you can find the gamut of Japanese cuisine all in one place? Located on the fourth floor of Wisma Atria, the 20,000sqft Japan Food Town congregates 16 handpicked restaurants originating from Japan, each with their own specialty to showcase in Singapore. Enthusiastically, we headed down to check out the buzz during its opening ceremony on 15 July, and have picked out 10 must-try dishes to hunt down at the Japan Food Town.
 Tempura Tsukiji Tenka – For chirashi and tempura-don
Want to be served by the future master chefs of Japan? Graduates of the prestigious Tokyo Sushi Academy, one of Japan's top traditional culinary institutions, helm the kitchen at Tempura Tsukiji Tenka. Their kaisendon ($24.80) is irresistible if you feel like chowing down on a chirashi-don – sushi rice topped with a heap of salmon sashimi, tuna, sea bream, salmon roe and tamago. Or if you prefer something cooked and fried, their signature tendon (tempura don) will leave you stuffed with ample portions of battered prawns, pumpkins, and other seasonal veggies.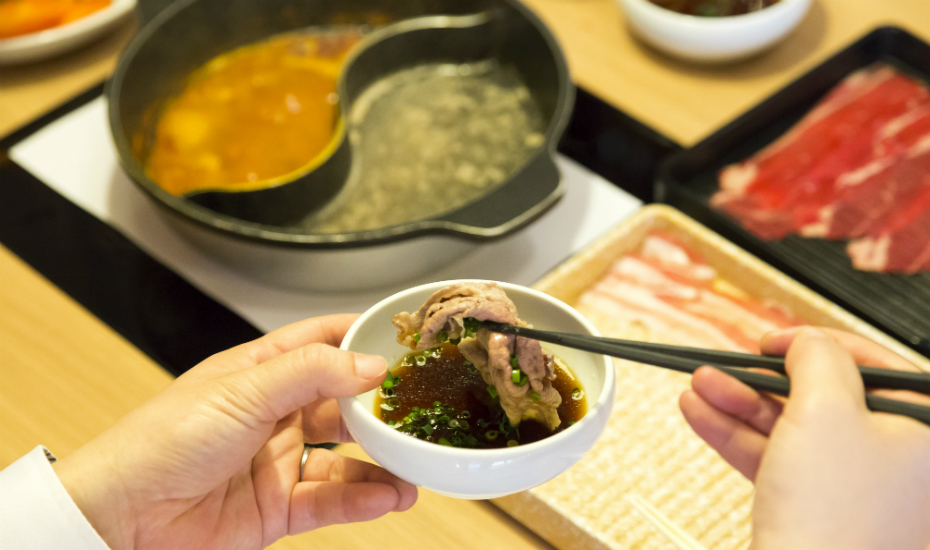 Shabu Shabu Tajimaya – For creamy dashi shabu shabu
"Good quality with reasonable price" – that's the motto of Shabu Shabu Tajimaya. And true enough, at just $38 for a standard shabu shabu course, you can enjoy fresh quality vegetables and various meats such as pork ribs, wagyu beef, and pork loins imported from Japan. Do look out for their unique selections of dashi stock; instead of standard stock such as shoyu and sukiyaki, Tajimaya offers nouveau selections such as yuzu salt and creamy rice malt dashi.
Machida Shoten – For Iekei tonkotsu ramen
Reminiscent of Iekei-styled ramen that's popular in Japan, Mashida Shoten's signature tonkotsu ramen also uses the same tonkotsu-shoyu base. The broth here is thick and rich, to the point that its consistency is almost cloudy. One sip, and the soup's robust, umami-packed taste will instantly leave a lasting impression. Packed with ingredients such as roasted char siew, ajitsuke tamago, nori sheets with a generous helping of scallion; and yellow noodles that are chewy and smooth, Machida Shoten surely makes one dominant contender in Singapore's thriving ramen scene.
Tsukiji Sushi Takewaka – For sushi fresh from Tsukiji Fish Market
With 28 years of history under their belt, it's safe to say that the sushi senseis at Tsukiji Sushi Takewaka knows their fish. Its Japanese outlet is located near Tokyo's famous Tsukiji Fish Market, ensuring that only the freshest seafood is used in the preparation of dishes. And likewise, the Singapore branch is no exception, as it imports fish directly from the market itself. Help yourself to a eight-piece set of Edomae nigiri sushi ($14.40), or go a la carte and order premium sushi such as sea urchin and tiger prawns.
Inaniwa Yosuke – For chilled seiro udon
While most conventional udon noodles in Japanese restaurants are thick and fat, the udon at Inaniwa Yosuke is thin yet chewy in texture, making for a less-dense mouthfeel more reminiscent of soba. While you can order a mix of hot and cold udon with the ajikurabe meal ($19), our favourite is definitely the springy chilled seiro udon ($13), served with a classic shoyu dip – simple, but scrumptious!
Osaka Kitchen – For live okonomiyaki and teppanyaki
Hurray, there's finally another place where we can get our okonomiyaki fix! That said, Osaka Kitchen isn't strictly an okonomiyaki (Japanese pancake) restaurant; it offers both a delightful selection of teppanyaki and okonomiyaki treats. Our recommendation here would definitely be the teppanyaki-grilled wagyu beef; grilled to perfection right in front of you, it melts once you pop it into your mouth.
Sabar – For all sorts of saba fish recipes  
Sabar has an obsession with the number 38 –38 seats, 38 items on the menu, even the saba fish used in all of its dishes is exactly 38cm each! If you've no qualms munching on mackerel, this specialty restaurant is for you. Have your mackerel served raw with the assorted toro-saba sashimi ($25), or have it grilled with the toro-saba hitsumabashi, where grilled saba is slathered with a special sauce and served with rice. The shop also serves toro-saba-zuke which is raw mackerel marinated in shoyu, making for a salty yet refreshing morsel. Lastly, have your saba the Singaporean way with the chilli toro-saba – it packs a kick!
Hokkaido Izakaya – For fun izakaya fare
Chilling at an izakaya bar in the middle of Orchard road sounds like an absolute riot (in a good way, naturally!), at we have Hokkaido Izakaya to thank. Besides just sake and beer, the Japanese bar also offers authentic izakaya fare with fresh ingredients sourced from four of Hokkaido's towns. Sample delectable seafood offerings from Yakumo such as the deep-fried chika smelt and milk hotpot with salmon, or experience the freshness of Furano's produce with the cucumber and salted konbu seaweed salad and grilled onion cooked with Yakumo dengaku miso.
Rang Mang Shokudo – For artisinal chicken karaage
Who doesn't like to get their hands greasy with some fried chicken every now and then? For the Japanese, they have it down to an art with their chicken karaage, and this happens to be the foodie forte at Rang Mang Shokudo. The chefs here believe that fried chicken can be more than just fast food, and they certainly prove it with their succulent karaage bites, which are marinated in buttermilk for six hours and double-fried under low heat for that juicy, crispy crunch. Try it for yourself with their yuzu pepper karaage ($8+), or opt for a saltier alternative with their soy sauce karaage ($6+).
Dassai – For high-quality sake passed down four generations 
If you're a sake connoisseur, then the renowned Dassai brand shouldn't fly over your head. Fourth-generation owner, Kazuhiro Sakurai, proudly represents his family's commitment to the sake, by running a pop-up Dassai-exclusive sake bar in Japan Food Town, the first of its kind outside of Japan. For the uninitiated, start off with their Dassai 50, which harbours a full-bodied fruity tone . But if you ask us, you definitely have to give the signature Dassai 23 a shot; brewed with rice milled down to 23% of its content, this rich sake emanates an aroma of peaches and goes down smoothly. Btw, this bar will only be here for six months, so chop chop!
Japan Food Town, Lvl 4 Wisma Atria, 435 Orchard Road, Singapore 238877, p. 6694 6535. Open daily 11am-11pm.