Photography: Aditi Gaitonde Fernandes
Jam at Siri House is hosting three home bar 101 masterclasses and nailing the Negroni and punch bowl is just step one!
Hanging out at Siri House during the golden hour is officially one of our favourite things to do. The light fills the room, its glam-glitz decor turning extra magical. If you haven't heard yet, Dempsey Hill's newest is a lifestyle space by Thai luxury property developer Sansiri. TL;DR it's a show apartment like nothing you've ever seen! A restaurant, bar, retail space, art gallery and show flat space rolled into one, there's something to drool over every where you.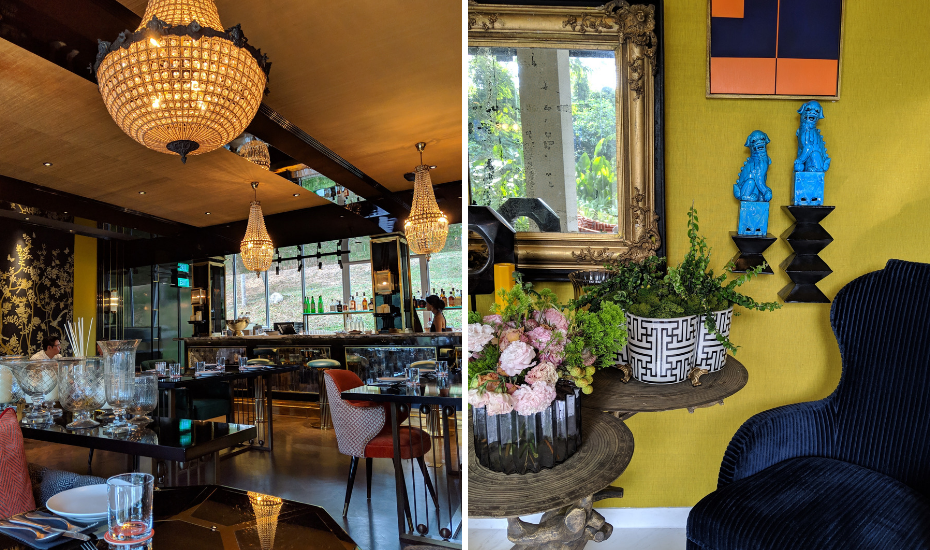 If you've been dreaming of setting up a kickass home bar and mixing cocktails a la Risky Business, take note. Spanning three weekends, Siri House has a series of workshops lined up to take you from noob to pro. Schooling you in the ways of craft cocktails, unique techniques and tricks of the trade will be Mark Tay, Jam at Siri House's beverage director and co-founder of the positively delicious Sunday Punch.
Mark just really wants you to "spend more time hosting, less time making cocktails". Build your own Home Bar 101 sessions starts with must-have tools, a lowdown on spirits you need to keep handy and a neat negroni and punch bowl recipe for easy and effective entertaining. Sign up for the second class to learn the fine art of infusions and cocktail batching, followed by the final session on flavoured foams, infused salts, tuiles and more.
We sat through a quick session with Mark, who was accompanied by senior bartender Diveysh Ramesh, and learnt how to nail the Negroni and punch bowl. For starters, their bromance fills our heart with warmth… much like Siri House's signature drink: Thai tea infused Negroni. Mark's witty humour combined with his vast knowledge on spiked beverages will have you in splits. Yes, it's hard to take notes when you're giggling but the knowledge and trade secrets shared are gold and you ought to write them down.
Building a back bar
Sure, your hard spirits are important but if you truly want to impress, your back bar needs to have more than just hard spirits with fancy labels. Some of the most versatile liquids to store include bitters, vermouths and gins. Mark will further illustrate how combining these with other spirits can work in your favour.
Nail the Negroni
"Oh, the Negroni is so easy to make it's almost irritating," is one of Mark's opening statements that we almost didn't believe. Except, he was right – we thought 10 minutes later. It is crazy easy to put together and makes you wonder why you're paying $20++ for it every Friday night. Diveysh tells us that at a good bar we're actually really paying for the ice. You know that big chunky ice, it helps reduce the rate of dilution and lets you enjoy your drink longer, unlike those pesky ice cubes we use at home.
A bittersweet concoction, the all-holy Negroni is a classic cocktail and any bartender in the world can make it for you with his/her eyes closed, even if it's not on the menu. So what goes into a Negroni? In Pinterest-speak, this is a quick three-ingredient cocktail.
30ml gin (like a London dry and Hendricks)
30ml bitters (like Aperol and Campari)
30 ml of sweet vermouth (like Carpano Antica Formula 1786 and Punt e Mes)
Squirt an orange peel, rub it around the rim and drop it in for garnish
Although the recipe indicates a clean '30ml each' instructions, it often varies depending on the spirits at hand. Mark walked us through ways – it all depends on the strength, infusions and bitterness of the spirits you have at hand – and teaches us how to vary proportions to get it just right, like a good mixologist.
Punch it out
Ah, punch bowls! The universal sign of Uni years well spent. But college kids aren't the only ones with the right to mix up an unholy concoction of giggle juice. 'Cos nothing spells 'fun house party' much like a massive metal bowl and a deep ladle, no? 
Fun fact: The ever-popular punchbowl was actually brought to England from India by sailors. Traditionally, it took five ingredients to make, mainly alcohol, sugar, lemon, water, and tea or spices. Some believe the word punch comes from the Sanskrit word panch which translates to five. The modern-day punch that we know and love looks something like this…
500 ml gin
375 ml Aperol
325ml lemon juice
125ml sugar syrup
750 Champagne (also prosecco/cava)
And a whole lotta sliced citrus and berries
No there's no elegant way of doing it. Just dunk it all into a big bowl and shout: "punch is ready!"
Just roll it in
Siri House has a lovely bar called Jam but if you've ever dined there you'd know they love whipping up cocktails tableside. Ever so often, the bartenders will push out a pretty bar trolley right to your seat. Taking off from that idea, wethinks it's a great way to 'look like you know what you're doing' at your house party too. Use a bar cart or trolley to show off your collection, assemble a big batch of cocktails or just as a side table. We looked around and found these beauties…
The all-white rattan cocktail trolley by Centrepiece goes with tropical print lovin' interiors – it can pop or blend in depending on how you use it. Or consider rolling Singapore Trading Post's art deco 'made in India' drinks trolley with an antique brass finish that spells luxe.
Hiding in plain sight is a Danish beauty – the Loud Cabinet by Danish Design Co – that's equal parts intriguing and understated. It effortlessly turns from a mirrored cabinet during the day to a movable bar cart at night. If rectangular carts don't cut it, Crate & Barrel's iron-framed round trolley not only good but also saves space.
Build your own Home Bar 101
Sign up for Jam at Siri House's individual classes or all three depending on your undying love for craft cocktails and having a good time. Register or email [email protected] Each intimate workshop is ticketed at $80 per person 
Part 1 (Essential Spirits, Cocktails and Punchbowls for Easy Home Entertaining) on 17 March
Part 2 (The Art of Home Infusions and Cocktail Batching) on 14 April
Part 3 (Kitchen Meets Bar- Flavoured Foams, Infused Salts, Tuiles and More) on 12 May
Siri House, Blk 8D, #01-02 Dempsey Road, Dempsey Hill, Singapore 249672