'I wanted to make sure the foundation was long wearing. I also wanted it to be full coverage but not heavy.' Photography: beautyblender
It's been over 17 years since the launch of the iconic beautyblender. How does Rea Ann Silva celebrate it? By dropping full coverage, long-wear foundation that comes in 40 shades. We're obsessed.
If you told us that an egg-shaped neon pink sponge was the answer to all our blending woes years ago, we would have laughed in your face – while using our fingers to blend our makeup. Well, the joke's on us. Today, the revolutionary beautyblender is still flying off the shelves even after its debut 17 years ago. No makeup tutorial is complete without the miracle makeup sponge and words like 'blend' and 'contour' soon became synonymous with the beautyblender. But we're not here to talk about that. Beautyblender boss, Rea Ann Silva has given us something new to scream about – the Bounce Liquid Whip Long Wear Foundation ($60).
Launched in Singapore in March, the ultra-light foundation is formulated with a high-speed HyperWhip process that gives a weightless texture. So you don't have to worry about a cakey base when it comes to a buildable look. Words like full coverage, matte finish, and long-wear (apparently stays up to 24 hours!) are music to our ears. It's also infused with skin-loving ingredients like hyaluronic acid and white birch extract that your face will thank you for. We tried the Bounce Liquid Whip Long Wear Foundation (stay tuned for a full review) and we must say, it gives contenders a run for their money. The creamy texture doesn't dry quickly, works well in Singapore's humidity and is super easy to blend – even better with a beautyblender *wink*.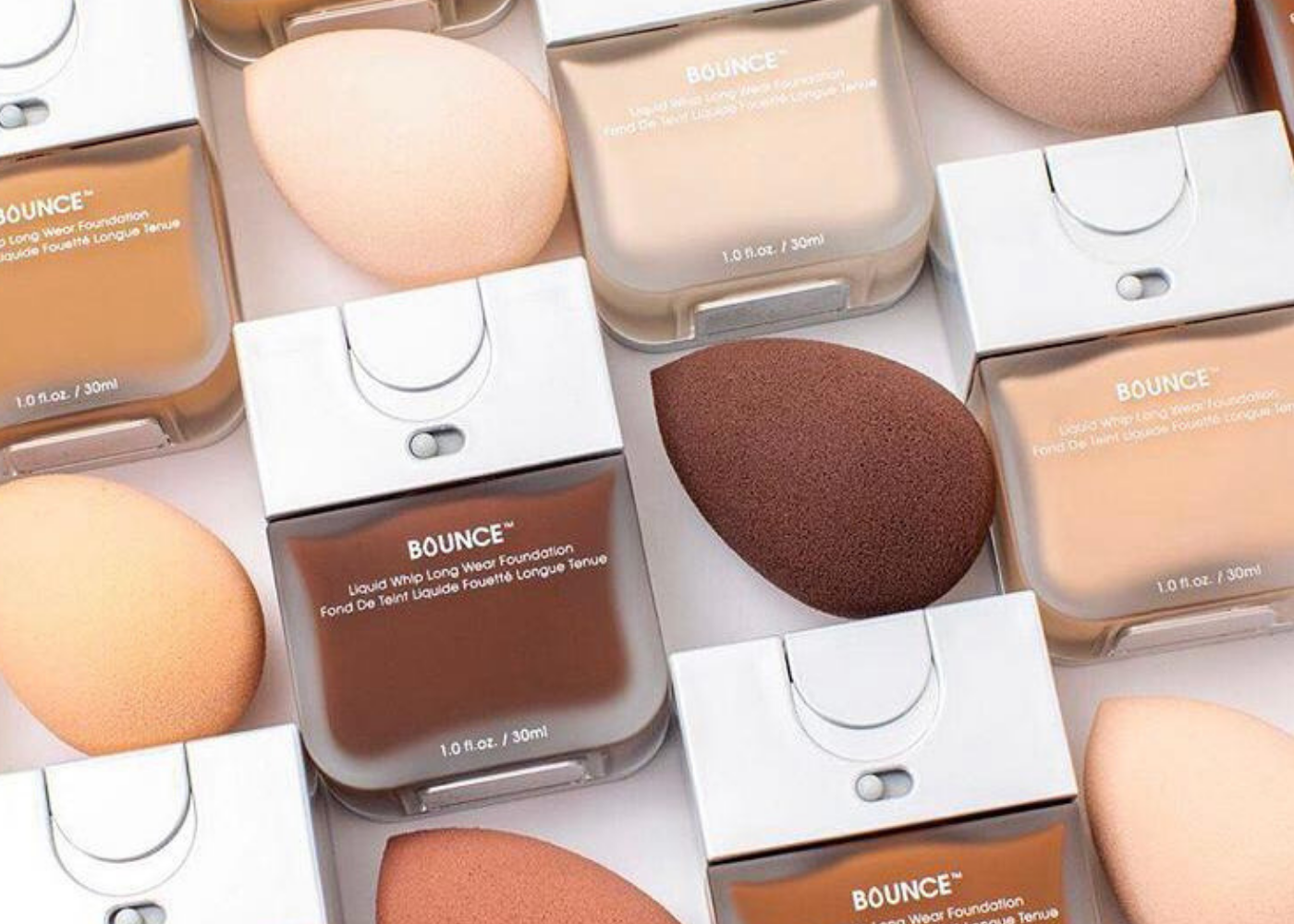 Read on for our chat with Rea herself as she quips about her beautyblender journey, beautyblender dupes, her skincare regime, how to pick the correct foundation for your skin tone and what's so special about the Bounce Liquid Whip Long Wear foundation…
How did you get into the beauty industry?
When I studied fashion, I realised that my favourite part by far was the sketching. So, I started working at a makeup counter because I loved the artistry.
You've been in the scene for over 20 years. How has the industry changed since you started?
Social media didn't even exist and now it's such a big part of the industry and how people discover and buy products. We focus so much of what we do on how it translates digitally and we really work to foster relationships with content creators.
When did you decide to come up with a beauty line and why did it take so darn long?
As a pro makeup artist, my first dream was to launch a makeup line. As luck would have it, I created the beautyblender first and for years, the iconic beautyblender makeup sponge helped foundations look their best. After 17 years, I was ready to revisit my original dream and the holy grail of makeup tools blender met the holy grail of makeup.
What were some considerations you had in mind while formulating the Bounce Liquid Whip Long Wear Foundation?
I wanted to make sure it was long wearing. I also wanted it to be full coverage but not heavy.
You created the applicator before the foundation. You've also been a makeup artist for over 30 years. How did these affect the formulation process?
I have tried every foundation on the market and seen how the makeup landscape has changed, so I knew exactly what I wanted to make. I didn't want to make a foundation just to make one: I wanted to make one that didn't already exist.
What sets the Bounce Liquid Whip Long Wear Foundation apart from others?
Bounce Liquid Whip Longwear Foundation is a game-changer from the formula to the packaging. It has a built-in palette for dabbing your beautyblender, so you never have to pump your foundation on your hands again! The formula is a Hyper-Whip texture that mimics skin with a velveteen matte finish. Skin-loving ingredients include hyaluronic acid and white birch extract to promote a flawless face even when bare.
Tell us how to choose the perfect foundation? Any advice you'd give to newbs?
First, find your shade range. If you're light, medium, tan, deep. Then, find your undertone. If you burn easily in the sun you are likely cool, if you tan easily, you're likely warm. Our shades are all labelled with W for warm, C for cool, or N for Neutral.
We can't complete our chat without some questions about the iconic beautyblender. Tell us the story of how the iconic shape came about?
It has no edges because I didn't want any edges on your face. I wanted it to blend your makeup together seamlessly. The pointed tip is for getting under the eyes.
When do you actually need to change your beautyblender?
If you use it frequently, we recommend changing your beautyblender every 3 months. You can tell it's time for a new one if the colour is faded, if the pores are enlarged, or if there are rips or tears.
What do you have to say about beautyblender dupes?
I always say that imitation is the highest form of flattery. Without dupes, sponges wouldn't be a category!
What's next for the beautyblender line?
Beautyblender was born from the idea of form meeting function, and minimal effort with maximum results. So being an innovator, we are always cooking up in the kitchen and working on introducing more products to the bounce family.
You have gorgeous skin! Tell us your skincare and makeup regime.
I'm all about skin prep so I start my routine with a splash of ice-cold water. I then apply La Prairie Cellular Softening and Balancing Lotion followed by Sulwhasoo moisturiser and La prairie Anti-Aging Eye and Lip Perfection à Porter. Lastly, I add one of beautyblender's new Primers – most days it's Opal Essence.
What makeup/products do you use on a daily basis?
I use my beautyblender whether or not I wear makeup that day. I use my beautyblender pure (in white) to apply my moisturiser and eye cream. Then my pink beautyblender to add a bit of concealer and light foundation. I also cannot live without my blotterazzi (an alternative to blotting papers). I keep it in my bag and use throughout the day to touch up and reset whatever makeup I'm wearing.
What's a beauty tip you swear by?
Wet your beautyblender! I can't tell you how many times people tell me they don't wet their blender. Wetting the blender is essential: you'll see how flawlessly makeup goes on your skin when you use a damp beautyblender.
Where do you see yourself in the next 10 years?
My goal is to always be an innovator in the beauty space for both tools and makeup.
The Bounce Liquid Whip Long Wear Foundation, $60 and beautyblender range is available online and at all Sephora stores.