Photography: foodisafourletterword.com
Instant ramen: We all make it, but we don't always make it fancy. Get ready for next level flavours with these elevated instant noodle recipes.
Who else has been spending copious amounts of time in the kitchen during self-isolation? Aside from #quarantinebaking, making five-ingredient meals and experimenting with DIY meal kits, we're trying out these fancy instant noodle recipes to make use of our stash (remember when they flew off the shelves at the start of the circuit breaker?). Get ready for a fancy upgrade to your noodles with the mere addition of a few key ingredients. Sure, these aren't gonna be done in three minutes, but the elevated flavours will surely be worth your while. Besides, they'll only take about half an hour – pretty quick prep time for a delicious meal!
Ram-don/ Jjapaguri
By now, you'd probably have seen the Oscar-winning film Parasite and seen the glossy ram-don noodles served with sirloin steak cubes. Actress Cho Yeo Jeong slurped it down so deliciously that it had us craving for a dish we'd never tried. Luckily, the Internet has given us the recipe using Chapagetti and Neoguri instant noodles (pictured top) – just pop into a Korean mart to get your hands on some.
Dan Dan noodles
Mala isn't the only thing Sichuan cuisine has blessed us with: There's also the addictive Dan Dan noodles that are spicy, peanut-infused and savoury. They aren't the most common Chinese noodle dish in Singapore, so we reckon it's time for a DIY instant noodle option.
Cheesy ramen
Mac n' cheese? Try ram n' cheese. Elevate your usual instant noodle soup with butter, cheese slices and a soft-boiled (or poached) egg. Top it off with sesame seeds and chopped scallions for the most photo-worthy plating. The result is a warm, satiating bowl of noodles that'll be your new favourite comfort food.
Vegetable pad Thai
Use a pack of vegetarian instant ramen to make an easy veggie pad Thai – just add greens and a homemade peanut sauce. This recipe is also super handy for turning any leftover vegetables in your fridge into a convenient instant meal!
Breakfast ramen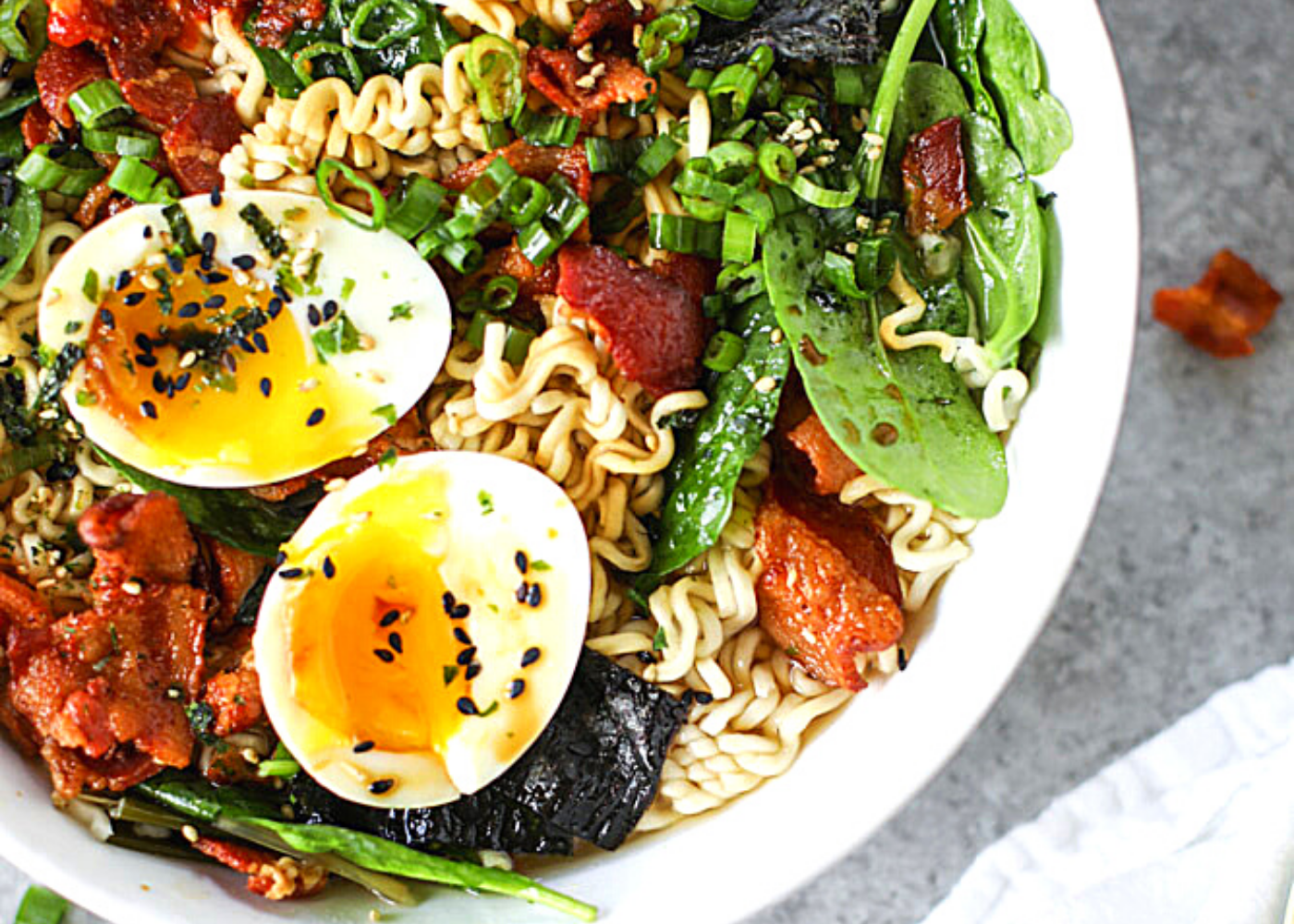 Wake up to a whole new way of preparing your bacon and eggs: Ditch the bread and have them with a bowl of instant noodles instead. Hearty and soupy, this might just be the gateway to the world of savoury breakfast dishes.
Creamy and spicy miso ramen
Pass the miso! If you've already maxed out the ramen deliveries, it might be time to make your own. This versatile recipe works with chicken, beef, pork or dashi stock, and you can customise it with your favourite toppings too.
Stir-fried ramen noodles
You can't go wrong with a good stir fry; no surprise that this cooking method works for instant noodles too. Your best bet is to make a big pot as the fam will be wanting seconds!
Bonus: Milk ramyun
This one isn't a recipe but a quick way to elevate your Korean ramyun noodle fix: Add a glass of milk to Shin ramyun soup to make the trending milk ramyun. This instant noodle hack offsets the spiciness and adds a delicious creaminess to the broth.