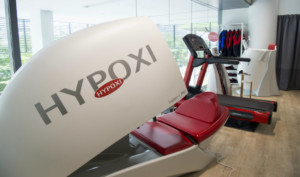 This technology-focused fat loss method claims to burn fat in targeted areas with minimal exercise, and it's a celeb fave. Sounds too good to be true? Read on for our experience...
One of the toughest things about getting in shape lies in the fact that it's hard to reduce fat in problematic areas like the stomach, thighs and derriere. So when we heard about HYPOXI®, a technology-focused method that claims to burn stubborn fat in targeted areas, we were pretty skeptical. Apparently Victoria Beckham is a fan, and is rumoured to have one of the machines at home. Intrigued? We couldn't help ourselves and decided to head down to their studio to find out more.
How does it work?
When it comes to targeting stubborn fat pockets, this treatment is said to be three times more effective than your usual exercises. It also helps improve the appearance of cellulite, reduces water retention, and smoothes skin texture.
No 'one-size-fits-all' methods here
In order to create a personalised programme, the professionally trained coaches measured my body fat percentage and composition using a 3D body scanner. Then, a specialised coach recommended the best type of training for my body type. I tend to gain fat around my mid-section – which classifies me as an 'apple' shape.
Treating cellulite… while you sleep?
After identifying my problem areas, I was led to the futuristic-looking machine dubbed the HYPOXI®< Dermology, which helps stimulate micro-blood circulation, improve lymphatic drainage, reduce cellulite and achieve firmer skin. The skin training process lasted for 20 minutes and while there was constant pressure on my entire body, the experience was surprisingly relaxing – I even dozed off a couple of times.
I was then introduced to the Vacunaut Running System, and was told by my coach that the technology's not only ideal for apple-shaped women like myself, it's apparently also a popular training method for men who want to tone their beer belly.
With help, I managed to squeeze into a skintight neoprene wetsuit equipped with 122 integrated pressure chambers, said to target the abdomen and hips during the 30-minute session. I had to brisk walk or run on the treadmill to maximise fat burning. Believe me, running while wearing the PressureSuit is no mean feat!
Does it actually work?
Losing fat with minimum effort seems too good to be true. But for those who have tried all methods of weight loss, this may be worth a shot. It's hard to see any results after only one session, of course – six to 12 sessions are recommended to make a real change, and we're curious to see what could be achieved. I'll definitely consider heading back for a few more sessions if my current fitness regime isn't cutting it.
HYPOXI® Singapore, 30 Tai Seng Street #02-14, Breadtalk IHQ, Singapore 534013, p. 6443 0500, e. [email protected]
This advertisement is sponsored by HYPOXI® Singapore.