This is your night to connect with the Honeycombers community, join a thought-provoking discussion and find the inspiration to make your own impact.
Here at Honeycombers we're all about living our best lives in Singapore and feeling inspired, but we like to dig a little deeper. Our ultimate networking event HoneyTalks is back, for another thought-provoking discussion with a panel of kickass women. This is your night to find inspiration, join the conversation and connect with like-minded people. And you know us, we'll be doing this over drinks and amazing plant-based canapes by Well Dressed.
Save the date for 20 March and join us at Found8, for our latest HoneyTalk: Women of Meaningful Influence.
As always, we like to chat with Singapore's rule-breakers, community builders and people with purpose. And with International Women's Day on our minds, we've brought together four inspiring women who are changing our communities, challenging the way we live, eat, socialise and work. Want to hear more from women who are our kind of influencers? Meet Stephanie Dickson of Green is the New Black, filmmaker Rebecca Cappelli, who is making waves with her documentary Let us Be Heroes, Cheryl Ou, founder of The Social Space and the Nail Social, and Grace Sai, Co-CEO and co-founder of coworking community Found8.
Meet our speakers
Stephanie Dickson, founder of Green is the New Black
Stephanie Dickson is on a mission to make sustainability mainstream, accessible and sexy. She founded Green Is The New Black, Asia's first Conscious Festival and media platform, for  people who want to live more sustainably by improving the way they think, work and consume while doing more good in the world. Stephanie is regularly asked to conduct talks and workshops on rethinking sustainability to make it the new norm (in life and at work), conscious consumerism, dealing with eco-anxiety and the conscious movement. As a changemaker in the green space, Stephanie has been described by CNBC as a "sustainability entrepreneur helping Asia businesses combat climate change" and, by Honeycombers, as a "force of nature". She is also a two-time TEDx speaker.
Rebecca Cappelli, filmmaker and founder of Let us be Heroes
Rebecca Cappelli is a public speaker and filmmaker, she delivers talks to help people adopt a conscious and responsible lifestyle. A French citizen and a Mandarin-speaking professional, Rebecca has lived in Asia for over 15 years, including Beijing, Shanghai, Hong Kong and Singapore. She works with various non-profit organisations, including her personal non-profit project Let us be Heroes, which aims to empower people to become a line of defense for their health, the planet and the animals. The project then progressed into a documentary, covering the impact of our food and lifestyle choices on our health, our home planet and our values, highlighting solutions and providing inspirational content. The film also won the Woman Filmmaker Hollywood International Independent Documentary Award in 2018.
Cheryl Ou, founder of  The Social Space and The Nail Social
Cheryl is a serial entrepreneur who started her first business at 22 and won her first entrepreneurship award at 25. The founder of The Nail Social and The Social Space, both social enterprises, she has come a long way from her early days in the start-up scene. From nail salons to backpacker hostels, Cheryl had dipped her toes into businesses across many industries when a bad experience with an investor led her to rethink her own motivations for running a business. Cheryl has now dedicated herself to creating meaningful companies that inspire and drive social change in our community. The Nail Social was a winner at the President's Challenge Social Enterprise Awards in 2015, and Cheryl was named Cosmopolitan's 'Fun, Fearless Female' of 2015 and was a speaker for Her World's Young Woman Achievers Forum, NTUC's Youth Entrepreneurship Symposium and UN Women's Social Impact Jam in 2016. When she's not working, she is a travel junkie – she has backpacked solo to India, Cambodia and South Africa, where she's even gone swimming with Great White Sharks and lived with Leopards for a bit. Cheryl is also very passionate about social projects, and has the audacity to believe she can help make the world a better place.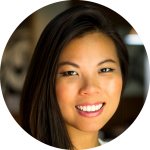 Grace Sai of Found8
Grace is the co-CEO and co-founder of Found8 (previously known as Found. and Collision 8). Found8 sets a new benchmark for coworking in Asia, driven by a vision to build the best innovation ecosystems; create change, advance communities and accelerate growth. Grace is regarded as the node of the entrepreneurship ecosystem in Asia and speaks widely on that topic. Interested in ecosystem building and policy development for startups, she has been invited by the Prime Minister's Offices in Singapore and Malaysia, and German Chancellor Angela Merkel, amongst others, to share her insights. Grace's views are often shared on BBC, CNN, CNA and more. Grace is currently leading the Corporate Innovation Programme at Found8 and overseeing Found. Ventures, a seed fund to invest in early-stage tech companies. She is also is a UN Women Entrepreneurship Day Ambassador.
It's all happening at Found8
Found8 brings together an ever-growing network, beautiful spaces, and high-touch customer services to consistently nurture game-changing businesses that impact the world. At its core you'll find visionary communities, partners, and a true spirit of collaboration. Found8 wants to be a force of change that leaves every individual and business better than ever. Find out more at www.found8.com.
Let's talk about the nibbles and drinks…
Your ticket includes two drinks and canapes, and let's just say we'll have an amazing spread from Well Dressed Salad Bar & Cafe, a vegan lifestyle cafe with the mantra 'meatless doesn't mean tasteless'.
The menu on the night is dairy-free, egg-free and all vegan, and includes tofu burger sliders (gluten free), vegetarian satay, smokey BBQ tempeh tacos, creamy artichoke gluten-free pasta, fudgy chocolate lime brownies and more.
YOU'RE INVITED!
When: Wednesday, 20 March 2019, 7pm – 9pm
Where: Found8, 79 Anson Rd, #23-01, Singapore 079906
Tickets: $35, including two drinks plus bites
Book your tickets, because you know our networking events sell out in a flash!