Photography: Sabina Sturzu via Unsplash
The weather outside is frightful, but these bestseller Christmas books are so delightful. Here's what to read this holiday season.
December marks the beginning of Christmas-themed everything! We're already planning to stuff ourselves silly with our families over a festive dinner at home. And after all the excitement of gifts and games, we'll settle down with a glass of mulled wine. When the dust settles after buzzing Christmas parties, we love some quiet time to ourselves. And what better way to do that than curl up with a good festive read? Here are some of our favourite bestselling books to read for Christmas.
Honeycombers Book Club: Festive bestseller books for all ages
A Christmas Carol by Charles Dickens
Let's start with a classic, shall we? We're sure this story is familiar to most of you because it's a great one. We follow the story of Ebenezer Scrooge. And as per his name, he's quite the miser. And he hates Christmas (shocking). But the transformation comes when he experiences supernatural visits. After the ghosts of Christmases past, present, and future take him through a journey of his life, his eyes are opened. This story is a classic tale of the power of kindness and our ability to change. There are many movie adaptations of this story too. So if you're more of a visual person, you've got plenty of options.
How the Grinch Stole Christmas by Dr. Seuss
This is the perfect book to get your kids into the Christmas spirit. Read on about how this grouchy creature's heart grows three sizes. He goes from hating Christmas to returning all the presents he stole. Not only are there attractive illustrations, but the fonts are also easy to read and the story isn't too long. We'll always love the way Dr. Seuss uses playful rhymes to keep the book interesting. Who knows, it might even be your next family favourite!
The Jolly Christmas Postman by Janet & Allan Ahlberg
This book is a childhood fave for one of our writers. Throw it back to a time before email took over our lives as you follow a postman's delivery route. He delivers Christmas letters all around town, including notes from the big bad wolf and all the king's men. The best part? The book has whimsical illustrations and is interactive! Each page comes with envelopes and unique letters that you can read. And all the mentions of some classic storybook characters create a fantastical world. It's also the perfect gift for any of your friends who have kids.
Bear Stays up for Christmas by Karma Wilson & Jane Chapman
We've got one more very cute picture book up our sleeves! Christmas is coming and Bear's beloved friends are determined to keep him awake. It's a truly trying task since Bear is fighting his instinct to hibernate for the winter. To make sure their furry friend is up and about for the holidays, they start doing every Christmas activity in the book. From finding a Christmas tree to baking cakes to carolling. They do it all!
A Christmas Memory by Truman Capote
This bite-sized autobiography has been reprinted time and time again after its initial release in 1956. The seven-year-old narrator recounts his life with his elderly cousin. This evocative story has themes of country life, friendship, and the joy of giving. Despite being impoverished, the narrator looks forward to Christmas every year. It means collecting pecans and ingredients to make fruitcakes with his cousin. This endearing story will warm your heart right up.
Hercule Poirot's Christmas by Agatha Christie
Who says Christmas and a good mystery can't go together? The frail multi-millionaire Simeon Lee gathers his family at his home for Christmas. This includes the black sheep of the family and his orphaned granddaughter. We think Simeon loves a bit of drama because he announces that he plans on updating his will. This sends the whole family into a state of unrest. After dinner, there's a ruckus in Simeon's room and he's found dead. And thus begins the investigation! The book's a great read. But if we're being honest, we also look forward to watching the movie adaptation starring sir David Suchet.
---
Our favourite bestseller horror books for Halloween
Haunted by Chuck Palahniuk
If the cover doesn't creep you out, we don't know what will. This book is written by Chuck Palahniuk, the same author that created the cult-favourite Fight Club. Fans of Palahniuk will know that his works are transgressional and provoking. We also heard that 73 people fainted during a live reading of this book – a testament to an immersively haunting read for sure!
17 authors go on a secret writing retreat, only to be immediately trapped within an abandoned theatre. They're given three months to write a magnum opus – their best works – before they're released. But because true creativity comes with just a touch of suffering, the authors begin to sabotage themselves. This goes from destroying sources of food and water to self-mutilation. Because trauma sells, right?
Cotton Candy Massacre by Christopher Robertson
If you're scared of clowns, we highly recommend that you do not read this horror book. Cotton Candy Massacre is about the reopening of Bonkin's Bonanza, a carnival that had been previously shut down. The story involves an ensemble of characters, from innocent carnival-goers to the maniacal owner. Determined to bring the carnival back to its glory days, owner Ruth sets up shocking surprises that lead to devastating scenarios. This includes carnies turning into cannibal clowns and our protagonists fighting for their lives. This book can get pretty gory, so be mindful if you're planning to give this a read. Can't get enough? Check out the prequel "Goons and Grease Paint" for even more lore.
Japanese Tales of Mystery and Imagination by Edogawa Rampo
If you're a fan of manga, you know that Japan hosts some of the greatest creative minds. Especially for horror. Touted as Japan's answer to Edgar Allan Poe, this book is the first volume of its kind to be translated into English. Nine unique and harrowing tales are presented in this novel, largely unknown to any reader outside of Japan. Stories include a tale of a quadruple amputee and his wife, to a man who finds pleasures in his chamber of mirrors. The strangest of all? The tale of a chairmaker who buries himself into his latest creation and falls in love with the woman who buys it. Coming from someone that has read the book before, be prepared for some unsettling mental pictures.
Horrorstor by Grady Hendrix
Furniture meets fear? That's what you get with Horrorstor. Wondering why this book bears so much resemblance to an Ikea catalogue? That's because Ikea inspired it! It's a take on the classic haunted house story theme set in the Swedish furniture superstore. The book follows Amy and her colleagues who work in an Ikea-style store. The group seeks to unravel the mystery of the broken wardrobes and vandalised beds that greet them every morning at work. Five of them volunteer to stay overnight to investigate, only to encounter supernatural horrors along the way. A big plus is the way the book is designed and illustrated, adding to the immersion. This might be a horror novel, but it's kept lighthearted and a little funny.
To Be Devoured by Sara Tantlinger
If you're looking for something to read while the sun is still out, give To Be Devoured a try. You follow the main character Andi as she struggles through grief and obsession. Andi becomes fixated on vultures and their habit of feasting on dead animals. This sends her into a rabbit hole of thought – the properties of blood, flesh, and what it would be like to consume raw meat. Curiosity soon turns into a craving (you can probably guess what's about to come next). Tantlinger's beautiful writing is also twisted and convinces you that the progression of this fascination was completely natural. We recommend not reading this book after lunch, cause it can be nauseating.
Little Paranoias: Stories by Sonora Taylor
If you can only handle your horror stories in bite-sized pieces, look no further. Little Paranoias: Stories is a series of 20 tales that eat into the fears we have in everyday life. The stories vary in length and style, going from flash fiction to poetry, so you definitely won't get bored reading this. It also follows themes of abuse, mental health, death, and how technology and social media can take over our lives. The scariest part is probably how relatable these stories can be.
---
Bestseller books: Queer reads for Pride Month
They Both Die at the End by Adam Silvera
Although it's categorised as a young adult novel, this novel will have you in grips irrelevant of your age – it's definitely worthy to be on The New York Times Best Seller List. It'll have you crying, laughing, and going through an existential crisis as you follow the journey of two teenage boys, Rufus and Mateo, who discover they have only one day to live.
The two strangers spend their last day together, and we witness a love blossoming between them. You'll glean many meaningful life lessons from their journey as they survive an explosion, fake skydive, conquer their fear of water, and learn the art of bidding farewells. If this ending doesn't wreck your heart, we don't know what will.
Felix Ever After by Kacen Callender
Narrated from the perspective of a black trans teen, Felix's journey of self-discovery and identity will strike a chord with marginalised communities. The author has the unique talent of expressing extremely specific feelings and situations that are hard to put into words, making the story so relatable.
Felix embarks on a plan of revenge after receiving transphobic messages, but he doesn't expect to end up in a complicated love triangle. The whodunit plot is the cherry on top, with twists and turns that'll have your eyes glued to the pages. The representation in the story is truly diverse. Regardless of your sexuality, the book will offer you great solace if you fear falling in love yet never finding your happy ever after.
The Song of Achilles by Madeline Miller
The Song of Achilles is an adaptation of The Iliad, so lovers of Greek mythology will want to pay attention. It tells the story from the perspective of Patroclus, a young Greek prince whose view is often not regarded in the original tale. Upon being exiled, he befriends Achilles – who as we all know is the beloved warrior prophesied to win the Trojan War. Patroclus becomes his companion; as they train to become the greatest warriors of their generation, an intense and undeniable bond forms. It's a lot more than just brotherly love.
Miller perfectly pens a story that doesn't place romance as the centre of it all, but something that naturally evolved due to the circumstances of their time together. We witness a love so raw and unfiltered that it's bound to leave a melancholy impact. Fun fact: the author took 10 years to finish the story, which is exactly how long the Trojan War lasted.
The Seven Husbands of Evelyn Hugo by Taylor Jenkins Reid
Set in the golden age of Hollywood, this one relives all the scandals and spice of the glamorous film lifestyle. However, it also highlights the dark side lived by famous queer people who are subjected to the limelight while having to hide their true selves. At 79, Hollywood star Evelyn requests a final interview with Monique Grant, an unknown reporter for a magazine. It's revealed that she's not really interested in the interview but actually wants Monique to tell her life story.
What follows is her narrative chronicling the rollercoaster of a life she lived, and how she came to marry seven men. But the reality of her true love is something she's hidden forever. As it unravels dark secrets and underground lives, the tragic tale will have you desperately rooting for all the lovers to find peace and happiness with each other. Evelyn wants you to hate her through the story she tells, though you'll find yourself feeling anything but.
Aristotle and Dante Discover the Secrets of the Universe by Benjamin Alire Saenz
We promise you it's not a novel about philosophy. But it'll have you contemplating life's meaning and leave you questioning your existence. The story begins simply. It starts with two boys meeting at the local pool. They bond over their ancient names – which soon transforms into an inseparable relationship.
The two Mexican-American teenagers face struggles with their ethnicity and sexuality. But this is coupled with teaching each other literature, poetry, swimming and how to hopelessly fall in love. Something that will immediately strike you is how poetic the narration is. The delicacy and beauty is carried in each sentence, carefully chosen to tell the story. It also deals with some intense and sensitive issues of violence. This story of unrequited, young love will have you guessing until the very end.
Detransition, Baby by Torrey Peters
This fresh hit was named one of the Best Books of 2021 by more than 20 renowned publications. Amy becomes Ames, de-transitioning to make life easier. But his loving relationship with his partner Resse, who is a trans woman, is broken. After impregnating his boss Katrina, Ames wonders if the three of them could form an unconventional family to raise the baby together.
It presents a complex tale of womanhood through three women, trans and cisgendered. They journey through experiences of heartbreak and vulnerability in many different forms. This daring debut novel explores taboo themes, making it engrossing and relatable. If you're in for something unique, experimentative and witty, this one's it.
City of Strife by Claudie Arsenault
Within the queer community lie certain sections of the spectrum that are more unrepresented than others. And we're here for this captivating tale that portrays aromantic and asexual characters. The author, an aroace herself, presents this first instalment of a multi-layered political fantasy. There's no label to define the characters but their sexual identities are made clear.
Set in the city of Isandor, it's home to orphan Aratheil who seeks a sense of belonging. The thrilling world involves the lives of power-hungry merchants, assassins, and noble families. This inclusive, magical universe will fulfil all your fantasy cravings!
---
Bestseller books: Novels that inspired famous movies
The Silence of the Lambs by Thomas Harris
Bet you didn't know that one of the most iconic film characters of all time, Hannibal Lecter, came to life from the pages of a novel series. Just like the movies, the second book proves to be the best. If you thought the flick sent chills down your spine, wait until your imagination is truly unlocked by the descriptive novel.
This psychological horror follows Clarice Starling, a young FBI trainee, as she hunts down a serial killer with the aid of another cannibalistic one, Hannibal Lecter. Harris is especially credited for creating a highly impactful and empowering female protagonist, alongside an extremely wicked yet likeable villain. He presents a world filled with complex characters, intricate storytelling, and twists that'll have you gasping aloud, making this book an intense page-turner.
The Pursuit of Happyness by Chris Gardner
If the movie made you cry, this read is sure to make you bawl. A memoir by Chris Gardner that details his rags to riches story. It's grittier, revealing hard realities and ugly truths that give it a darker side than the film version. You see the world through the eyes of a homeless single father as he fights tooth and nail with the world to provide a stable life for his son. Hoping to break the cycle of abandonment and poverty that existed within his own childhood. It's a book to make you feel intensely. The tragic segments will have you aching. And when his hard work bears fruit you can't help but feel warm hope. If you're in need of a motivational story to hustle, nothing will get the job done like this pick.
The Help by Kathryn Stockett
This Academy Award-nominated movie was adapted from a historical fiction novel. It focuses on the perspective of three women. This is during the early 1960s in Jackson, Mississippi, within the setting of African Americans working in white households. The horrors of racism exposed in the novel are balanced by sweet relationships. There are also humorous scenes that reveal moments of happiness in an otherwise oppressive society. Skeeter, a wealthy white woman, takes on the job of writing about the experiences of coloured maids. Does she succeed? Read the book and be inspired by the fight for minority voices.
Psycho by Robert Bloch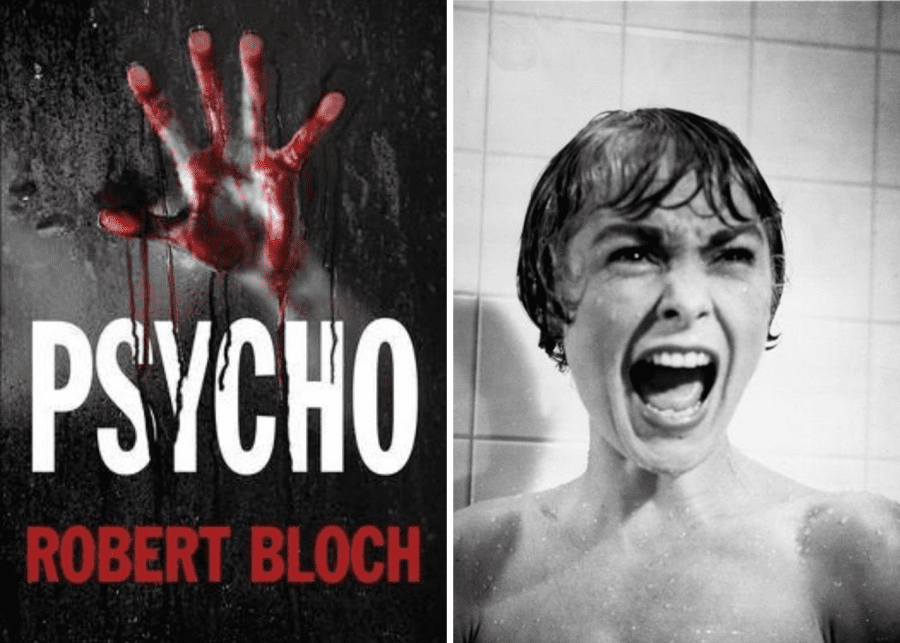 This book may be praised as one of the most influential horror books of the 20th century. But few know that it gave life to the universally acclaimed Hitchcock film. It tells the story of Norman Bates. He's a motel caretaker who suffers from mental trauma and a complicated relationship with his mother. And what doe this lead to? You guessed it, involvement in a series of deaths.
It's one of those rare scenarios where it's hard to say if the book or the film is better. But the former is definitely worth the read. We love that it depicts a dimension of Bates' personality that's not explicitly shown in the film. And it jumps deep into the relationships between the characters in a more detailed manner, which forms the crux of the storyline. Check this one out for the OG creepy stalker who'll put Joe Goldberg to shame.
The BFG by Roald Dahl
You've surely read the famous Charlie and the Chocolate Factory by this celebrated author. But we claim this to be our underrated favourite of his. The Big Friendly Giant and orphan Sophie embark on a journey to visit the Queen of England. Their goal? To expose the world of man-eating giants who live in secret. A story with fantastical characters and emotional depth, it's certain to have both kids and adults totally engaged. The best part of the story? The beautiful relationship between the giant and the young orphan. They learn to become each other's companions in a world that's left them feeling alone. Look out for Dahl's Gobblefunk: his very own language of which you can find over 300 hilarious words in the book!
The Devil Wears Prada by Lauren Weisberger
For many of us? Our insight into the fashion world comes from these legendary roles portrayed by Anne Hathaway and Meryl Streep from the classic 2006 film. But before Miranda Priestly and Andrea Sachs appeared on our screens? They were from the pages of Lauren Weisberger's bestselling book of the same name. We're taken into the glamorous but ruthless fashion industry in New York City. Andy becomes personal assistant to Priestly, the feared editor-in-chief of a top fashion magazine. Filled with scandals, power plays, and the hardships of "making it", this fun read will have you contemplating your life choices.
Coraline by Neil Gaiman
Known for his hugely popular American Gods, Gaiman's lesser-known Coraline is another masterpiece. The adapted film does the impressive job of being truly horrific despite being animated. A unique quality that's widely praised and discussed. So imagine our surprise when we discovered its literary version surpasses the fright quotient of even the super scary flick.
The dark fantasy novella was created when the author realised he couldn't find any horror stories for kids. But trust us when we say it can scare a grown adult well enough. It narrates the tale of young Coraline and her parents after they move into an old house. After moving in, she discovers a mirrored dimension. It doesn't include saturated plotlines of bloody details and jump scares. But rather plays with realistic issues, making for a truly hair-raising reading experience.
---
Bestseller books: Essential reads for the year
The Anthropocene Reviewed: Essays on a Human-Centered Planet by John Green
Yes, it's the famous The Fault in Our Stars author, but no, this isn't another love story. Green's first non-fiction book debuted at first place on The New York Times' Best Seller list. The Anthropocene is defined as the current geological age that's been intensely shaped by human activity. This book covers unexpectedly unique everyday topics surrounding that. The podcast-turned-book is a collection of essays. The author rates different facets of the human-centred planet on a five-star scale – ranging from a Taco Bell breakfast menu to Halley's Comet. Green also goes into deep detail about his personal experiences of living through the pandemic. This is coupled with reflections of the hopes and fears of the average individual on varying levels.
Photography: Book Depository
Station Eleven by Emily St. John Mandel
This novel revolves around the consequences following the fictitious Georgian swine flu. As it takes over the world, it kills off a significant percentage of the population. It focuses on the journey of a nomadic troupe of actors and musicians called "the travelling symphony". They tour North America performing musicals and Shakespeare plays to keep their art alive. This post-apocalyptic story will have you at the edge of your seat. Its realistic settings and situations give you a true sense of loss and empathy for the fallen civilisation.
How to Think Like a Monk by Jay Shetty
The modern world is plagued by the eternal struggle of trying to balance different aspects of life. From work, health, relationships, quality alone time and more. So, it's pretty hard to imagine trying to adapt a monk-like mindset in order to solve our problems. But this is precisely what Jay Shetty attempts to show through his book. It's a mixture of traditional wisdom and the author's personal experiences. He provides guidance on self-discipline, filtering negativity, getting in touch with your true purpose, and many more important life lessons.
Love in the Time of Cholera by Gabriel Garcia Marquez
This famous literary classic's popularity reemerged during the pandemic due to obvious reasons. It's set against the backdrop of recurring cholera epidemics, alongside political unrest and civil war. This is a tale of legendary love between Florentino Ariza and Fermina Daza, who tragically had to separate. The story follows their enduring love while dealing with themes of death and decay. Warning: this romance is scandalous. It's not made of the stuff that's Romeo and Juliet. So expect a good dose of infidelity and lies. That's what sets it apart from the sweet, innocent love of the classics!
Photography: Book Depository
Frankenstein by Mary Shelley
Now, this might seem like an unusual addition to this list but hear us out. One of the most significant issues of the pandemic – ever since stay-home notices, quarantining and WFH – is the gradual realisation of loneliness. This gothic novel was one of the first to touch on the topic before it became a public discussion. As the tale goes, Victor Frankenstein, an eccentric scientist, creates a monster who's cast away and demonised by society. He yearns for companionship and understanding but is forced to lead a life of solitude. This 1818 novel pulls all the emotional strings and highlights the importance of interaction and engagement for a fulfilling life.
Maybe You Should Talk to Someone by Lori Gottlieb
If you've been going through a rough period but you're hesitant about therapy, this book will be an eye-opener. The author is a therapist and writes her memoir detailing both her professional and personal experiences. She tells the stories of five individuals – including her journey of experiencing an unexpected sadness that leads her to therapy. The book provides an interesting perspective of sessions through the therapist's eyes, emphasising the importance of seeking help. These professionals are just as human as the rest of us!
Photography: Book Depository
The Dog Stars by Peter Heller
This post-apocalyptic fiction novel is set in the lands of Colorado. This is after an epidemic eliminates the majority of the US population. But what stands out in this story is the protagonist. Hig lives with an armed elderly man and his dog on an abandoned airfield. And he's an optimistic soul with hope for a better future. We love how this tale has a refreshing take on the doomsday narrative. It portrays a unique perspective as he survives through each day appreciating nature, cherishing brotherhood, and reciting poetry. Pick up this bestseller for a feel-good book that'll leave you pleasantly comforted by humanity.
Got bestseller books to recommend? DM us on Instagram or Facebook with your picks!