Feast your eyes on the vibrant beauty of Joo Chiat's shophouses.
From old railway relics to tombs decorated with Peranakan tiles, the co-authors of Secret Singapore reveal the city's coolest hidden gems.
Can you keep a secret? Because we certainly can't! We love exploring this city we call home and sharing little nuggets of fun with you. Our island is full of under-the-radar spots just brimming with heritage and history. Curious to uncover more hidden gems in Singapore, we had a chat with Heidi Sarna and Jerome Lim, the writers behind Secret Singapore.
Heidi was the one who approached the publisher for Secret New York and teamed up with Jerome, whose heritage blog she loved, to spotlight the unusual facets of our garden city. From forgotten artefacts to concealed treasures in unexpected places, they show us a whole other side of the island we've never seen before.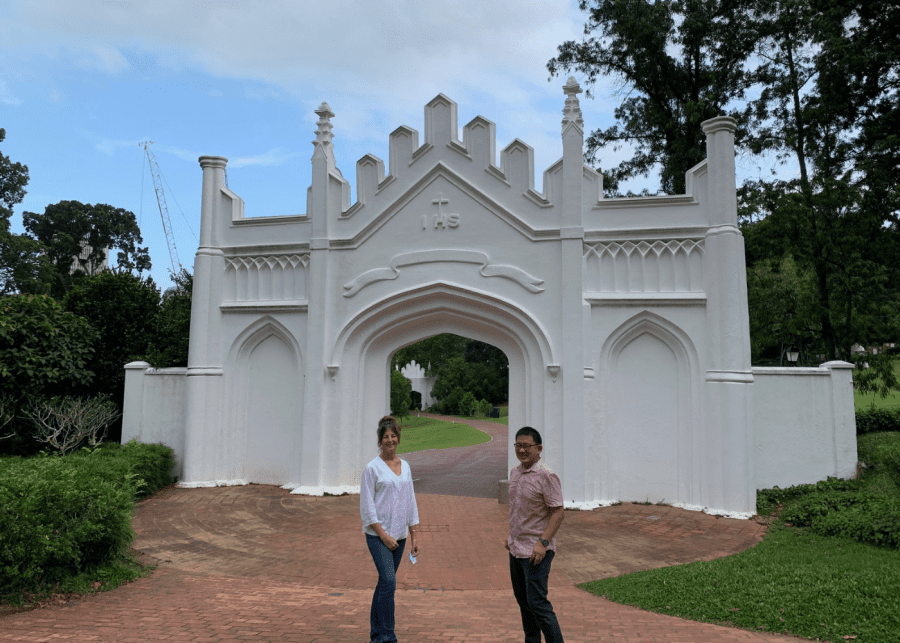 Hi Heidi and Jerome, tell us about yourselves.
H: I've been a freelance writer and editor for 25 years, starting in New York City. I write about travel – the more unusual and small-scale, the better. I co-founded and published the travel site QuirkyCruise. I love nothing better than exploring – whether in Singapore or abroad.
J: I'm a naval architect by profession, but I'm now an independent researcher, photographer and writer. My blog, The Long and Winding Road, is where I capture Singapore's rapidly changing urban landscape and the stories found in them. I also collaborate with government agencies on heritage matters and in curating and conducting walks, exhibitions and tours.
How did you start exploring Singapore?
H: When I first moved to Singapore, my twin sons were in pre-school on Fern Hill Road. So I'd walk home on Orange Grove Road past black and white houses. I loved finding something old in Singapore! It was the beginning of my journey to peel the Singapore onion. I began taking tours with guide Geraldene Lowe Ismael. She first introduced me to Singapore's heritage and culture.
J: As a child, I was fortunate to have parents who brought me on such adventures. I took great interest in varied sites across the island and the stories they held. Singapore has discarded many places my generation made connections with, due to the scale and pace of redevelopment. For me, it's a quest to find stories in these places as a continuation of my childhood adventures to reconnect with the place of my birth. I hope by sharing them, it'll help others do the same and understand Singapore better.
Can you share your top 3 secret spots and the stories behind them?
H: 1. Seawalls in East Coast. I'm intrigued with Singapore's original coastline, and along East Coast you can still trace where it was. Along Marine Parade, you can find remnants of seawalls – some more than a century old – that were once at the edge of properties and the sandy beach.
2. The stairs to the former Haw Par Villa. The lovely streamline-modern mansion was built in the 1930s by Tiger Balm magnates, Aw Boon Par and Aw Boon Haw. It was damaged in WWII and torn down. All that remains is the footprint and the stairs that once led to the home that boasted wonderful sea views.
3. Paul Revere Bell. I think it's so cool that the only Revere Bell outside of the US is in Singapore! Paul Revere was a famous American folk hero, best known for his midnight horse ride through the Massachusetts countryside in 1775 to warn American officials and troops that the British were coming. He was a silversmith and bell maker. Revere's daughter, Maria Revere Balestier, lived in Singapore with her husband Joseph Balestier. She gifted a Revere bell to Singapore.
J: 1. The oldest railway relic at Neil Road, a bridge built to take the road above a short-lived 1907 railway extension to Pasir Panjang during the days of the Singapore Government Railway. Many don't realise the link between the bridge, which is still in use, and Singapore's first railway – and that a railway line actually ran down Duxton Plain Park.
2. Pulau Hantu, where it's possible to camp overnight (at least pre-Covid). The waters off the islands, Pulau Hantu Kechil and Hantu Besar, are popular dive spots. But what's more amazing is the sight by night. The "towers of light": the petrochemical complex at the expanded Pulau Bukom. Standing at the edge of the islands' fringing reefs at low tide, the scale of the complex becomes quite apparent.
3. The Early Founders' Stone, which lies largely unnoticed at one end of the Fullerton Building. Much focus has been placed on the Founders' Memorial to commemorate Singapore's "founding fathers". Little is known about the attempt to erect a memorial for the anonymous early founders in conjunction with modern Singapore's 150th anniversary. The many who came penniless from far and wide, leaving families and loved ones behind in search of a better life.
What's something unexpected about Singapore that even locals don't know?
H: In Bukit Brown Cemetery, there are a few tombs decorated with tiles – more than just the typical floral Peranakan styles. There are also tiles with serene pastoral scenes, from windmills to snow-capped mountains, and even adorned with peacocks.
J: The former St Andrew's Mission Hospital in Chinatown, or rather, the stories found in it. Right across from the popular Maxwell Food Centre, its nondescript appearance disguises a wealth of hidden tales from different periods of its history. It also holds Singapore's oldest extant lift, which has another story to tell.
What's the first place you tell first-time visitors to explore?
H: Mountbatten and East Coast Roads to Still Road. I love the variety of lovely old homes along this stretch: Victorian-style mansions and Malay-Indo bungalows on stilts from the 1920s and 1930s, and early modern beauties from the 40s, like the Chansville house.
J: Fort Canning Hill. The lovely green oasis in the city is a wonderful place to escape from the hustle and bustle of the urban world. It's also an appreciation of Singapore's past, the stories of its kings, and its development over time. Plus, there's a fair bit of mystery to the place!
Where are the best neighbourhoods to discover hidden heritage gems?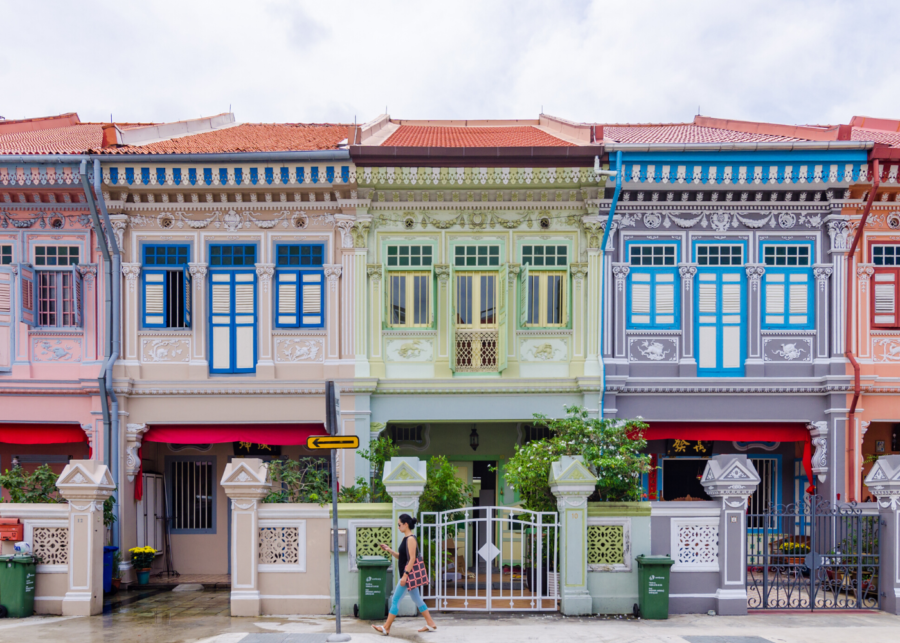 H: I love Katong and the Pasir Panjang area. Both are some of Singapore's oldest neighbourhoods. They're a bit off the beaten track. You can find gorgeous old homes, with many dating back to the 1920s, plus military pillboxes and traces of old forts.
J: My favourites are the ethnic districts and neighbourhoods such as Joo Chiat and Blair Plain. They're filled with hidden gems such as little museums or surprising sites to discover. Sembawang and Changi Point are rather underrated as destinations and hold lots of hidden surprises, heritage-wise. They're set in two areas with natural beauty and are refreshingly different from highly urbanised Singapore.
Any favourite architectural marvels in the city?
H: The Kallang Airport building. Just stunning! The driveway leading to the airport is still there and so are the gate posts. I love imagining how it was in the 1930s when floatplanes would land in the adjacent Kallang Basin. Amelia Earhart even stopped there to refuel on her second around-the-world attempt. I also love the Brutalist OCBC "calculator" building, completed in 1976.
J: The terminal building of the former Kallang Airport. Designed by government architect Frank Dorrington Ward, who also designed the former Supreme Court (now part of National Gallery Singapore), it was unlike government design structures of the day and represented an embrace of the modern. It was timeless and spoke of its use. It's as eye-catching today as it was when the airport opened in 1937.
Can you spill the deets on historical sites not many people know of?
H: I've found many people have no idea Fort Road in East Coast is named because there was actually a fort. There are a few remnants of Fort Tanjong Katong today. It was originally along the beach in the 1870s. Because it was built on sandy soil, apparently when guns and cannons were fired, the foundation would shift. Not ideal. The fort wasn't used much and was decommissioned in 1901.
J: There are stories of overcoming odds found in medical spaces such as the former CDC – which was the Densen Byoin during the Japanese Occupation. That contains several wartime stories, including how its then-director, professor Ernest Steven Monteiro, drew on his experience to develop an essential anti-diphtheria serum which the Japanese administration could no longer supply. Prof Monteiro innovated by infecting goats, which had not been done, saving numerous lives.
Tell us some of your favourite memories while out and about exploring Singapore.
H: A favourite memory is finding Woodneuk some 10 years ago in the wedge of jungle between Tyersall and Holland Roads. What a thrill to see the ruins of this 1930s mansion hidden in plain sight! The property is still owned by the Malay royal family.
J: Some of my favourite memories involve meeting people with stories to share. There was a lady with a rather naughty tale about her experiences in RAF Hospital Changi. It involved her blowing kisses to dashing young men dressed in smart naval uniforms, only to find out the clinic they entered was one that "treated the clap" (a type of STD).
Finally, any expert explorer tips to share?
H: Put your phone down and look up! Walk, jog or cycle so you're able to spot hidden wonders all around you.
J: Go out, explore with an open mind and ask questions.
---
Time to put on your adventurer cap and hunt down hidden gems in Singapore!