Photography: Mama Diam via Facebook
A well-kept secret amongst enthusiastic drinkers, these hidden bars in Singapore aren't hard to find if you know where to look!
You might think you know the ins and outs of this city, from breakfast spots to swanky rooftop restos and hot venues for ladies' nights. But have you heard of a bar without a menu or a hidden watering hole in a mall? To help you make the most of your nights out, we've searched high and low to uncover these hidden bars in Singapore that are slightly off the beaten path.
The coolest hidden bars in Singapore
1. Goho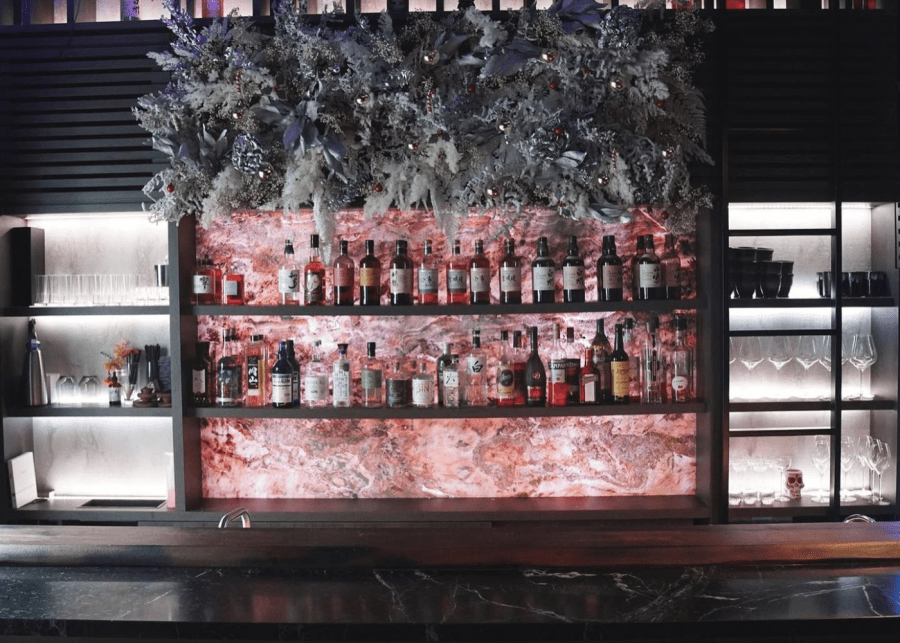 Step into the hidden oasis that is Goho. Located above the handroll bar Rappu, this intimate space is the perfect escape from the hustle and bustle of city life. It celebrates the very best of kaiseki cuisine and Japanese cocktails. Even if you aren't savouring the kaiseki menu, the drinks are just as divine – the line-up rotates with each season, so keep tabs on the website to see what's available. Not sure what to order? Check with the friendly staff who are more than happy to provide a recommendation.
Goho, Entrance via Rappu, 53A Duxton Road, Singapore 089517
2. The Hidden Story
Don't be scared when you're welcomed through this steakhouse's freezer door. It's home to The Hidden Story, a speakeasy inspired by Prohibition-era bars. Once you find the entrance, you'll be greeted with vintage decor in the form of plump sofas, custom Tiffany lamps, and the crowning jewel that is the bar: a slab of onyx wrapped with Peranakan tiles. Cocktails here are inspired by the neighbourhood of Katong and its rich Peranakan history.
The Hidden Story, within Stirling Steaks, 115A East Coast Road, Singapore 428804
3. The Dragon Chamber
Hidden behind the beer fridge of a kopitiam, The Dragon Chamber is a surprisingly spacious 93-seater space that prides itself on its unconventional guerilla-style menu. Its delicious but unusual Chinese food is just as unique as its beverage menu. We love the Land of the Rising Sun, a delightful concoction made with yuzu-infused bourbon and elderflower liqueur.
The Dragon Chamber, 2 Circular Road, Singapore 049358
4. Mama Diam
Remember when your group of friends would indulge in cheap sodas and sweets at the mama shop after school? Mama Diam brings back old school vibes with a setting and menu that evokes a sense of nostalgia specific to Singapore's cultural heritage. Relive those void deck days as you sip on pandan or sour plum cocktails. And chill out on the HDB stools located in the bar's outdoor area.
Mama Diam, #01-01, 38 Prinsep Street, Singapore 188665
5. BeGin
Let the drinks (and gin puns) BeGin. Hidden above English pub The Penny Black at Boat Quay, this gin-obsessed lounge is easy to miss at first glance – a testament to a good speakeasy. But once you do spot it, you'll be transported to an eclectic hidden bar. It takes inspiration from Britain's Industrial Revolution and the gin craze in the 1700s. The drinks menu is filled with British- and Indian-inspired tipples. With theatrical cocktails and over 50 gins from around the globe, it'll take you on a multi-sensory ride.
BeGin, 27A Boat Quay, The Penny Black (upstairs), Singapore 049817
6. The Elephant Room
Tucked away on a second floor shophouse, The Elephant Room joins a long list of bars scattered around Keong Saik. The bar picks up subtle nuances of Indian culture. Think vermillion-coloured walls, lattice or jaali-patterned surfaces, and traditional sarong or lungi-embroidered coasters for decor. To sip, try innovative cocktails like The New Mango. It features terai gin, white sesame drop, acid-washed green mangoes and a cube of Indian cheese.
The Elephant Room, 20A Teck Lim Road, Singapore 088391
7. Live Twice
Taking up the space of the now-defunct Flagship, Jigger and Pony's Live Twice transports you to another world. The space is akin to Wong Kar-wai movies, from the dim lighting to the wooden interiors to the eclectic mix of music playing in the background. Don't expect saccharine cocktails at this hidden bar. Instead, you're presented with a line-up of spirit-forward cocktails. Take the Mizuwari, for example. It's a blend of Nikka Coffey Grain Whisky and Nikka Coffey Malt Whisky that is steeped in a pot with Hokkaido soft water for a minimum of three days. The result? A potent drink that goes down smoother than butter on warm toast.
Live Twice, 18-20 Bukit Pasoh Road, Singapore 089834
8. Colbar
Travel back to the 50s at this quaint colonial bar. Previously a canteen for the British Army back in 1953, Colbar is tucked along Whitchurch Road. Serving up a wide selection of craft beers and comforting Hainanese and Western grub, this bar's selling point is its charming atmosphere. From a vintage weighing machine to historic photos of Colbar Football Club, the casual watering hole delivers a slice of old Singapore.
Colbar, 9A Whitchurch Road, Singapore 138839
9. Junior The Pocket Bar
Having moved to the Ann Siang Hill enclave, this pocket bar sports a bigger space while still retaining its nondescript, speakeasy demeanour. It also boasts a rotating drinks menu, so you'll be in for a surprise every time you visit during different festive periods.
Junior The Pocket Bar, 6 Ann Siang Hill, Singapore 069787
10. Native
After a few twists and turns, no thanks to Google maps, you'll find this award-winning hidden bar. Located on the second floor of an unassuming shophouse, Native has a succinct cocktail menu that changes from time to time. Vijay Mudaliar, the audacious fellow behind Native and its creations, focuses on foraging from his surroundings. Oh, and did we mention? You can have a quick tour of the microdistillery located above the bar for some boozy education.
Native, 52A Amoy Street, Singapore 069878
11. Roxy Bar
Venture through the unmarked door in the loading dock of the Sail at Marina Bay, and you'll find Roxy Bar. The hidden cocktail bar and spirits room is reminiscent of the back rooms and rock and roll nightclubs of Manhattan in the 70s. Its spirit-forward tipples are curated and are inspired by iconic musicians like David Bowie and Sting. Need a drink recommendation? Kick the night off with a dose of Party Penicillin.
Roxy Bar, #01-17, The Sail at Marina Bay, 6 Marina Boulevard, Singapore 018985
12. Bar Stories
Bar Stories is one of those blink-and-you'll-miss-it cocktail bars located at the lively Haji Lane. In fact, it's touted as one of the first bespoke cocktail bars to open in Singapore. There's no menu here; every drink is specially made for your palette and the bartenders don't skim on presentation! Not sure what to get? Just ask the friendly peeps behind the counter and they'll whip up the perfect tipple for you.
Bar Stories, 55/57A Haji Lane, Singapore 189248
13. Gibson
While the gold-accented interior may insinuate upmarket, Gibson is far from a formal, stuffy bar experience. This hidden bar prides itself on its wide selection of potent tipples in its drinks menu, pleasing even the most discerning drinker. Kitchen renovations are currently underway, so you can't enjoy the modest selection of seafood dishes. But when it's all done, be sure to order the oysters and lobster rolls.
Gibson, Level 2, 20 Bukit Pasoh Road, Singapore 089832
14. 28 HongKong Street
Sans PR fanfare and signage out front, 28 HongKong Street is notorious for having snubbed the system in the most radical way when it first opened its doors. This hidden bar in Singapore screams privacy and quiet with its nondescript entrance. But once inside, it's safe to be social with a group of friends! The best part for tippleholics is the larger standard shot served here (as compared to the usual 30ml). Reservations are required; tables get snapped up faster than free ice cream – no kidding.
28 HongKong Street, 28 HongKong Street, Singapore 059667
15. Bincho
Behind a 70-year-old mee pok stall – which opens in the day – is this grungy open-concept yakitori restaurant bar. It's run by chef Asai Masashi, who whips up some stellar grilled bites featuring chicken. If you're here after the mee pok stall has closed, enter the establishment via its unassuming entrance at the open-air carpark. Just look out for its easy-to-miss gold lettering sign, Otherwise, make your way in from the front. Drinks-wise, expect cocktails playfully named after old-school Japanese films.
Bincho, #01-19, 78 Moh Guan Terrace, Singapore 162078
16. The Other Room
"Speakeasy" is a description thrown around a lot these days. But The Other Room is probably one of the few bars in Singapore we've found that's really hidden away, with only the scantest online presence. This "drinking house for the discerning" offers expertly crafted cocktails that pay homage to classic drinks while adding contemporary twists.
The Other Room, #01-05, Marriott Hotel Singapore, 320 Orchard Road, Singapore 238865
17. Sago House
Located on the third floor of a shophouse on Sago Street, the eponymous bar is a cosy nook for those looking to escape the daily grind of life. Think graffiti interiors, dim lighting and a rotating drink menu that's written by chalk on a wall. Not sure what to get? These folks will give you the full spiel – but trust us when we say the cocktails are anything but pedestrian.
Sago House, 40B Sago Street, Singapore 059029
18. Bitters & Love
Don't be fooled by the boarded up shopfront that's littered with random scribbles. Push the door open, and you'll see Bitters & Love is very much alive and bustling. You can throw out the menu because the bartenders at this hidden bar in Singapore will concoct something from the drink profile you provide. Plus, its whimsical food menu ensures you're never hungry at this place, ever. We also love the DIY cocktail sets that can be delivered to your doorstep.
Bitters & Love, 118 Telok Ayer Street, Singapore 068587
19. Taylor Adam
At Taylor Adam, it's not difficult to find a drink that "suits" your fancy. This swanky hidden cocktail bar is concealed behind the facade of a tailor at Raffles Place in Singapore. It offers a menu of signature cocktails inspired by history, trade and travel. Want to savour a bespoke tipple that's tailored just for your tastebuds? You've come to the right place. Just give the bartender a holler!
Taylor Adam, #01-03, One Raffles Place, 1 Raffles Place, Singapore 048616
20. The Spiffy Dapper
Inspired by 1920s speakeasy bars (Great Gatsby-themed parties, anyone?), this place is a real diamond in the rough. With unpretentious old world charm, Spiffy Dapper is situated on the second floor of an undisclosed shophouse on Amoy Street – we had trouble finding it despite having directions! Cocktails range from classics to fun mixes.
The Spiffy Dapper, 73A Amoy Street, Singapore 069892
21. The Secret Mermaid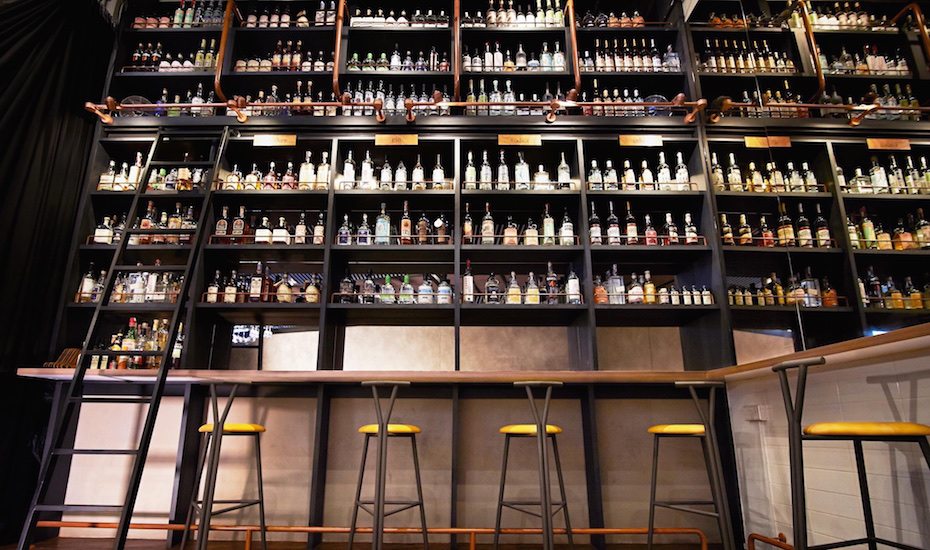 A Japanese eatery by day turned bar and liquor store by night, The Secret Mermaid offers a collection of cocktails inspired by tarot. Pick the one that resonates with you and just go for it! If you can't decide, opt for the Rotating Cocktail – just check with the staff for what's available that week. It's all about the thrill of discovery, so go for the tasting flights and up your booze knowledge.
The Secret Mermaid, #B1-09, Ocean Financial Centre, 10 Collyer Quay, Singapore 049315
The secret's out: time to go on a hunt to find these hidden bars in Singapore!