Hen's nights in Singapore: Cool ideas to try
Non-tacky ways - think a swanky staycation, a day out on a yacht and sexy salsa classes - to celebrate your (or your BFF's) last single days on earth
Not too keen on hitting the clubs and getting sauced up for your once-in-a-lifetime send-off shindig? Of course, there are other (not-so-embarassing) lovely ways to celebrate the impending nuptials while blowing off some steam with the girls (we know, planning your big day can be stressful). Here are some great ideas for an epic hen night that's a bit outside of the box. Share this with the bridesmaids!
Indulge in a pampering blow-out
Say hello to The Big Blow: a mobile hair styling, nails, and makeup service. Give these guys a ring for the total primp-and-pamper makeup party that comes complete with free bubbly for you and your closest girlfriends. They also offer an extensive menu offering different services like a full 30-minute session as well as a one-on-one private lesson.
The Big Blow, #02-21 Cluny Court, 501 Bukit Timah Road, Singapore 259760, Singapore, p. 6465 4836. Open daily 9am-7pm.
Test your limits at Forest Adventure
If the star of the party loves a challenge, try tackling the outdoors at Forest Adventures ($80 per person). Nestled along Bedok Reservoir, this treetop park features 35 different obstacles ranging from scary trapezes to swinging "Tarzan" ropes, and takes about 2.5 hours to complete. There's no guide tailing you around (but they're on the grounds to ensure everything goes smoothly), making it a great opportunity to bond with pals. All you have to do is go through a safety briefing and you're all set to fly. Ideal for big groups (at least eight people are recommended), the hen's do package includes a reserved base area, a themed cake, bottles of water to keep everyone hydrated, and when you're ready, a glass of Champagne at the end for the special celebrant.
Forest Adventure, 825 Bedok Reservoir Road, Singapore 479244, p. 8100 7420.
Cosy up with the girls at a swish hotel
Book a suite at the swanky Pan Pacific Hotel and have everyone stay over for fancy late-night soiree filled with gossip sessions, wacky photo taking, board games and catching up on your favourite American sitcoms. To up the ante, get party extraordinaire Sprinkie Parties to decorate the suite in a theme of your choice, whether you love the 60's vibe ala The Great Gatsby, vintage chic or full-out glam. Prices start at $550 and it includes a dessert table, props, backdrop, and goodie bags.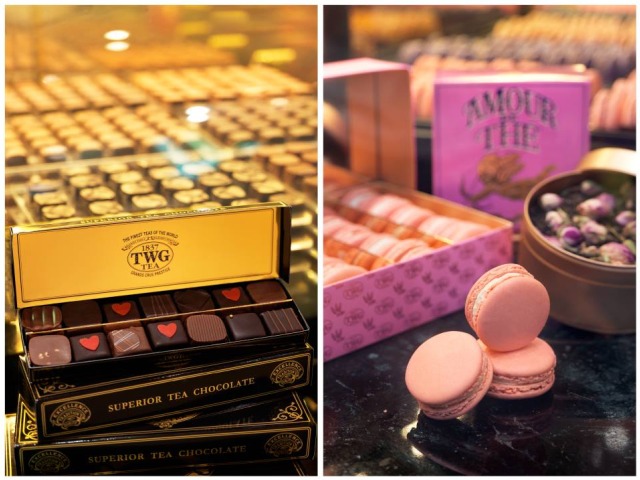 Go on a macaron-crawl
… Or a cupcake crawl, or a cookie crawl, or a random-dessert crawl – well, we could go on for a while. Just get everyone to grab a light bite, and then hop onto a limo to take the ladies around to the spots with the best macarons in town. Be sure to keep  a small bag of chips in your purse to refresh your palate between tastings. Pace yourselves though – you don't want to go into sugar overload too quickly!
Bar-hop around town
Don your sexiest LBD and stain your lips, ladies — you and the girls are going on a tipple adventure at the city's hottest bars. We recommend checking out Anti:dote for their unconventional tipples like The Tragedy of Tom Dooley, then moving on to Southbridge for a gin cocktail under the stars. Champagne lovers will enjoy 10 Scotts and New Asia Bar for their happy hour bubbly promos. Don't forget to prepare a fun dare-to-do list to crank up the fun factor for the bride-to-be!
Have dinner in a beautiful private room
Wild nights aren't for everyone – so bring the crew out for an intimate dinner at a restaurant with a private room instead. Not only do you not have to deal with noisy crowds, your lovely posse will have all your culinary needs adhered to with the waiters' full attention. Check out our stellar lineup of ahhh-mazing private rooms that'll leave you spoilt for choice.
Cook up a storm
Unleash the bride-to-be's inner Martha Steward by planning a tame evening with classes from Cookyn Inc. This school organises a bachelorette cooking session with free-flow of non-alcoholic beverages served throughout the session. Classes are priced at $100 per person and is recommended for 10 to 20 people. Everyone gets to take home the delicious dishes they've whipped up!
Bust a move at SUP Yoga, pole-dancing, salsa, and striptease
Get your sexy on and try pole-dancing, salsa or a lap-dancing workshop. If the bachelorette's more of an outdoor-sy person, enroll her to a class at SUP Yoga Singapore, which incorporates both yoga and paddle boarding at $50 per person. Since the platform is an unstable one, everyone will have to engage their core to keep themselves balanced.
Sing your hearts out at karaoke
What's a girls' night out without a rousing rendition of "Total Eclipse of the Heart"? An evening of karaoke is a great way to bond while living out the bride's superstar fantasies. You can even incorporate the whole "gettin' hitched" themes by having everyone pick their favourite love song. Got a shy bride-to-be? Sing like no one's watching at K Suites, which provides a posh deluxe bed suite (suitable for eight to ten people). They also have different themed rooms, a gourmet menu and bar.
Set sail on a yacht
Why not go all out for the special day and charter a yacht for an afternoon of picturesque relaxation with just the calm blue sea and the wind? Luxurious as it sounds, hopping on a sleek boat isn't as outrageously expensive — Ximula Sail has a beautiful 40-feet sailing catamaran embarking from ONE 15 Marina Club, Sentosa Cove, at $1,000 for 10 people (that's an affordable $100 per head, though no food and drink included), and on a weekend too. Not only will it give the bride a chance to get some sun before her wedding, but you'll also have plenty of time to bond out on the water.