Photo: Shutterstock
Move over acai, quinoa and kale – it's about time you got acquainted with superfoods like turmeric, amaranth, and purple vegetables
Name a superfood, and we'll guess your top choices would be one of the following: chia, kale, quinoa and acai. But the world of health-boosting food contains far more than those formidable four. Below, we list 10 superfoods – ranging from an everyday spice to a native African fruit –  you probably didn't know about. 
Turmeric
Unknown to many, this superfood sitting on your spice rack is way more than a flavour-packed complement to your meats. The spice, and its main active ingredient of curcumin, contain a myriad of health benefits, including antioxidants and anti-flammatory properties. Turmeric is slowly gaining popularity as a super ingredient to add to smoothies, soup, and even lattes (commonly known as "golden milk").
Available in: Powder form. 
Buy it at: Virtually any supermarket or wet market. 
Baobab 
Forget acai. Unlike the superfood berries, the African fruit of baobab (pronounced bey-o-bab) lacks a strong flavour. It's this that makes it a versatile, health-boosting addition to virtually anything. Nutrition-wise, it's said to contain more than six times the amount of Vitamin C found in an orange, and twice the amount of calcium in milk. Add to protein shakes, smoothies, cereal or to baked goods.
Available in: A dehydrated powder form.
Buy it on: Iherb, or selected health food stores.
Activated charcoal
Embarrassing fact of the day: Over at Honeycombers HQ, we swear by activated charcoal pills – it's a constant saviour for our stomach ailments. The dark, chalky substance is a powerful detoxifier – it acts like a sponge by soaking up toxins from the body, allowing them to be flushed out later instead of being reabsorbed. Note that instead of incorporating it into your regular routines, it's best used as an occasional detoxifier; its absorption skills may also mean trapping nutrients. The superfood is now easily found in cold-pressed juices and smoothies.
Available as: Capsules or powder form. 
Buy it at: Health food stores and pharmacies.
Purslane
While its name may be far from familiar, purslane is actually native to Singapore and can be found at wet markets. Classified as a weed abroad, the plant is a potent anti-inflammatory and antioxidant herb, and contains omega-3 fatty acids, iron and calcium. Stir-fry it the way you would your usual Asian veggies, or use it as a substitute for spinach or rocket.
Available in: Its original form as a leafy vegetable.
Buy it at: Wet markets. 
Sacha Inchi seeds
Also known as the Inca peanut, Sacha Inchi seeds were used as a source of food for 3000 years in the Amazon rainforest. To make up for the fruits being inedible, the seeds boast protein, omega 3, 6, and 9, fiber and Vitamin A. Benefits of regular consumption include an improvement in cholesterol levels, heart health, diabetes and even vision.
Available in: Its original form, as an oil, or powder.
Buy it on: Amazon or Sacha Inchi Singapore, 
Watermelon seeds
Next time you're munching your way through a watermelon, don't be hasty in spitting out the seeds. These tiny but mighty superfoods are nutritional powerhouses – they're loaded with good health stuff like essential amino acids, zinc, iron and B vitamins to boost your immunity system.
Available in: Its natural form, or as a lightly toasted and naturally flavoured snack.
Buy it at: Watermelon seed snacks are available on Amazon UK and Vitacost.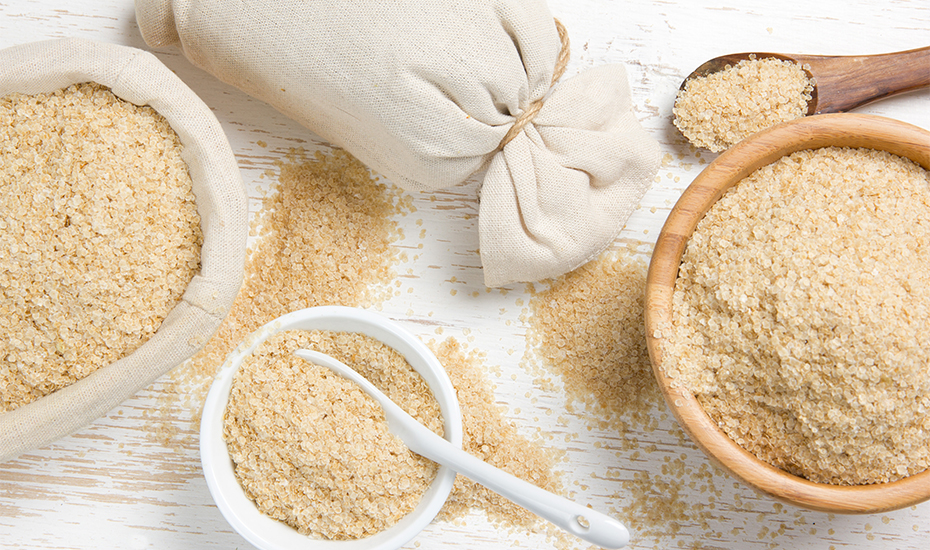 Amaranth
Super grains are nothing new to health food eaters, but amaranth hasn't quite achieved the cult status of quinoa. The gluten-free grain cooks like pasta or rice, and contains remarkable nutrition, including calcium, magnesium, potassium, phosphorous and iron. Eat it as a breakfast porridge with nuts and fruits, use it to thicken soups, or pop it on a skillet to create a crunchy topping for salads.
Available as: Grains.
Buy it at: Health food stores. Bob's Red Mill's amaranth is also available at Cold Storage and Fairprice Finest. 
MCT oil
If you're a fan of bulletproof coffee, you'd be no stranger to MCT oil. Medium-chain triglycerides (MCTs) are a type of saturated fatty acid known to encourage numerous health benefits, including better gut and heart health, cognitive function and an improved digestive system. The largest source of MCT oil comes from coconut oil. It's commonly used to make home-made, healthy mayonnaise, salad dressing, or as a nutritional addition to baked goods or smoothies and shakes.
Available in: Oil form. 
Buy it on: Iherb. 
Purple fruits and vegetables
The darker the food, the higher the antioxidant level. The purple pigment in fruits and vegetables boast flavonoids, which are antioxidant powerhouses known to reduce blood pressure, prevent cancer, reduce inflammation as well as fight ulcers, and urinary tract infections. Some to add to your basket include eggplants, radishes, purple cabbages and purple grapes.
Available as: A huge variety of fruits and vegetables.
Buy it at: Supermarkets, wet markets and fruit stores. 
Algae
Yup, you read that right. Algae is said to be one of the world's best protein sources – one of its most potent, edible forms is its blue-green species. Its most well-known type is spirulina; made up of 70% protein and antioxidants, it's commonly consumed in supplements, powders and juices. Another less-known yet equally nutritious is Aphanizomenon flos-aquae (AFA), which boast huge amounts of Vitamin B-12 and iron.
Available in: Powder form and supplements. 
Buy it at: Health food stores and GNC.