It's all about culinary craft at Hashida Singapore. Photography: Hashida Singapore
The new space of Hashida Singapore in the heart of Telok Ayer features more than just sushi.
Chef Kenjiro 'Hatch' Hashida needs no introduction in the local restaurant scene. His namesake restaurant is synonymous with stellar sushi since its debut in 2013 at Mandarin Gallery. Fast forward to today, after moving from two locations (Orchard and Mohamed Sultan Road), and Hashida makes a comeback at Amoy Street. Third time's the charm, right?
Hot new table: Hashida Singapore review
The new Hashida follows the philosophy of Shu Ha Ri. It's an ancient Japanese martial arts concept where each syllable marks a different stage: tradition, innovate, transcend.
"When the restaurant first opened in Singapore in 2013, we originally focused on presenting authentic, high-end Edomae sushi in line with the centuries-old traditions stemming from ancient Tokyo," says chef Hatch.
For its third reiteration, he explains, "we are ready to take on the final stage in our journey to mastery through 'Ri' – where guests may look forward to dishes that transcend tradition in an innovative way."
Walk through the sandō pathway
The new space is a beautiful amalgamation of old and new. Step in and you'll feel like you're walking towards a Shinto shrine with the torii gate marking the start of your culinary journey. Psst: keep your eyes peeled for a tiny Star Wars-like toy hidden in the ceiling. It's just one of chef Hatch's personal touches.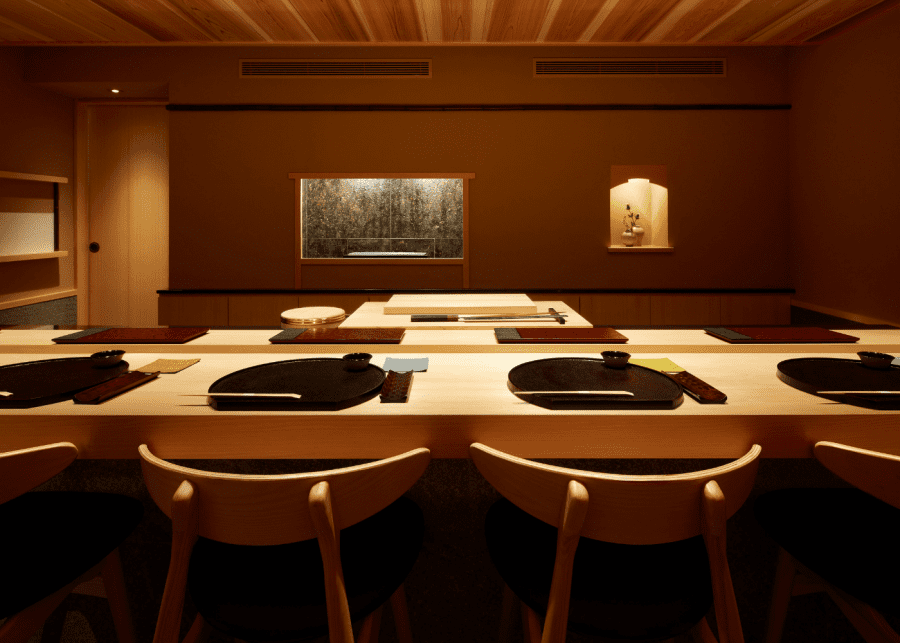 There are three private dining rooms, each rigged out in different styles and themes. The twelve-seater room is outfitted with a glorious cloudscape on the ceiling. We can't help but think it's a reference to the inevitable nirvana one will reach after dining here. The eight-seater space is a little bit more rustic. For instance, it's emblazoned with Hiba wood which is found in his old family home in Aomori. Last but not least, the intimate seven-seater room brings the feeling of dining in a traditional Japanese home.
A prelude to what's to come
Hashida has its roots in omakase dining. But in the afternoons, you can opt for set meals (starting from $120) that feature myriad hand-crafted sushi and fresh sashimi. Lunch is just as grand an affair as dinner.
We're introduced to chef Hatch briefly before he whizzes away to impress another lunch crowd in a different dining room. Filling in his place, chef Sato Yuji, who has over 25 years of experience in sushi-making, steps in to host us.
We start our meal with comforting bowls of potato salad and chawanmushi. The former comes with lotus root, which adds a nice little crunch to the dish, while the creamy latter gets topped with ume paste for an extra layer of depth. As they say, the devil is in the details.
Sushi, sashimi and showmanship
When it comes to dining at a sushi restaurant, it's not just about the food. It's also about going 'ooh' and 'ahh' as the chef puts on a show, from flexing his immaculate knife skills to conjuring up sushi with his deft hands in that blink-and-you'll-miss-it back-and-forth motion. And, boy does Chef Sato deliver.
The sashimi platter (chutoto, seabream wrapped with kombu, shisho flower, yam stem and fresh ground wasabi) looks good but tastes even better. Fresh wasabi does make a difference. You get hints of sweetness and delicate heat to bring out the fresh flavours of the fish. No nostril-burning sensation here.
By now, it's hard to keep track of what we've eaten as we're hypnotised by a series of sushi plates. From the torched golden eye snapper and the maguro smoked in Japanese rice straw to the charcoal-kissed flounder and soy-marinated tuna, each bite is a fleeting pleasure.
With that said, the piece de resistance has to be Hashida's signature hand-carved otoro. We're still dreaming about the glorious marbling. Without a doubt, sushi is the main star here. But dishes like don topped with rich uni and golden goblets of ikura, as well as the clear but rich soup made with prawn stock come in a close second.
Remember how we mentioned Hashida's philosophy earlier? Assuredly, it has reached the Ri stage. And transcended, we have.
Hashida Singapore, #01-01, 77 Amoy Street, Singapore 069896