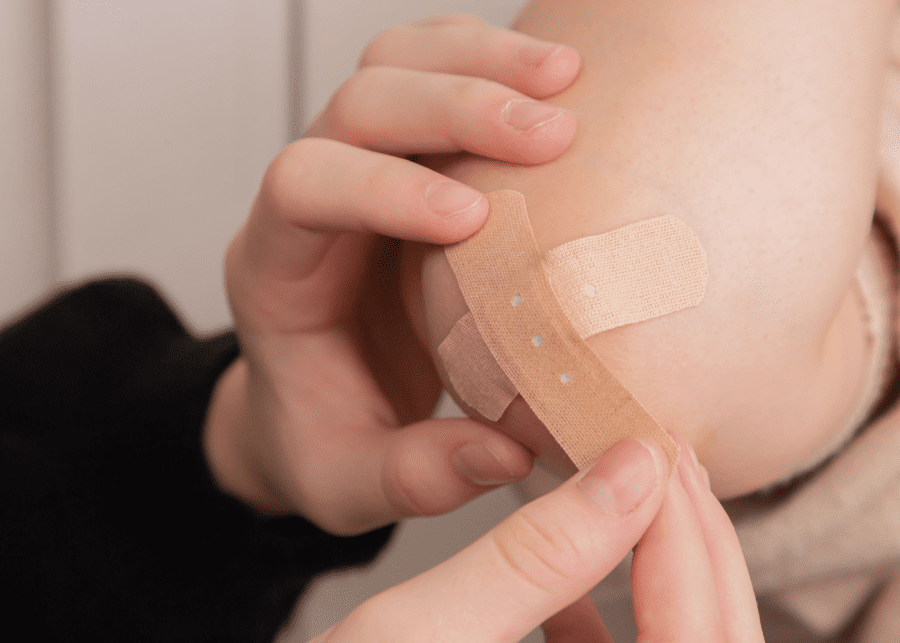 Photography: Diana Polekhina via Unsplash
Here's what not to do when it comes to treating your wounds to prevent infection and scarring.
Is clumsy pretty much your middle name? Tell us about it. We've lost count of the number of self-inflicted cuts and wounds we've had over the years, so much so that we've become self-proclaimed experts in treating them by ourselves. However, did you know that doing it the wrong way can actually increase the risk of infection and slow down the healing process? Here's what not to do to ensure your wounds heal faster and without scarring…
3 mistakes you shouldn't make when treating wounds
1. Cleaning your wound with tap water or a homemade salt water solution
Encounter a scrape or cut, and most people would immediately run it under the tap. If that sounds like you, stop right there! Indeed, moisture can easily (and quickly) result in swelling around the wound or cause bacteria to seep in. The chlorine found in tap water can also impair the healing process and increase the risk of infection.
Contrary to popular belief, salt water doesn't do the trick either. Even if you make your own salt water solution, there's really no telling what impurities or bacteria the water contains.
2. Leaving your wound exposed to air
How many times have we heard that we should let our wounds air to dry? We know! However, this isn't true at all: doing so attracts bacteria and worsens the risk of infection. Leaving a wound uncovered may also cause unnecessary drying out of the surface cells, which might result in more scarring or a slower healing process. Take it from us: keep them covered with a high quality plaster and you'll find yourself on the road to recovery in no time at all.
3. Ignoring small wounds
Grazed your knuckle against a rough wall or accidentally nicked your finger while cutting vegetables? It's easy to carry on as if nothing happened. Trust us, we've done that umpteen times — before we found out that we really shouldn't do so!
The truth is, ignoring such small wounds and cuts may lead to a risk of infection. You might even fall prey to tetanus — for the uninitiated, tetanus is basically a wolf in sheep's clothing. When the tetanus bacterium enters the body through an innocent wound, it releases a powerful toxin into the blood and attacks the central nervous system. This causes symptoms such as painful muscle contractions, lockjaw and more. And yes, tetanus can even be fatal.
Don't leave it to chance
Have you made the same mistakes as us? Now you know better! To make things easier, equip yourself with the right wound cleansing or treatment products at home. You can't go wrong with Hansaplast, which has three simple steps for wound care: cleanse, protect and heal.
There are even specialised products for each step. First, clean your wound with the fast and pain-free Hansaplast wound spray, to remove dirt and bacteria. This ensures that your wound is kept hygienic to keep infections at bay. Next, cover your wound with one of Hansaplast's plasters or sterile wound dressings. There are plenty for you to choose from: for example, the Bacteria Shield plaster range blocks 99% of bacteria from entering your wound.
This is especially important before you wash your hands or take a shower, as hand soap or shampoo can cause further irritation. Lastly, give your wound some extra tender loving care by regularly applying a layer of Hansaplast wound healing ointment, which will help it heal twice as fast compared to an untreated wound. Plus, this reduces the risk of scarring.
Ready to deal with all your cuts and wounds like a pro? Stock up now at all Guardian, Watsons and FairPrice stores islandwide.
This post is in partnership with Hansaplast.