Photography: Antoni Shkraba via Pexels
Put down that razor. A smoother you awaits at these top spots for waxing, laser hair removal and threading.
We'd kill for full, voluminous hair – hence our fondness for regular blowouts at the salon. But hair on anywhere else except our heads? We love it a little less. Are you someone that isn't a fan of excess body hair? Here's a handy guide on where to go for waxing, threading, IPL, and laser hair removal treatments in Singapore. Unwanted hair, begone!
Hair removal services in Singapore
Laser/IPL
1. Ethereal Aesthetics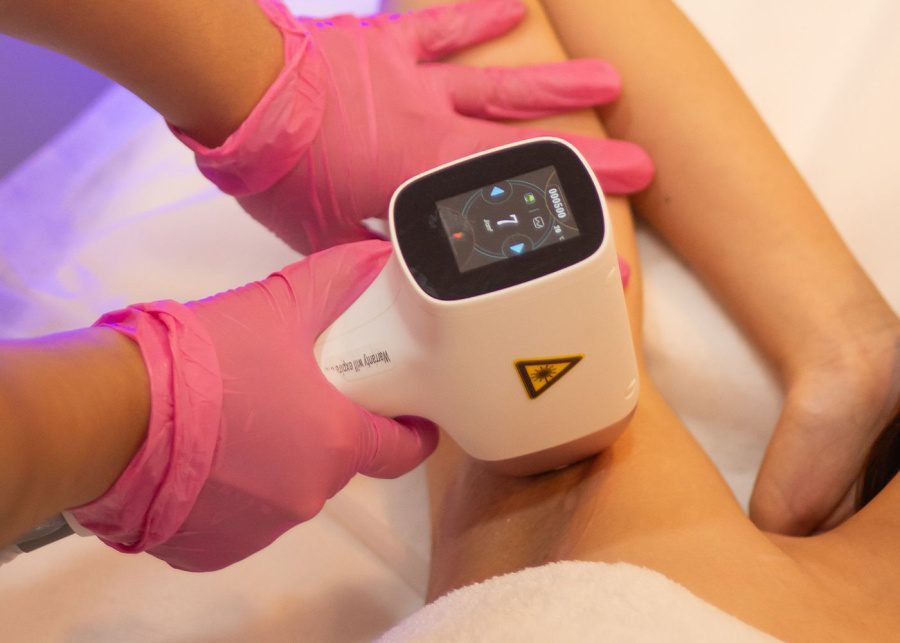 If you're in search of effective and affordable hair removal solutions tailored to every hair and skin type, look no further. At Ethereal Aesthetics, it's all about science-backed, results-based solutions with affordable pricing. Expect clinical-grade technologies that are extremely effective as well as safe, comfortable, and painless.
Case in point: the signature Advanced Platinum Pro Hair Removal technology, which is designed to target deeper structures of the hair follicles by using three different light wavelengths. This cutting-edge approach allows for maximum results on all hair types, from fine to coarse, including PCOS-related hair growth. It also caters to various skin types, ranging from lighter skin tones to richer skin tones. Ethereal Aesthetics also provides warranty so that you can rest assured throughout your hair removal journey. In addition to Platinum Pro hair removal, it offers other hair removal methods such as Super Hair Removal (AFT) and waxing.
Ethereal Aesthetics, #B1-06, Holland Piazza, 3 Lorong Liput, Singapore 277725
2. Edwin Lim Medical Aesthetic Clinic
For laser hair removal with minimal downtime and discomfort, book an appointment here for a safe and effective laser treatment. The clinic uses Triton Diolaze XL by Inmode, a patented technology that targets both fine hairs (like the ones on the upper lip) and coarse strands (such as hair at the Brazilian area). It's also effective on all skin tones, including darker skin types.
This laser works to destroy hair follicles using short and powerful laser pulses. On average, after 8 to 12 treatment sessions, be expected to see at least 90 to 95% hair reduction. It is recommended to do the hair removal laser treatments regularly once a month for best results. Keen to try it out for yourself? Enquire at the clinic to begin your hair removal journey!
Edwin Lim Medical Aesthetic Clinic, laser hair removal services are exclusively available at the Changi City Point branch. #02-12/13 Changi City Point, 5 Changi Business Park Central 1, Singapore 486038
3. Wellaholic
With Wellaholic's Super Hair Removal (SHR), hair removal is made quicker as compared to IPL or OLED. It's powered by the latest laser technology by Alma, the world-leader provider of energy-based solutions for medical aesthetics. Check out their bestseller WellaSmooth™ plan if you're a frequent visitor. It's one helluva deal that includes SHR treatments on unlimited body parts. Not to mention all-that-you-need shaving service, and a choice of post-treatment whitening or hydration therapy. Yup, that includes everything from a Brazilian to your upper lip.
Wellaholic, multiple locations including Kovan, Lavendar, and Orchard
4. Musee Platinum Tokyo
Touted as Japan's number one hair removal salon, Musee uses a state-of-the-art and completely painless hair removal technology called Smooth Skin Control. It delays and eventually ceases dreaded hair re-growth after a couple of sessions. If you're looking for a no-fuss, long-term solution, this is it. Even better: Musee's prices are affordable – check out the site for current promos.
Musee Platinum Tokyo, multiple locations including Tampines 1 and The Centrepoint
5. David Loh Surgery
Looking for a near-permanent solution without having to endure the pain? David Loh Surgery uses super hair removal for a pain-free experience. Choose from your face to your arms and body and say goodbye to the unwanted hair. Instead, welcome a newfound confidence without worrying about shaving or waxing.
David Loh, #08-35, Novena Medical Centre, 10 Sinaran Drive, Singapore 307506
6. Supersmooth
In the words of Supersmooth, "Razor blade? Laser, babe." The hair removal brand in Singapore uses lasers to skip your skin. These go straight to the roots of your hair to damage it before the hairs come off after two weeks. That also means the procedure is safe for all skin tones. We stan an inclusive brand! Unlike IPL, these lasers target the fine hairs that grow in place of these coarser hairs. There are even treatments for anyone with darker skin, and men!
Supersmooth, multiple locations including Robinson Road and Far East Square 
7. The Aesthetics Centre
Similarly, The Aesthetics Centre uses lasers for safe hair removal without damaging the skin, promising long-lasting results. Those with tan skin tones need not worry as all procedures are done or personally supervised by Dr. Anita Soosay, who holds a special interest in laser hair removal for tanned skin patients. You're totally in good hands!
The Aesthetics Centre, #01-137, Great World (Office Tower), 1 Kim Seng Promenade, Singapore 237994
8. SkinLab
Stuck in a hairy situation? This popular medical spa uses 12PL Permanent Hair Removal. It targets melanin in the hair shaft to remove the roots, preventing them from re-growing. SkinLab's great if you're seeking to remove hair on larger areas like your back. Plus, it helps with removing thicker and darker hair. Permanent hair removal? Sign us up. A little heads-up: This treatment might sting a bit.
SkinLab, multiple locations including Waterway Point and Plaza Singapura
9. Peachy Skin Bar
There's a new laser hair removal technology on the block and it may be even more comfortable than IPL. Enter: SHR, a more advanced technology that releases gentler pulses of energy at a higher frequency than IPL. This is said to make the treatment more effective and longer-lasting, with minimal skin trauma. Targeting both coarse and fine hairs, SHR is an effective treatment that's suitable for all skin types – even sensitive skin! Curious to test it out for yourself? Swing by an SHR sesh at Peachy Skin Bar and complement it with its Fuzz+ Therapy to soothe your skin.
Peachy Skin Bar, multiple locations including City Gate and Seletar Mall
---
Waxing
10. Strip
They don't call themselves the Ministry of Waxing for nothing. With "over four million beautifully pruned bushes" (their words, not ours) under their belts, these folks claim a spot on our list for offering the best Brazilian wax in Singapore. As far as painless waxing experiences go, Strip pretty much nails it with brisk, efficient, and hygienic service, plus specially formulated post-wax products for you to bring home afterwards.
Strip, multiple outlets including Raffles City and Plaza Singapura
11. Wink Wax
A favourite amongst working professionals, Wink Wax has some of the most affordable rates in town. First trial Brazilians are priced at $28 for ladies. Australian hard wax is used here, which incorporates titanium dioxide to reduce pain. Besides Brazilians, you can go for underarm, full leg, body, or even couple waxing.
Wink Wax, #01-26, North Bridge Centre, 420 North Bridge Road, Singapore 188727

12. Pink Parlour
Besides spray tanning, Pink Parlour offers a slew of beauty treatments to get you primped and pampered. The real winner in our books? The almost painless Brazilian wax and boyfriend Brazilian candy wax. Services are made all the more bearable thanks to its cosy facilities and friendly staff members.
Pink Parlour, multiple locations including Kovan and Capitol Piazza
13. Cecilia Westberry
Pool party invite in the mail and running out of time? Cecilia's the one to look for. Known for being one of the fastest waxing specialists in town, this hair removal salon in Singapore is great if you need a quick sprucing up in your nether regions. It costs $52 for a Brazilian and $16 for a quick wax on the upper lip.
Cecilia Westberry, multiple locations including Tanglin and Holland Close
14. Sugared
At this certified sugaring studio, Brazilian treatments are significantly less painful. Using 100% natural and water-soluble sugar paste, sugar paste is applied at body temperature. That means scalding never occurs (been there, done that – never again). Hair is then removed in its natural direction of growth, which leads to lesser hair breakage and fewer ingrown hairs. Remember to hydrate yourself and exfoliate between sugaring sessions; it's the best way to keep skin healthy for better results. Take it from us. Sugaring will change your life.
Sugared, multiple locations including Bukit Timah, Upper Thomson, and Katong
15. Blush Wax
A first-timer to the world of waxing? Owner and therapist Lynn's warmth and professionalism will ease you right in with her wax-pertise. We especially love the combo special that targets underarms, legs, arms, and Brazilian with a soothing mask! At $58 for a first-time Brazilian trial, this salon delivers without burning a hole in your pocket.
Blush Wax, #03-19A, The Centrepoint, 176 Orchard Road, Singapore 238843
16. Benefit Brow Bar
There's a reason why Brow Bar makes wax converts out of people. The waxes are incredibly swift, painless and, most importantly, they deliver polished, well-shaped brows. Brows aside, you can remove your other unwanted facial fuzz here too, with the lips, chin and sides wax.
Benefit Brow Bar, available at selected Sephora locations
---
Threading
17. Rupini's
It's no secret that Rupini's is the place to go for the most seamless threading in town. For more than 15 years, ladies in the know have flocked to this buzzing beauty parlour. Come for a no-frills experience that gets the job done pronto. And with affordable prices that start from $10 for eyebrow threading, this is definitely one name to store in your little black beauty book.
Rupini's, #02-00, 24/26 Buffalo Road, Singapore 219791
18. Browhaus
Bold brows à la Cara Delevingne may be all the rage. But if yours need taming, look no further than Browhaus. With a name like that, it's no wonder these pros take their brows seriously with a slew of threading, tweezing, and colouring services – in addition to lash extensions to pimp your peepers to perfection. Consider us big fans.
Browhaus, multiple locations including Tampines, Parkway Parade, and Plaza Singapura
19. Bonita
Repelled by the constant hard-selling found in many beauty salons? This popular CBD joint offers stellar hair removal services at transparent prices. Come here if you're looking for shapely, neat brows through threading ($10), or to remove embarrassing facial hair without pesky ingrown hairs.
Bonita, multiple locations including Orchid Hotel and One Raffles Place 
20. Beauty Room
A sister brand of Home Nails, Beauty Room is winning the hearts of the well-groomed with its flawless facials and seamless waxing. What scores major brownie points for us? Its pain-free IPL treatments. Using Sharplight Dynamic Pulse Control (DPC), hair removal is non-invasive with minimal discomfort. The rate of hair reduction depends on your hair growth. But many report seeing massive changes after just three treatments. Check out our review of Beauty Room's IPL-DPC treatment – needless to say, we were mighty impressed!
Beauty Room, #01-17, The Cathay, 2 Handy Road, Singapore 229233
21. EstheClinic
With over 15 years in the beauty biz, EstheClinic is a major player in the hair removal industry. Combining groundbreaking technologies with high-performing cosmeceuticals, the clinic offers a Permanent Pulse IPL treatment, which uses a revolutionary MacPeel device that's equipped with the No Pain System technology. What this means? Safe, permanent and, most importantly, painless treatments. Hallelujah! But if you're still not convinced, read our glowing review here – positive results all around.
EstheClinic, multiple locations including East Coast, Tanjong Pagar, and Holland Village
22. Gooday Beautie Parlour & Hair Salon
Established in 1983, Gooday is a hair removal institution in Little India (it's a local beauty secret!). Therapists here are known for their precision. Using thread, eyebrow hairs are removed carefully and gently, leaving them defined and clean.
Gooday Beautie Parlour & Hair Salon, 101/103 Serangoon Road, Singapore 218006
Wave goodbye to pesky hairs with these hair removal services in Singapore!