Photography: Freepik
Whether you're planning a BBQ or a meat-heavy dinner, these butchers in Singapore will provide the protein.
If you're big on gourmet sausages stuffed with herbs and juicy meat, succulent grass-fed steak and marinated free-range chicken begging to be cooked over a flame, you'll know that supermarket produce doesn't quite cut it. But fret not barbecue lovers, we've found the best butchers in Singapore who can make your carnivorous feast a roaring success.
The best gourmet butchers in Singapore
1. MeatMen
Don't settle for less – not when MeatMen can help you out with all your gourmet needs. Its meats undergo a meticulous dry ageing process, resulting in tender, concentrated goodness; you can also choose the portion cutting you prefer. We spy oxtail cuts and beef liver in its inventory if you're into those! MeatMen offers a variety of marination options too – all on the house! – if you want an extra kick. Planning a BBQ get-together? Get the bundle, which comes with everything you need for a smokin' feast.
MeatMen, multiple locations including Thomson and Holland
2. Sidecar Sausages
You deserve better than frozen chicken franks from the supermarket! So if you're planning a hotdog barbecue or want to elevate your homemade full English brekkie, pay a visit to Sidecar Sausages and stock up on all-natural sausages that are handcrafted in Singapore. Pick from classics like Australian barbecue snags, spicy Spanish chorizo, and even an Asian-inflected Thai basil, lime, and sweet chilli chicken sausage.
Sidecar Sausages, #02-01, Tasty Plaza, 37 Mactaggart Road, Singapore 368083
3. Oh Deli
An East Coast foodie haven that is the brainchild of the Oh sisters, Annie, Patsy, Jenny and Susie, Oh Deli is a cafe, deli, winery and one impressive butcher all rolled into one. Red meat is fresh, not frozen, and flown in from Australia, where Jenny and Susie got hooked on fantastic local produce. The chicken is hormone-and-antibiotic free, and the sausages are impressive: expect chipolatas, pork chorizo and more – or indulge in a barbecue set from $130, which includes all the trimmings including buns, kebabs and veggies. While you're there, add some freshly baked ciabatta and a bottle of punchy red wine to go with all that flame-cooked meat.
Oh Deli, 421 East Coast Road, Singapore 429008
4. Foodie Market Place
This meat institution is where foodies in the know flock for aged Australian Angus beef, air-flown Aussie lamb, and wagyu shabu shabu for your hotpot needs. If you get distracted by the rows of olive oil, sauces and spices (don't get us started on the cheeses) and don't know where to begin, the sirloin, sliced to order, is always a winner. If you live in the east, you can check out its outlet in Tanjong Katong.
Foodie Market Place, multiple locations including Outram and Tanjong Katong
5. Mmmm
Just like its name suggests, the meat selections here will definitely make you go, 'mmmm!' Expect to see an assortment of proteins spanning beef, pork, lamb and chicken, including top-notch cuts such as Japanese and Australian wagyu, 150-day Angus grain-fed beef, Iberico and Kurobuta pork. If you're throwing a grill party, go for the BBQ packages that come with an assortment of meats. Spend over $100 and you can get them delivered to your doorstep for free, too!
Mmmm, shop online or at multiple locations including Novena Square and Changi City Point
6. The Swiss Butchery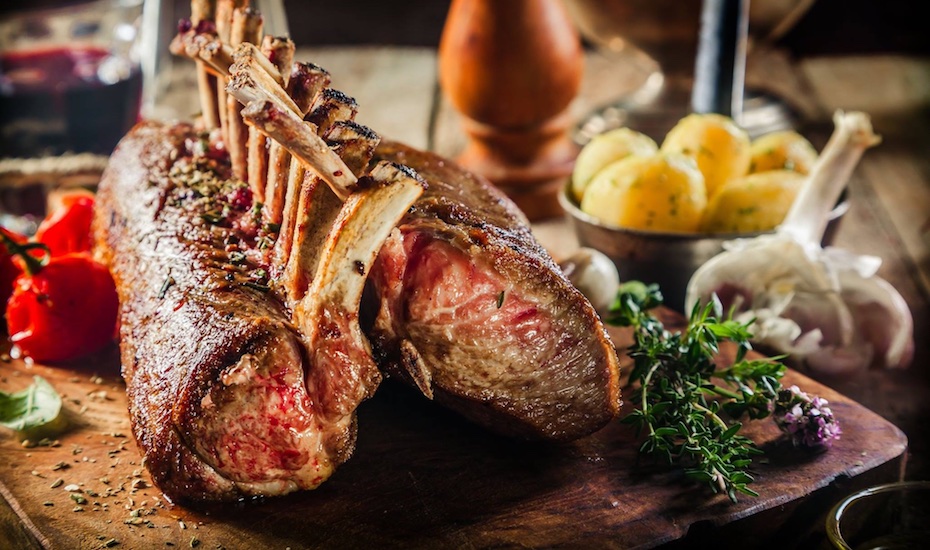 This specialty butcher was one of the first on the scene in Singapore with gourmet sausages, premium aged beef (air-flown, of course), house-smoked bacon and marinades. This is also where you can satisfy your cravings for chorizo, chipolata or weisswurst. Check out the seasonal wines and seafood, and you can get some surf and turf action started.
The Swiss Butchery, multiple locations including Greenwood and Tanglin
7. Culina
Spontaneous get-togethers and parties can leave you panicky and scrambling to arrange food for your guests. Culina has teamed up with Fairprice Finest and opened butchery counters at many outlets islandwide, making last-minute party preparation a breeze. How convenient is that? And with its huge meat selections, you're sure to find exactly what you're looking for. Alternatively, head to its massive Como Dempsey outlet to stock your kitchen with all sorts of goodies.
Culina at Como Dempsey, Blk 15 Dempsey Road, Singapore 249675
8. Meat The Butcher
This high-end butcher ensures all its meat is flown in fresh from the source and is never frozen. Can't stray from sausages? Try out the German bratwurst, English cumberland, or pork chipolata. Throwing an impromptu barbecue? They'll pull out all stops to deliver the next day, as long as you get your order in by 12pm. If you've got a cheese platter sitting pretty to impress your friends, browse the charcuterie selection for delicious cold cuts to add to it.
Meat The Butcher, 615 Bukit Timah Road, Singapore 269716
9. Sasha's Fine Foods
Ask any BBQ-lover where to source top-quality, ethically sourced meat and seafood, and you'll hear about Sasha's Fine Foods (previously known as The Barbie Girls). Founder Sasha Conlan started out by sourcing the top-notch produce she was missing when she moved to Singapore. She's passionate about providing local families with hormone and antibiotic-free meat that's entirely traceable. We're impressed by the offering of fresh sausages (hallelujah: free-range Aussie chicken!), Tasmanian grass-fed steak, fresh salmon, and ethically produced local chicken.
Sasha's Fine Foods, shop online
10. Huber's Butchery
If you've ever eaten at Huber's Butchery and Bistro at Dempsey, you'll know the produce is amongst the best you'll find on the island. This European-style butcher flies in premium meats and makes its famous gourmet sausages on-site. Take your pick from meats like turkey, lamb chops, kurobuta pork chops and even veal loins. If you're an adventurous eater, try the rabbit meat.
Huber's Butchery, 22 Dempsey Road, Singapore 249679
11. Le Petit Depot
Starting its journey by bringing exclusive French-imported products to Singapore (think cold cuts, cheeses and more), Le Petit Depot is now a meat specialist featuring high quality cuts. Shop online for an impressive variety of meats imported from France, Australia and New Zealand. Plus, Le Petit Depot focuses on animal welfare, only sourcing cuts from trusted suppliers and partners like Huber's, Ovation, Remi Ramon, Dorper and Jean Denaux. Expect over 200 types of meat! This includes wagyu beef, veal, lamb, capon, turkey, chicken and duck – anything you need to satisfy your cravings.
Le Petit Depot, shop online
12. Ryan's Grocery
Ryan's Grocery is a boutique grocer and full-service organic butcher with exquisite quality produce, catering to discerning foodies with special dietary requirements. It was born from the founders' search for their son's intolerance to gluten, dairy, nuts, soy, egg, and yeast. Today, it mindfully sources products from certified organic and free-range farms that promise humane animal treatment and advocate a farm-to-table movement.
Ryan's Grocery owns the first ACO certified meat processing factory together based on the latest FSSC 22000 v5.1 standard. It's also the first grocer that offers carbon-neutral meats in Singapore. Shop its range of fresh meats from brands like Ryan's, Borrowdale, Warilba, WX, Okan waygu, Grandchester and the newly launched certified Irish black angus beef for the best cuts. For quick meals, stock up on ready-to-cook options like the beef wellington, chicken caprese or beef and lamb kebabs. You can also try the delicious gluten-free pork bratwurst sausage or beef bacon sausage with tomato and onion. Aside from meats, there's a wide selection of fresh vegetables, gourmet cheeses, beverages, snacks, and pantry items.
Ryan's Grocery, shop online or at locations including Great World and Binjai Park
13. The Meat Club
This new-age Aussie and New Zealand meat delivery business is one we're big fans of, with incredibly tender meat and a convenient subscription option. Let us explain: these guys supply Australian and New Zealand beef, lamb, chicken, fish and even vegetarian options in meal-size portions to Singapore, then deliver them to your door. You can order one-off or subscribe and enjoy up to 15% off, plus Free Mince for Life.
The Meat Club, shop online
Shop with these butchers in Singapore and you'll never make a miss-steak!