Photography: Mantas Hesthaven via Unsplash
What will the future of travel look like in a post-pandemic environment? We ask the experts!
Let's address the elephant in the room, shall we? What seemed like a storm in a teacup in the beginning, Covid-19 has rapidly changed life as we know it. We've experienced shut borders, work from home situations and the closure of restaurants and bars. As we dream of future vacation plans, from sipping mai tais in Bali's beachy boltholes to gallivanting around a quaint cobblestoned village in Europe to going on a southward safari Down Under, we can't help but wonder what the future of travel in a post-Covid world would look like.
But not all hope is lost, as countries are slowly easing their lockdown measures, including us. We take a look at how various travel sectors are adapting and speak to travel gurus on what we can expect on future holidays.
Social distancing and strict health protocols for airports and planes
A hassle-free experience in airports might be a thing of the past. The future of travel sees a maze of temperature checks. And, quite possibly, on-site Covid-19 swab tests amidst safe distancing measures and a sea of face-masked people. Emirates has started rapid blood tests for passengers and the Hong Kong International Airport has been collecting saliva samples from inbound travellers – all in an attempt to ensure there are no potential Covid-19 clusters.
Changi Airport is also covering all grounds on safety measures, which include antimicrobial coating and swab tests at high-contact areas, as well as automated cleaning devices to disinfect floors and carpets.
The fight against coronavirus continues on air. Airlines are stepping up their health and safety measures. Singapore Airlines is distributing care kits with anti-bacterial hand wipes, a hand sanitiser and a surgical mask for on-board passengers. All planes will undergo a thorough cleaning process, such as aircraft fogging. And common areas (such as tray tables and in-flight entertainment screens) will be wiped down with an approved strong disinfectant before every flight. Also, meal services are put on hold for flights within the Southeast Asia region and mainland China. For long-haul flights, a single tray service replaces the usual table layout service in First Class and Business Class.
As for Philippine Airlines, it's beefing up protective measures with its no-mask-no-fly policy. On top of that, all crew members will wear specially designed PPE uniforms and no reading materials will be provided. For those wondering about the virus floating around the cabin, most planes these days are equipped with High Efficiency Particulate Air (HEPA) filters, which remove more than 99.9% of particles including airborne viruses and bacteria.
Hotels and their protective policies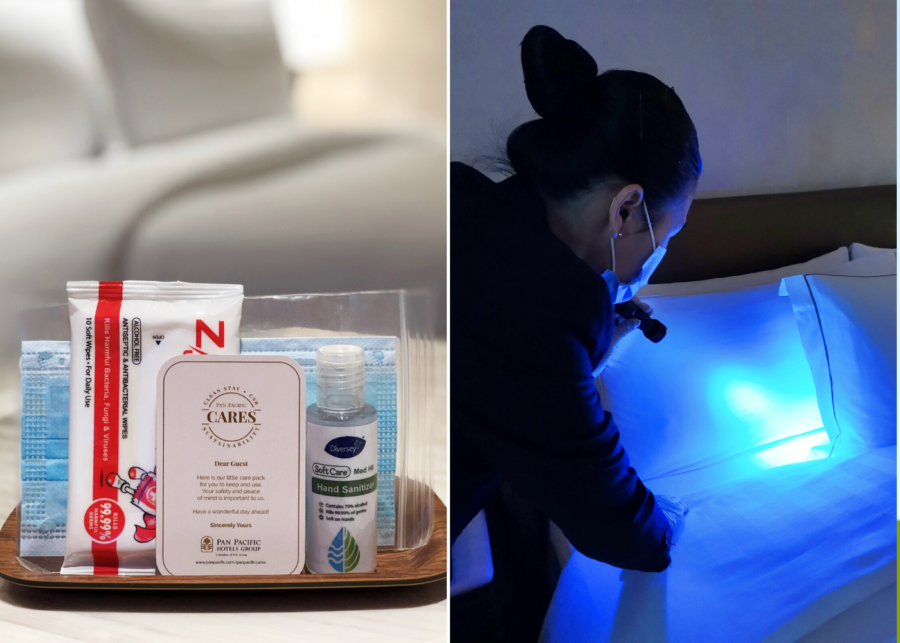 Now that you've reached your destination, it's time to check in to your accommodation. Naturally, hotels are doing all they can to ensure your stay is as comfortable as it is squeaky clean.
The Pan Pacific Hotels Group has heightened its cleaning frequency by five-fold to combat Covid-19, wiping down every nook and corner of the rooms with health-grade disinfectants (Oxivir and Virex II 256) that are approved by the US Environmental Protection Agency (EPA). Soon enough, Ultronic UV lights will also be used to inspect rooms for extra measure.
Common areas such as the concierge will be heavily sanitised, and elevators will be bio-fogged regularly. Restaurants will provide either a single-use menu or sanitise them after every use. Guests will receive a complimentary care pack, which will contain sanitised wipes, a face mask and hand sanitiser. And, of course, there will be safe distancing reminders in the form of signages and floor stickers.
Lee Kit Pui, Vice President of Brand Marketing and Communications at Pan Pacific Hotels Group, explains that "technology will play an even more important role for hotels to maintain the human touch amidst an era of social distancing. Beyond simply providing information, the smartphone could look to play a pivotal role in doubling up as a loyalty recognition device, virtual concierge and guide, and even a remote control for guests while at the hotel, whilst emphasising safety features such as contactless check-in and check-out, contactless mobile payment and mobile room key."
Marriott, another big player in the industry, is also adopting rigorous cleaning protocols to provide a safe environment for guests. You'll find hand sanitisers at elevator banks, front desks and entrances. Plus, partitions at check-in counters and electrostatic sprayers to sanitise the premises.
The hyperfocus on hygiene is also expected in smaller boutique hotels. Mark Wong, Senior Vice-President Asia-Pacific of Small Luxury Hotels of the World (SLH), says, "We'll see fewer guests allowed at one time, an increase in private or in-room dining, implementation of contact-free interaction with guests and a redesign of communal spaces to meet social distancing requirements. There will be heightened standards for hygiene and cleanliness, with procedures for both back-of-house and in front of guests, creating reassurance every step of the way."
While some may think ramped up cleaning measures seem like overkill, Lee explains that "as we welcome the new travel normal, we recognise that safety and well-being will be the top concerns of the travellers. Hospitality players will need to continue to assure guests of elevated sanitation standards and cleaning protocols. From working with top-of-the-line hygiene solutions providers, to adopting cutting-edge technology, hotels will go the extra mile to give guests a peace of mind when they stay and dine at the premises."
Travel trends on the horizon
What with all the lockdown measures in place to flatten the Covid-19 curve, we're itching to hit the great outdoors more than ever. According to a report by Tripadvisor, people are 218% more likely to explore relaxing destinations. 59% mention they would roam off the beaten path. So it looks like the future of travel will see an increase in demand for outdoor and nature activities like camping and skiing.
Lucy Jackson, Co-Founder and Director of Lightfoot Travel, also shares the same sentiment. "We do think there'll be an increased interest to visit more remote, off-the-beaten-path destinations. Adventurous souls will feel the urge more than ever to explore untamed wilderness frontiers and reignite their love for travel, choosing quality over quantity."
Wong believes people will explore the world with intention, to experience its intensity and protect its integrity. "Travelers now have a more intent focus on mental wellness, a lean towards trusted brands and, of course, health and safety as a priority in lieu of booking deals."
"Whilst some may take off on an epic adventure to celebrate their newfound freedom, we anticipate others will choose a safer, more Covid-protected option, such as a luxury villa in popular destinations such as Sri Lanka, Greece or Bali. Villas are a brilliant option for individuals looking to limit those they come in contact with and also act as a great base for extended family get-togethers and celebrations," adds Lucy.
Another prediction by Wong: "There'll be a slow start for local road trips, easing into domestic and regional travel for the first few months, and those bigger international trips will be saved for the start of 2021."
The report by Tripadvisor offers up findings that are in line with Wong's prediction. People are looking into shorter trips with destinations closer to home. 44% of the respondents are keen to take road trips while 61% are comfortable with getaways that are about three to five days long.
As we prepare for our next adventure, these are some of the many changes we can expect to see in the future of travel. But before you jet off on your next vacay, make sure you don't forget 2020's must-have travel essential – a face mask.