Photography: Fusion Resort Phu Quoc
Word on the street is that Phu Quoc might be the next Danang for resort seekers. I checked in at Fusion Resort Phu Quoc to experience what a beachfront stay on the island is like.
Swapping the stress of the city for a beachfront retreat does wonders for my mood. While Indonesia's nearby islands are a popular choice for many (who can resist a quick getaway to Bali, Batam or Bintan?), another coastal destination has popped up on my radar. Say hello to Phu Quoc, the largest island in Vietnam. After receiving the invite, I jumped at the chance to take my new passport out for a spin. I'm glad I did – this idyllic retreat had me feeling revitalised in no time.
Our guide told us that over half of the land in Phu Quoc is jungle terrain, and it shows. Look out the window on the drive to the resort and you'll see lengths of greenery. On occasion, the view is broken up by stretches of residential areas and low rise stores, drawing in customers with brightly lit sign boards advertising shoes, coffee, bubble tea and more.
Fusion Resort Phu Quoc was our destination, where I checked in with a party of five amidst a storm. But even the untimely rain couldn't dampen the mood thanks to the extra warm welcome, seriously good food and the amount of exciting things to do on our agenda.
Five-star villas with a sustainable touch
This all-inclusive resort is a beachfront sanctuary, with the kind of space that most apartment-bound city dwellers can only dream of (but hey, that's what vacays are for). I loved the decor, from the floor-to-ceiling glass doors that let the sunlight in, to the earthy wooden furniture that's a nod to the surrounding natural landscape. The seashell panels in the villas are crafted with shells collected from the island, as are the seashell floors of the spa. Oh, and did I mention that every villa comes with its own private pool?
I was pleased to find out that the team at Fusion Resort has taken steps to make it a more sustainable stay. For easy recycling, each villa is stocked with drinking water in aluminium cans, as well as toiletries in kraft paper packaging. The team admits that they still have a long way to go to create an even more sustainable experience, and further changes are in the pipeline.
Sunrise yoga, a pool dip and farm tour
Wake up to the sound of lapping waves and the view of gorgeous scenery. If Fusion Resort Phu Quoc doesn't tempt you into trying sunrise yoga, I don't know what will. (Maybe the promise of a breakfast buffet after?) There's also a sizable public pool overlooking the private beach that's ideal for a dip (and an Insta-worthy photo).
Speaking of the beach, it's good for more than just sunbathing. Though I didn't get a chance to try it due to inclement weather (bummer!), we were told that this is one of the best resorts in Vietnam for newbie surfers, on account of its calm waves. Watersport enthusiasts can also try their hand at kayaking, sailing and more.
When the rain slowed to a drizzle, we popped out of our villas to check out 'The Farm Village', where ducks, goats and chickens are raised for viewing pleasure. (Don't worry, none of these animals will end up on your dinner plate – I asked.) The farmer even rears Dong Tao chicken, a rare Vietnamese chicken breed with distinctly enlarged feet (Google it for a peek!).
Pepper for wellness? Here's how the locals do it
Ask anyone what Vietnam is known for, and coffee or fish sauce will likely be the popular answer. But the country has another signature export: pepper. We paid a visit to Maia Spa and saw that the resort even grows some of its own.
A spa sesh was in order – we had to experience the pepper's therapeutic benefits for ourselves, after all! I tried the signature Natural Living Pepper Massage and exited feeling like I was floating on a cloud. Combining Swedish massage techniques with pepper essential oil, expect a mild aroma and a gentle heat from the freshly-ground Phu Quoc black pepper. It was so relaxing that I dozed off, awaking refreshed and rejuvenated.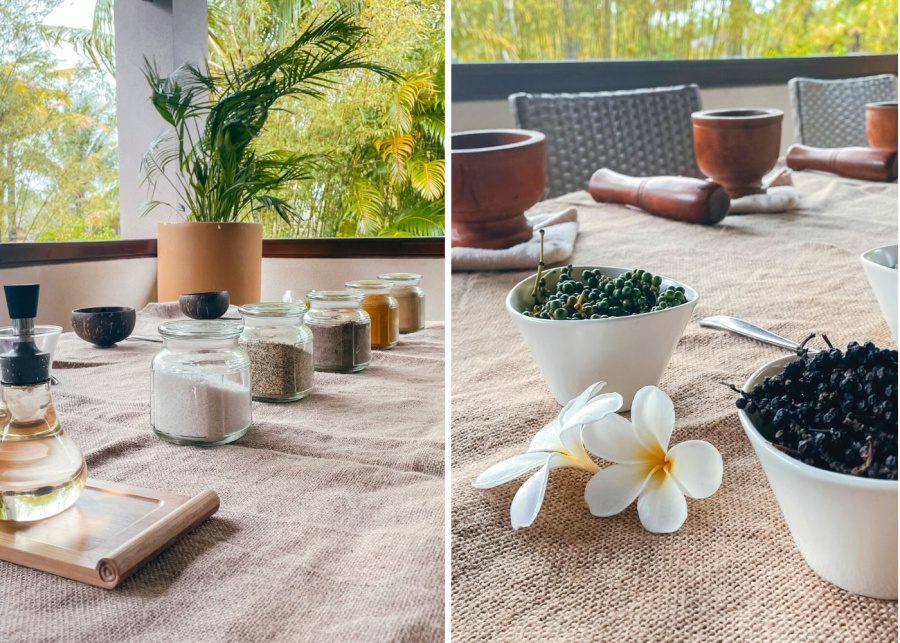 We also made our own pepper-infused products with the resort's 'Pepperation' Programme. Using four different kinds of local pepper (red, green, white and black), this hands-on activity guided us in creating a pepper dip and a pepper body scrub in the middle of the spa's orchard – fittingly, with pepper trees all around.
Delicacies from Vietnam and beyond
It's safe to say that we ate our way through our stay at this resort in Vietnam: the dining options left everyone spoilt for choice. I made full use of the signature 'breakfast, anywhere, anytime' program, where the staff will bring your meal to you by the pool, in the spa, on the beach, wherever you want. (I recommend having the floating breakfast in your villa's pool.)
If you can't live without your daily cup of joe, give Pecza's signature coffee a go. This restaurant's take on Vietnamese coffee is made with fresh milk for a creamier sip. Topped with ice, it's the ideal pick-me-up for a warm day.
The menu at Pecza is as varied as it is delicious. We ordered up a feast on our first day: Vietnamese favourites like the beef lok lak (a sauteed beef dish made with onion and capsicum) and the oyster porridge were a hit. Grilled dishes were a treat, too – the octopus and pork ribs were deliciously succulent. The standout for me was the seabass skewers, a seemingly unassuming dish that packs a load of umami with a coconut, coriander and chilli marinade.
The best meal on our second day was the seafood spread. We started with a green mango snail salad, made with Phu Quoc baler shell snail and julienned green mango, tossed with mixed herbs, sesame seed and a splash of fish sauce. And if the thought of snails makes you hesitant, don't be – the taste was mild and the texture was chewy, which to me tasted like a meatier version of escargot.
The seafood tower was the star of the meal, featuring fresh local catches in an impressive three-tier tower. Prawns, clams, scallops, snails, oysters, blue crabs, octopus, grouper sashimi and sea urchin… need I say more?
Ending the trip with a night market stroll
We couldn't leave without hitting the streets of a colourful night market in Vietnam, so off to Phu Quoc Night Market it was. This market attracts both the local and the tourist crowd, so expect a bustling scene at nightfall. For short getaways, this is an excellent spot to get a quick peek into local culture. We had a blast tasting Vietnamese street food, browsing souvenirs, and shopping for Phu Quoc specialties. It was a stark contrast to the serenity of the resort, but I enjoyed the vibrant night scene and interactions with friendly locals.
With resorts like Fusion Resort Phu Quoc, I can see why the island is touted as an up-and-coming hotspot for vacationers seeking a beach holiday. And the staff's amazing hospitality (from taking us to the night market in the rain, to preparing bento boxes for us when we parted ways) made it even better. If I'm in the area, a return trip to this resort will definitely be on the cards… Danang, I think you've got some competition.