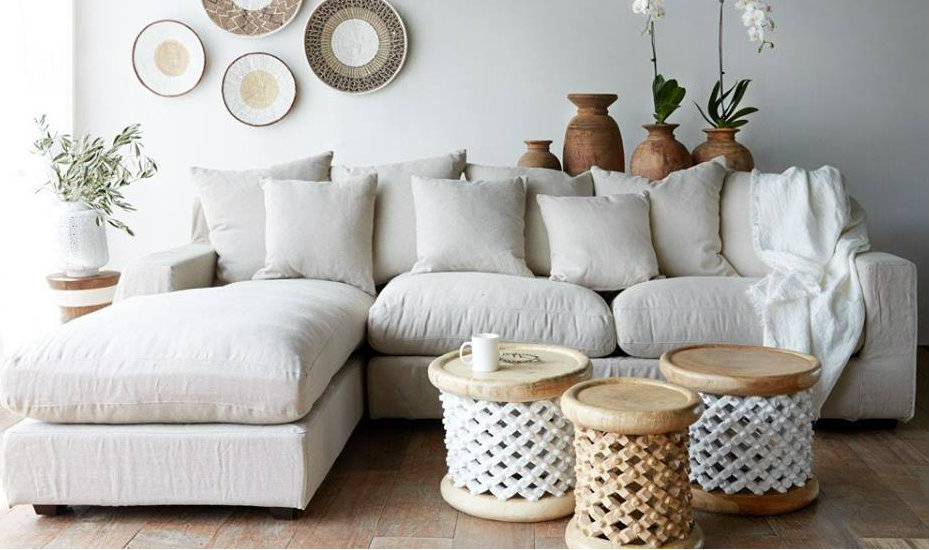 This store certainly lives up to its name. Photography: Originals Furniture
A stylish side table can instantly lift the look of any room. We picked our favourites at a range of price points.
If you find that your living room's missing a little something, it may very well be a side table. Whether it's styled to the nines or not, this underrated accent piece can very well steal the show – just think about all the gorgeous mirrored, geometric and wooden ones you've seen all over Pinterest. Inspired? We've hunted down the most gorgeous side tables for all budgets.
Under $100
Carafa Regular Round Table Copper/Black
Here's hoping rose gold never goes out of style, 'cause we're still hooked on this metallic. Made up of a black tempered black glass top and a chrome steel tube frame, it's a stunner that'll look good in both the living room and your walk-in wardrobe (a girl can dream).
$79.90, Available at FortyTwo
Below $500
Apollo Stool/Occasional table in matte black
It may officially be a stool, but we love it far more as a side table thanks to its playful use of geometry, and sleek, black base. Keep the styling simple with a stack of books or a candle and a plant.
$179, available at Hipvan
Rosa Mirrored Tripod Accent Table
If your home is best described as glamourous, you'll love this accent table from TaylorB. Its round glass etched top mirrors the popular vanity trays seen all over Pinterest, only wider and far more striking. It's also guaranteed to brighten up any space, and adds a nice complement to soft textiles.
$279, available from Taylor B
Above $500 
Teak Pop Low table
Designed by young local designer Nathan Yong, this versatile piece adds warmth to any living room. We see this working in a variety of popular interior styles, including Scandinavian, industrial and minimalist.
$520, available from Ethnicraft
Cartagena nest of tables
For lovers of modern decor, the Cartagena nest of tables is both fab and functional. Stack them atop each other to attract a curious guest or two or spread them all out for extra space if you're expecting (bigger) company.
$645, available from BoConcept
Below $1000
Arborra Green End Table
The intricate design of this accent table makes it an instant hit. Its embellished with hand-carved bone pieces and features a traditional floral design that fits right at home in a variety of spaces.
$580, available from Hom Lab
Bamileke stool in large and  white
This hits us right in the tropical feels. We don't know what we love more: the 'woven' design of its stem, or the rustic look of its wide, circular table surface. It's the perfect place to prop up our home decor magazines, diffusers… and a nice glass of wine after a long day.
$850, available from Originals Furniture
Above $1000
Jacques Lucite 2 Tier brass
This one's a statement piece your guests will definitely ooh and ahh over. Crystal clear acrylic forms its base, while brushed brass in its corners gives it a luxurious touch. Place it next to a high-armed sofa to easily reach your books and coffee, or as a nightstand to complement a gorgeous lamp.
$2,130, available from Bungalow 55  
Like this story? Here's more we think you'll enjoy:
You need a statement chair
Or maybe you just need to reupholster your old chair
The very best of Singapore's furniture stores
Here's where to get your furnishings online