Jazz up your weekends with free things to do in Singapore.
Oh yes, we found totally exciting and free things to do in Singapore. You'll want to bookmark this one!
Home to swanky rooftop bars, fabulous brunch spots and amazing alfresco restaurants, Singapore has a reputation as one of the world's most expensive cities. But fret not. If you've spent all your money on feeding your food and shopping addiction, let us show you the other side of the city with this list of incredible things to do in Singapore – all for free! Just sit back and enjoy what this little red dot has to offer without spending a single cent.
All the free things to do in Singapore
1. Singapore might be a bustling city but it's essentially an island. There are numerous waterfront spots peppered all around the island, so let your hair down and soak in the sun at one of our glorious beaches.
2. We love a good outdoor movie experience, and Sentosa's serving it up by the beach. You can catch complimentary movies on selected Fridays, weekends, and public holidays. No bookings are required, but you might wanna head down early to score a good spot.
3. If you're a fan of the Marina Bay Sands' light and water show Spectra, you'll love this. The Sentosa SkyJet at Central Beach Bazaar is a whopping 80 metres tall, arguably the tallest fountain in Southeast Asia. You can admire it in the day against the blue sky. But we recommend going at night when 24 LED lights are thrown into the mix, illuminating the stream.
4. In case you haven't heard, train or bus spotting is the new hip hobby around the 'hood. We've seen many train enthusiasts up at the break of dawn to catch the very first trains for the day. Wanna find out when the next community event will be? Be sure to follow the SGTrains socials to get dedicated train updates. While you're at it, check out the most beautiful MRT stations in Singapore.
5. A good concert doesn't have to cost an arm or a leg when you can catch free live performances from local and international acts at Esplanade.
6. Love to sketch? Join the good folks at Urban Sketchers Singapore as they host regular "Sketchwalk" meet-ups across the island to draw scenescapes that catch their eye. Places they've popped up at include Bishan Park, Esplanade and Redhill.
7. Care for your physical and mental health with the Health Promotion Board's programmes that shed light on self-care, healthy eating and exercise. You can also book free workout classes with the fam!
8. Singapore's a tiny city, but that doesn't mean we're always keen on walking to our next destination. Try exploring our garden city on a bike with the help of our cycling guide.
9. Here at Honeycombers, we're big on sustainability. If you feel the same, why not volunteer at Rescue food with SG and do your part in reducing food wastage? You can participate in various programmes such as saving vegetables and fruits that may be discarded by store owners.
10. This one is for the parents! Forget about staying huddled around the air-conditioner. Bring the kids to one of the city's fantastic water parks to cool down and have fun at free water play areas.
11. We love a good bit of live music any day of the week. But if you're not interested in paying for an expensive cocktail, why not poke your head around some outdoor bars? Timbre at the Arts House and Le Noir are great spots to catch live bands. We'll bet you won't be the only ones who stop to watch the bands as you walk by.
12. Kampong Glam needs no introduction. This hip neighbourhood has more to offer than just hipster cafes and bars. Check out the back alleys aka Gelam Gallery and you'll come across mural paintings and artworks by local artists. It's located at Muscat Street, right beside Masjid Sultan.
13. For the astrologically inclined and mercury-in-retrograde believers, head down to Seletar Rocket Tower. You'll see the brilliant constellations that watch over the Lion City through sophisticated telescopes for free.
14. Make your day brighter by helping out those in need. Whatever your choice of charity may be, there are plenty of volunteering opportunities in Singapore where you can earn karma points and have tons of fun.
15. How about a one-way trip to hell? Bizarre theme park Haw Par Villa is known for its depiction of the Ten Courts of Hell – think grim statues and dioramas. We can't get enough! Its Hell's Museum requires a fee to enter, but the rest of the park has free entry.
16. Believe it or not, there's as much greenery as concrete in this skyscraper-filled city. Get in touch with Mother Nature or enjoy a picnic at our picturesque secret parks.
17. If you love spending time at the beach, it's time to give back to the environment. Gather your fellow beach bums and organise a beach cleanup to keep your favourite beaches spotless. Just sign up here to start sprucing.
18. Culture vultures, we've got a slew of museums (including secret ones) to visit. Over the years, we've attracted lots of inspiring art pieces and big-name museum exhibitions. The best part? Most of these museums offer free admission to locals and permanent residents – nice!
19. Gillman Barracks is the perfect spot for art appreciation. With art galleries housed in colonial barracks, this is the go-to destination for those seeking a dose of contemporary art.
20. Put on your hiking shoes and be one with nature at the many walking trails in Singapore. Our fave is MacRitchie Reservoir Park because of the Treetop Walk, an aerial walkway that gives you a bird's eye view of the forest canopy. We also love Dairy Farm Nature Walk and the Southern Ridges! Check our full guide to hiking in Singapore for more.
21. Singapore is a cosmo city and sometimes you can get caught up in the hustle and bustle of it. So take a step back and visit the city's last surviving village to experience quiet kampong life.
22. The Japanese Cemetery Park might not be the first thing on your mind when you're looking for free things to do in Singapore, but trust us, it's very Instagram-friendly (think sakura season in the tropics).
23. Toa Payoh is known for its amazing local eats but this humble neighbourhood's proud treasure has to be the dragon playground. This old school playground will make a pretty picture for the 'gram, plus kids will be kept entertained for a while.
24. Instead of buying a book, why not check out public libraries? Get your lit fix at the library at Harbourfront or the aesthetically pleasing one at Somerset. Or you can pop by the one in Esplanade that's equipped with a jamming studio!
25. Couchsurfing is a fun way to meet people from all walks of life. You can check out the website for meetups or host a friendly traveller at your place. If you're a little shy, you can always host them for a meal instead.
26. An iconic part of Chinatown's landscape with its striking red pillars and elaborate designs, Buddha Tooth Relic Temple is more than just an architectural wonder. There's a vibrant calendar of activities for the public including meditation classes.
27. There's something about firework displays that incite lots of oohs and ahhs, and you can witness it all on special celebrations such as National Day and New Year's Eve. Just pick a spot and enjoy the pyrotechnics show in its full glory.
28. You don't have to splurge on rooftop bars or visit infinity pools to catch a glimpse of the city's glitzy skyline. Just hop over to Orchard Central's rooftop garden. Or the next time you're in Queenstown, head 47 storeys up to the roof garden at Skyville@Dawson!
29. What does Jurong have to offer? Apart from retail behemoths such as Jem and IMM, it also boasts picture-perfect gardens. Jurong Lake Gardens is made up of three gardens – Lakeside Garden, Chinese and Japanese Gardens, and Garden Promenade. However, the northern strip of Lakeside Garden and the Chinese and Japanese Gardens are going through an upgrade, so be sure to keep your eyes peeled. We're called the garden city for a reason, eh?
30. Weddings can cost a bomb but that doesn't mean you have to fly out to an exotic place for your pre-wedding photoshoot. Singapore has numerous IG-worthy locations that exude romance such as Raffles Marina and Henderson Waves.
31. Once a military base during the Second World War, Fort Canning Park is a treasure trove of greenery and history. Take a stroll through the green space and learn about the hill's colonial history. Definitely a must-see for history buffs who prefer the great outdoors to museums.
32. Sentosa is a party island with its beach bars and attractions, but it's also home to pristine beaches and a hidden military fortress otherwise known as Fort Siloso. Walk into the island via the boardwalk with no entry charge and enjoy the sea breeze over sammies and a bottle of wine.
33. Orchard Road isn't exactly known for having free things to do in Singapore, but did you know this famous shopping belt is steeped in history? Go on a self-guided tour that stretches from Dhoby Ghaut to Tanglin and learn about Orchard Road's secrets from the past.
34. Who says you need to break the bank for a romantic date? Take your boo to Mount Faber Park and catch the sunrise or sunset while enjoying city skyline views. Up the ante by making it a breakfast or dinner date amidst lush greenery, and you're sure to score brownie points.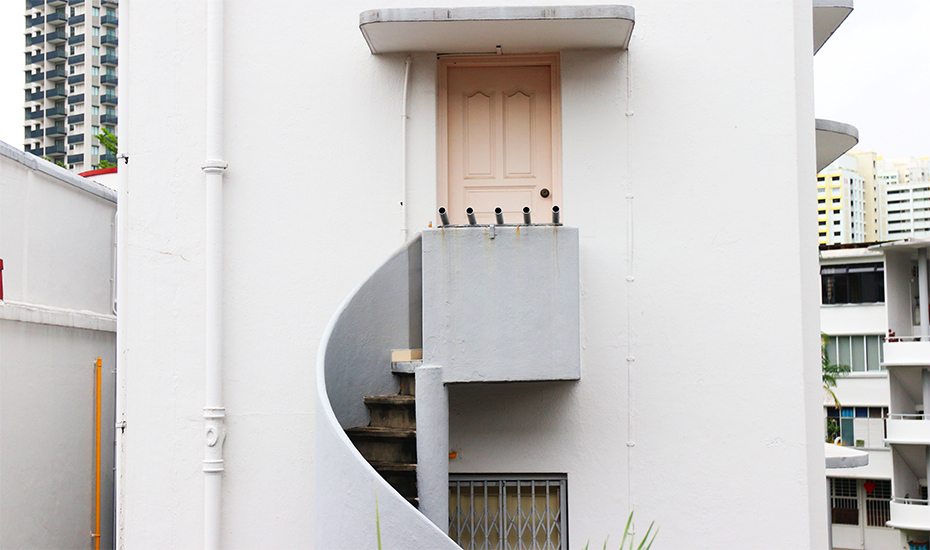 35. Tiong Bahru is one of the few areas in Singapore where time stands still. Marvel at the pre-war apartments and get a dose of street art while exploring this quaint neighbourhood.
36. It's worth making the trip to Pulau Ubin, a rustic island located just off the east coast of Singapore. Admission costs zero, but to get there, you have to take a $4 bumboat (it's practically free!). Take your time to explore this untouched land – it's a beautiful playground for nature photographers.
37. Treat yourself to some R&R – we're talking about hot springs! You don't have to book a ticket to Japan to experience it. Just head north and immerse yourself in Sembawang Hot Spring Park. The source of the spring water is still unknown but it's believed to have healing properties.
38. We love a good flea market but did you know about the Singapore Really, Really Free Market? Yes, as the name suggests, everything is free. It's a good way to clear the pre-loved things in your home; plus, you can look around to see if anything catches your eye.
39. Heritage bungalows are a real gem in the city, with the cityscape changing every decade. Ditch the pretty skyline for a day and explore the city's iconic black and white bungalows.
40. A day away from civilisation is what you need after a hectic week. For us, Coney Island does the trick. From white sand beaches to untouched trails, this isolated island has something for everyone.
41. Little India is one of our favourite neighbourhoods, especially when we're looking to slurp on fiery fish head curry. But food aside, this heritage enclave is brimming with colours, vibrant music and unique culture. And let's not forget the cool spots for your Instagram feed.
42. Singapore has limited resources but that doesn't stop us from pushing the limit. Newater is a perfect example of how we aim to be self-sufficient. About 40% of our water demands can be met by Newater and you can learn more of the science-y stuff (like how we treat used water for consumption) at the Newater Visitor Centre.
43. Dog lovers, rejoice! Head over to one of the dog runs in Singapore for a fun day out with canines.
44. Want to dress to the nines but maxed out your makeup mileage? Fret not, just don your favourite number and head straight to Sephora. Stay with us… you don't have to get anything. Just approach the friendly associates for a free makeover.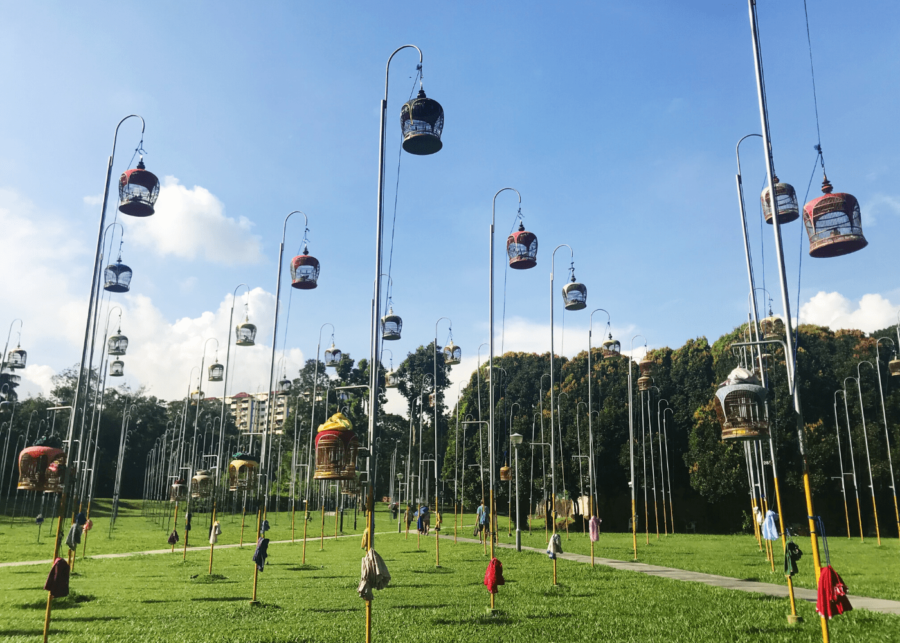 45. Perched on the foot of Ang Mo Kio Town Garden and Block 159, the most popular and largest songbird display area in Singapore is quite a delight to the ears and eyes. Witness a bevy of songbirds in uniquely crafted cages hoisted 20ft up on poles to showcase their tunes.
46. We all love a good horror movie or story. But experiencing it firsthand? There's just a certain thrill about it and we're not talking about Halloween. One of the creepiest free things to do in Singapore is to discover the island's spooky spots.
47. If you're looking to kick back with a haystack, check out Hay Dairies Goat Farm. Just head to Lim Chu Kang to mingle with cute little goats! And we highly recommend you sign up for the tour (it's not free but it's worth it) to learn more about the milking process, feed the goats and go home with a bottle of goat milk.
48. We love cafe and bar hopping, but we're also huge fans of mall crawls. Yes, we're talking about free things to do in Singapore but you don't have to spend anything in a mall – window shopping, anyone? From admiring the largest indoor waterfall in the world at Jewel Changi Airport to chilling at the sky park in VivoCity, retail therapy doesn't have to cost a dime.
49. Kranji War Memorial is one of the many places you must visit if you're a history buff. This hillside cemetery honours war veterans who died during World War II. You can take a look at the four stone memorials which feature 24,346 names of allies and soldiers who have no known grave.
50. Whether you're looking for a romantic date idea, a family event for kids, or a must-see activity in the city, Marina Bay Sands' Spectra is a must-watch. The daily evening light and water show is quite a theatrical spectacle.
51. There's more to Chinatown than meets the eye. If you can look away from its award-winning restaurants, bars, fashion stores and flea markets, this heritage district can give you a glimpse of its past, from the oldest Hindu temple in Singapore to protected heritage shophouses.
52. Singapore's first wetland reserve, Sungei Buloh Wetland Reserve, is home to myriad riverine species including water monitors, mudskippers and, if you're really lucky (or unlucky), the ferocious estuarine crocodile. If you happen to be trekking through the park's many trails during the migratory season, you'll see flocks of shorebirds like sandpipers and plovers.
53. Funan Mall has a lot to offer, from a seven-screen multiplex to a TFX fitness centre that boasts a swimming pool (with a splendid view) and an outdoor relaxation deck. But the urban farm is what catches our eye. Located atop the mall's roof, it's home to a botanical garden where farmers can work with chefs to curate, harvest and supply pesticide-free produce to restos in Funan.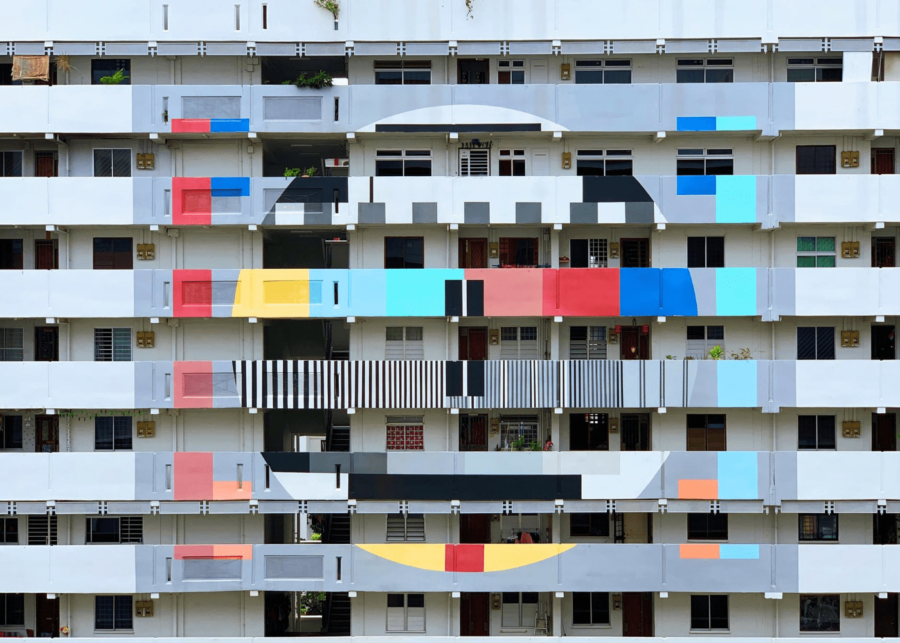 54. Architectural buffs, look past the glitzy skyline and traipse through the heartlands to marvel at uniquely designed HDB blocks. We're talking about housing estates decked out in colourful murals, symmetrical designs and uncommon shapes.
55. You don't have to visit the zoo to catch sight of the adorable otters. Just keep tabs on the community Facebook page Otter Watch to learn about the different families and watch them in action at rivers around the island. Tip: remember to respect their space.
56. Singapore is truly a garden city. Don't believe us? Check out our guide to secret parks and hidden parks for an adventure that's truly off the beaten track.
57. Skip the gentrified 'hoods of Duxton Hill and Keong Saik, and make your way to the quiet Everton Park. Stroll past old school HDB flats and Peranakan shophouses to catch a glimpse of street artist Yip Yew Chong's earlier works depicting Singapore in her kampong days.
58. Know your heartland history? Travel back in time by exploring the quiet neighbourhoods of Singapore that are filled with historical nuggets.
59. Gape at an 11-foot marble Buddha statue, which was transported from Mandalay, at the Burmese Buddhist Temple. While you're seeking enlightenment, head over to the second floor for murals depicting Buddhist folktales.
60. In the mood for a little art amidst colonial-style bungalows? Spend the day at Wessex Estate by talking to artists from art studios and galleries. We're certain they'll have an interesting story or two worth listening to.
61. Marina Barrage is the perfect spot if you're looking for picturesque views of the city's skyline. Here's a hot tip: head to this waterfront venue at the crack of dawn. The reflection of the sun's morning hues on the reservoir is an aww-worthy moment.
62. Calling all animal lovers! Stop by an animal care centre and volunteer your services in person. Be it adoption, protection or education, these shelters will definitely benefit from your help.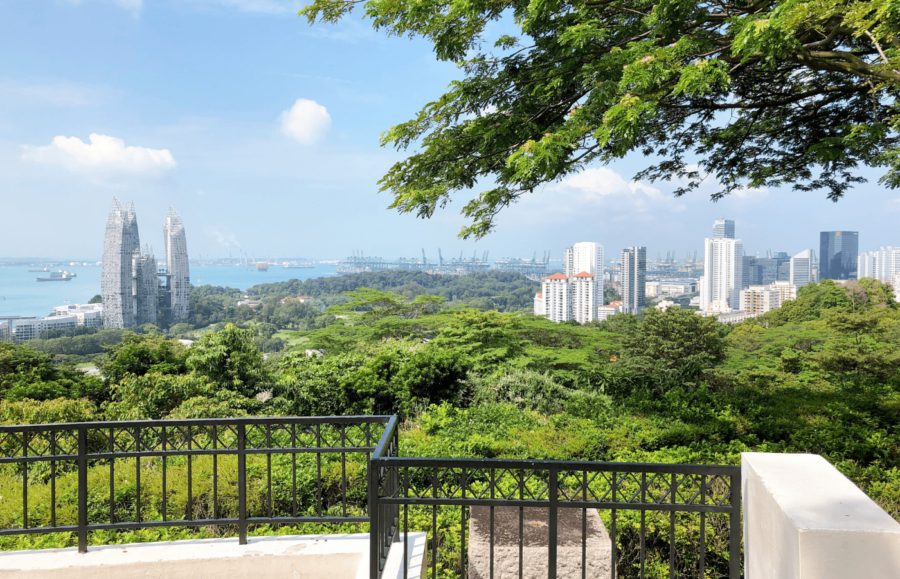 63. Want to feel on top of the world without paying a dime? Here's a list of the highest nature spots in Singapore that boast breathtaking views of the city.
64. What's in Sengkang? Well, it's home to the largest man-made floating wetland in Singapore! Taking up half the size of a football field, Sengkang Floating Wetland is embellished with quirky sculptures and aquatic plants; it also attracts a flock of mangrove birds.
65. Looking for that postcard-worthy shot of pastel-coloured shophouses in Singapore? Take a trip to Joo Chiat, along Koon Seng Road, and you'll see the famous row of carefully-conserved Peranakan shophouses. While you're at it, check out the self-guided Heritage and Art Trail @ Katong Joo Chiat for pretty murals. Yay, more photo ops!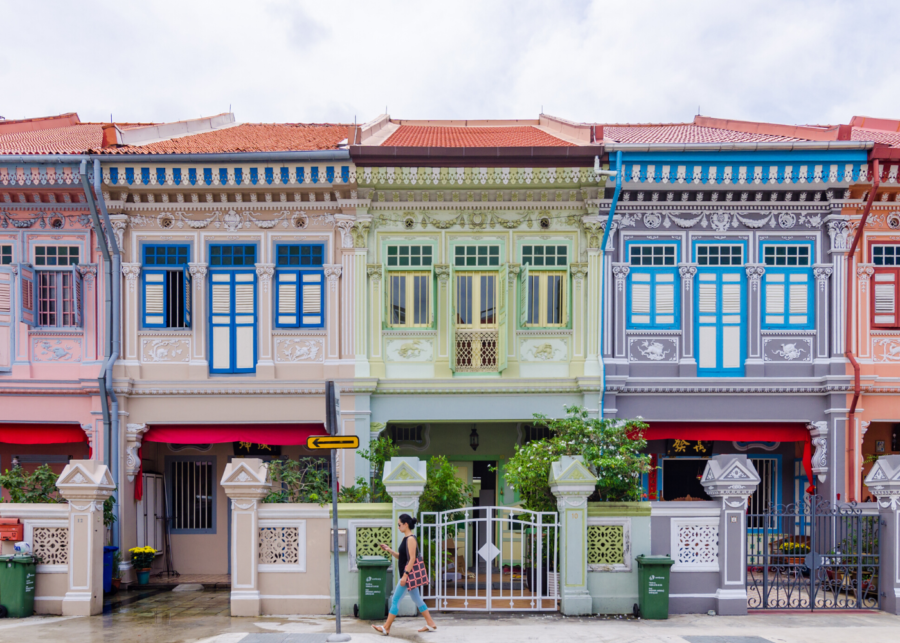 66. We may be small in size, but boy do we have a lot of bridges – all with their own unique elements! From futuristic designs like Helix Bridge and Henderson Waves to the heritage structures of Cavenagh Bridge and Elgin Bridge, there's so much groundwork.
67. Discover our sunny island through various free heritage trails across each neighbourhood. Explore nuggets of Pasir Ris' history to the origins of our first Mass Rapid Transit (MRT) in Toa Payoh.
68. Who says you have to fork out anything for a decent concert? Watch street musicians and performers turn a public space (notably Orchard Road) into a concert with foot-tapping numbers and unique shows. It's a great respite from the hustle and bustle, and here's where you can find them.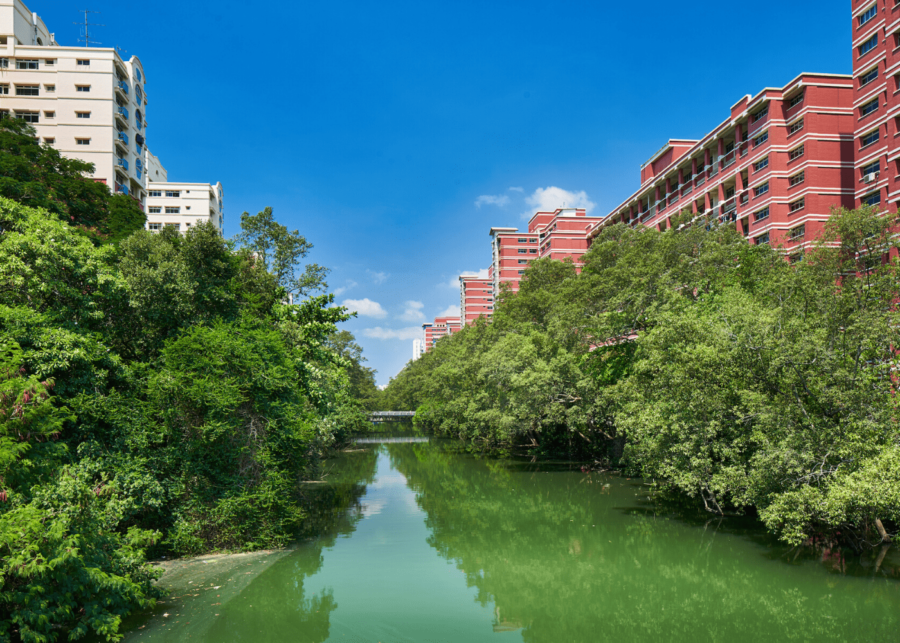 69. There are lots of free things to do in Pasir Ris, from trekking through a mangrove forest to soaking in riverfront views and spotting cool maritime-themed flats. So put on your explorer shoes, pile on the sunblock and ditch the busy streets for a slice of nature and adventure in the coastal 'hood.
70. Looking to up your Instagram game? Get inspired by these cool photographers in Singapore who make the city a nicer (looking) place. It's all about perspective.
71. Explore the city's first Unesco World Heritage Site (read: Singapore Botanic Gardens). We may be a city filled with green spaces, but this massive park is our pride and joy, and we've got a complete guide on what to see, do and eat there!
72. Want to ditch the city grind? Uncover the island's hidden places. If you don't know where to start, here's a rundown of Singapore's best secret spots.
73. At first glance, the infamous Yishun might be the last place you want to visit. But is it truly as scary as it seems? We don't think so! Plus, it has cost-free spots in the form of green spaces. We're talking about Yishun Park, Yishun Dam (perfect for a lowkey date night), Sungei Khatib Bongsu (a secret riverine mangrove) and Lower Seletar Reservoir Park.
74. Not travelling anytime soon? We've got great places in the city that'll give you overseas vibes – we're talkin' about Bali, Australia and more. You'll be exploring the scenic countryside, majestic rock cliffs and tranquil gardens.
75. Here's a change from your usual shopping at Orchard Road. Uncover the storied pasts of Emerald Hill's bars, school and terrace houses. Be sure to snap some photos for your IG feed.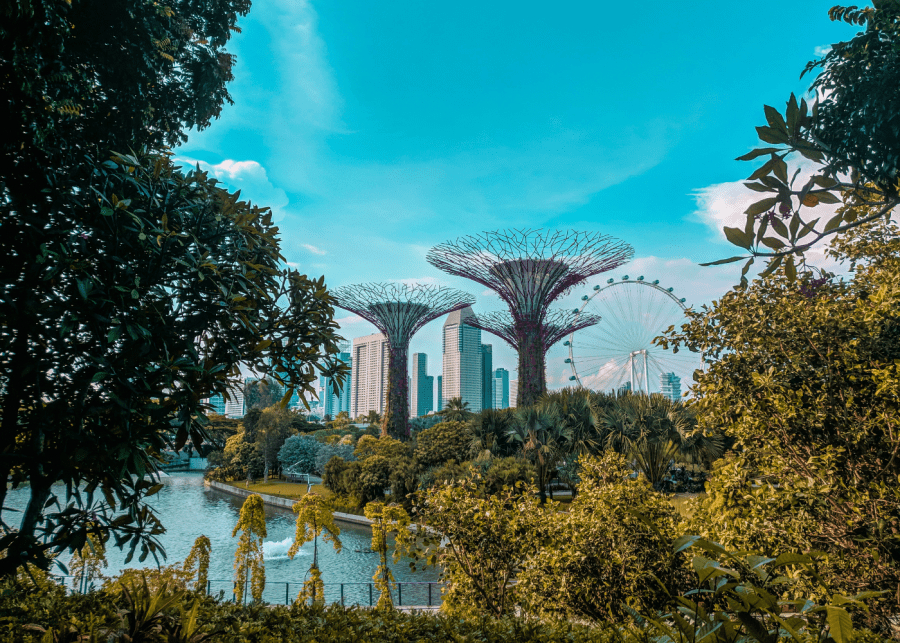 76. Wanna take a break from the city without venturing too far out into nature? Take a stroll through Gardens by the Bay and surround yourself with lush greenery. If you're around at night, you'll be dazzled by the Garden Rhapsody, a free experience of music and lights at the Supertrees.
77. We're a melting pot of cultures and you can get a slice of it all by visiting our unique religious landmarks. Learn more about Singapore's rich culture with our guides to temples, mosques and churches.
78. Stargazing may seem like a boring activity, but have you ever done it through the lens of a telescope? Head over to Woodlands Galaxy Community Centre and get a view of stars and galaxies at just $1 (it's almost free!).
There you have it, all the fun and free things to do in Singapore! Not bad for an expensive city, right?
[This article was originally published in 2020 and updated in 2023 by Benita Lee.]