Photography: Forma
Pasta crafter Lee Yum Hwa of Ben Fatto 95 and The Cicheti Group open a quaint trattoria in Joo Chiat and give us a delicious history lesson along the way.
If you're one of the few folks that never managed to score a table at private diner Ben Fatto 95, we've got good news. After teasing us with a few guest shifts, pasta wizard Lee Yum Hwa has joined hands with The Cicheti Group for a new Italian restaurant in Singapore. Forma is a charming new trattoria that breathes life into the quiet Tembeling Road at Joo Chiat.
Forma review: A hot new trattoria in Joo Chiat
Seriously, it was the only spot that stood out at night thanks to its quaint alfresco seating and a glass wall that lets you peek inside its pasta production kitchen. There were some onlookers during our tasting, but sadly they were turned away for dinner. Don't try your luck with walk-ins yet – we hear there's a one-month waiting list.
Forma gathers the 'avengers' of The Cicheti Group – sfoglina Denise Tsi and executive chef Dylan Cheong of Bar Cicheti fame, and wine connoisseur Ronald Kamiyama. Together, they bring us a rotating pasta programme with a selection of pasta shapes from different regions of North to South Italy and the Islands.
Not only do you get front row seats to the pasta-making action, but the menu also provides the origins of each pasta dish through a QR code.
Antipasti, secondi, and dolci that are just as stellar
We started the evening with cucielo vermouth ($12), an herbaceous blend of fine Italian wines and naturally sourced botanicals, before some familiar antipasti. Prosciutto di san daniele e melone ($24) is a salty-sweet combo of prosciutto crudo from a small village in Italy's northern region, plated with grilled philibon melon, jalapeño jam, aged balsamic and a dusting of fennel pollen.
Carciofi con stracciatella di formaggio ($21) reminded us of how well The Cicheti Group does its veggies. Braised baby artichokes are tossed in rosemary, garlic, white wine and lemon. They're served with creamy stracciatella and balsamic braised blackcurrant, pine nuts, mint salsa verde and breadcrumbs for crunch. But the highlight has to be the polpette di baccalà ($21), crispy breaded balls of flaky cod enhanced with mashed potato, garlic, chives, parsley, and dollops of creamy lemon aioli on top. It was probably one of the rare times we wished we weren't sharing.
Discover unique pasta-making techniques and their origins
Next, the moment we've all been waiting for – pasta time! The tortellini in brodo ($34) is proof that the pasta does the talking here – it appears simple but a lot goes behind the creation of these meat-filled morsels. The egg pasta sheets are rolled out manually and each tortellini is hand-sealed with precision. Little is done to the clear chicken broth to let the tortellini shine. Definitely a brave decision (and not the most IG-worthy dish) but it works!
Struncatura ammollicata ($32) is a narrow, flat pasta made from rye (hence its bronze-like colour) – also known as a "poor man's pasta". Struncatura, which translates to scraps, crumblings or sawdust, was found in wheat milling operations and peddled to the underprivileged in Reggio Calabria in the past. Forma celebrates its roots by pairing it with Mediterranean flavours like anchovies, taggiasca olives, chilli and Mollica di Pane (sautéed breadcrumbs that were known as "cheese of the poor"). This is great if you like your pasta on the more-than-al-dente side.
The pappardelle e coda alla vaccinara ($36) is done perfectly here with silky, hand-rolled flat pasta engulfed in a braised oxtail ragu of tomato, pecorino romano DOP and red wine. The dish is also derived from "cucina povera", a poor cooking style that originated in rural Italy. The ragu was originally made by the lower class with underappreciated ingredients like spleen, intestines, tripe and brains.
The mains that wowed us
If you think the pasta shines at Forma, wait till you hear about the mains. Merluzzo alla scafata ($38) is a glorious plate of flaky pan-roasted blue cod with the crispiest skin ever – we had an ASMR moment as we grazed our knife over it. The dish is surrounded by a pool of cucielo vermouth-butter sauce and topped with fava beans, English peas, cipollini onions and prosciutto.
Dining in a bigger group? It'll be a crime not to order the bistecca di tomahawk ($248). The 55-day dry-aged grass-fed tomahawk is elevated with pickled cabbage, a slow-roasted knob of garlic and a trio of steak sauce, porcini gremolata and mustard salsa verde (our favourite!).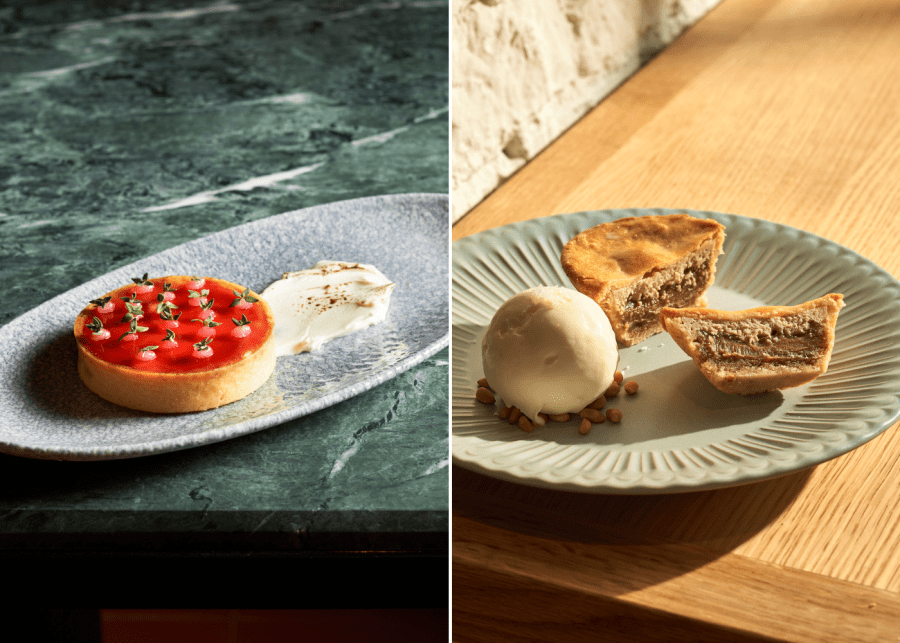 If you're like us and possess a second stomach for dessert, you'll enjoy the Crostata al limone ($16). It's a tart with Amalfi lemon curd filling topped with fruit tea jelly and dots of Amalfi lemon gel. Something was familiar about the torta della nonna ($18), and after enquiring we found out why. Bite into the shortcrust pastry and you'll find layers of creamy ricotta, pine nuts and chestnut paste reminiscent of a Chinese yam pastry.
Of course, Kamiyama's wine pairing carries the dinner, spoiling us with a selection of elite reds, whites and natural wines. We loved the 2020 Bergianti – San Vincent (Lambrusco di Sorbara), a refreshing pretty-in-pink bubbly, 2019 Frank Cornelissen Susucaru (Nerello Mascalese), a fragrant natural wine, and 2011 Querciabella Mongrana (Chianti Classico), a rich red.
There's no doubt Forma satiated our appetite and mind with inspiration taken from the origins of rural Italy. Strap on for a scrumptious ride.
Forma, 128 Tembeling Road, Singapore 423638