Photography: Emo Night SG via Facebook
I came out of my cage and attended my first Emo Night SG at Hard Rock Cafe. And thankfully, I've been doing just fine…
"What did I get myself into?" This thought ran through my head after reading my friend's text. S had gotten us tickets to the recent Emo Night SG event, held on the first Wednesday in August at Hard Rock Cafe. I let out a nervous laugh. Should I go ahead and tag along, or should I ditch it?
For those not in the know, Emo Night SG is a monthly event where alternative music – nu-metal, pop-punk and, of course, emo songs – is played. Partygoers scream the lyrics at the top of their lungs, headbang, and mosh.
"The best way to describe our event is a cross between a rock show and a rave! Even so, it doesn't fully encapsulate what Emo Night SG really is. It's evolved from being an event to something bigger," Edwin Waliman explains. He forms one-third of Look Ma No Hands!, the organisers behind this rock show/rave, which is now in its sixth year in Singapore.
I decided to prepare myself for the event. That's the least I should do, right? I asked about the dress code. Black tee, pants or jeans, and shoes that I "don't mind getting stepped on". Okay, that sounded ominous. Next was the list of songs that I should know. If I'm going for this, I might as well go all in.
Welcome to the black parade
A few sleeps later, Wednesday arrived. Deciding on my outfit was pretty easy – all black, what else? I didn't get to "study" the songs, though. I'd just blend in with the crowd by headbanging to whatever's played and keep an ear out for the songs I'm familiar with. Fall Out Boy, Panic! At The Disco, Paramore, My Chemical Romance… obviously, this is a very basic repertoire.
I met S outside the venue; she introduced me to her group of friends joining us that night. "It's his first time to Emo Night," my friend excitedly told the group. "Really?" K, one of my new friends, looked over my outfit. "Bro, you don't look like a newbie! You're in black, a red checkered shirt, and even your shoes match," K said, giving me the stamp of approval. My shoes were leopard-printed Vans. I doubt they matched the Emo Night vibe.
We made a beeline for Hard Rock Cafe a little after 11pm. Since pre-event testing's not required, clearing the entry was a breeze. A quick check of my ID and vaccination status, and in we went.
Bring me to life!
For a Wednesday night, the venue was teeming with energy. But Edwin tells me it wasn't really a choice to hold it on the first Wednesday of each month. "When we started in 2016, a lot of venues weren't willing to give up their peak night programmes because our concept was new and untested. They probably didn't think we'd draw much of a crowd, so we could only pick from the "less popular" nights of the week: Wednesday or Thursday."
"The first Wednesday of the month has a nice ring to it, like a midweek breather from our daily lives. We decided to stick with it so our goers can easily remember and make their plans around our events," he says.
It was definitely not the party crowd I'm used to – but then again, Emo Night SG isn't the kind of party at which I'd make an appearance. The event's mission played through my head: "Unite in the resounding melodies of our common dread, comfort, hope and what makes us all the same – being human."
Sugar, I'm going down
The songs that I knew, I sung screamed along at the top of my lungs. Hearing the chorus of voices felt like I was at a concert instead of the middle of the dance floor at Hard Rock. I just moved along to the other songs I didn't know and people-watched. It was fascinating seeing partygoers moshing, though I feared for my safety. Edwin points out that "moshing is a part of the culture associated with this kind of music. This is one of the rock gig ethos that we grew up with."
My friend reassured me earlier that we wouldn't be near the mosh pit and I didn't want to be collateral damage because of others' enthusiasm. But that inevitably happened. I fell. Panic at the disco! It felt like life slowly flashed before my eyes as I went down. There's a Malay expression – "nangka busuk" – which translates to rotten jackfruit; this is used whenever someone falls. As quickly as I went down, my friends helped me up. I was embarrassed, but everyone else just brushed it off. "It's normal, bro," K reassured me. "It's an Emo Night rite of passage." I fell a couple more times after that.
I observed the organisers prompting people throughout the night to help others who fell. Edwin explains, "We try our best to provide a safe space so it's important to remind everyone to look out for one another's safety, especially when they're caught in a mosh pit."
He shares that many people also tend to lose their valuables during Emo Night, but those who find them often pass those items to the organisers. "Because of that, we created an Instagram account to help reunite these returned items to their rightful owners and encourage others to return such valuables at future events."
In the business of misery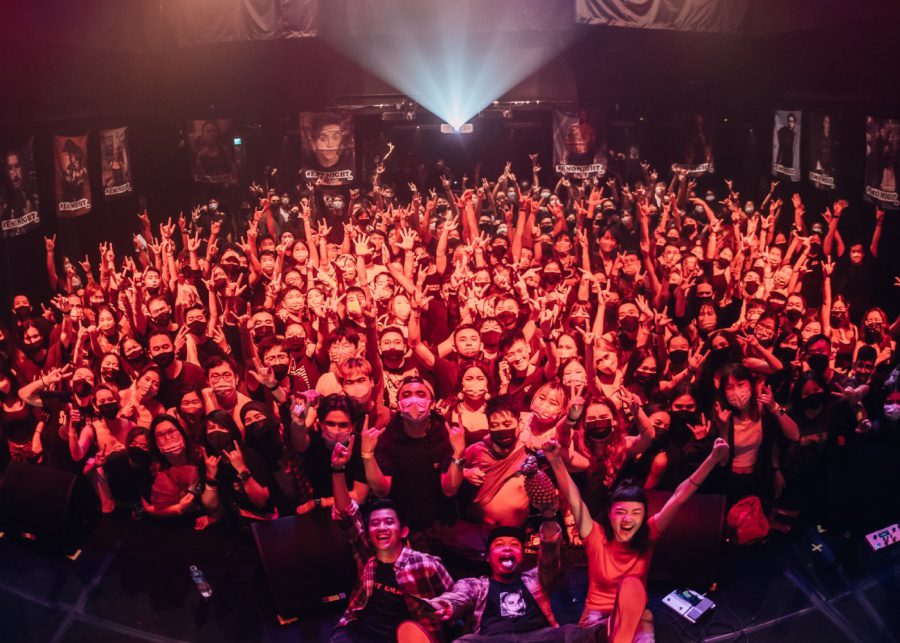 The constant jumping, screaming, and headbanging left me winded. The fact that I had my mask on throughout and had recovered from Covid recently didn't help my situation. I excused myself for a breather. It was close to 2am by then.
As I stood in a corner to catch my breath, the music changed. The hard guitars and drums were gone, replaced by a mellower sound. So maybe it's true / That I can't live without you / And maybe two is better than one… Was that Taylor Swift? At Emo Night? I was bemused. This was the part where they really put the "emo" in Emo Night, I thought to myself. Blink 182's "I Miss You" followed after. Song after song, everyone sang along at the top of their voices. I rejoined my friends just as the deejay picked up the tempo again.
Remembering Wednesday
My initial plan was to leave around 1am. I'd be able to experience Emo Night while not staying out too late on a weeknight. In the end, I stayed till closing time! As we sat outside Hard Rock after the night ended, I took stock of everything that happened.
When I initially shared with my friends that I was attending Emo Night, I was met with a lot of confusion. "What's that? Do they play emo songs, and people cry in the club?" one friend asked. Well, yes and maybe? Another friend was perplexed. "Huh?! You?! The one who listens to pop music going for Emo Night?!" Bestie, I know.
But this made me realise we're all misfits in one way or another, and none of us truly fit into society. Despite our differences – mine included – the music makes everyone feel accepted. There's a heartwarming sense of community.
Now the question remains: will I go for another Emo Night event? "If you resonate with the music, great – we now have one more member in the family! If you don't vibe with the music, that's fine too because music is subjective. We're all naturally drawn to different types and genres of music," Edwin says.
"Our hope is for the uninitiated to come with an open mind. Maybe they'll discover songs they like from artists they've not heard of before. And from there, they can deep dive into the full discography or other related artists within the scene."
So, what's my answer? Maybe. We'll see.