Photography: Zen via Facebook
Splurge and savour exquisite meals at fine dining restaurants in Singapore, from iconic names to Michelin-starred establishments to new players.
Singapore is truly a food paradise. On one hand, you can get a tasty local dish for well under three dollars. On the other, you can splurge on a gastronomical dining experience at the best restaurants in town. And as much we love our hawker centres for their affordable eats, you gotta spoil yourself every now and then. Whether it's a romantic restaurant for date night, or getting classy with fancy plates, this list of fine dining restaurants in Singapore will help you plan your next culinary adventure.
Best fine dining restaurants in Singapore
1. Restaurant Zen
If you're in the mood for Swedish fine dining in Singapore, this restaurant comes highly recommended. Occupying a three-storey shophouse in Bukit Pasoh Road, Zen offers exquisite dishes that marry premium European ingredients and Japanese influences. Dining here is a uniquely physical experience: amuse-bouche and aperitifs are served on the first floor before guests head up for the main courses. You'll cap off the night with desserts at the third level.
Restaurant Zen, 41 Bukit Pasoh Road, Singapore 089855
2. Cloudstreet
Cloudstreet can be best described as fine dining at your best friend's home. The restaurant is all about intimate interactions. With its specially designed countertop, get an up close and personal experience with the chef. Not only does the restaurant look amazing, but the food is also just as brag-worthy. The menu highlights the season's finest ingredients in Cloudstreet's contemporary style. Plus, there's a wine menu with over 350 labels, from big-time wineries to small independent labels.
Cloudstreet, 84 Amoy Street, Singapore 069903
3. Braci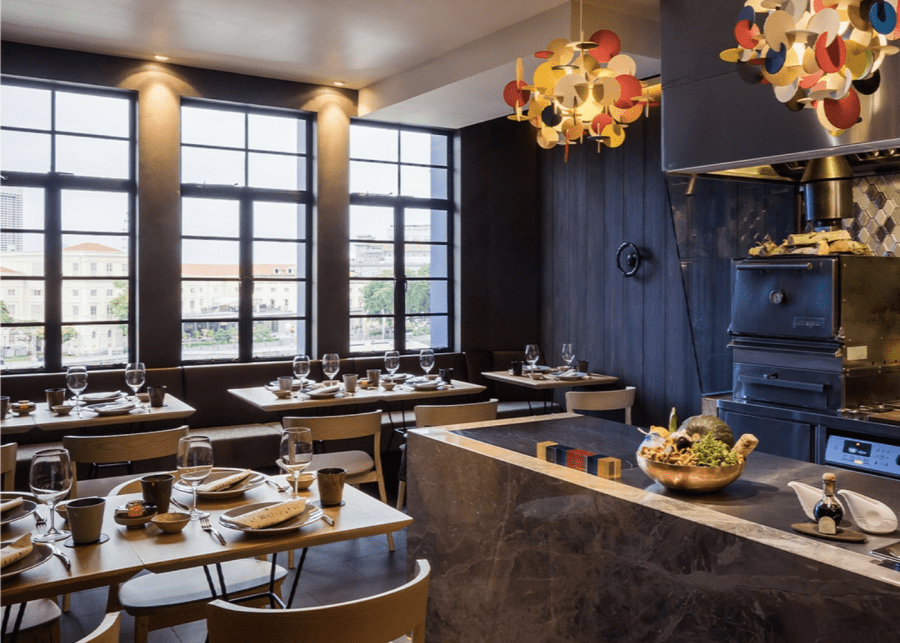 In the heart of the bustling Boat Quay is Braci, an Italian hideaway overlooking the Singapore River. This open-kitchen restaurant features Italian dishes and cocktails reinvented by Beppe de Vito and Matteo Ponti. Using a charcoal oven and shichirin grill, Braci is all about embracing traditional methods and adding contemporary flair. Its signature degustation is available in either six or eight courses. End your night with drinks at the rooftop bar for killer views of the city.
Braci, Level 5/6, 52 Boat Quay, Singapore 049841
4. Restaurant Labyrinth
There's probably no other restaurant that screams love local like Labyrinth. The restaurant is the brainchild of chef-owner LG Han, who expresses his love for Singaporean cuisine via his dishes. He explores age-old recipes that have stood the test of time, showcasing local flavours in deconstructed methods. Above all, chef LG Han's philosophy is about understanding produce while championing the support of the local community. 90% of Labyrinth's ingredients are locally sourced to reimagine Singapore food.
Restaurant Labyrinth, #02-23, Esplanade Mall, 8 Raffles Avenue, Singapore 039802
5. Art di Daniele Sperindio
Perched at the top of National Gallery Singapore, this one Michelin-starred restaurant specialises in elevated Italian cuisine. As the moniker suggests, each plate is a work of art. Go for the tasting menu and explore the magic of Italy with a touch of Italian hospitality. Alternatively, go for the lunch degustation where everything is dished out in small but incredibly diverse bursts of flavour. Top it all off with drinks and bar snacks at the alfresco bar with panoramic views of Marina Bay.
Art di Daniele Sperindio, #06-02, National Gallery Singapore, 1 St Andrew's Road, Singapore 178957
6. Restaurant Euphoria
Restaurant Euphoria is chef and founder Jason Tan's love letter to onions. Having created 'gastro-botanica' cuisine during his time at the Michelin-starred Corner House, he elevates his vegetable-forward cuisine with the introduction of plant-based essences, aka 'gastro-botanica 2.0'. You'll never look at vegetables the same way after this epicurean experience. The restaurant's signature dish is a flower-shaped Oignon Jamboree. It features five different types of onions crowned with exquisite caviar. The space is gorgeously decorated with elegant gold furnishings, hints of greenery and a sleek chandelier, which is an abstract ode to sliced onions.
Restaurant Euphoria, 76 Tras Street, Singapore 079015
7. Odette
Odette is another fine dining restaurant in the prestigious National Gallery Singapore. With three Michelin stars among its accolades, chef-owner Julien Royer focuses on seasonality, terroir and artisanal produce. And this leads to amazing French creations that look as good as they taste. To complement the sublime dining experience, the beautiful art installations by Singaporean artist Dawn Ng feature against a backdrop of pastel hues.
Odette, #01-04, National Gallery Singapore, 1 St Andrew's Road, Singapore 178957
8. Hashida Singapore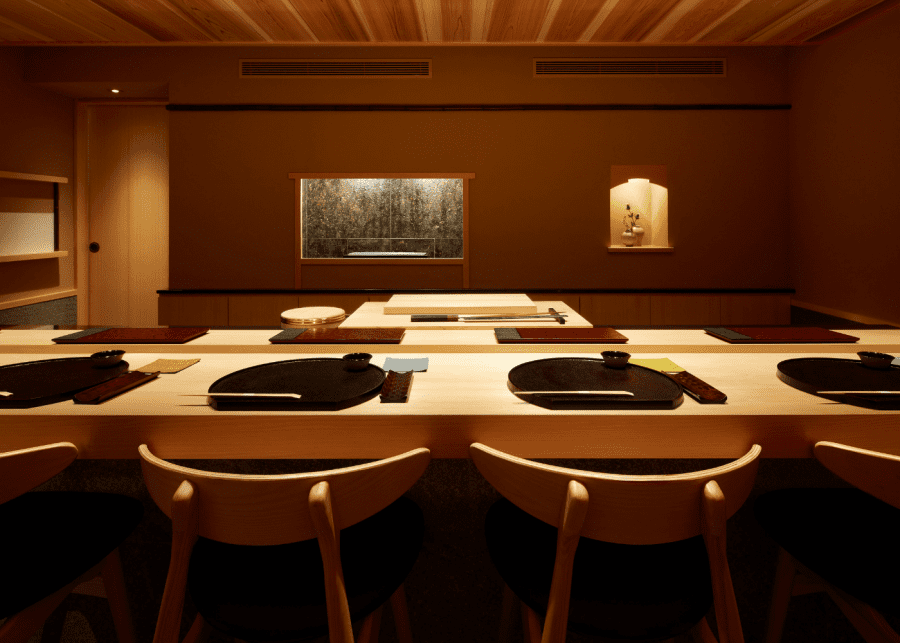 A meal here might burn a hole in your wallet, but the experience is oh so worth it. Fronted by chef Kenjiro 'Hatch' Hashida, the Telok Ayer sushi restaurant transports you to the Land of the Rising Sun. Make your way to one of the private dining rooms and play witness to a culinary performance and a showcase of impeccable knife skills. The omakase menu shows off traditional Japanese dishes with contemporary twists. And seasonal ingredients are used at the very peak of their flavour for an authentic gastronomical experience.
Hashida Singapore, #01-01, 77 Amoy Street, Singapore 069896
9. Les Amis
Look past the fashion boutiques and fast-food franchises in Orchard, and you'll find this award-winning French restaurant. Using the best ingredients sourced from France, every dish on the menu is created with finesse, from the wild salmon tartare to the black forest venison and langoustine. All this is set against the backdrop of chandeliers, artworks and red velvet accents.
Les Amis, #01-16, Shaw Centre, 1 Scotts Road, Singapore 228208
10. Yan Ting
If you believe in the Chinese values of wealth and prosperity (and if you can flaunt it too!), this Cantonese establishment embraces them. With its traditionally-prepared cuisine, dine extravagantly on dishes like a braised bird's nest broth or stir-fried beef tenderloin. On weekends, relish a decadent dim sum brunch – with champagne, of course.
Yan Ting, Level 1U, The St. Regis Singapore, 29 Tanglin Road, Singapore 247911
11. Monti
Dinner overlooking the glimmering Marina Bay landscape? Yes, please. Monti is hard to miss with its unique circular architecture, making it quite Instagrammable both inside and out. You'll be treated to a great view no matter where you sit. Not to mention the food served up is top-notch. The communal set menu features delicious Italian fare including eggplant parmigiana, ravioli, and risotto. And finally, indulge in dark chocolate fondant with olive oil gelato.
Monti, 82 Collyer Quay, Singapore 049327
12. Thevar
Located in the Keong Saik enclave, Thevar is a modern Indian restaurant with one Michelin star. At the helm is chef Mano Thevar, who displays his finesse in the kitchen with contemporary spins on traditional Indian flavours. Excite your palate with dishes like pani puri and Chettinad chicken roti. If the lamb biryani isn't quite your speed, there's also a vegetarian menu available.
Thevar, 9 Keong Saik Road, Singapore 089117
13. Whitegrass
Led by chef Takuya Yamashita, this fine dining restaurant is all about fresh, seasonal ingredients and refined dishes. He's cut his teeth at award-winning French restaurants like Etude and Les Enfants Rouges. From this experience, he uses his skills and knowledge to craft seasonal menus where Japanese and French flavours meet. These beautiful works of art come in the form of fantastic dishes inspired by nature.
Whitegrass, #01-26/27, Chijmes, 30 Victoria Street, Singapore 187996
14. NAE:UM
Korean cuisine is known for its communal eats; but here, it's about sophisticated plates. It's all rooted in chef Louis Han's personal journey, spanning Abu Dhabi, Seoul, Lebanon and Singapore. Using episodic menus to showcase his story, the dishes are anchored in contemporary Seoul cuisine. Anticipate elegant courses with nuanced flavours, plated to artistic precision. You can even see previous concept menus to follow along with chef Louis Han's journey.
NAE:UM, 161 Telok Ayer Street, Singapore 068615
15. Jaan By Kirk Westaway
This Michelin-starred fine dining restaurant pairs modern British cuisine with a breathtaking view of the Singapore skyline. The sumptuous four- and five-course lunch and dinner menus reflect chef Kirk Westaway's 'Reinventing British' philosophy. With special attention paid to seasonal ingredients, expect lots of natural flavours to be showcased. Relish in dishes like cornish seabass, roasted langoustine and guinea fowl. Oh, and you'll also find meat-free menus for vegetarians.
Jaan By Kirk Westaway, Level 70, Swissôtel The Stamford, 2 Stamford Road, Singapore 178882
The next time you're in the mood for something fancy, these fine dining restaurants in Singapore will do the trick.
[This article was originally published in 2021 and updated in 2023 by Sufyan Saad.]