Photography: Pavel Danilyuk via Pexels
Shout out to all the awesome dads out there! Celebrate Father's Day in style with our groovy giveaway.
Father's Day is just around the corner and we've got a fantastic giveaway for daddy dearest. From BBQ meals and steak dinners to gym memberships, spa treatments and even car servicing sessions, there's a prize for every dad. Just enter the draw by 18 June 2023 for your chance to win. Good luck!
Father's Day Giveaway 2023
The giveaway is now closed, and winners have been chosen. Thank you for your participation!
---
1. Boeuf
Does dad set a prime example of being a father? Or perhaps he always encourages you to pick yourself up after a mis-steak. Treat him (and the rest of the fam) to a meaty meal at this Telok Ayer steakhouse. It debuts a limited time four-course wagyu set menu at $99++ for two, available on weekdays only. Start with the creamy burratina di puglia, followed by wagyu beef bourguignon made of meaty chunks, carrots and Swiss brown mushrooms in a red wine sauce and potato purée. The star of the show? An Australian Stockyard F1 wagyu picanha – sirloin cap with a marbling score of six. End the luxurious lineup with Bouef's French dessert platter of creme brulee, dark chocolate mint brownies, and macarons.
Father's Day giveaway: 2 wagyu special sharing sets (worth $198++), each feeds two, at Boeuf for 1 winner.
2. California Republic
We absolutely adore the restaurant's 'summer of 1969' retro vibes. If dad's cool and in the know about the hottest hangouts, he'll appreciate the SoCal-Italian menu here. Think fresh seafood, grilled meat, cheese and house-made pasta. Highlights include the meatballs al angeleno with juicy spheres made of pork, veal, tomato and parmigiano; mafaldine, a dish of wild-caught prawns with saffron sofrito and pangratatto; and grilled octopus served with red pepper coulis and kalamata olives.
Father's Day giveaway: $200 voucher at California Republic for 1 winner.
3. Brewlander
Heads up – there's a cool craft beer event coming your way. Brewnanza Fest by Brewlander, happening in August, will spotlight over 100 unique brews from local and international breweries. Pair your drinks with bites by mod-Sin izakaya The Kongsee, Shake Shack burgers, and Mexican-inspired comfort goodies by Jaguarita's. Enjoy all that with music performances by the waterfront, arcade games, and brewing masterclasses. Four-legged furry friends are welcome, too! Psst: for Father's Day, Brewlander's piney, bright and tropical Bestest Dad Award IPA is the perfect drink for the superhero in your life.
Father's Day giveaway: 2 tickets for Brewnanza Fest by Brewlander (for 6 August, worth $35 per ticket) and 1 pack of Bestest Dad Award IPA (worth $45) for 1 winner.
4. Virgin Active
Is your dad a gym buff? Or perhaps he's made it his goal this year to get into shape. Two is better than one, as they say. So give dad a boost in his health and wellness goals with a membership at Virgin Active – and better yet, work out together. Lift weights with top-notch equipment, hit up pilates, yoga, spin or boxing classes for a sweat sesh, or relax and recover at the Himalayan salt inhalation room, hydrotherapy spa pool, zero-gravity sleep pods and more.
Father's Day giveaway: A set of 1-month memberships for two at Virgin Active (worth over $700) for 1 winner.
5. Coravin
Wine enthusiasts, this one's for you. The Coravin Pivot wine preservation system features a universal-fit pivot stopper and pivot device, along with Coravin pure argon capsules, that enables you to pour a single glass of your favourite bottle and keep it fresh for up to four weeks. How does it work, you ask? The two-part wine tool's pivot stopper replaces the cork, while the pivot device fills the bottle with 100% pure argon gas to replace what's poured out. Handy indeed!
Father's Day giveaway: 1 full set of Coravin Pivot (worth $217) – including 1 pivot device, 2 pivot stoppers, 1 Coravin pure argon capsule and 1 bottle sleeve – for 1 winner.
6. Dickson Group
Look to these folks to ensure your vehicle is in tip-top condition. The team offers maintenance servicing works that include a 58-point vehicle health check and report, computerised diagnostic scan, car wash, interior vacuum, tyre shine, and anti-bacterial cabin sanitisation. Plus, in July this year, it's launching the city's first physical live auction for pre-owned vehicles to allow for pricing transparency and fair trading between sellers and dealers. You'll want to keep tabs on that!
Father's Day giveaway: 1 regular maintenance servicing session (worth up to $198) each at Dickson Group for 2 winners.
7. Fat Prince
A meal at Fat Prince is always an amazing dining experience from the moment you step through those doors. Cosy up to dad as chefs Simon Bell and Fotis Kokoshi take you on a journey through their modern Middle Eastern plates that are simple, natural, fresh and bright. Must-try dishes include battered cod with marash chili, tahini, cabbage and za'atar; grilled tiger prawn with uni, isot biber, tamarind and tahini; and braised wagyu short rib with tamarind, pistachio and tahini.
Father's Day giveaway: $200 voucher at Fat Prince for 1 winner.
8. Amani Spa
There's a new Japanese spa in town: Amani Spa takes over the space left behind by Kimiyo Spa, offering all kinds of massage treatments, wellness services, and calming facials. Try the 30-minute ganban-yoku hot stone therapy to balance your body with ultra-red rays and negative ions from hot stones. This helps to heal and stimulate your metabolism, increase blood circulation, and reduce joint pains. It's also believed to have an anti-ageing effect on our cells. Or go for the 60-minute aroma oil back treatment to soothe body aches and improve circulation.
Father's Day giveaway: 1 treatment of Amani Spa's ganban-yoku hot stone therapy (worth $97.20) and aroma oil back treatment (worth $97.20) each for 2 winners.
9. Bee's Knees at The Garage
On our island of eternal summer, it's always a good idea to throw a picnic. Make it fuss-free and easy with the Garden Picnic Buzzket that comes with food, drinks and all the essentials. That includes a storage box and table with a wagon, a reusable picnic mat, battery-operated candles, and cushions. You'll nibble on mains such as smoked chicken mayo or truffle carbonara pizzas, beef cheek bolognese, Reuben sandwiches, and Moroccan salads. Plus, sides like truffle fries and fresh fruits, as well as juice, tea, kombucha, beer or cider to wash it all down. Oh, and for our furry friends, dog-friendly versions are available too!
Father's Day giveaway: A Bee's Knees at The Garage Picnic Box for 2 with your choice of two beverages, one side, two mains and a bottle of Chandon Spritz (worth $128) for 1 winner.
10. Meow Barbecue
BBQ and cute cats – what's not to love? Hop on over to Meow Barbecue with the fam for a lively night out to celebrate daddy dearest. Dine with dad and give him a hug to receive a complimentary glass of the limited edition Meow pineapple beer (from 1 to 18 June, not available for sale). For the feast, nosh on the all-star meat platter that showcases the restaurant's top seven best-sellers, including Iberico pork belly with garlic, marbled beef chuck and beef flank. Don't forget to order new dishes such as prawn paste stuffed mushrooms, ox tongue with Szechuan peppers, and sliced beef with garlic.
Father's Day giveaway: $200 e-voucher at Meow Barbecue for 1 winner (prize must be claimed by signing up for free on the membership portal).
11. Restaurant Mimi
If your family is a fan of Chinese cuisine, treat 'em all to a lovely meal at this elegant space on the upper floor of The Riverhouse. Its communal menu of classic and forgotten Chinese-centric dishes uses both traditional and modern techniques. Signatures to try include duck leg confit tossed with garlic, red chilli, scallions and black beans; truffle mein, which is a mix of vermicelli, glass noodles, prawns, asparagus and black truffle sauce; and fried mantous dipped into chilli crab sauce with fresh crab meat and egg white.
Father's Day giveaway: $150 voucher at Restaurant Mimi for 1 winner.
12. Rawbought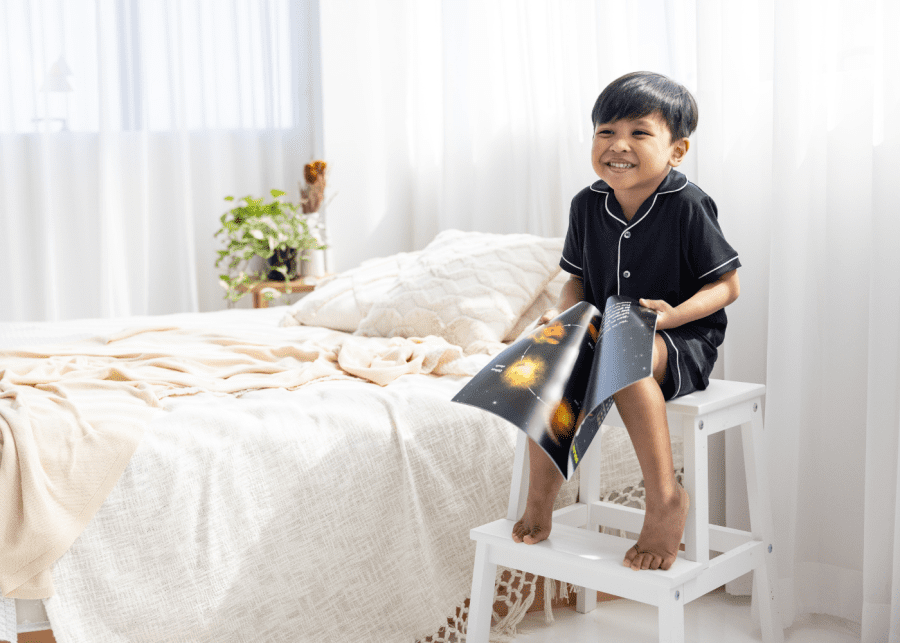 Dads deserve to be pampered too, so spoil him this Father's Day with buttery soft pajamas that are lightweight and breathable. The brand's Je Dors collection is perfect for the entire fam – both adults and kids can luxuriate in these comfy, stylish sets. They come in a range of colours, from black to lilac to blue.
Father's Day giveaway: A set of adult's and kid's Je Dors short sets each from Rawbought worth $134 for 1 winner.
---
The ins and outs of the giveaway: Competition closes on 18 June 2023, and winners will be notified by email. Winners need to be in Singapore to claim their prizes. All T&Cs will be at the discretion of vendors. This giveaway is non-refundable or exchangeable for cash. Check out our full competition terms and conditions for more details.
Good luck, honeys!