Photography: Cristian Dina via Pexels
What do you get for daddy dearest? We've curated a motherload of gifts this Father's Day, from practical gifts and must-have grooming essentials to top-notch feasts.
Believe it or not, we've forayed into June. We may not be heading out just yet but at least we can celebrate Father's Day (which is on 21 June, BTW) virtually or at home. Now, we all know dads aren't always expecting gifts but we're sure it'll add a smile on his face nonetheless. From thoughtful gift ideas to massive feasts (takeaway style), here's how you can spend Father's Day with your old man.
Gift ideas
The Body Shop Arber Hair and Body Wash and Eau de Toilette
Do you shudder at the thought of dad's skincare routine – or lack thereof? Fret not, as the Arber Hair and Body Wash is a multi-tasking wonder that also works as a face cleanser. Pair it with the complementary eau de toilette for a woody scent with hints of citrus. He'll definitely have these in his gym bag.
The Body Shop, Arber Hair and Body Wash ($23) and Eau de Toilette ($45), purchase online via TheBodyShopSG, Lazada, Shopee and Pandamart.
Knots & Gifts Beer Bundle
Is your dad into his beers? Crack a cold one with him and munch on chips and popcorn as you binge-watch classic shows. The six beer brands in the beer bundle include Cass Beer, Kronenbourg 1664 Blanc, Peroni Nastro Azzurro, Pilsner Urquell, San Miguel Light and Stella Artois, all packed in a reusable calico bag.
Knots & Gifts Beer Bundle, $88, order online
Six Mini Nebulizer
It's sleek, convenient and smells oh-so-good. Get dad to swap his current car air freshener with this nifty mini nebulizer from Six. It comes in just the right size to slot into the cup holder and offers up to 80 operating hours worth of battery life with an easy USB charging option. Also comes with a free 10ml fragrance vial of your choice.
Six Mini Nebulizer, $80, purchase online
Duxton shirts
Do we see a stylish dad in the house? He'll love one (or two) of these fancy shirts from Duxton. Select from solid colours, checkered designs and our personal fave – tropical prints. If you dad's picky about what he wears, do him and yourself a favour by purchasing a gift card instead. A $100 value gets you one sweet shirt.
Duxton gift card, from $50 – $200, purchase online
mySkinBar
Wanna give your dad's skin some pampering but can't get him to commit to a skincare routine? Snag him a bottle of mySkinBar's Inception Sling ($39 for 100ml) that is a foaming gel cleanser, aftershave and shaving gel all rolled into one! If you can get him to add a toner to his routine, Beyond Control ($39 for 100ml) is a hydrating pick that'll keep his skin moisturised while controlling sebum production.
mySkinBar, $39 each, purchase online
Bynd Artisan Leather Bifold wallet
Wallets out for a cool new upgrade to dad's worn out one. Bynd Artisan's Leather Bifold ($160) is a refined pick that won't feel bulky in his back pocket. Psst: Be sure to order in advance as delivery takes five to seven working days!
Bynd Artisan Leather Bifold wallet, $160, purchase online
Crate & Barrel Bar Tool Set (Silver)
Is your dad a professional host who loves having people over? Make things easier in the beverage department with a sleek bar tool set that has all the essential items you need to whip up an Old Fashioned, Negroni, Manhattan, martini and more. The kit comes complete with a fancy bottle opener, jigger in two sizes, long spade-end spoon, spring coil strainer, ice scoop, a muddler and a sleek ice bucket.
Crate & Barrel Bar Tool Set (Silver), $150, purchase online
ANGRA Wine & Spirit (Refined bundle)
If your dad's an oenophile, he's sure to enjoy this exclusive bundle of five wine bottles from Angra Wine & Spirit. We're all for the Refined bundle – a selection of red and white wine including the Billecart Salmon Brut Reserve,  Sebastien Dampt Chablis 2017 and Collosorbo Brunello di Montalcino 2014.
ANGRA Wine & Spirit, Refined bundle, $398, available online
Havaianas The Tradi Zori
Hands up if your dad is guilty of hoarding too many flip-flops. Don't hate on him for that. Instead, amp up his slipper game with a crossover of Havaianas' first-ever design (The Tradicional) and the Japanese Zori sandals – The Tradi Zori. The flip-flops come in a unique square base, which is a nod to the Japanese Zori sandals where the soles were made of rice straw. And the skull design you see? It's the work of Japanese fashion icon, Mastermind Japan.
Havaianas The Tradi Zori, $220, the range will be available from June 10 at Club 21 Men
Floral Kokoro gift sets
For Father's Day, Floral Kokoro is joining forces with local brands for a curated collection of gift kits. Think small batch cold brews by Maxi Coffeebar, tiramisu from Mia Tavola, cinnamon candles and botanic fragrance satchets in collaboration with Kaminari, and Floral Kokoro's signature Woods Osisi Heal scent of cedar, sandalwood, sage and lavender.
Floral Kokoro gift sets, from $59, purchase online, free delivery available for June 20
Swarovski Star Wars collectibles
If dad has watched all the Star Wars movies more times than you can count, add a stunning Darth Vader ($649) or Stormtrooper ($449) collectible to his shelf – exquisitely crafted with Swarovski crystals, light saber and all. Conveniently, Swarovski's online store even has your greeting card and gift bag all sorted out. Not a fan of the dark side? You can wow him with a C-3PO figurine ($399) too.
Swarovski Star Wars collectible, from $449, purchase online
Hanz de Fuko Ultimate Care Package
Sometimes, even guys need a little pampering. If Hanz de Fuko's ultimate care package doesn't say enough, we'll fill you in with what's inside: the award-winning natural shampoo and conditioner that's packed with natural plant extracts and amino acids to give his hair a healthy makeover; as well as a gentle face wash that gently removes excess oil, dirt and impurities. Top it up with the Ultimate Styling Kit or Matte Styling Kit if your dad is serious about his mane.
Hanz de Fuko Ultimate Care Package, $89 for each kit, purchase online, also comes with a handwritten note.
Nox – Dine in the Dark blind wine tasting boxes
Is your dad a vino fan? Gift him a box of red or white wine tasting box for a surprise treat. Each kit features four varieties in 150ml bottles, along with tasting cards. That way, you can put his skills to the test and see if he can differentiate the notes of pinot noir from merlot. After the guessing game is over, open the sealed envelope in the package to check his answers and enjoy the wine tasting!
Nox – Dine in the Dark blind wine tasting boxes, launch price $58 each, comes with free islandwide delivery
Garmin smartwatches
Do your adventure-loving dad a solid with the Garmin Fenix 6 series watch (from $929) that boasts solar charging features, multi-sport functions and battery-extending capabilities. If golf is his outdoor sport of choice, the latest Approach S62 ($749) will be his best companion. A sophisticated GPS watch, this displays critical information about the course while monitoring his pulse. For dads who love taking on challenging terrains, Instinct (from $449) is a sturdy pick that meets military standards for thermal, shock and water resistance!
Garmin smartwatches, available online on Lazada and Shopee
Marou Single Origin Chocolate
Creating a care package for dad? Sweeten things with Marou Single Origin Chocolates. These exquisite micro-batch Vietnamese chocolates are created with cacao beans carefully selected from six different provinces in Vietnam. Plus, the luxurious silk-screen gold paper packaging makes for a great gift.
Marou Single Origin Chocolate, taster pack at $32, available online
Ecco Collin 2.0 Sneaker
Here's one way to upgrade his back-to-work look. You can never go wrong with a classic pair of sneakers. Ecco's Collin 2.0 Sneaker puts a modern spin on it with a slimmer shape, handcrafted details and luxe full-grain leather for understated style. Comes in cocoa brown, marine (navy blue), titanium (grey) and black.
Ecco Collin 2.0 Sneaker, $249.90, purchase online
Bvlgari parfums
Bvlgari has sleek designer perfumes to celebrate the husbands and fathers during this occasion. For a fresh spritz inspired by notes of nature, the Man Wood Neroli ($125 for 60ml) features a citrusy fragrance with a hint of bergamot. Urbanites would appreciate Man Wood Essence ($135 for 60ml), the perfect blend of natural notes and city chic. Want something stronger? Man in Black ($135 for 60ml) is a smoky scent with spicy top notes and a warm amber heart.
Bvlgari perfumes, from $125, available online at Sephora, Tangs, Robinsons and Metro
Brass Lion Distillery gin bundle
If he can't say no to a good G&T, surprise him with a Brass Lion Distillery gin bundle ($176) – complete with four free mixers to shake things up. Pick two of your faves from Singapore Dry Gin, Pahit Pink Gin and Butterfly Pea Gin and you'll get pre-determined mixers to match. Limited time only!
Brass Lion Distillery gin bundle, $176, available online
---
Takeaway meals
Wolfgang's Steakhouse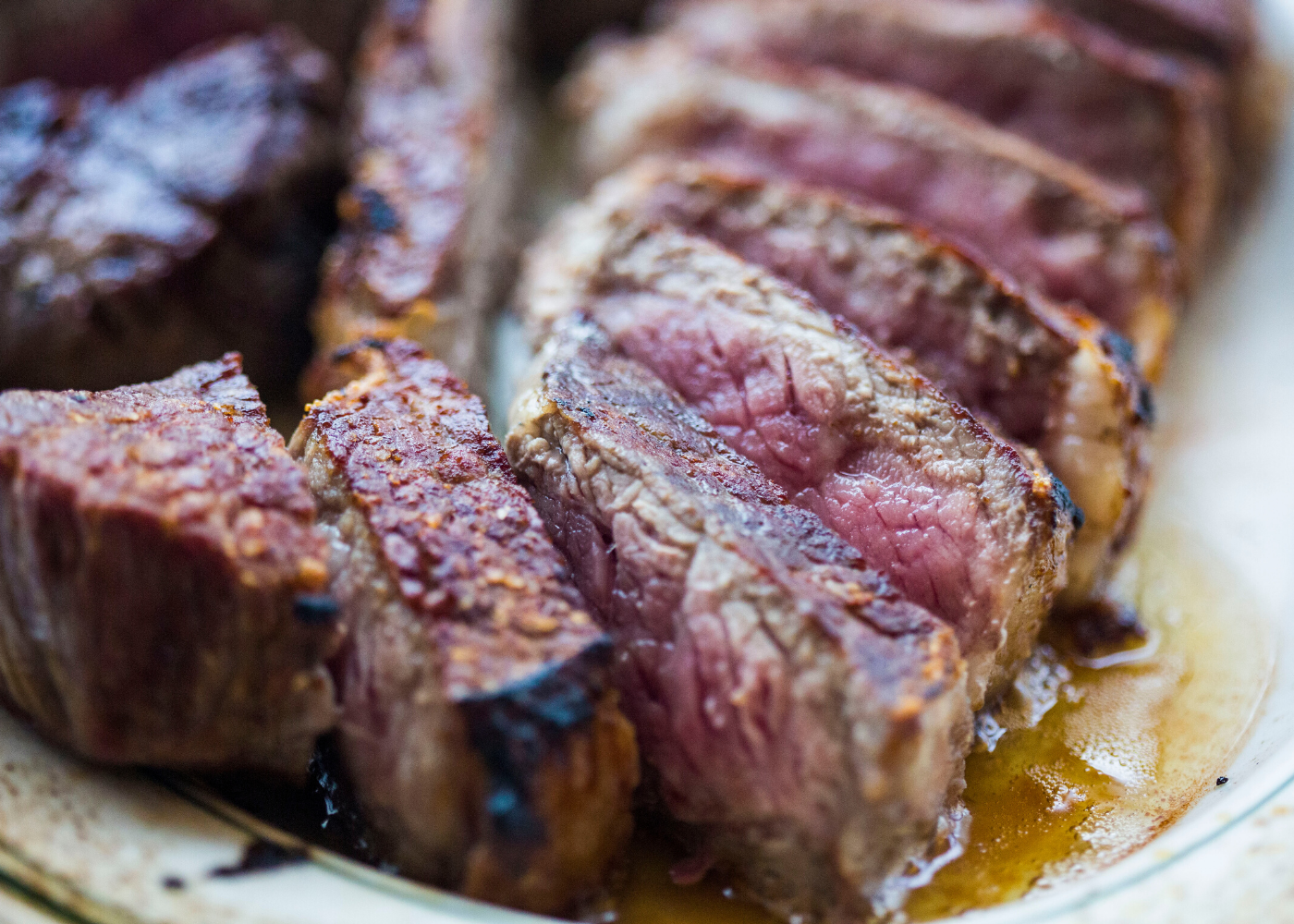 Let your dad tuck into the famed 28-day dry-aged USDA prime black angus beef by Wolfgang Zwiene in the comfort of his home. Dive straight for the porterhouse steak that can feed up to four people, with choice side dishes like steak fries and creamed spinach. Oh, and for appetisers and desserts, don't miss out on the savoury crab cake, chocolate mousse cake and New York-style cheesecake.
Order here
Level33
If your dad has a soft spot for beers, let microbrewery Level33 sort out the festivities for you. The personalised 12-pack ($78) allows you to pick and choose from four homebrewed beers: Blond Lager, India Pale Ale, Stout and Wheat Beer. Food-wise, tuck into the weekend roast, which features a beer can chicken that is marinated in American Pale Ale, along with trimmings of green beans, potatoes and carrots.
Order here,  only available via pre-order. Place your order by 16 June for delivery from 19-21 June
Tablescape
Father and executive chef Armando is bringing his childhood flavours to Tablescape's menu for this special day. Indulge in an exquisite eight-course menu (starting from $118) showcasing European flavours with dishes like pan seared duck foie gras, a childhood favourite of his; traditional beef lasagne, which is his mum's speciality; and the tempting braised wagyu beef cheek with truffle mash, a crowd-pleaser fosho.
Order online, available for delivery from 19-21 June
Lumo
Have yet to check out the new kid on the block? Well, now is the perfect time to treat your dad to a hearty feast from modern European resto Lumo. For the main course, take your pick from the juicy sakura pork chop drizzled with whisky raisin jus, wood-fire grilled New Zealand angus ribeye or Japanese asari clams. End the meal on a sweet note with either the classic apple pie or the gooey burnt cheesecake. Continue the celebration with a slew of breakfast-inspired cocktails, including the Stevie J, a refreshing twist on the popular Manhattan drink with hints of apple; and the Palm Tree Tonic, a caffeinated version of G&T.
Order here or WhatsApp +65 8921 3818, available for delivery from 15-21 June
Bedrock Bar & Grill
If your dad is a carnivore at heart, chances are, he won't pass up on this amazing steak joint. The Father's Day specials include your choice of protein (including ribeye cap steak, black pepper steak, 21-day dry-aged USDA prime ribeye and whole lamb rack), side dish (with options like mac and cheese, truffle mashed potatoes and creamed spinach) and a bottle of wine.
Order here, available for delivery from 15-20 June
Shang Social
Show thanks to your dad with an opulent Chinese meal on this special day. Shang Social's Father's Day set menu ($198++) for four features tantalising entrees and appetisers like black truffle prawn dumpling, Kurobuta pork and bak kwa xiao long bao, and chrysanthemum fish fillet with aged black vinegar dressing. The dish that makes the meal fit for a king has to be the restaurant's signature: Crispy boneless chicken. It is stuffed to the brim with glutinous rice, dried scallop, dried shrimp, various cured meats and dried shiitake mushroom.
Order here, available for delivery from 19-21 June
Vue
Looking for a cut above the rest? Vue is offering a fine cut of steak – 200 grams of Binchotan grilled Kumamoto A5 black Wagyu ribeye that is butter-aged for 90 days. Sounds heavenly, amirite? But there's a catch, there are only 20 portions of this mouth-watering babies available, so be sure to put in your orders asap. For the first 12 pre-orders, they will throw in a set of miniature Glenfiddich 12, 15 & 18 Yrs bottles and a drink voucher for two  Glenfiddich 12 Yrs drinks for dine-in redemption.
Order here, available for delivery from 19-21 June
Amo
Michelin-starred restaurateur-chef Beppe De Vito's Amo is working hand in hand with local barbershop We Need A Hero – the folks that deliver sharp, clean cuts – this Father's Day. Take your pick from three Italian bundles, which comprise of antipasti, pizzas and pastas, and you get a voucher from We Need A Hero for pre-consultation, wash, cut and style. Sounds like the ideal gift for the hero in your life.
Order here, available from 14-28 June.
SPRMRKT
Bagels are the breakfast of champs, and multi-concept cafe SPRMRKT is filling them with decadent ingredients this Father's Day. We're talking about house-made sourdough bagels stuffed with beef pastrami, steak and cheese, buttermilk fried chicken and Korean BBQ mushrooms.
To place an order, WhatsApp or call +65 8129 8166, or email [email protected], available for delivery from 15 – 21 June.
Parkroyal on Kitchener Road
With Parkroyal on Kitchener Road's new online delivery platform, you can get the best of Asian cuisine from Spice Brasserie and Si Chuan Dou Hua Restaurant. Yes, you can cross order from these two establishments – we have our eyes on the charcoal BBQ black char siew and the signature crispy pork roll from Spice Brasserie. The six-course meal from Si Chuan Dou Hua Restaurant will be a hit amongst dads with dishes like chilli prawns with deep-fried mantou and sliced pork with chilli.
Order now, Father' Day menu available for delivery 1-30 June
Fill A Pita
Go the Middle Eastern vegetarian route this Father's Day with a value-for-money special set by Fill A Pita. At $83, the package feeds three to four and contains hummus, baba ghanoush, labna cheese, falafel, Impossible meatballs, pita bread, hibiscus and baklava. You can add on cocktails to complete the meal, too. Oh, and every order comes with a complimentary budokon yoga Zoom class by Dani Pereira, a 20% discount at Master Barbers and three satchets of LVL's immunity drinks.
Order here, available from 19-21 June