Photography: Everything Everywhere All At Once via Facebook
Here's why Everything Everywhere All At Once is the perfect film to watch on Mother's Day!
Over the weekend, my brother dragged my parents and me to the cinema to watch Everything Everywhere All At Once. He'd already watched it but insisted we go as well. In fact, his exact words were, "I can't believe you haven't watched this movie yet; I think you'll find it very relatable." And he wasn't wrong. If you're an Asian kid with Asian parents, this is definitely one of those movies that'll have you pointing at the screen going, "Oh my god, that's my mum (or dad)!"
Everything Everywhere All At Once review: The story of Evelyn Wang
Evelyn Wang is a Chinese-American woman who's struggling to juggle the various relationships and responsibilities in her life. She runs a failing laundromat with her husband, Waymond – it's currently undergoing an audit by the Internal Revenue Service (IRS). She finds it hard to get along with Joy, her daughter, who's in a relationship with a woman named Becky. And she has to tend to the demands of her father (Gong Gong), who just arrived from China.
Sounds pretty normal, right? Except while she's at the IRS, Waymond's body gets taken over by Alpha Waymond – a version of himself from an alternate universe (what). And Evelyn's been tracked down by him to defeat the likes of Jobu Tupaki – a mysterious godlike figure who wants to destroy the multiverse.
It's zany. It's humorous. And I think it's a pretty accurate reflection and representation (sans multiverse) of the typical Asian mum and daughter relationship we may experience in modern times.
Plenty of chuckle-worthy moments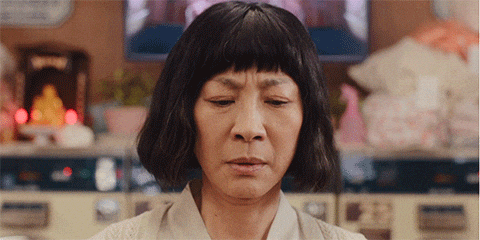 Everything Everywhere All At Once is directed by Dan Kwan and Daniel Scheinert – also known collectively as Daniels. If you watched their 2016 film, Swiss Army Man, you know to expect a good dose of humour in this movie.
There's one scene where Evelyn is desperately trying to explain what's happening to a confused Waymond and Joy. She uses the movie Ratatouille as an analogy to explain how their bodies are taken over by people from another universe. But she confidently (and incorrectly) calls it Raccacoonie – believing that chef Remy was controlled by a raccoon and not a rat. My brother and I were in fits of giggles at this stage. It seemed entirely plausible that this was something our parents would say.
You can expect a universe where human beings develop hands with hotdog fingers and one where they're all rocks with googly eyes. Another has Evelyn as a movie star. All the throwback video sequences of her life are just her as Michelle Yeoh – the actress who plays Evelyn.
I loved how the jokes littered throughout the film made it easier to swallow, despite it touching on heavier topics.
Navigating lost dreams
While Evelyn's adventures turn out to be quite comedic, you'll find the show tackles relatable themes like the loss of personal dreams, the challenges of marriage, and the differing ideals and beliefs between parents and their children.
Evelyn struggles to come to terms with not achieving her dreams and goals – most of which dissipated into thin air after her marriage to Waymond. In fact, Alpha Waymond remarks to her that she's the perfect Evelyn to stop Jobu Tupaki's terror precisely because she's the worst of all Evelyns in the multiverse.
There's a built-up resentment within her. This comes through in her many interactions with Waymond where she views him as weak-willed and concludes he's unable to make things better – only worse. Of course, this changes towards the end of the film. But for parents (especially those of immigrant families) who have given up their dreams to protect and nurture their family, this might resonate deeply.
Finding connection across a generational divide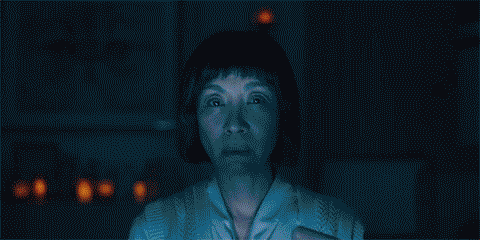 Evelyn's relationship with Joy was most relatable to me. My parents are very loving, and I'm lucky for it. But, like most families, things can get lost in translation across the generational divide. Often, this contributes to unhappiness (whether said or unsaid), and plenty of unmet expectations when the path chosen in life, or our method of handling issues, differ from each other.
My dad is goofy and I don't have to take everything he says seriously. Our chats can range from the silliest things we watch on TV to the meaning of life on Earth. But with my mum, our conversations tend to lean towards serious topics like relationships, marriage, morals and values. Sometimes we disagree, and I find it harder to open up to her because of it. (Sorry, mum. I still love you!)
Likewise, Evelyn and Joy spend most of the movie butting heads. Both find it incredibly difficult to understand the views, values and priorities that the other clings to. As the film progresses, and the two flit back and forth with powers, knowledge and experiences from the various universes, the walls between them crumble. This eventually culminates in a teary scene in the carpark of the laundromat where Evelyn chases after Joy and reconciles with her. Both recognise the flaws within each other, and they choose love and forgiveness above all.
Perfect love in an imperfect relationship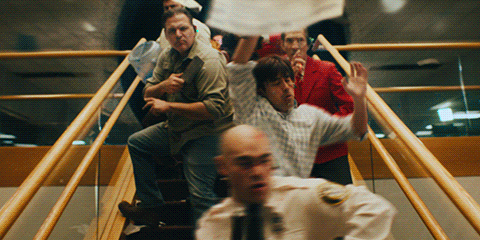 Everything Everywhere All At Once came out at a great time in the lead up to Mother's Day. It allowed me to reflect on the relationship I have with my mum. When I was younger and had bad dreams, I'd make my way to my parents' room in the middle of the night. My dad would sometimes say, "Ghosts aren't real, Sam, go back to bed!". But my mum would never turn me away. She'd always let me slide into bed with them and stay there till morning. It's a small thing, but because of that I knew I could always come to her when I needed to feel safe.
Watching Evelyn chase after Joy, insisting on saving her when everyone else had lost hope in her, I was sure my mum would do the exact same for me. Things may not always be smooth sailing between us, and we may not always see eye to eye. But, just like Evelyn's love for Joy, I know my mum's love for me won't wax or wane despite any imperfections in our relationship.
And just like how I'd reach for her for safety at night, I know she'll always be there for me when I need her.