Hill Street Tai Hwa Bak Chor Mee clinches the top spot on the list (Photo credit: lynnylchan via Flickr)
From the fattest fishballs to the tastiest vinegar and chilli sauce, here are our favourite bowls of bak chor mee, or minced pork noodles if you're new to Singapore
Exactly what Singapore's iconic dish is remains a point of contention amongst many of us. Is it chilli crab or chicken rice? Prata or fish head curry? It is in this writer's opinion that one of our most iconic dishes is probably the humble bowl of bak chor mee. Unlike the aforementioned dishes, you'd be hard pressed to find bak chor mee in neighbouring countries. The dish is a simple one: vinegar-drenched noodles with boiled minced pork, liver, mushrooms and the occasional accoutrements like fishballs, ikan bilis and beansprouts. It's not fancy, it's not pretty to look at, but darn if it isn't one of the tastiest meals you can sit down to after a night of partying.
Dinesh Ajith – Yan Kee Noodle House
If you've read my writer bio, you'll know I'm an avid fan of this spicy, flavoursome dish. For me, my absolute favourite place to get bak chor me is this place. Smack in the middle of Clarke Quay and Boat Quay, this 24-hour stall is strategically located to court the post-party crowd. While most bak chor mee stalls default to serving the flat 'mee pok' noodles, Yan Kee is famous for it's firm, springy 'mee sua' (a thinner noodle) that's notoriously difficult to cook without becoming soggy.
Yan Kee Noodle House, 32 South Bridge Road, Singapore 058667.
Dinesh – Guan's Mee Pok
Yan Kee Noodle house is great for post-party nosh, but if I'm craving this porcine delight during my lunch break, I'll sometimes brave the heat and sort my cravings at Guan's Mee Pok at Maxwell Food Centre. At first glance, it's apparent that this isn't your traditional mom and pop mee pok stall. The basic bak chor mee dish is splendid in it's own right, but for a little bit more, you can add a Japanese style tamago egg, fish maw, abalone, squid or prawn to the dish! How's that for an elevated street food classic?
Guan's Mee Pok, 1 Kadayanallur Street, Stall 99, Maxwell Food Centre, Singapore 069184.
Szes Zhang – Hill Street Tai Hwa Pork Noodle
Unless you don't mind queuing up an hour, give this one a miss. But if you're willing to brave the queue or pop buy right when they open at 9.30am, you'll be treated to one of the tastiest (in my opinion) bowls of bak chor mee ever! Two things make this bak chor mee a winner in my books: the first being the rich, tasty sauce with lots of umami flavours, and the second being the addition of a big stuffed pork wanton in the dish. The cherry on top is the crispy piece of fried ti poh (dried sole fish).
Hill Street Tai Hwa Pork Noodle, 466 Crawford Lane, Block 466, Singapore 190466.
Nathania – Ming Fa Fishball
Open 'til 3am in the morning, this is where I head to when I need to sate my late night cravings. The bak chor mee here offers a rather unconventional twist, adding seaweed into the accompanying broth for a little Japanese flavour. The mushrooms are juicy, and the serving of minced meat is generous as well – all for just $3.50!
Ming Fa Fishball, 246B Upper Thomson Road, Singapore 574370
Aliff Tee Seng Huat Eating House
The first time I tried the noodles here, I was a sceptic. "What kind of bak chor mee stall uses ketchup!?" I remember thinking. But the first bite made me a firm believer; I was taken in by a medley of flavours! But the true magic of this dish lies in the perfectly balanced mushroom sauce that coats every strand of the mee pok.
Seng Huat Eating House, 492 North Bridge Road, Singapore 188737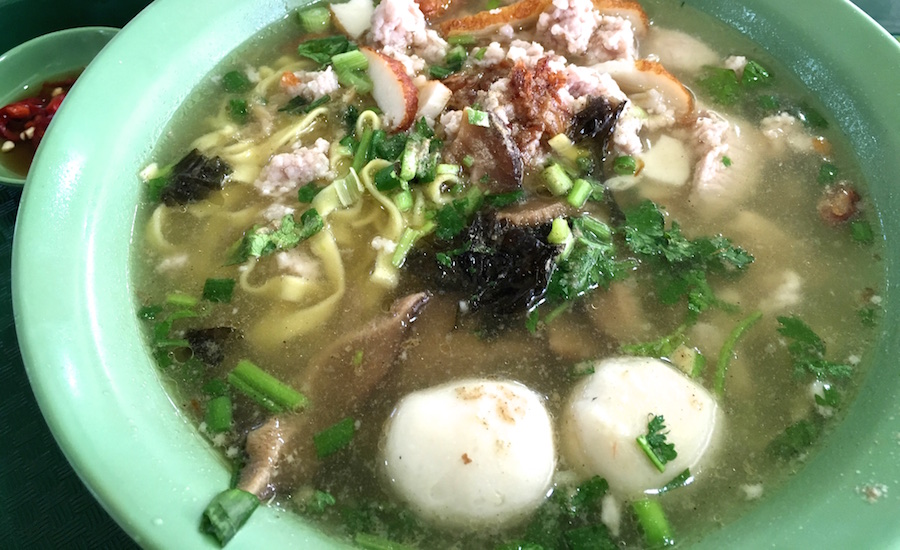 Kevin – Seng Hiang Bak Chor Mee
I know what some of you might be thinking, "A soup bak chor mee?! Blasphemy! Shame!". Funnily enough, I was one of those cynics too, 'til I actually bothered to endure the 30-minute queues for this unconventional bowl of BCM in Bedok. Now a convert, obviously, I'm always back at the famed Block 85 for a fix – the noodles are still springy and not soggy, the meatballs (they generously give seven of them) are firm and peppery, and the clear soup is addictive thanks to the sprinkling of pork lard. However, one serving is quite relatively small for a noodle-gulper like me, so I usually end up getting two; but at just $2.50 a bowl, I can hardly complain.
Seng Hiang Bak Chor Mee, #01-08, Fengshan Market and Food Centre, 85 Bedok North Street 4, Singapore 460085, p. 9018 9846. Open daily 6pm-3am.
Alyssa – 58 Minced Meat Noodle
Okay, this one is a little out of the way… but if I somehow find myself in Jurong, I'll more often than not make a detour to 58 Minced Meat Noodle for their amazing dry bak chor mee. This won't do any wonders for your waistline because of the crazy quantities of lard in it, but what's special about this one is the rich, sweet-savoury chilli sauce.
58 Minced Meat Noodle, 3 Yung Seng Road, #03-150 Taman Jurong Food Centre, Singapore 618499.