Photography: Brooke Lark via Unsplash
Sugar? Yes, please! From cakes and cookies to donuts and ice cream, we present the best dessert cafes in Singapore.
No matter how full you are, there's always room for sweet treats. Are we right? Embrace that sugar rush and round out your meal at these dessert cafes in Singapore for a sweet finish. Whether you're in the mood for cakes, cookies, cupcakes, donuts or even cruffins — this list has them all.
Best dessert cafes in Singapore to satisfy your cravings
1. The Durian Bakery
For fans of the King of Fruits, you won't be able to resist desserts from The Durian Bakery! With highly raved Google reviews, be prepared to indulge in 'The Richest Durian Experience' with a wide variety of cakes and patisseries!
Made with high-grade SilkyGold Mao Shan Wang durian filling (no preservatives added!), its sweet treats promise a rich, creamy taste. Go all out with a Durian Crepe Cake, Durian Chocolate Cake or even a Durian Cheesecake to celebrate any occasions!
Or, indulge in decadent bites like D24 Durian Mochi, Mao Shan Wang Giant Puffs, Mao Shan Wang Durian Tarts, or Mao Shan Wang Royal Pudding. These bites are the perfect treats for any house party, or for chowing down on your own during a stay-in movie night – we won't judge.
Want your durian treats delivered? There's islandwide delivery, with an option of express delivery within two hours to satisfy your durian cravings.
The Durian Bakery, available online
2. Birds of Paradise
If you're a fan of quality gelato, you have to taste this. Birds of Paradise is known for its dense and creamy gelato flavours inspired by the botanical flavours of nature. You'll find the use of familiar Southeast Asian herbs infused in its signature flavours, including subtle hints of basil and sesame. Our fave order has to be the white chrysanthemum on a freshly rolled cone!
Birds of Paradise, available at multiple locations including Craig Road and Jewel Changi Airport 
3. Nesuto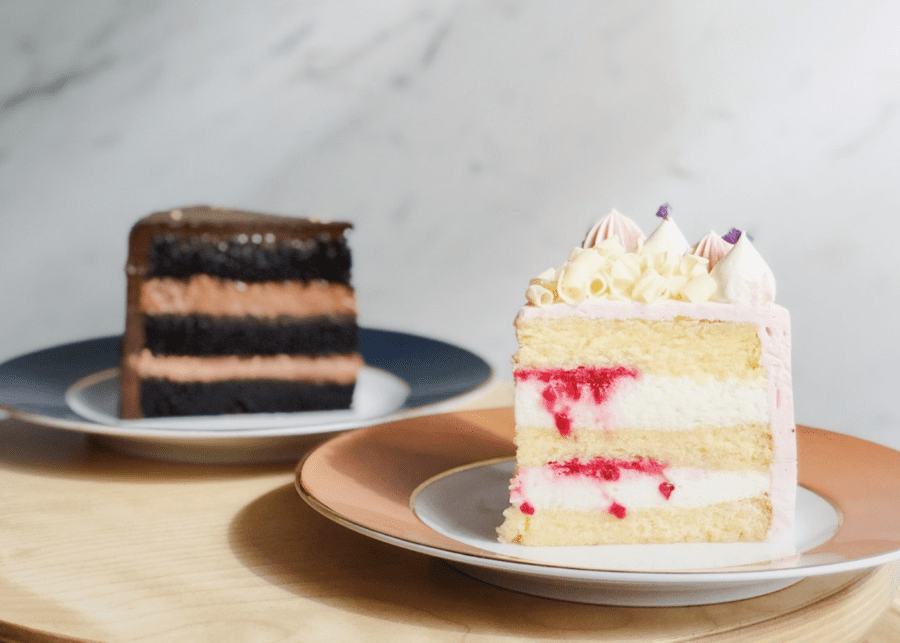 We love the intricately crafted cakes at Nesuto (there's always room to spare even after a filling meal)! Its artisanal quality bakes are made with premium French butter and cream, making its sliced cakes oh so fluffy and delicious. Its signature selection features fab flavours such as decadent dark chocolate and chestnut-vanilla brandy gateau.
Nesuto, 53 Tras Street, Singapore 078992
4. Flor
Blending the best of Japanese and French worlds, Flor Patisserie takes pastry to the next level with its top-notch natural ingredients. Its cakes are light and fluffy, giving you a sweet end to your meal without weighing you down. Yes, it's famous for cheese tarts, though you can't help but love the divine cakes. Its strawberry shortcake is a classic you won't want to miss!
Flor, available at multiple locations including Duxton Hill and Siglap
5. Mr Holmes Bakehouse Singapore
Hailing from San Francisco, the inventor of cruffin has finally landed on our sunny shores. Wondering what in the world is a cruffin? Well, it's a delicious hybrid of croissant and muffin. It's made of croissant dough and baked in muffin trays. The result? A  glorious puffed-up pastry that's layered and flaky on the outside but moist on the inside. Sugar-dusted and cream-piped, enjoy 'em in flavours like strawberry cheesecake and sun-dried tomato with bacon jam. Also look forward to other fab bakes like danishes, sticky buns and cream-stuffed donuts.
Mr Holmes Bakehouse Singapore, #01-01/02/03, Pacific Plaza, 9 Scotts Road, Singapore 228210
6. Sunday Folks
This soft-serve cafe needs no introduction. From its sleek decor to Insta-worthy desserts, Sunday Folks is a haven for sweet tooths in Singapore. Indulge in the iconic soft serve ice cream that comes in seasonal flavours like raspberry rose and lychee, earl grey lavender and more. Keep a lookout for new interesting flavours on its Instagram page, too! Pair your scoop of ice cream with crispy waffles for the ultimate Sunday Folks experience.
Sunday Folks, #01-52, Chip Bee Gardens, 44 Jalan Merah Saga, Singapore 278116
7. Windowsill Pies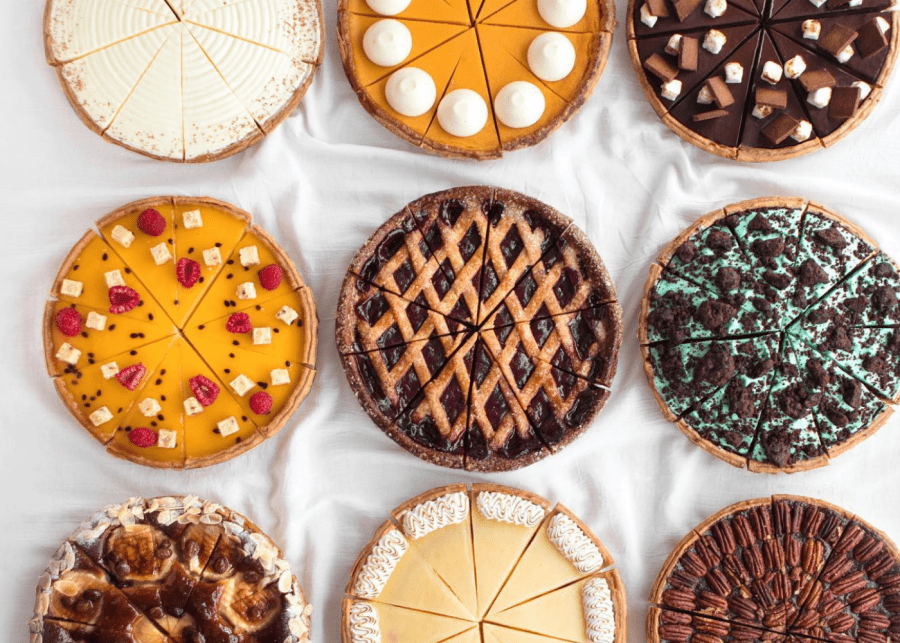 As its moniker suggests, this dessert cafe specialises in pies. We're talking flavours like s'mores, banana cognac and strawberry lemon meringue. But our fave has to be the morello sour cherry pie which comes with a sugary butter cookie lattice.
Windowsill Pies, available at multiple locations including Joo Chiat and Jurong
8. Wimbly Lu
The cosy cafe on Jalan Riang does fantastic desserts that'll be a hit with sugar fanatics in Singapore. Sink your forks into the root beer cake, lemon pie, carrot cake, or burnt cheesecake. Also, make space for waffles which can be paired with ice cream flavours like salted caramel, earl grey, or blue pea lavender.
Wimbly Lu, multiple locations including Jalan Riang and Tyrwhitt Road
9. Lickers
A gem of a find, Lickers is the perfect spot for a sweet midnight rendezvous as it's open till 2am. You won't spot any synthetic flavourings or off-the-shelf mixes in the house-made ice cream. We love its wacky flavours such as Yakult oreo and hazelnut truffle. Yup, we've tried the former and let's just say, we're sold. If you're not up to travel all the way to Hougang, the store delivers too!
Lickers, #01-1446, 124 Hougang Avenue 1, Singapore 530124
10. Plain Vanilla
Let's get one thing straight: there's nothing plain about Plain Vanilla's cupcakes. The proof is in the batter – only the finest of ingredients like French butter, pure Madagascar Bourbon vanilla and Valrhona chocolate are used. No shortcuts, no preservatives. Pick from favourites like salted caramel, chocolate hazelnut, and strawberry white chocolate.
Plain Vanilla, multiple locations including Tiong Bahru and Cluny Court
11. Creamery Boutique Ice Creams
Contrasting flavours have always been popular – hello, salted egg and red velvet cookies. But who would've thought the mix of hot and cold desserts could be mind-blowing? To see what all the fuss is about, head to Creamery for its warm lava cookies topped with a scoop of ice cream. Expect the usual cookie flavours like red velvet, chocolate and matcha. But from time to time, you can look forward to seasonal flavours like ondeh ondeh and salted egg yolk lava cookies. Feel free to mix and match your picks to create the ultimate dessert.
Creamery Boutique Ice Creams, 139 Tyrwhitt Road, Singapore 207557
12. Lucia Cakes
We're not joking when we say these brownies are the bomb diggity. They're wonderfully fudgy, rich and moist! Having been trained in classical French patisserie at the prestigious Le Cordon Bleu in London, the owner brings her techniques to the kitchen with desserts baked to perfection. Indulge in a box filled with amazing flavours like triple chocolate, salted caramel, peanut butter and Nutella. No regrets.
Lucia Cakes, 93A Club Street, Singapore 069461
13. Sourbombe Artisanal Bakery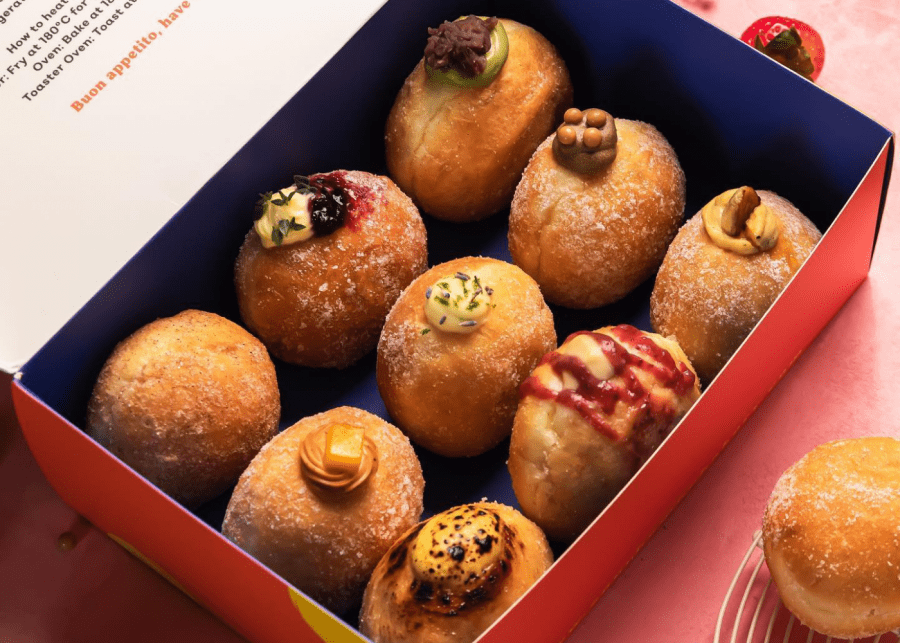 The first in town to spotlight the artisanal sourdough bomboloni – a combination of sourdough and bomboloni – this bakery's creativity knows no bounds. It's helmed by Genevieve Lee, runner-up of the first-ever MasterChef Singapore in 2018. Each treat is a light and fluffy flavour bomb, with varieties such as blueberry and lemon thyme, Basque burnt cheesecake, lavender lime mascarpone, and the OG cinnabombe. Best of all, the brand has physical locations, offering cold brew coffee, house-made kombucha and dairy-free tea lattes to complement its bomboloni bites.
Sourbombe Artisanal Bakery, multiple locations include Penang Road and Jewel
14. Cake Spade
Cake Spade's phenomenal selection of baked treats might leave your head spinning, so we'll go ahead and recommend its most interesting creation: tofu cheesecake. This specialty cheesecake is lighter and less sweet than the ones you're probably familiar with. It features a jelly topping with fresh strawberries, mangoes or peaches encased within. You can also pick a choice of digestive or chocolate cookie bases.
Cake Spade, 283 South Bridge Road, Singapore 058832
Whether you're stressed or craving something sweet, these dessert cafes in Singapore have got your back.