We'd love a day trip to Pulau Ubin! Photography: Tour East via Facebook
Island-hopping, a theme park from hell, and Singapore's most famous veggie garden – have you discovered these day trip destinations yet?
Got a case of wanderlust but can't wait for the next public holiday to go on a quick escape from Singapore? There are lots to explore right here, from hidden attractions to island hopping. Right now we're all about taking a day trip in Singapore. The best part? You don't have to buy any plane tickets or pack a weekender!
Where to go for a day trip in Singapore
1. Green Corridor
Also known as the Rail Corridor, this popular hiking trail spans 24 km across the island. The lush pathway used to be part of Malaysia's KTM railway line, connecting the two neighbouring countries. If you're looking to challenge yourself, take on the full trail that goes through Kranji, Bukit Panjang, Bukit Timah, Holland, Tanglin and Alexandra! It'll take a good six hours, so make sure you're equipped with enough water and energy bars. Catch sights like the old Bukit Timah railway station along your way.
2. Southern Islands
If you've already done a tour of Pulau Ubin, why not go island-hopping around the Southern Islands? This day trip takes you to scattered islands surrounding Singapore. It includes the popular Lazarus Island (a beach paradise), as well as Kusu Island, St. John's Island and Sisters' Island – all steeped in history and folklore. Up to ante by booking a yacht and touring the islands in luxury. We'd recommend tossing in a snorkelling experience as well!
3. Bollywood Veggies
What, Singapore has a countryside too? This sanctuary away from the city is set in the rustic northwest Kranji Countryside. We promise you, it definitely feels like you've gone back in time. Feel rejuvenated and refreshed as you check out the sprawling 10 acres of land where owner Ivy Singh-Lim grows more than 100 varieties of plants, including rare native fruits. Need some grub? Head over to the wholesome Poison Ivy Bistro where food is prepared fresh. You'll easily spend a whole day here.
Bollywood Veggies, 100 Neo Tiew Road, Singapore 719026
4. Bukit Brown Cemetery
Sure, this might not be the first thing that pops into your mind when you think of taking a day trip in Singapore. But we guarantee Bukit Brown Cemetery is worth the journey – especially if you've got history buffs in your group. This cemetery holds more than 10,000 tombs, and you'll even spot abandoned cars covered in shrubbery along the way. Talk about creepy! We recommend checking out iconic tombs in the area like the Ong Family Complex which spans 600 sqm.
Bukit Brown Cemetery, 36C Lorong Halwa, Singapore 298637
5. Thow Kwang Pottery Jungle
This is where you can find the last dragon kiln in Singapore. What's that, you ask? Dragon kilns get their name from their shape, which resembles a dragon with its smoky head at the base of a slope and its tail uphill. They're basically wood-fired kilns, which were in use for centuries in China. At Thow Kwang, dragon kilns were used to fire pottery wares such as latex cups for the rubber plantation, orchid pots for the nurseries, and water jars for the local consumer market. It started supplying pottery wares in 1965, so if you want something crafty and historical, add this to your itinerary.
Thow Kwang Pottery Jungle, 85 Lorong Tawas, Singapore 639823
6. Sungei Tengah
Animal lovers will thoroughly enjoy a visit to Sungei Tengah. Make your way to Qian Hu Fish Farm and admire ornamental fishes. Kids can even trawl through its ponds and canals to catch and bring home colourful guppies! Visiting the Animal Concerns Research and Education Society's wildlife sanctuary is also a must. Here, you'll find rescued animals ranging from iguanas to tortoises.
7. Sembawang Hot Spring Park
If aesthetics aren't your main concern, Sembawang Hot Spring Park will suit you just fine. This revamped park features a floral walkway, a seafood restaurant, and areas for you to soak your feet and even boil eggs. Just grab a pail and you're good to go. Heads up: it's rustic and may get crowded on weekends, so chances are, you'll be sharing the communal space with an uncle or a family. Hey, the more the merrier!
Sembawang Hot Spring Park, Gambas Avenue (between Woodlands Avenue 12 and Sembawang Road)
8. Haw Par Villa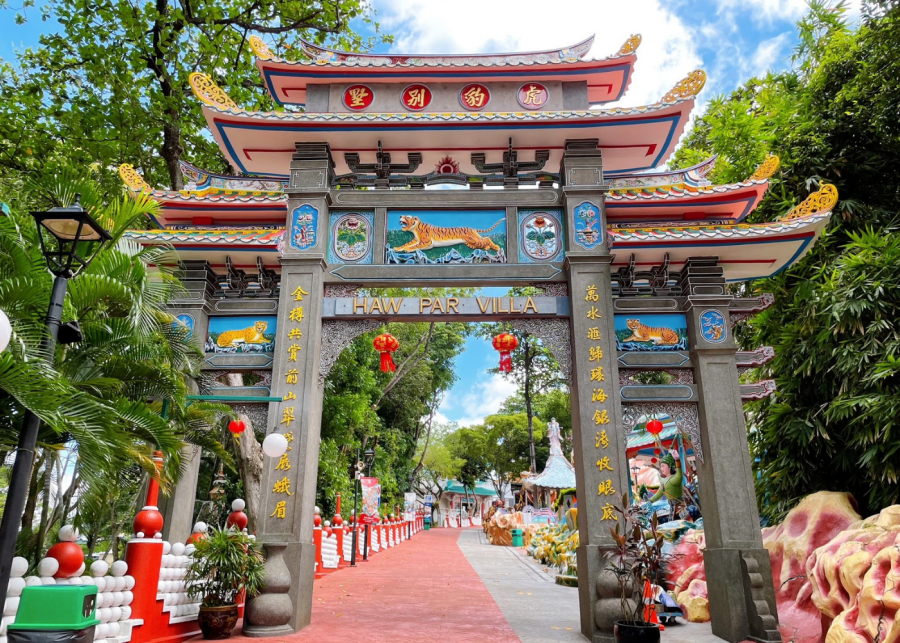 If you have an appreciation for all things macabre and mythical (and campy), Haw Par Villa is your kind of place. This offbeat Disneyland of sorts sits on the west coast in the middle of an industrial and residential area. It's known for its technicolour statues and dioramas depicting scenes from legends and myths across Buddhism, Taoism and Chinese traditions and mythology. Its most famous attraction? The Hell's Museum, which features the Ten Courts of Hell and its freaky dioramas. Have fun sightseeing in the underworld!
Haw Par Villa, 262 Pasir Panjang Road, Singapore 118628
9. Coney Island
Discover the hidden white sandy beaches of Coney Island in Punggol as you explore the untouched, natural island by foot or on bike. It's home to plenty of wildlife, some of which are endangered species. The island also serves as a refuge for migratory birds, so wildlife enthusiasts might want to pack a camera and a zoom lens. While you're in the area, check out the Punggol stables and the Western-style chalets.
10. Pulau Ubin
Pulau Ubin is one of Singapore's most iconic islands, home to the last kampungs and Chek Jawa Wetlands, which makes it a great place for a day trip. Located off the northeastern corner, it's easily reached via a short 10-minute bumboat ride from Changi Point Ferry Terminal. Get ready to be swamped by the rich biodiversity of flora and fauna and expect to meet monkeys, too. There are plenty of old school heritage spots to explore, from rustic kampungs to a German girl's shrine. Tip: the island is best explored by bike, so hop on a two-wheeler and get going.
Ready for a day trip in Singapore? Pack your bags and head out!