Photography: Albertus Gilang Drigantoro Saputro via Unsplash
Do date night right: These creative date ideas in Singapore are for the adventurous, artsy, outdoorsy and gourmet lovers!
When you think of date night, romantic restaurants are the first thing that comes to mind. But you don't always have to stick to the same dinner-and-movie routine for every birthday, anniversary and special occasion. Switch things up with cool date ideas in Singapore that'll give your love life a little boost.
Fun date ideas in Singapore
1. Make your own bespoke scent
Scents can spark attraction, so make your way to Scentopia's orchid perfume-making workshop in the heart of Sentosa. This aromatic adventure invites couples to create a lasting memory together. You'll design a signature scent that reflects your unique personality, inspired by local rainforest ingredients such as orchids.
Don't forget to check out the range of aromatic indulgences – from reed diffusers to scented candles and DIY kits. Whether you're celebrating a romantic milestone or looking to elevate your weekend plans, Scentopia's bespoke creations will mark your romance with a stunning fragrance.
2. Experience an outdoor escape room
Inject fun and excitement into your dates with Hidden.sg's real-world adventure games, which are all about exploring Singapore's 'hoods and uncovering hidden gems. Psst: free surprises, such as coffee at independent shops, are waiting for you along the way during the game too! All you have to do is buy your tickets, set up your game via WhatsApp, and work together with your boo to solve the clues. Perk alert: use the promo code 'Honeydates' to enjoy 10% off your tickets.
How about elevating the escapade further? Add personalised messages into the game at no extra cost, and watch your partner's face light up when they read them. Reignite the spark in your relationship by gifting this date idea, or even use it to create a one-of-a-kind marriage proposal.
3. Head to the great outdoors
Beat the heat in our eternal summer with cool water sports and activities. If you're both newbies, start slow with stand-up paddleboarding, kayaking and banana boat rides before you take on something more thrilling like wakeboarding and soaring in the air with a jetpack. For more fun in the sun, we recommend outdoor activities like hunting down hidden gems and going on heritage trails.
4. Have a countryside escape
Escape the bustling city for fresh air, locally-grown produce and animal interactions at farms in Singapore. You can plan for a casual weekend brunch at Poison Ivy Bistro within Bollywood Farms before visiting the goats at Hay Dairies and picking up some goat's milk.
5. Explore new neighbourhoods
It's time to get out of your comfort zone and make the trek to unfamiliar neighbourhoods. There are always fresh and exciting things to uncover even in a city as tiny as ours! Best of all, you get to do it with your partner. Check out places like Bedok, Farrer Park, Novena, Siglap and Queenstown.
6. See the city on a Vespa
Not in the mood to walk around under the scorching sun? Hop on a vintage Vespa for a sidecar tour instead. Singapore Sidecars has trails that take you on through heritage 'hoods and hotspots for good food and drinks.
7. Catch of the day
For late-night prawning adventures, hit up Hai Bin at Punggol, which is open 24/7. If you have your own gear, set out for waterfront parks like Sembawang Park and Changi Beach Park to go fishing. Since these activities require a good amount of patience, bring along games or conversation starters to keep things interesting.
8. Swing across treetops
To challenge your partner and yourself, pop by Forest Adventure, the city's treetop obstacle course. It's all about adrenaline-pumping action here – especially when you take on the Grand Course filled with challenging crossings and three scenic ziplines across the water.
9. Work up a sweat and enjoy lush views
If your ideal date involves the two of you amidst lush greenery, strap on your shoes and tick off all the hiking trails on your bucket list. From Bukit Timah Nature Reserve to the Southern Ridges, there's a pretty park for everyone.
10. Have alone time at Yishun Dam
A serene spot to catch the sunset reflected on tranquil waters, Yishun Dam is perfect for a quiet outdoor date. Just plan your evening on off-peak days to avoid any crowds.
11. Capture fun memories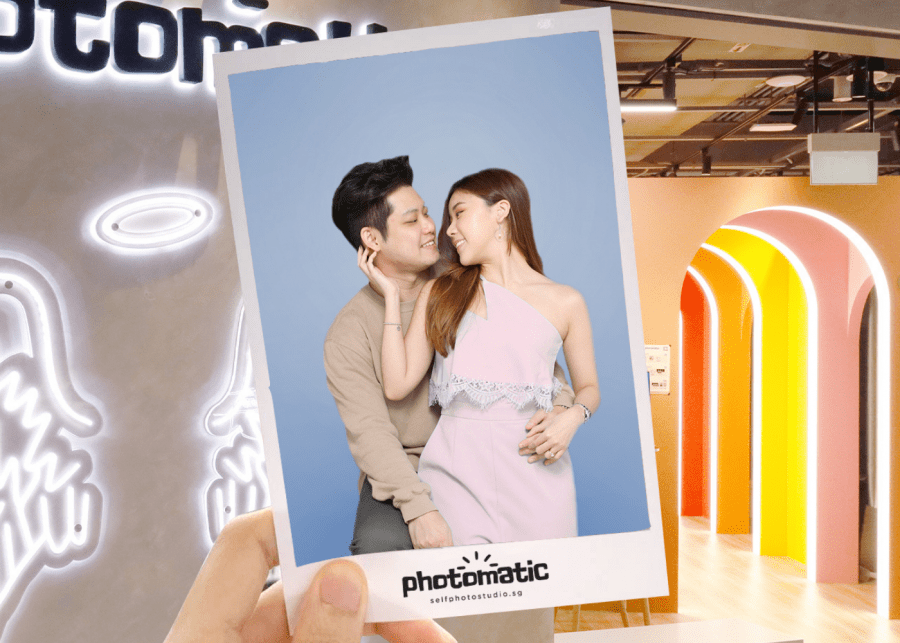 Get snap happy with your date! We're lookin' at Korean-inspired Self Photo Studio for colourful backdrops, cool props and snazzy costumes. Head to locations like Orchard Central, Funan, and The Centrepoint to have an unforgettable experience, and print out your pics to keep those precious memories. Oh, and don't worry if you're camera-shy. Self-shoot studios don't require a photographer so you can let loose and have a ball with your boo.
12. Stroll through Seletar Aerospace Park
Once a home for Royal Air Force personnel and their families, the black and white bungalows of Seletar Aerospace Park have been conserved and redeveloped as part of their transformation into a lifestyle enclave. Wander around the green site, watch the planes fly by, dine under the stars or have a chill weekend brunch.
13. Go island-hopping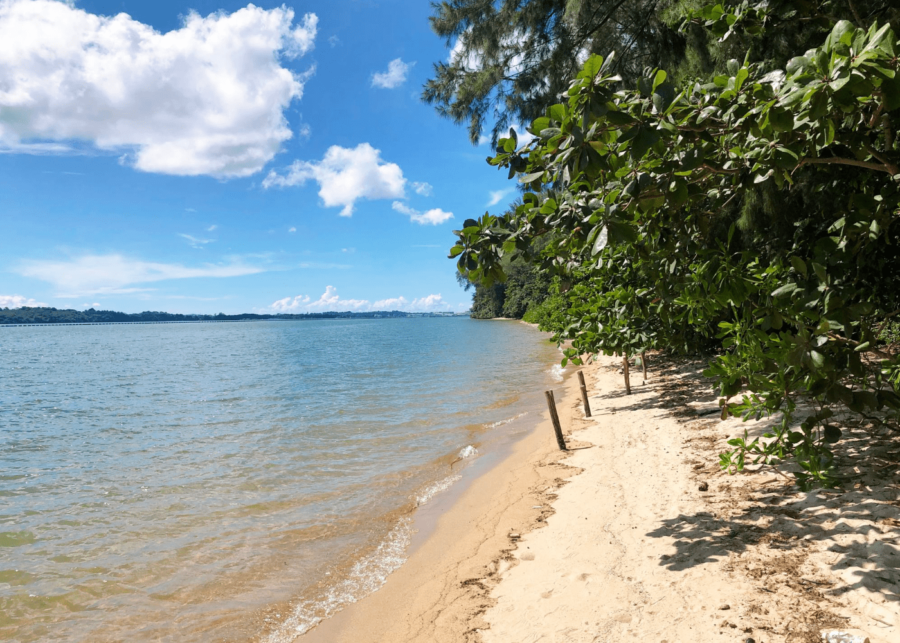 Need a breather? Head out of the city together and enjoy unobstructed sea views at Singapore's offshore islands. Pulau Ubin is a hot fave for cycling amidst flora and fauna, while St. John's Island is home to beautiful beaches and trekking trails. For someplace nearer, cycle to Coney Island for outdoor fun.
14. Go on a two-wheeled adventure
Dying to take your new bicycles out for a spin? Rise and shine early on the weekend and hit up a cycling route to see mangrove swamps, riverside views, iconic landmarks, untouched nature and even a dinosaur or two.
---
Artsy date ideas in Singapore
15. Scent up your life
So you love artisanal candles and unique fragrances? Why not try your hand at a perfume workshop? Maison 21G offers lovely private sessions for couples, while Oo La Lab hosts fragrance design and mixology classes for you to create your own bespoke concoction.
16. Pick up tufting
This trendy activity is perfect for a fun weekend date or a crafty new hobby for you and your partner to try together. We've compiled a list of rug tufting studios in Singapore for you 'cos we're all about handmade customised creations. Just be prepared to give your arms a bit of a workout because it isn't as easy as it looks.
17. Plan your escape
At escape rooms in Singapore, you'll be strategising and putting your heads together to find clues and work against time. From mysterious quests to puzzle-solving fun to curious secrets, these challenges have it all. What's more exciting than that?
18. Discover hidden museums
We've got a good number of museums housing rare masterpieces, historical artefacts and cultural relics. But for something off the beaten path, find your way to secret museums for an unconventional date. These obscure spots cover music, movies, history, computer games and more.
19. Get creative with crafts
So you've made it your resolution to learn a new skill or pick up a hobby together this year? Getting started is easy when the city's full of craft workshops for you to take your pick. From screen-printing and leather crafting to calligraphy and ceramics, the choice is yours.
20. Art jamming, anyone?
Make like Picasso and create your own masterpiece at art jamming studios across town. Whether you're painting one another, using a photo as inspiration or just drawing whatever comes to mind, this makes for a relaxing, unique date.
21. Take that shot
For a little photo fun, check out Instagram-worthy spots and stunning architectural marvels all across the city. While you're admiring these beautiful places, don't forget to keep an eye out for gorgeous black and white houses.
22. Appreciate art
When you're done making the rounds at museums, turn to art galleries for your culture fix. Gillman Barracks is a beloved enclave home to multiple galleries, restaurants and events, while Goodman Arts Centre is a treasure trove for art aficionados.
23. Lose yourself in a good book
Want some quiet time alone but together? Pick a bookstore and grab some literary gems, then head to a chill reading spot and spend the rest of the day immersed in an entirely new world. You can always regroup to discuss your reads afterwards!
24. Hunt down street art
The city's brimming with stunning murals and nostalgic street art. For a spontaneous photoshoot with your boo, head to neighbourhoods like Little India, Everton Park, Tiong Bahru, Kampong Glam, Haji Lane and Keong Saik for beautiful backdrops. Or see if you can spot all the unique HDB blocks on the island.
25. Catch a theatre show
Now that theatre productions are back in action, you're in for a treat. Keep tabs on theatre companies in Singapore for the best musicals, stand-up comedy shows, thought-provoking performances and more.
---
Gourmet date ideas in Singapore
26. Have a mid-day treat
Take a day off to avoid the weekend crowds and indulge in an afternoon tea sesh together. Whether you're into elegant hotels or cosy cafes, these spreads include lovely nibbles and aromatic brews.
27. Get sweets with your sweetheart
Need to chill out from the perpetual Singapore heat? Head to an ice cream parlour for deliciously creamy treats in cups, cones, or on waffles. Or for something a little cheeky, get a milkshake with two straws to share. Nothing says cute and romantic like enjoying a sweet treat together.
28. Good ol' heritage eats
If you're looking for a journey back in time, go off the beaten track and check out heritage food spots. Savour in dishes that stand the test of time with secret family recipes and timeless practices. Plus, you can't really call yourself a foodie if you don't eat at these decades-old places at least once.
29. Take your love to great heights
Forget your usual date night resto and head up to rooftop restaurants and bars where you can dine and drink with a view. From breezy alfresco terraces to sleek, air-conditioned spaces, these dining destinations are great for first dates, anniversaries and more.
30. Dinner with a theme
For date night with a twist, try unique dining experiences. You'll be clinking wine glasses in complete darkness, romancing one another in the clouds and setting sail on a sunset cruise. Want something off the beaten path? Avoid the crowds at hidden restaurants. Or pop by cafes that make you feel like you're overseas so you don't have to hop on a plane for Bali, Japan or Australia.
31. Pack a picnic
First, round up all the staples: cheese, bread, cold cuts, snacks and wine. Next, make it classy and set the mood with a comfy mat and some groovy tunes. Lastly, pick the perfect spot at a beautiful park or garden. We've got it all covered in our ultimate picnic guide!
32. Add flour, sugar and a little love
Nothing strengthens your love more than time spent in the kitchen. But if you don't have your own place yet or you're short on equipment, just book a baking class to pick up some skills. You'll learn how to make pastries, bread, cakes, tarts, kuehs and more.
33. Eat around the world
No romantic travel plans? No worries. Singapore's home to international cuisines from across the globe. Just take your pick from Italian, Mexican, Indonesian, American, French, Chinese, Spanish and Indian restaurants. That's your date night, sorted!
34. Toast to bottomless cocktails
Start your weekend the right way with boozy brunches that'll feed you endless plates and free-flow champagne. The resulting food coma is totally worth it because you can walk it off with a leisurely hand-in-hand stroll afterwards.
35. Dine under the stars
Alfresco restaurants are great for any occasion, but they're exceptionally beautiful when it's just you and your sweetheart. Try dining in gorgeous gardens, under the twinkling night sky, by the beach or even in air-conditioned domes.
36. Wine and dine in luxury
Got a birthday, anniversary or special occasion coming up? Reserve a table for two at the city's best restaurants for an intimate dinner. Then, extend the evening at romantic bars for cocktails and love.
37. A toast to happy hour
Our cocktail scene is bubbling with the best and brightest, but if you'd like to take your lover to a bar that won't cost you a bomb, it's happy hour to the rescue. Think cocktails, beer, wine, makgeolli, shots and more.
---
Adventurous date ideas in Singapore
38. Is this real life?
Virtual reality adventures, anyone? Escape from the boredom of life and enter a new dimension at VR hotspots. HeadRock VR at Resorts World Sentosa has games that take you from a zombie apocalypse to jungle rafting, while Sandbox VR at Orchard immerses you in hyper-realistic worlds with themes like Curse of Davy Jones and Amber Sky 2088. Then there's Zero Latency, the largest of its kind in Singapore where you can have a double date and engage in a free-roaming experience.
39. Horror is pretty romantic, right?
For fans of jumpscares and things that spook, try a ghost tour. You'll be listening to creepy tales about crimes and murders that happened in Singapore. One of 'em even has a fun outdoor escape room for you to try out! And if you get scared, just grab your partner's hand.
40. Go bowling in the dark
Ditch your regular bowling alley in Singapore to knock down those pins in a neon setting at K Bowling Club. This Somerset spot is where you can experience cosmic bowling – complete with flashing lights and thumping tunes. Plus, the space also hosts dart machines and arcade games for more fun times with your boo.
41. It's all about that axe factor
So you've both had a stressful week. Or perhaps you just want to unwind with a casual, sporty activity. Head to Axe Factor at Turf Club Road and unleash your frustrations by hurling axes on a target board. This indoor axe throwing spot is a safe and fun way to let loose and laugh at yourself (or each other). Anyone can do it – it's all about the technique!
42. What's my age again?
At Airzone, the world's first indoor atrium net playground, it's all about letting go of your fear of heights and relishing in the adrenaline of being up high. Grab your partner's hand as you bounce your way across the nets, wander through the 3D maze, dive down the big slide, and "swim" in the floating ball pit. Just have fun like no one's watching!
43. The thrill of love
Got a little daredevil in you? Take your date to Sentosa, where you'll live life on the edge at Skypark Sentosa by AJ Hackett. Feel the ultimate adrenaline rush with the bungy jump or giant swing (which you can do together). Or walk hand-in-hand as you take in the island's stunning views from up top at the skybridge. Top it off with thrilling rides at Universal Studios Singapore, a floating obstacle course at HydroDash, and the newest attraction: an open-air panoramic ride called SkyHelix Sentosa. It's best experienced at sunset for scenic sights!
44. Join The Hunger Games
Put on your best Katniss impression at archery clubs or head to Combat Archery, an action-packed tag game that's a fun mix of paintball, dodgeball and archery. Just gather a few couples to join you on this high-energy date for a total bonding experience that'll get your heart pumping. May the odds be ever in your favour.
45. Battle it out at arcades
Get nostalgic and relive your childhood days with crazy fun arcade games. It's a no-frills date idea where you can just be your goofy self and show off your competitive side. Hit up Timezone for old school classics alongside VR rides and LED bumper cars, Cow Play Cow Moo for claw machine madness, or Clarke Quay bar Level Up for #throwback games with a side of booze.
46. Feeling sporty?
If you're the type of couple who never says no to a little friendly match, pick up a new sport together. Choose from the likes of tennis, volleyball, badminton, squash or even ultimate frisbee.
47. Try defying gravity
As one of the world's largest indoor skydiving wind tunnels, iFly Singapore lets you experience true free-fall conditions. Best of all, you can unleash all your cheesy "falling for you" pick-up lines on your partner afterwards.
48. Hit a hole in one
You don't have to be a pro to play mini golf. Just head to Kulnari Mystery Golf at Circular Road and get your putt on. Plus, as a fun bonus, the added touch of a murder mystery will give you a multi-sensory experience.
49. Show off your inner Spider-Man
Love extreme sports? Pump up your fitness levels at bouldering and rock climbing gyms. Whether you're a newbie who needs a beginner class or an advanced climber who can easily scale the walls, you'll be sweatin' it out together and cheering each other on.
50. Let the games begin
82 Social House is a cool hangout in town to bring your partner for a date. This Orchard Gateway spot houses two concepts: Kommune and Tigress. The former offers Korean karaoke, LAN gaming and board games, while the latter is a cocktail bar and pool room.
51. Jump for your love
Yup, we're talking about trampoline parks. They're a fun, energetic way of spending an afternoon with your significant other. And they're a total sweat sesh, FYI. Swing by places like Bounce or Amped to ricochet off the walls.
---
Romantic date ideas in Singapore
52. Take a scenic stroll
Want spectacular waterfront views? Make your way to places like Changi Point Coastal Walk, Bedok Reservoir, Rower's Bay Park, Jurong Lake Gardens or Woodlands Waterfront Park. They're perfect for lush sights and deep conversations.
53. Travel without leaving the country
It's simple, just pretend you're overseas at hidden spots so magnificent, they'll make you forget for a minute you're still in Singapore. Get those traveller vibes at places like Little Guilin, Fort Canning Park, Raffles Marina and more.
54. Bliss out at a couple's spa
Enjoy a day of relaxation and rejuvenation with head-to-toe pampering at Singapore's best spas. You can book your massage together and make the most out of couple room facilities.
55. Surprise your sweetheart with a staycay
For couple time, book a splendid staycation at one of Singapore's top hotels. From five-star facilities to boutique hotels to island getaways at Sentosa, we've got it all.
56. Treat yourself to a fun flick
Go beyond your typical Netflix or movie theatre hangout and enjoy a luxurious time with food and drinks (even wine) delivered to your seat as you recline in comfort. Try Golden Village's Gold Class cinemas at Katong, Suntec City and VivoCity, or check out Cathay Cineplexes' Platinum Movie Suites.
57. Watch the golden hour
What's more romantic than watching a sunrise or sunset together? Parks, waterfront areas and beaches are perfect for capturing that gorgeous moment. Just take your pick from green spaces such as Marina Barrage, Lower Seletar Reservoir Park, Kranji Reservoir Park or Punggol Waterway Park.
58. Take a cooking class
Nothing says love like learning a new skill together. Even better if you're both big foodies! Turn to cooking classes and schools around Singapore that'll teach you how to whip up dishes from various cuisines. If you love sweets, pick a baking workshop for that sugar high.
59. Chill by the beach
If there's nothing you both love more than a sunny day on sandy shores, live out your whimsical summer dreams at beach clubs and bars like Tanjong Beach Club, Ola Beach Club and more.
60. Volunteer and give back
There's nothing more attractive than someone who shows love for others. So grab your significant other and volunteer your time at a charity or social enterprise to help communities in need.
61. Get in the mood for love
For more ideas on romantic places in Singapore to take your lover to, we've got just the thing. Our list includes swanky spots, cultural attractions and nature parks.
62. Find hidden gardens
Got a thing for nature? Uncover the city's secret parks so you can spend time amidst greenery without being surrounded by crowds. Some of our faves include Thomson Nature Park, Yishun Pond Park and Pearl's Hill City Park.
Bookmark this list for the next time you're out of ideas!