Photography: Joshua Tsu via Unsplash
Want to explore our tiny island to the fullest? We recommend these adventurous biking routes and cycling trails in Singapore to admire its nooks and crannies.
Wanna explore the city? You can eat and drink your way through top-notch bars and restaurants or dive into history and culture by checking out its incredible museums. But if you're more in tune with Mother Nature, take the road less travelled through the city's hidden nature parks with a reliable bicycle. Want to know where to bike to your heart's content? We've picked the most scenic cycling routes in Singapore for adventures on wheels.
Best cycling routes in Singapore
1. For checking out cool sights: Round Island Route (RIR)
Cycling enthusiasts, take your bike out for a spin down this route. As of now, only the eastern half is open, stretching from Rower's Bay in Seletar to Berlayer Creek near Labrador Park. You'll ride past Seletar Aerospace Park and the black and white houses near The Oval. Be sure to stop and admire the scenery from the various bridges at Sengkang and Punggol. Jewel Bridge at Punggol Waterway Park is a good spot to take photos and check out the sunset… or sunrise.
Start point: Rower's Bay, Lower Seletar Reservoir Park
2. For spotting life-sized dinosaurs: Changi Airport Connector
East-siders are truly lucky! Thanks to the Changi Airport Connector, cyclists (and joggers) can easily make their way to the airport – in particular, the mega-mall that is Jewel Changi Airport. This 3.5-km stretch is also home to Changi Jurassic Mile. While you cycle along, be wary of life-sized dinosaurs such as T-Rex, raptors and ginormous dino eggs. Plus, you can rent a bicycle or fuel up at Changi Airport's Hub & Spoke – talk about convenience.
Start point: Hub & Spoke, Changi Airport
3. For mountain biking fun: Chestnut Nature Park
Head to the city's biggest nature park for quality time with nature. Besides hiking routes, the green space also has North and South mountain biking trails that wind through different terrains. Everyone's welcome – from beginners to experts. But if you'd like to challenge yourself with bike stunts, pop by the pump track to give it a whirl.
Start point: Chestnut Nature Park
4. For scenic sights: Southern Ridges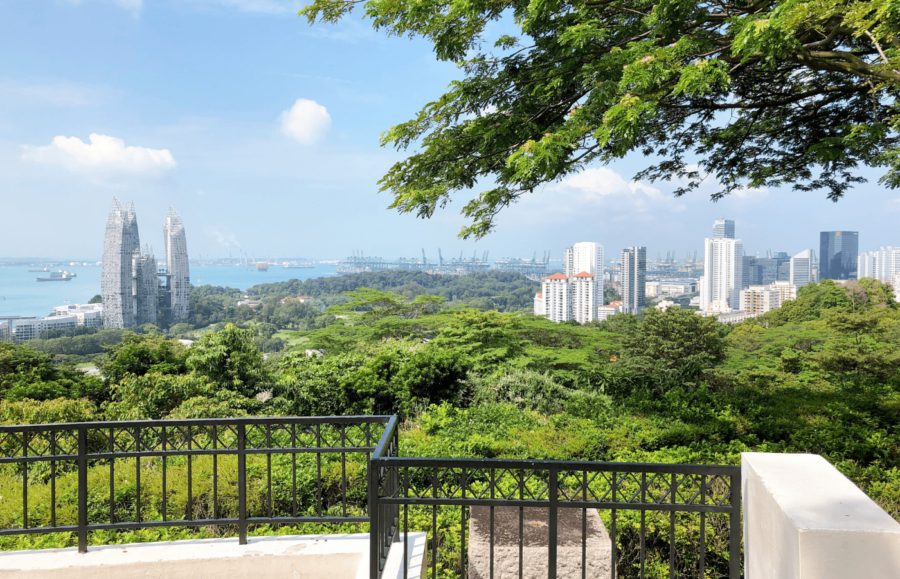 Can't get enough of lovely views at the Southern Ridges? Hop on a bike and explore the trail on two wheels. You'll be cycling from Alexandra Arch to Telok Blangah Hill Park to Henderson Waves, enjoying the fresh air and greenery around you. After a challenging climb up the hill, you'll admire the city from your panoramic perch at Mount Faber Park.
Start point: HortPark
5. For calming views: Mandai Loop
For beautiful nature sights, make your way to Orchard Road and cycle towards Novena and Upper Thomson Road. This loop around our central catchment nature reserve, otherwise known as MacRitchie, offers a mix of challenging slopes and soothing sights.
Start point: Orchard MRT
6. For park-hopping: Northern Explorer Loop
Discover the Sungei Cina river, open grassland and a mangrove swamp at Admiralty Park. With its rich biodiversity, you might even spot a mudskipper or two along the way. Pedal forth and feel the cool breeze when you hit Woodlands Waterfront. Then, it's in and out of the greenery again until you're at Sembawang Park, the final stop with a rich history. Hop off and explore Beaulieu House, Sembawang Jetty and Seletar Pier to wrap up your trip.
Start point: Admiralty Park
7. For discovering the heartlands: Central Urban Loop
Local or not, you'll have fun exploring (or re-exploring) these neighbourhoods. This trail takes you through some of the oldest districts like Toa Payoh and younger estates such as Punggol. Along the Whampoa Park Connector, stop by Balestier Road. It's one of our fave hawker haunts with amazing food at all hours of the day! Or have a picnic at Bishan-Ang Mo Kio Park. It's got scenic open spaces and wildflowers along the river bank.
Start point: Toa Payoh Town Park
8. For riverside views: Northern Eastern Riverine Loop
Punggol is the perfect place to let off steam if you want to unwind after a long work week. The cycling town is home to this 26km loop. Connecting four parks, it starts at Punggol Park and ends at Buangkok Park Connector, rewarding you with breathtaking riverside and wetland views, as well as meandering stretches of coastal trees and stunning foliage. This route will take you approximately four hours to complete, but we recommend getting off your bike every now and then to check out the scenery or fuel up over brunch and coffee at hidden heartland cafes like Whisk and Paddle.
Start point: Punggol Park
9. For the great outdoors: Western Adventure Loop
West-side cyclists are blessed with this picturesque trail, home to green corridors and tropical terrains. Start off at Bukit Batok Town Park. See the rock cliff by the lake? That's Little Guilin, which resembles a similar attraction in China by the same name. About halfway through the route, you'll hit Bukit Timah Nature Reserve. Tired yet? We recommend taking a pit stop here to admire the resident pangolins (if you're lucky!) and listen to bird songs. If you need a little nudge to get back on your bike, we'll let you in on a secret: the last leg of this journey might just be the prettiest. Head into Pang Sua Park Connector to discover two charming butterfly gardens with these colourful creatures hovering above the shrubs. Get your phone ready for the perfect snap!
Start point: Bukit Batok Town Park
10. For local food haunts: Eastern Coastal Loop
Whether you've lived in Singapore all your life or not, chances are, you've been cycling at Pasir Ris or East Coast. We'd say these are Singapore's two most popular cycling routes. For the ultimate beach adventure, take the Eastern Coastal Loop, which links Pasir Ris Town Park to East Coast, and finally, Changi Beach Park. Besides offering gorgeous views from various jetties, accompanied by flora and fauna sightings, this stretch is also home to Bedok Food Centre and East Coast Lagoon Food Village (an institution for satay, seafood and chicken wings).
Start point: Pasir Ris Town Park
11. For Singapore's best landmarks: Eastern Coastal Loop Extension
Cycling in the city can't get any better than this. The extension of the Eastern Coastal Loop from East Coast takes you around Singapore's most famous landmarks, including the Supertrees of Gardens by the Bay, Marina Bay Sands, and the Singapore Flyer. Start in the late evening, just in time to catch the sunset over the Singapore skyline.
Start point: Tanjong Rhu Promenade, located opposite Singapore Sports Hub
12. For seasoned cyclists: Coast-to-Coast (C2C) Trail
This cycling route in Singapore is perfect for those looking to dash through the green spaces across the island. Spanning 36km, the cycling route cuts across 18 parks and nature areas, plus 11 park connectors, including Bukit Batok Nature Park, Singapore Botanic Gardens and the untouched land of Coney Island. Download the Coast-to-Coast (C2C) mobile app to make the most out of your two-wheeled adventure.
Start point: Jurong Lake Gardens
13. For aspiring mountain bikers: Pulau Ubin
Away from the concrete terrain of Singapore, this largely untouched island is a breath of fresh air. It's charmingly rustic and still boasts remnants of old Singapore life, including villages and raw landscapes. These abundant forests are just begging to be explored! So that's what we did – in an adrenaline-pumping mountain biking adventure, which encompassed trips through a rustic village, a short hike detour up Ubin's highest hill, and explorations of serene quarries.
Start point: Pulau Ubin Village
14. For untouched nature: Coney Island
The park's rustic terrain makes cycling bumpy at times, but rest assured it'll be a breezy and enjoyable experience. Cycle along the 2.4km main path or follow the signs to navigate your way to the beaches. If you've got an adventurous streak, you may very well find yourself veering off the beaten tracks – literally!
Start point: Punggol Settlement
15. For history and culture buffs: Khatib Loop
Once a secret amongst serious cyclists, Khatib Loop is now a budding crowd favourite. The 16km trail begins at Khatib MRT station. From here, cycle to Simpang Kiri park connector until you reach Singapore Naval Base, where views of Johor Straits await. Continue on your route and you'll see the stars of the trail. A cluster of black and white colonial bungalows, as well as a small bunker along Gibraltar Crescent. Don't leave without a quick visit to Sembawang Hot Spring Park.
Start point: Khatib MRT station
16. For farm adventures: Kranji Road to Lim Chu Kang Road
If you're a country person at heart, here's the best way to spend your Sunday. Just kick off your journey at Kranji MRT station. The 20km cycling route, which stretches from Kranji Road to Lim Chu Kang Road, encompasses the hidden farms in Kranji Countryside, Kranji War Memorial and Sungei Buloh Wetlands Reserve.
Start point: Kranji MRT station
Go ahead and explore the best of Singapore on these cycling routes!