Want to go on a real adventure? Hit the roads of Pulau Ubin for a gruelling (but truly rewarding!) mountain biking challenge
If our obsession with Pulau Ubin isn't obvious by now, here's yet another profession of love for the offshore island. Away from the concrete terrain of Singapore, the largely untouched island is a breath of fresh air – it's charmingly rustic, and still boasts remnants of old Singapore life including villages and raw landscapes.
We had to return after last month's mangrove kayaking adventure; now that we've explored its waters, its abundant forests were calling out to us. For this month's Blaze the Trail, we took to the roads of Pulau Ubin on the back of mountain bikes. To bring us on this off-road adrenaline-pumping adventure (we're talking serious business – think steep uphill slopes, twisty downhill trails and risky, rocky paths through the forest), we reached out to the outdoor experts from Adventures by Asian Detours – these guys are the ones to look for for bespoke kayaking and biking tours. Keep reading to find out how the Ubin Bike Trail Adventure went down.
Before you arrive, here's what to bring
Two things you need in your arsenal of island necessities: sunscreen and insect repellent. The sun's rays at the non-forested areas can be seriously intense, so don't skimp on the layers of sun protection for your face. As for insect repellent – on our recent visit to the island, we were bitten through our clothes, so spritz that repellent all over your clothes even. To relieve those bites, a tube of Mopiko or SuuBalm will come in handy.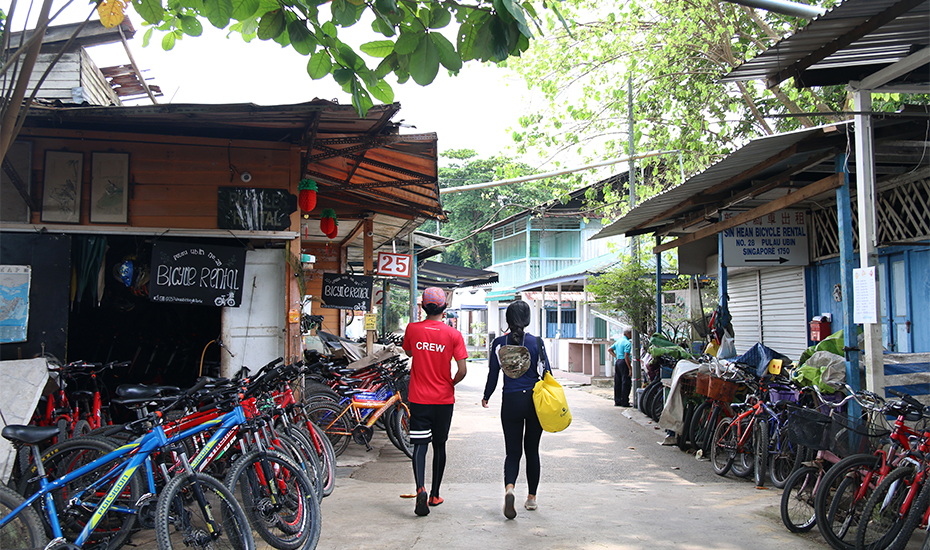 Getting there
The fun begins at Changi Village Ferry Terminal. Arrive early in the morning to avoid spending the bulk of your day under the scorching afternoon sun. A one way trip to the island will cost you $3, and will only depart only when 12 passengers are in line. If you'd rather not wait, the ferryman will take your group with a fee of $36.
Settle in for a pre-trip briefing
To get you prepped, Asian Detours will take you through a briefing on safety, and the route. Tom, the Growth and Community Executive and our guide for the day, dished out precious information about the route, and tips and tricks on navigating the path with ease.
And off we go
Before you set off on your journey, be sure to test your bikes – make sure that the seat is the right height for you. lace your heel on the pedal and pedal backwards to reach the six o'clock position. If your knee is straight,it's right for you. If it's bent, increase the height. Don't forget your helmets and extra protective gear too! Ready to hit the road? Here are a couple of Ubin's highlights you just can't miss.
Through the village
The first destination is Ubin's famed village. Here's where you'll experience the rustic slow life – think wooden seafood restaurants, retro provision shops and drink stalls hawking refreshing raw coconut drinks. Cycle up ahead, and you'll see Ah Ma Drink Stall: a cheery blue wooden stall which opens on weekends to thirsty day trippers. Pause to stop by the calm waters by the stall, and you might spot mudskippers, crabs and even frogs.
Puaka Hill
This one's going to be a real challenge, so be sure you've got your hiking shoes on. The highest peak in Ubin stands at 74 metres tall, and takes about twenty minutes to conquer. It's a fairly steep and rocky climb, so watch your step, and hold on to the makeshift rope railings for extra support. We promise the postcard-perfect views at the peak are totally worth it – don't forget to pause to take a breather, and of course, selfie your heart out.
Kekek Quarry
While Singapore has its fair share of quarries, it's hard to beat Ubin's. Vast and covered in lush vegetation, these quarries are satisfyingly peaceful (unlike Singapore, all you'll hear are crickets chirping or leaves rustling – not the sound of cars passing or trains rumbling by). Take a seat, and watch the world (and Ubin's birds) go by.
Chek Jawa
No trip to Ubin is complete without a trip to Chek Jawa: the island's wetlands area and home to one of Singapore's richest ecosystems. Pop by the Chek Jawa Visitor Centre if you're a history buff – it was built in the 1930s, and boasts Tudor-style architecture with a working chimney and a (now boarded up) fireplace. If you're exhausted by this point (as our final destination, it took us a good four hours to get here), end your day with a stroll down the viewing jetty with scenic views, or explore the boardwalk and head to the 20-metre tall Jejawi Tower.
Forest biking
For adrenaline junkies, the best part about the adventure is biking through the forest. Our journey to Chek Jawa boasted the most thrills, but also the most exhausting uphill slopes we encountered. If you're lucky, you'll even spot wild boars going about their business.
Final thoughts
Confession: Before our journey, I was genuinely fearful of the slopes – I had never mountain biked before, and I'd pictured me flying off my bike and to my death. Naturally, nothing close to that happened, despite the crazy high, steep slopes. Be careful, know your limits, and always follow signs to slow down.
Also, as previously recommended, spare a thought for the island's conservation efforts. On visiting, bring your trash (including plastic bottles and bags) back with you and dispose it on the main island. Also, try your absolute best not to damage any plants or trees – this is definitely difficult when navigating the tighter tunnels of the mangrove forests but doable with a little more care and precision when paddling. And as tempting as it is, don't feed the creatures should you encounter any – part of conservation includes protecting wildlife.
To book a tour via Adventures by Asian Detours, head to the link provided. Rates for Ubin Bike Trail Adventure is $79.50 per adult (or $64 per child) for four hours. Other expeditions include Ubin Bisect Kayaking ($95 per adult or child for six hours) and Round Ketam Kayaking ($85 per adult or $65 per child for five hours).