Photography: Adam Nieścioruk via Unsplash
Following PM Lee's latest national address, we've gathered some key precautions to flatten the curve on coronavirus.
There's been a lot of uncertainty surrounding the Covid-19 pandemic. With 1,049 reported cases as of 2 April, closures of bars, entertainment venues and preschools, events involving more than 10 people prohibited, and travel restrictions, anxiety levels are rising, for sure. Instead of panicking, we're taking a practical solution; looking at ways to avoid Dorscon red altogether. After all, Singapore prides itself on staying one step ahead.
The current situation in Singapore
In his national address on 3 April, Prime Minister Lee Hsien Loong mentioned that Singapore will apply "circuit breakers" for a month with significantly stricter measures to reduce the risk of a big outbreak.
There'll be tightened restrictions on movements and gatherings of people. Safe Distancing Ambassadors will be deployed to discourage crowding.
Most workplaces will be closed except for essential services such as food establishments, markets, supermarkets, clinics, utilities, transport and key banking services. Closure of workplaces will take effect from 7 April 2020.
Full home-based learning in schools and institutes of higher learning will start from 8 April 2020, and all preschools and student care centres will also be closed.
Alright, but what if Singapore goes to Dorscon red?
We don't want to jinx anything, but real talk: What exactly happens if Singapore's Disease Outbreak Response System Condition (Dorscon) raises the alert level to red? According to Gov.sg's guideline below, it would mean that the disease is severe, spreading rapidly with a significant number of deaths. There'll be a huge impact on daily life including school closures, social distancing and work from home orders (which we're already practicing).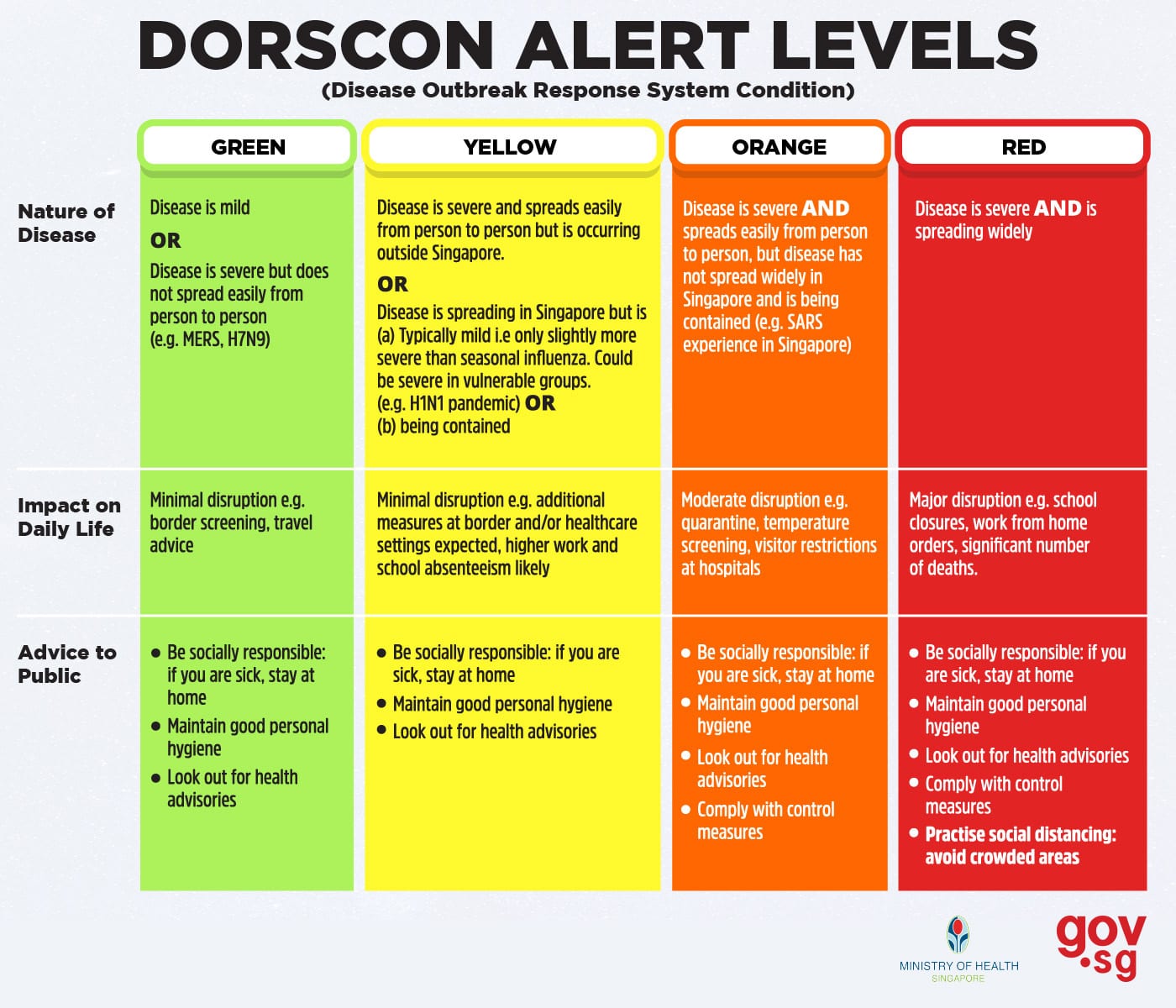 Sounds crazy, eh? Some of these measures are already implemented but there's more you can do to slow the transmission of the virus and help the country avoid a Dorscon red situation.
DO stay at home as much as you can
Unless you're working in an essential sector, you should only go out for necessities such as grocery shopping and exercising outdoors. Plan them around off-peak hours or weekdays instead of weekends, whenever possible.
DO continue to be socially responsible
You know the drill. Practice social distancing, maintain good personal hygiene and avoid socialising with others outside your household. Yes, even event gatherings with extended families (especially the elderly and vulnerable).
DO NOT spread fake news
Is it just us or has there been a surge of fake forwarded messages on your Whatsapp group chats? Before you pass on false information, make sure they're from credible sources such as the Ministry of Health (MOH), Gov.sg and CNA. Gov.sg has also launched two new media platforms – Gov.sg Telegram and Twitter – apart from its other Facebook, Instagram and WhatsApp platforms, so there are more options for you to receive the latest updates. Also remember to read the full story and not just make assumptions from the headline.
DO NOT panic buy
The government has reassured us time and time again about our adequate food supply. It's an easy rule to follow, really. Buy just what you need and do not deprive someone else of essential items.
Let's stand united and help each other out during this time. For more information and Covid-19 updates, visit https://www.moh.gov.sg/covid-19.