Photography by Osha Key via Unsplash
Golden milk, millennial pink babycino, dandelion latte – what the heck? We guide you to some coffee alternatives in Singapore.
So grabbing your usual cup of coffee from the regular CBD joint just doesn't do for you anymore? Are you hankering for something more offbeat – and trendy — like coffee served in a cone, or a cup of golden milk? But before you whip out the phone for the perfect shot for that humble brag, it's also good to acknowledge that most of these new 'trendy' drinks have been inspired by ancient recipes that came well before Instagram and hipster café culture itself… now we can all go ahead and hashtag that bulletproof or LSD!
Turmeric latte… also known as Golden Milk
First things first, got to give credit where it's due: turmeric latte has been around for ages – it's the fancier name for haldi doodh, a popular South Asian drink and a variation of the Indonesian jamu kunyit (herbal drink) – both are consumed usually by women for clearer skin and better health. Turmeric is mostly known as the spice in curry which leaves bright yellow stains on kitchen utensils and fingers when dipped in it. Turmeric latte is a combination of nut milk and juiced turmeric root, and favoured by drinkers for its anti-inflammatory qualities. Our editor Selina admits she was embarrassingly late to the party, having just tried her first turmeric latte: "I actually loved the taste, and the kick of ginger – I like my drinks with a punch."
Where to get it: Huggs (various locations around the city), Kitchen by Food Rebel, 28 Stanley St, Singapore 068737
Pink babycino
It was inevitable that the millennial pink trend would spread from interiors, to food… and now our drinks. You can now enjoy a beverage in the popular rose hue. Inspired by the local favourite air bandung (rose syrup drink), the newly launched Bandung Babycino in a Cone (two trends in one!) balances the fragrance of the rose syrup with the pleasant bitterness of the coffee. The babycino is then poured into a chocolate-coated ice cream cone, lightly infusing the drink with chocolate flavour. It's also un-caffeinated, making this a kid-friendly treat – if you close your eyes and ignore the sugar!
Where to get it: Coffee Academics, Scotts Square, #02-01/02, Scotts Square, 6 Scotts Road, Singapore 228209
The LSD
That's Latte Soy Dandy, people. Thanks to the strong reach of café culture in Sydney and Melbourne, the LSD (it's a latte with dandelion root as the main ingredient) has now hit our shores. Dandelion root has been a key ingredient in ancient medicine as it has been known to be effective for maintaining blood sugar levels, burning fat, used as powerful diuretic, and more. According to co-owner of Food Rebel, Elika Mather, the dandelion root flavour resembles the nutty taste we have come to love from coffee. So, nothing too adventurous for coffee-lovers to get on!
Where to get it: Kitchen by Food Rebel, 28 Stanley St, Singapore 068737
Red Velvet latte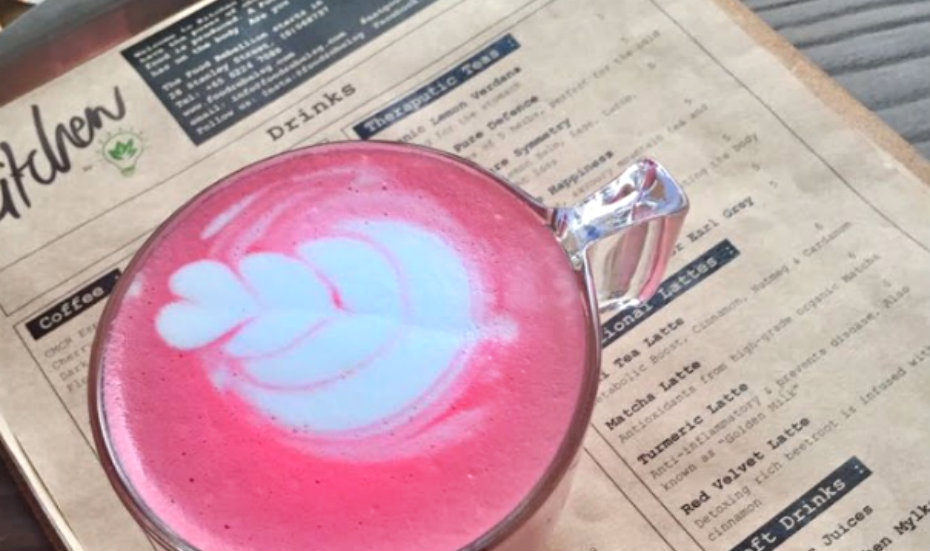 Described by those who have tried it as a sinful, sweet, and super indulgent treat, the red velvet latte is definitely one for the 'gram, all right. It's pink, it's pretty and it's as decadent as is comes. But there are also healthier versions of the drink in Singapore, made of healthy beetroot (which boosts exercise performance and is said to prevent dementia) from Food Rebel.
Where to get it: The Lab, 1 Jalan Pisang, #01-01, Singapore 199069 and Kitchen by Food Rebel, 28 Stanley St, Singapore 068737
Bulletproof coffee
First things first, bulletproof coffee is also known as 'Butter Kopi' in most coffeeshops: our old-school baristas were way ahead of their time! This coffee consists of black coffee with a dollop of butter to give it a rich, creamy taste and has been served for a long time in kopitiams. These days people are forking out up to $8 for bulletproof coffee. Why? Because on top of using high-quality coffee beans and grass-fed butter, there's the additional teaspoon of organic coconut oil or medium-chain triglyceride (MCT) oil which brings hours of better concentration.
Where to get it: Kitchen by Food Rebel, 28 Stanley St, Singapore 068737 and Sarnies, 136 Telok Ayer Street, Singapore 068601
Dirty chai
Chai is rooted in Indian culture in the same way coffee is distinctly an American habit. Just as Americans have been downing cups of coffee as a morning ritual, chai – a tea brewed with milk and spices – is an integral part of culture. While you can enjoy a good ol' cup of chai in a lot of coffee shops here (ask for Masala tea), it's been appropriated by the café culture as what you see on the menus now – the chai latte. The closest thing to marrying these two cultures is the dirty chai. It's a chai latte with an shot of espresso for that extra kick of caffeine. You get caffeine, with a dose of heady spices, and milk to smoothen the flavours.
Our fashion writer Cam loves her dirty chai with soy milk for an explosion of flavours.
Where to get it: The Affogato Bar, 501 Bukit Timah Road, #01-04B Cluny Court, Singapore 259760
Mint sea salt latte
Strange combination, but just one of many you can concoct yourself at the unconventional Coffee Break, a hawker stall in Amoy Street Food Centre. While they have the more conventional flavours like caramel, peppermint, and matcha, they've added in sea salt mint – an acquired taste. One for the more adventurous palate, you'll enjoy how you can really taste the flavours of mint and sea salt in the first sip.
Where to get it: Coffee Break, various locations including Amoy Street Food Centre and Cecil Street.