Harry's
Have a taste of the world in one place at Singapore's buzziest riverside destination...
Everyone loves to eat, but where to go to have satisfying, spot-hitting grub is a struggle we all face often. And that's what we love about Clarke Quay: besides being one of the city's hottest party destinations with exciting happy hour deals, it's also home to great restaurants serving a wide variety of cuisines. There's nearly something for every mood, so all you need to do is just turn up, and then decide what you feel like having for the day. In case you need a little nudge – especially if you feel torn between two or more choices – our dining picks will hopefully guide you in the right direction.
Harry's
One of Singapore's most enduring dining and bar chains, Harry's, is decked out with memorabilia gathered from owner, Harry's, globetrotting adventures. The vibe is relaxed, and homely even – great for an unpretentious, no-judgement session with the pals over reliable beers and decent bites.
Harry's, #01-01, 3D River Valley Road, Singapore 179023, p. 6338 7331. Open Sun to Thu & Public Holiday 12pm-1am, Fri & Eve of Public Holiday 12pm-3am, Sat 12pm-4am.
McGettigan's
This Irish pub boast a pretty long history: the first McGettingan's Pub opened in Ireland in the 1960s, before moving to Dubai, Abu Dhabi and eventually in Singapore with its first outpost at Clarke Quay. Expect great live entertainment, Irish food, awesome booze deals, live sports screenings, and an overall lively vibe for a no-frills night out.
McGettigan's, #01-01, 3A River Valley Road, Singapore 179020, p.6837 0577. Open Mon-Tue 12pm-1am, Wed-Fri 12pm-3am, Sat 10am-3am, Sun 10am-1am.
Little Saigon
Explore a fancier side of Vietnam at this boisterous restaurant-bar that offers dinner plates such as lemongrass beef tenderloin, fresh mango spring rolls and marinated pork ribs. Pho's on the menu too, if you're craving for a hot bowl of noodles. Drinks-wise, you'll find classic and interesting Asian-inspired cocktails including a wicked Hanoi martini (gin, orange curacao, lemongrass syrup and kaffir lime leaf).
Little Saigon, #01-02, Block E River Valley Road, Singapore 179024, p. 6337 5585. Open Sun-Thu 12pm-1am, Fri, Sat & Eve of Public Holiday 3pm-3am.
Motorino
Of course, there's excellent pizza at the alcohol-fuelled Clarke Quay; there are perhaps only few things better to line your stomach with than the Italian classic. From the oven are tempting creations topped with fresh clams, as well as prosciutto and rocket. But pizzas aren't the only stars of the menu: choose from a selection of vibrant antipasti and tasty Italian wines to complete your meal.
Motorino, #01-01A, 3A River Valley Road, Singapore 179020, p. 6334 4968. Open Sun-Thu 11.30am-11pm, Fri & Sat 11.30am-12am.
Tongkang Riverboat Dining
If you're hungry for more than just food – we mean scenery – hop onboard one of the last surviving pair of tongkangs (traditional riverboats used for carrying goods back in the day) for a unique dining experience. One houses a bar for post-work drinks, while the other is where to feast on succulent meats and seafood that's cooked on volcanic Serpertine stones from the European Alps.
Tongkang Riverboat Dining,#01-06, 3D River Valley Road, Singapore 179023, p. 6333 4868. Open Sun-Thu 12pm-3pm, 6pm-11pm, Fri-Sat 12pm-3pm, 6pm-2am.
Cuba Libre
This convivial cantina is beloved for its killer mojitos, ace Cuban chow and crowd-pleasing live music. There are also Cuban beers and fab cocktails like margaritas, daiquiris, pina coladas and capirinhas to go along with your fajitas, burgers and nachos.
Cuba Libre, #01-13, Block B River Valley Road, Singapore 179021, p. 6338 8982. Open Sun-Thu 6pm-2am, Fri, Sat & Eve of Public Holiday 6pm-3am.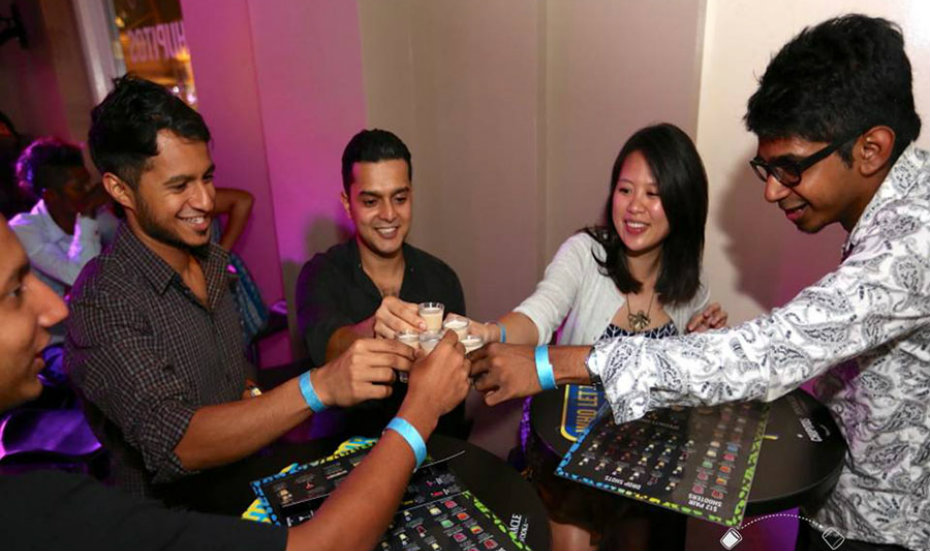 The Chupitos Bar
If the idea of downing a flurry of shots doesn't faze you, this place is for you. It opens 'til 3.30am on party nights (Wednesday, Friday and Saturday), so that means you have time to sample all 130 shots at The Chupitos Bar. Drinks here are categorised according to different drinking palates and tolerance levels: Deadly, Fruity, Yummy and Dare. The bestsellers are the Paddle-Pop, Milo Godzilla and Black Absinthe Bohemian.
The Chupitos Bar, #01-05, 3B River Valley Road, Clarke Quay, Singapore 179021. Open Mon-Tue, Thu and Sun 6.30pm-1.30am, Wed and Fri-Sat 6.30pm-3.30pm.
Da Miao Hotpot
Craving for authentic Sichuan hotpot? Da Miao Hotpot packs a punch when it comes to serving its Chengdu menu. Prepare your taste buds for an explosion of flavours from different spices, herbs and special oils – but don't worry; you can request to turn down the spice if you're feeling less gutsy. Take your dining experience further with its live traditional Sichuan mask-changing act, and tea-pouring ceremony by professional artists.
Da Miao Hotspot, #01-11, 3C River Valley Road, Clarke Quay, Singapore 179024, p. 6250 9969. Open 11am-10pm daily.
Hooters
Dine like you're in the States. This American sports-themed resto, known for its cheerleader-clad waitresses, serves classic American comfort food such as burgers, sandwiches, salads, and of course, its "nearly world-famous" chicken wings. Watch a live game on screen, a hula-hoop performance indoors, or take part in the games they host; you'll definitely be entertained here.
Hooters, #01-03, 3D River Valley Road, Clarke Quay, Singapore 179023, p. 6332 1090. Open Sun-Thu 11am-12am. Fri-Sat 11am-2am.
Señor Taco
Get a load of authentic Mexican street food such as quesadillas, botanas and antojitos at Señor Taco. If you don't mind big crowds (it's Clarke Quay after all), their super-stuffed tacos are a must-try; they make a mean carnitas (slow-cooked pork) taco. But if you've trouble deciding, drop by for Taco Tuesdays where you can get all tacos at 50% off. Pair your dishes with quality tequila, margaritas, piña coladas and beers like Corona and Negra Modelo.
Señor Taco, #01-07/12, 3A/3D River Valley Rd, Clarke Quay, Singapore 179023, p. 6337 6376.
The Steakhouse
From Australian cuts like fillet mignon and bone-in ribeye, to Irish sirloin cuts and even weekly wagyu specials, The Steakhouse will carve a cut just right for you. You can even add decadent steak toppings like foie gras and lobster tail – talk about luxe dining!
The Steakhouse, 01-14 Clarke Quay, 3B River Valley Road, Singapore 179021, p. 6332 1010. Open Sun & Thu 6pm-11pm, Fri & Sat 6pm-12am.
Follow and like Clarke Quay on Facebook to keep updated on new and exciting concepts coming your way. Don't forget to check out the exclusive set lunch and happy hour deals at Clarke Quay!
This article is sponsored by Clarke Quay.