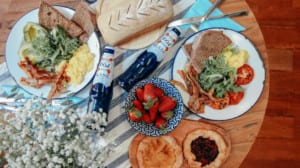 Forget your usual restos (yawn) – here's how to throw a stylish DIY get-together this year-end
Who needs another festive buffet when you've got a great set-up at home, in the office or even outdoors? For those reeling from Champagne fatigue, the folks at Kronenbourg 1664 have gifted us with its iconic 1664 Blanc, a French wheat beer with hints of citrus and coriander spice. 
The best way to enjoy a fruity, aromatic brew is with friends and family – and we've got some party inspo for you: a fancy outdoor picnic, a boozy weekend brunch and an office celebration. Watch as we put together three fuss-free feasts, complete with Kronenbourg 1664 Blanc, of course. Psst: check out the fun limited edition Festive pack for both cans and bottles.
3 ways to celebrate with Kronenbourg 1664

Are you down with Champagne fatigue? Poor you. Thankfully, the folks at Kronenbourg 1664 are giving the festive season a fun twist with three great party themes. #sponsored

Posted by Honeycombers on Tuesday, 20 November 2018
The limited edition 1664 Blanc Festive pack is available at all leading supermarkets. Kronenbourg 1664 Blanc Festive four bottle pack and glassware set is exclusive to Cold Storage. Hit here for more details.
This article is sponsored by Kronenbourg 1664