Photography: Tigerlily Patisserie
These Christmas log cakes are all ready and dressed up for the festive season in Singapore. Are you?
So you've got your home tricked out and the festive playlist sorted. The turkey is well on its way and your liquor cabinet is stocked with booze, thanks to the efficient delivery guys… but how about dessert? A good Christmas meal is only memorable if it ends on a sweet note, at least that's what we say. If you're still in the midst of getting your sweet options sorted out, let this list of Christmas log cakes in Singapore be your guide.
Best Christmas log cakes in Singapore for 2023
Psst: We're working on updating our Christmas list for 2023 as more information comes in, so stay tuned for updates!
1. Tigerlily Patisserie
Whimsical is the name of the game at Tigerlily Patisserie, and its Oriental Mont Blanc log cake takes you to another world. Think hazelnut dacquoise and homemade Spanish kumquats jam encased in an Ardèche chestnut mousse and set on a crumble base. It's made pretty with chestnut vermicelli, candied kumquats and chestnut bits.
Tigerlily Patisserie, $92, order online
2. One°15 Marina Sentosa Cove
The classic dark chocolate log cake from One°15 Marina Sentosa Cove will send your senses into Nirvana if you're a chocolate lover. Bittersweet Belgium dark chocolate and light French Chantilly cream come together for decadent goodness. Even a tiny slice will satisfy those cravings.
One°15 Marina Sentosa Cove, $78, order online
3. Mandarin Oriental
The photogenic Orange & Black Lemon Bûche de Noel makes a debut this season. You bet it's going to be the star of your dessert table thanks to its appearance and, of course, the pairing of citrus and Earl Grey.
Mandarin Oriental, $158, order online
4. 1-Group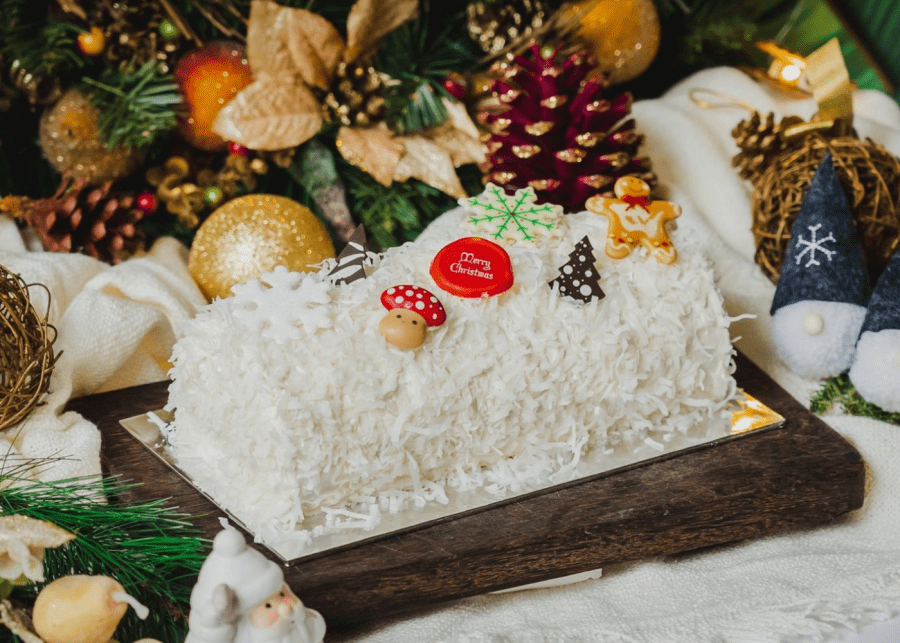 If you're looking for a local twist on the classic, 1-Group's ondeh ondeh log cake is the way to go. Channel a white Christmas with shredded coconut disguised as snow; soft pandan sponge, kaya cream and gula melaka coconut.
1-Group, $75, order online
5. Alice Boulangerie
Make it a Christmas to remember with Alice Boulangerie's elegantly designed log cakes. Alice's Christmas log cake is a beautifully-crafted chocolate flourless sponge cake layered with chocolate mud biscuit, fruit cremeux, caramelised banana and hazelnut praline crunch. But the highlight has to be the adorable 3D squirrel made from orange dark chocolate mousse planted on top of the cake.
Alice Boulangerie, $85, order online
6. Les Amis
Les Amis' Buche de Noel Ardeche chestnut log cake screams elegance. It'll be the centrepiece at your dinner table for sure. Ardeche chestnut mouse, candied chestnuts and hazelnut milk chocolate feuilletine are layered over a soft chestnut sponge. It's going to be a white Christmas!
Les Amis, $155 (serves 10 – 12 pax), available for self-collection from 1 to 31 December, order online
7. Paul
This year, the bakery has three log cakes to select from. Strap on for a zesty ride with the yuzu meringue log cake. Cut your knife into layers of lemon curd, lemon buttercream, yuzu marmalade, joconde sponge and meringue. Chocolate lovers can enjoy the decadent "Nuts Over You" chocolate log cake with French chocolate ganache doused in milk chocolate and chopped hazelnuts. Looking for something traditional? Snowy Christmas Forest Log is as classic as it comes. The light sponge log cake is filled with vanilla and pecans, with dark French chocolate for decoration.
Paul, small (serves up to 4 pax) and medium (up to 8 pax) sizes, available from $39, order online
8. The Marmalade Pantry
The Marmalade Pantry's "Once Upon A Christmas" feast includes two cake selections. The tangy lemon pistachio log cake is light and fluffy with a lemon white chocolate truffle core and pistachio frosting rolled with a vanilla sponge. Or, tuck into the classic chocolate truffle log cake for a decadent treat. This has a 60% dark chocolate truffle core and a chocolate sponge dipped in melted chocolate ganache and whipped cream.
The Marmalade Pantry, $68 (serves 6-8 pax), available for orders from now till 23 December and delivery from 1-26 December, order online
9. Sunday Folks
Sunday Folks' cakes aren't shaped like a log but don't let that fool you. Flavours like Merry Berries Charlotte, Cheri White Forest, and Deep Dark Wonderland still bring in the festivities. The berries celebration cake is encased in ladyfinger sponge and topped with mixed berries mousse, sweet strawberry jam, and an assortment of fresh fruits and seasonal berries.
Dreaming of a white Christmas? Look no further than the Cheri White Forest. This Japanese vanilla genoise cake is laced with brandy made from sour morello cherry, along with dark cherries and layers of white chocolate flakes. Enter a deep dark wonderland with the Yule log cake made with 56% cacao ganache slathered between chocolate sponge layers. We love the details of the hand-piped mushroom meringues and red currants.
Sunday Folks, from $78, serves 6-8 pax, order online 
10. Swissbake
This bakery in Singapore offers scrumptious Christmas log cakes including the citrus coconut Yule log and chocolate fantasy Yule log. Looking for a less sweet option? Get the chocolate log cake for a guilt-free treat. But honestly, we can't resist purchasing both flavours.
Swissbake, $55, available for self-collection and delivery from 1 December – 2 January, order online
11. Goodwood Park Hotel
The hotel brings us a series of new Yuletide cakes. All eyes are on the Beary Merry Yule Log, a whimsical twist on the classic with maple mascarpone, layers of apple mousse and cranberry confit, and a nutty Pain de Gênes base. The top is garnished with white chocolate buttons and chocolate bears on both ends. It's truly a work of art! Or channel the tropics with the Festive Tropicana Log Cake of pineapple-vanilla confit and pineapple chunks, sea salt caramel, Valrhona chocolate mouse and sponge, and a crunchy hazelnut croustillant base.
Goodwood Park Hotel, $98, available for orders from 15 November to 26 December, order online
12. ​​Four Seasons Hotel Singapore
If you're not satisfied with the usual chocolate treats, Four Seasons has a unique log cake flavour waiting for you. Get a taste of the Chestnut Blackcurrant Rum Yule log. The meticulously designed cake consists of cassis gelee enwrapped by rum chestnut mousse and layered with dark chocolate feuilletine. The outer layer is dressed with white chocolate mirror glaze and chestnut streusel and candied chestnuts. Who's ready for a bite?
​​Four Seasons Hotel Singapore, $98, available for orders until 25 December, order online
13. Cat & the Fiddle
Cat & the Fiddle conjures up two new festive cakes for the season, and we love the sound of them. Yule Hee Hoo! pairs chocolate and fruit perfectly. The hazelnut chocolate praline base with chocolate cream cheese and a raspberry ruby centre just balances everything together. Oh, and we can't forget the outer layer of velvety pistachio cream cheese mousse. The Feline Seduction is a chocolate delight. It's a rich chocolate cheesecake with 70% dark chocolate ganache and cream cheese, chocolate sponge and cocoa powder. Bring on the stretchy pants!
Cat & the Fiddle, $58.90, $7.90 for a slice, available for orders from 14 – 30 November and collection from 1 December, order online
What are you waiting for? Put in an order for one of these stunning Christmas log cakes in Singapore!